We continue our series of gaming PC brand reviews today with one of the most interesting yet: Apex Gaming PCs. If you're in the market for a prebuilt gaming PC and are wondering whether or not an Apex PC is the best choice for you, read on.
It's worth mentioning that building your own PC is extremely cost-efficient and one of the best ways to learn your way around the inside of a computer. Feel free to check out our guides on the subject to learn more. With that out of the way, let's look at Apex Gaming PC's product lineup, legitimacy, build quality, pricing, and more.
About Apex Gaming PCs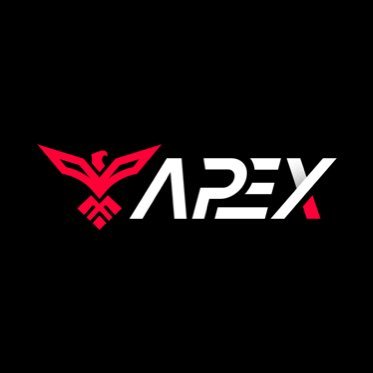 Headquartered in Houston, Texas, Apex Gaming PCs was founded in August 2018, making it younger than the majority of prebuilt PC manufacturers. In addition to their Houston headquarters, they also have offices in Philadelphia, PA and Wilmington, DE.
Also known as Apex Computing, they pride themselves on using only the highest-quality, name-brand components and setting up PCs with all of the latest drivers to run perfectly straight out of the box. They say the following in their "No Corners Cut" guarantee:
Apex Gaming is committed to being the only system integrator that uses name brand parts exclusively on every model. We only use brand-new, high-quality parts on all of our PCs, from your CPU to your power supply. You will never receive "Apex RAM" or a power supply from a brand you have never heard of. All Apex Gaming PCs ship with XMP enabled, an overclocking profile saved, Windows 10 optimized, high-performance power settings, and all drivers installed. All PCs ship with Nvidia GeForce Experience pre-installed to ensure your GPU drivers are consistently updated for best performance.

Apex Gaming PCs website
Is Apex Gaming PCs Legit?
While the quality of their customer support and builds have, like most other brands, been called into question by some reviewers, Apex Gaming PCs is definitely a legitimate brand. They're verified on TrustPilot, and none of the 19 reviews there call into dispute whether or not they will send what you ordered.

Since Apex is a fairly young brand, they've accumulated less reviews than the likes of CyberPowerPC or iBuyPower. With their relatively small sample size it's difficult to say anything definitive above and beyond the fact that they're not a scam site, but the reviews appear to be mostly positive.
At the time of writing they sported a 3.5-star average on TrustPilot. While seemingly mediocre, this is well above average in an industry where customer complaints abound. Of their 19 reviews 53% were 5-star, 16% 4-star, and the rest (31%) 1-star.
Moreover, all but the most recent negative reviews have received responses from an Apex representative, and seem to be largely the result of misunderstandings on the customer's part. For instance, one 1-star review complained about Apex's return policy and restocking fee, despite the fact that this information is clearly detailed on the site.
Another disenchanted customer wrote this:
Don't buy from Apex. If you want a piece of trash then order from them. I bought from Apex and within 3 weeks my PC had to be sent back bc of bad parts and resulted in me being without a PC for nearly a month. If you want a PC that isn't god awful. Build your own or just go to best buy because at least you wont have to ship it off to PA every time it breaks every few months… If I could rate them a zero I would

Travis B.
As mentioned earlier, there isn't enough volume of reviews to determine if ones like these are flukes or cause for actual concern. Considering the increased likelihood of customers with a negative experience to leave reviews and Apex's reasonable proportion of positive reviews, we'll give them the benefit of the doubt.
On their reviews page, Apex Gaming PCs have another 1,009 reviews averaging an impressive 4.5 stars. The most common complaint by far was slow assembly/delivery times, with faulty components taking second place. Of their 1000-plus reviews, only 30 were 1-stars, while 36 received 2-stars.
Product Selection
Apex Gaming PCs offers all of the product lines we've come to expect from companies like these: Ready-to-ship prebuilt gaming PCs, gaming laptops, and customizable PC builds. They also offer a robust selection of refurbished gaming PCs, all at 50% discount.
Prebuilt PCs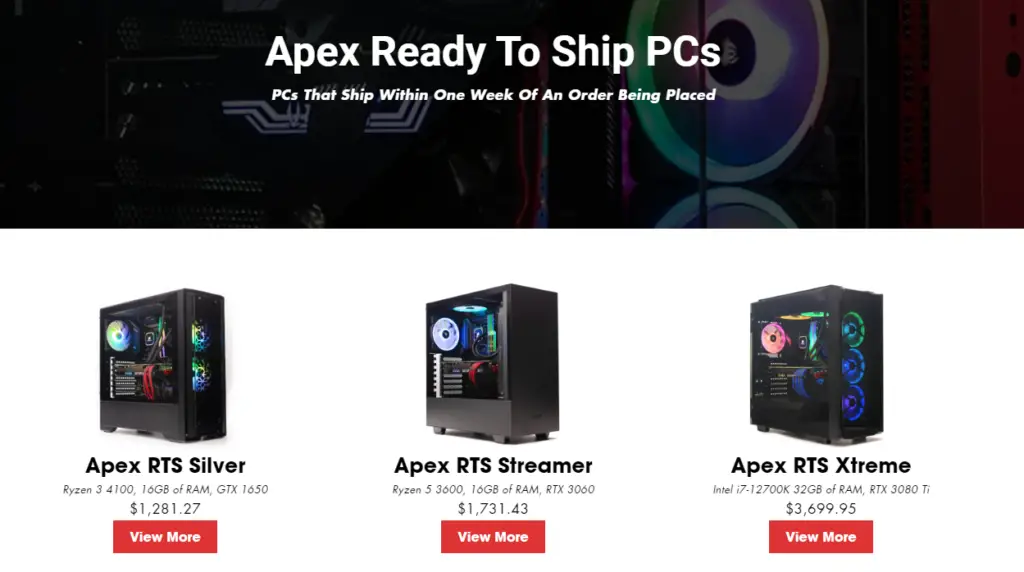 Apex's RTS lineup is pretty lackluster; at the time of writing it's composed of only three models. These are the Apex RTS Silver, Apex RTS Streamer, and Apex RTS Xtreme. Since these builds are already built, they don't require the extended assembly times of customizable rigs and thus arrive earlier.
These rigs range from a low-tier Ryzen 3 4100/GTX 1650 build with 16 gigs of RAM, to a high-octane Core i7-12700K/RTX 3080 Ti PC on the high end.
Refurbished PCs (50% Off)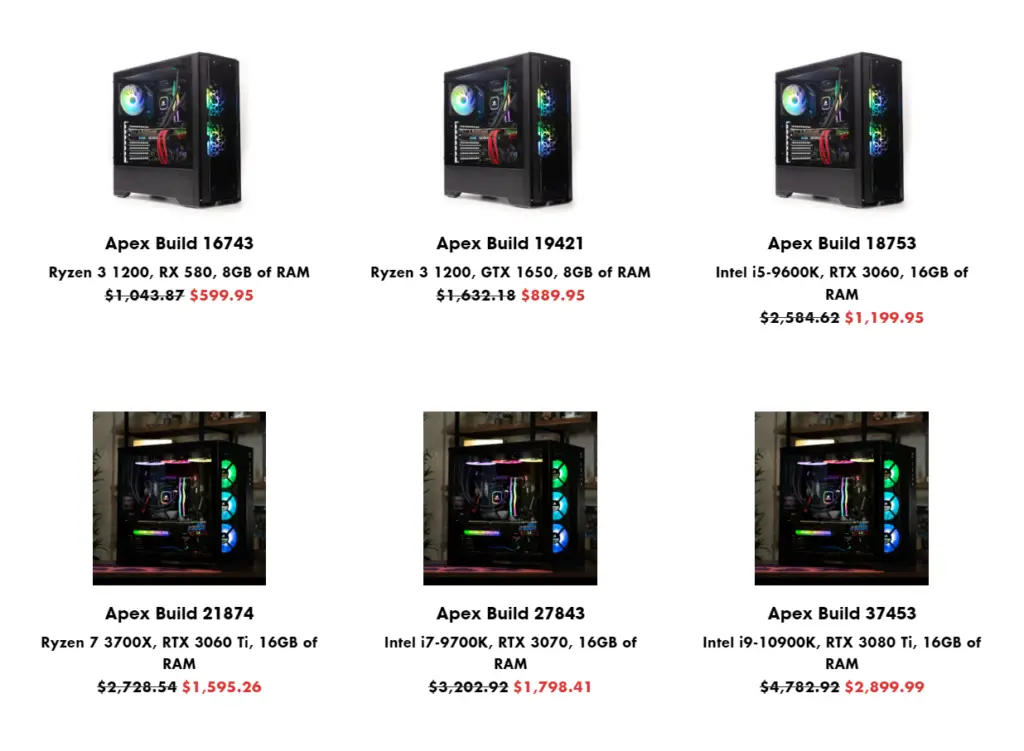 Next up is Apex's line of refurbished gaming computers, all of which cost half of MSRP and have the same warranty as new rigs. These PCs are reportedly tested before sale to ensure full functionality.
This product selection is presumably liquid, as Apex Gaming PCs receives more used PCs and sells off old inventory. At the moment, their "50% PCs," as they're referred to on the site, range from cheap Ryzen 3 systems to high-end builds with top-tier hardware.
Most, if not all, of these are built with older-gen hardware. One build was outfitted with an RX 580 and 1000-series Ryzen CPU, while two others had 9th-gen Intel CPUs.
Customizable PCs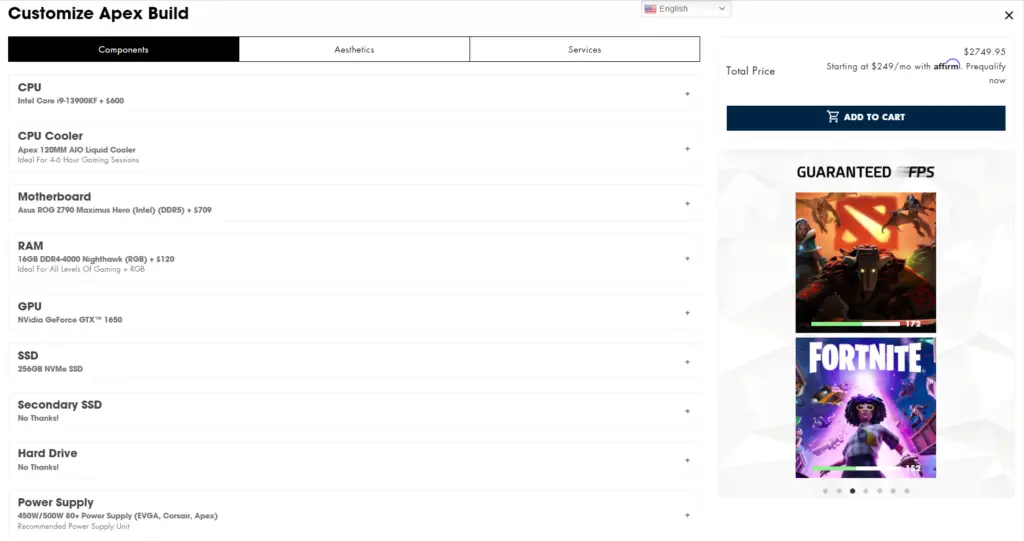 There are two ways to customize an Apex PC; you can start from scratch or use one of their starting templates. These templates conveniently include Apex Bronze, Silver, Gold, and Platinum PCs, in addition to other less-intuitively-named models such as the Alpha, Streamer, Zen, Carbon, Kryptonite, and Xtreme.
These custom PCs offer a wide selection of CPUs, from the Ryzen 3 3100 and Intel Core i3-12100 to the Ryzen 9 7950X and Core i3-13900K. Impressively, Ryzen Threadripper CPUs are also offered.
Motherboard selection is comparably limited, with only one or two choices for most chipsets from AMD's 500-series, 600-series, and Threadripper boards, as well as Intel's 600-series chipsets (excluding H670 and Z690).
Also of note is the fact that there are no Z690 motherboards offered. Moreover, only DDR5 Z790 makes are available, meaning if you want to overclock an Intel CPU you'll have to purchase a more expensive DDR5 board in addition to the corresponding memory.
Graphics range from AMD's Ryzen 5 5600G APU (or GTX 1650 for discrete graphics cards) to Nvidia's RTX 4090 and Quadro RTX 5000. AMD dedicated video cards are shockingly not present, which unfortunately does away with many great value options.
Other components have an acceptable variety of selections, and peripherals including monitors, headsets, keyboards, and mice can also be added.
Apex's customization tool is reasonably intuitive and checks for most compatibility errors, but we noticed that it fails to cross-check motherboard and RAM compatibility. Consequently, it would seem that customers could order a build with a DDR5 motherboard and incompatible DDR4 RAM, which would result in unnecessary hassle when Apex's build team realized it wasn't feasible.
Laptops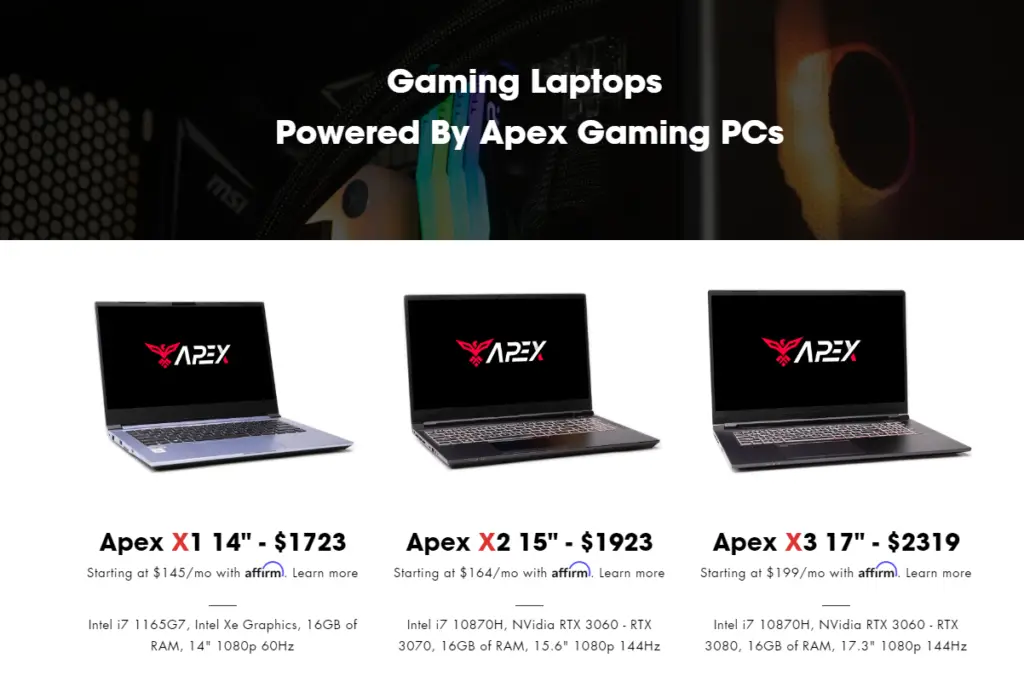 Apex's three minimally customizable laptop offerings range from bare-bones PCs with only integrated graphics to the most expensive RTX 3080 Ti-equipped model. CPU options are limited to only 11th-gen Core i5 or i7 CPUs.
The laptops are divided into the Apex X1, X2, and X3, which are set apart primarily by their screen sizes and refresh rates. All have 1080p displays. The X1's display is 14 inches with a 60hz refresh rate, while the X2 is 15″ 144hz and the X3 is 17″ 144hz.
Build Quality
Apex Gaming PCs primarily uses name-brand components, which is a huge plus. OEM boards and power supplies are typically much harder to swap out when upgrading parts, so we love to see Asus and MSI motherboards when scrolling through their customization options.

While a statement on their website claims that only name-brand parts are used, they ironically disprove it with some of their PCs. They say that "You will never receive 'Apex RAM' or a power supply from a brand you have never heard of," yet they literally sell Apex-branded power supplies (see the 750W 80-Plus Gold unit in the screenshot below).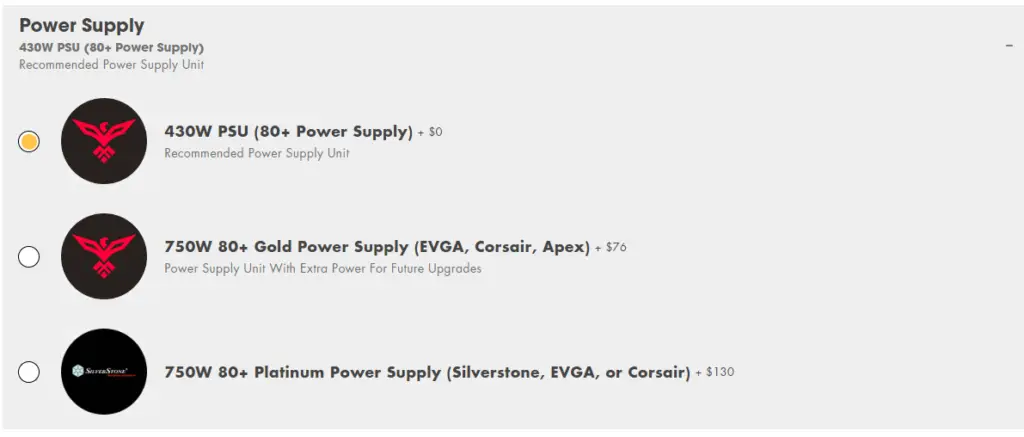 In addition to this, brand isn't specified for many components. They may just list a "B550 motherboard," and you won't know what specific version or quality it is until you receive your build.
While this is par for the course for PC manufacturers, we were hoping to see this issue addressed by Apex Gaming PCs, due to their especially outspoken stance on generic parts.
Still, for the most important components aside from power supplies name-brand parts are in fact used. Additionally, users almost always have the choice of a CoolerMaster, EVGA, or other reputable brand of PSU.
Most of the 1000-odd reviews on Apex's site are accompanied by user-submitted images of their builds, and cable management appears to be very solid across the board.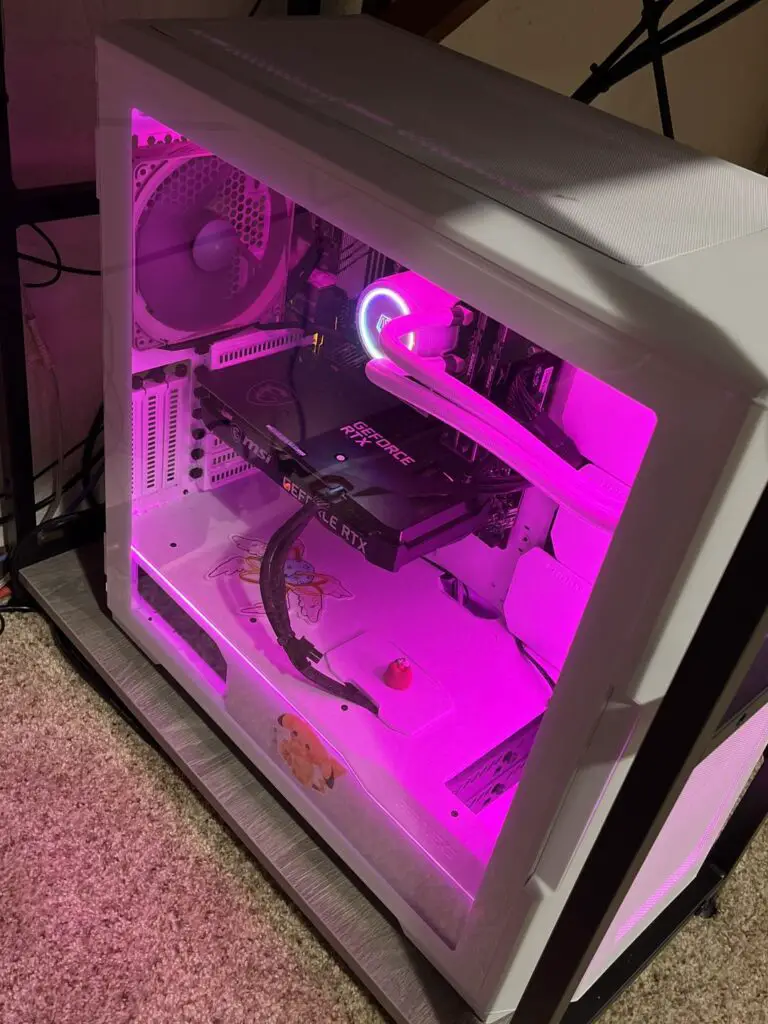 Pricing
This is where Apex Gaming PCs really starts to fall apart. Their builds are obviously targeted towards "premium" buyers, as evidenced by the fact that even their lowest-end Apex Bronze is outfitted with RGB-lit RAM, and many of their rigs come with liquid coolers as the default.
Even considering this, Apex PCs are horribly overpriced at virtually every price range. For example, the Apex Bronze, equipped with only the R5 5600G's integrated graphics, 8GB of RAM, an 120GB SSD, and A520 board starts at $879. There are literally RTX 3060 PCs with better specs across the board available for less than this. For reference, our 1080p 60FPS budget gaming PC with better hardware costs less than $500 including the monitor.
Component upgrade costs are similarly terrible. Upgrading your RAM from a gray heatsink to an identical RGB-lit one costs $120, and adding an extra 16GB of identical memory costs $139. In actuality these upgrades might cost Apex $20 and $40, respectively. Likewise, upgrading from a 256GB SSD to a 512GB model costs $55, when some 1TB NVMe SSDs cost less than this.
Our favorite upcharge was the Razer DeathAdder V2 which, instead of its market price of around $45, costs a whopping $169. It's hard to imagine anyone would be lazy enough to fall for these kind of upsells, but they try nonetheless.
Some Apex Gaming PCs are listed on Amazon with marginally better prices, but they still can't compete with most other PC retailers.
Even their 50% off refurbished PCs are somehow more expensive than most comparable new models. As detailed previously, they also have outdated hardware, further diminishing value. Thus, we'd recommend staying away from even these.
Warranty / Refund Policy

Apex Gaming PCs come with a lifetime labor warranty excluding damage by the user, but if a warranty request is made 30 days or more after the delivery date, customers will have to pay for shipping costs.
PCs come with a 1-year hardware warranty by default, although this can be extended to 2 or 3 years for $119 or $179, respectively. This warranty covers defective parts, but not damage due to overclocking or other situations in which the user is at fault.
Buyers can return their Apex computer with 14 days of receiving it, but must pay a 25% restocking fee. Their cancellation policy is much the same; cancelling later than 72 hours after order placement will result in a 25% cancellation fee.
Final Thoughts on Apex Gaming PCs
Even considering the premium quality of their builds relative to many competing brands, Apex's exorbitant costs are simply impossible to justify. You're far better off building a computer yourself or buying a prebuilt PC from a competitively priced brand like HP or Lenovo.
Apex's lengthy shipping times on their customizable builds make this brand even less desirable, thus we unfortunately cannot recommend their products.
Alternatives: Other Brand Reviews
Finally, feel free to check out our reviews of other gaming PC brands to compare alternatives.