With Intel's release of their non-K CPUs (namely, the Core i3-12100 and Core i5-12400), high-performing CPUs are more affordable than ever before. The one downside is that to use any of these new processors you'll need a new motherboard–these SKUs feature the new LGA 1700 socket type, different than the LGA 1200 socket of yore.
Don't fret, though. We've gone ahead and compiled a list of the best motherboards for the Core i3-12100 and Core i5-12400. The primary difference between these two models is simply clock speed and core count, and since these CPUs share more or less the same set of features the ideal motherboards for both will be the same.
Since these processors fall towards the lower end of Intel's Alder Lake lineup, they're best paired with motherboards in a similar range, namely those of the H610, B660, and H670 chipsets. Z690 was designed with the more expensive K-series line in mind, and many of the features you're paying for would be largely wasted on an i3-12100 or i5-12400.
It should go without saying that the outlined boards could also be considered the best for the Core i3-12100F and i5-12400F (these simply lack integrated graphics). These motherboards are also well-suited for other low-TDP SKUs like the i3-12300 and 12300F, i5-12600 and 12600F, i7-12700 and 12700F, and i9-12900 and 12900F.
Many of the motherboards we've chosen are nearly identical (such as the Asus Prime H610M-E D4 and the ASRock H610M-HDV), so often the decision will boil down to price. Because of this we've listed some motherboards that may appear to be redundant since at any given moment one may be a better deal than the others listed.
Asus Prime H610M-E D4
Best Budget Motherboard
The H610M-E D4 is perfect for budget builds; at the time of writing it's one of the only boards available at or under the $100 mark. To be clear, it's nothing fancy. It only features two DIMM slots and one PCIe x16.
Even so, it has everything that's really essential and it won't limit your CPU's upside. Up to 64GB of 3200MHz memory is more than users will need, and this motherboard's target audience won't even need that much capacity. Additionally, while the H610M-E D4 only supports the transfer speeds of PCIe 3.0 and below for M.2 drives, gen 3 storage is the best in terms of price-to-performance anyway.
DDR5 should be out of the picture for any budget rig, so this board's DDR4-compatibility is both expected and welcome. This will allow you to opt for a dual-channel low-latency 16 or 32GB RAM kit at less than $60 or $100 bucks, respectively.
All in all, then, the Asus Prime H610M-E D4 is a fantastic bare-bones board in that it doesn't offer excessive features, but covers everything that's needed.
Asus also makes the Prime H610M-A D4-CSM, which is nearly identical to the H610M-E. The primary difference is a VRM heatsink and a couple more rear USB ports, so it may be worth forking over the additional $10-20 to gain the extra connectivity and minor aesthetic improvements.
ASRock H610M-HDV
Best Budget Motherboard v2
ASRock's take on the lowest-end H610 motherboard is a lot like Asus'. They keep it simple with two memory slots (which support 3200MHz), a PCIe 3.0 M.2 slot, and four USB ports. Their PCIe x16 slot does support the fourth revision of the technology, so no GPU will max out its bandwidth in the foreseeable future.
It's priced much like the H610M-E D4, retailing at about $100. This makes it an extremely functional board that makes up for its basic aesthetics with a hard-to-beat cost.
ASRock B660M-HDV
Best Budget B660 Motherboard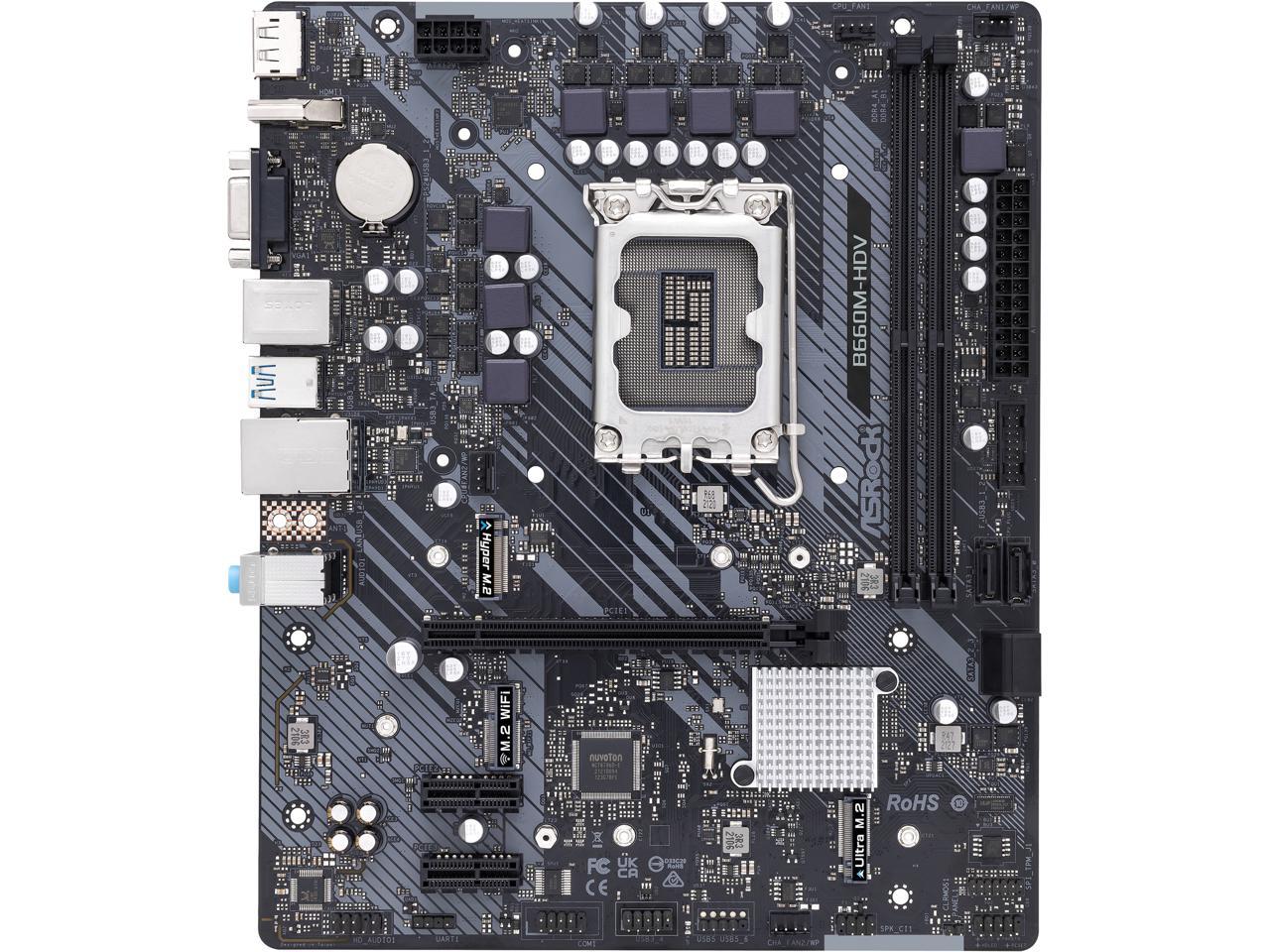 ASRock is well-known for their affordable motherboards so it should come as no surprise that they appear twice on our list. Their B660M-HDV features a similar design to its H610 counterpart, with six power phases and support for two DIMMs.
What sets it apart is its additional M.2 slot (which is PCIe gen 4 compatible) and memory overclocking support. These features increase the maximum supported memory speeds to upwards of 5000MHz and storage drives that transfer data at speeds of over 7000MB/s. The B660M-HDV also includes one additional USB port (for a total of five).
If its price remains at $110, this is hands-down the best motherboard for both the Core i3-12100 and i5-12400, or any non-K Alder Lake CPU for that matter.
Asus Prime B660M-A D4
Best Mid-Range B660 Motherboard
With the Prime B660M-A D4 we progress from entry-level budget board to a product that's honestly pretty fancy. This make features a black-and-silver design that's quite appealing, with a shiny VRM heatsink, another over the top M.2 slot, and silver lining on the main PCIe slot to boot.
Like the B660M-HDV this board supports memory overclocking with a maximum official speed of 5333MHz. DDR4 compatibility keeps RAM costs reasonable. Speaking of memory, this motherboard is the first in our list to feature four DIMM slots (for a total capacity of up to 128GB). The B660M-A continues this trend of maximum connectivity with a total of three PCIe x16s, four SATA ports, and six USB plugins.
All of these additions are nice, but they come at an added cost. The B660M-A D4's retail price is in about $140-160, 50% or so higher than those we've covered thus far. It's still very fairly priced, and you probably won't find a better deal on a Micro-ATX board of this quality.
Asus Prime B660-Plus D4
Best ATX Motherboard
With yet another Asus Prime motherboard, you may be convinced we're being paid off by Asus themselves to market their products. Rest assured, this isn't the case. Rather, there aren't that many affordable motherboards at the moment, and ASRock and Asus currently combine to make up what feels like 90% of the market share for that segment.
So, here we are recommending the Asus Prime B660-Plus, what's essentially the ATX equivalent of the Micro-ATX B660M-A. Aside from its larger form-factor, the Plus model distinguishes itself with a more robust heatsink (it covers the top VRMs as well as those to the left of the CPU socket) and an additional M.2 slot. All three of these boast PCIe 4.0 connectivity.
Officially, the B660-Plus tops out at memory speeds of 5000MHz. Truth be told, we doubt 99% of folks using an i3-12100 or i5-12400 will ever max out these frequencies, so what's 300MHz more or less?
Lastly, the B660-Plus opts to swap one PCIe x16 slot for two x1s, so unfortunately you won't be able to run triple graphics cards on this board. If this doesn't present any problem for you and you're in the market for a full-sized motherboard, the B660-Plus' $140-ish price tag is very appealing.
Asus Prime H670-Plus D4
Best Budget H670 Motherboard
Last but not least, we have the Prime H670-Plus D4 made by (drumroll please) Asus. It's another full-ATX model with more or less the same feature set as the B660-Plus or B660M-A.
That's not to say they're identical. This board differs from the others in a few ways: Seven USB ports are the most of any board listed thus far. Compared to the B660-Plus, the H670-Plus packs in an additional PCIe x16 slot while retaining the two x1s. It loses the top VRM heatsink but still looks pretty solid with a branded chipset heatsink as well as one on the primary M.2 drive and the VRMs west of the CPU.
The H670 chipset lends PCIe 4.0 support to an additional x16 slot, although the prospects of this ever coming into play are dubious at best. Aside from these paltry differences not much separates the H670-Plus from the B660-Plus. If you're the type of person that likes the maximum number of USB ports it may be possible to justify the additional $20 that the H670-Plus requires. Otherwise we'd recommend sticking with one of the many others we've recommended.