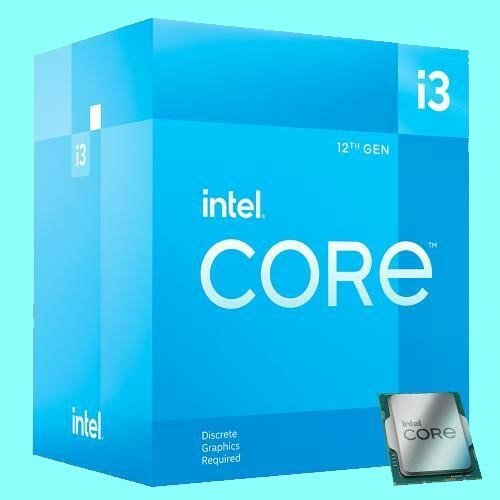 Intel Core i3-12100
Pros:
144FPS Gaming Performance

Strong Single-Core Performance

Power-Efficient

Great Price
Buy on Amazon
Buy on Newegg
Art of PC is reader supported. We may earn a commission if you make purchases through our affiliate links. Thanks for your support!
09/08/2023 10:52 pm GMT
Intel's recent release of the Core i3-12100 and 12100F breaks a near two-year drought in the realm of what most consider "budget" gaming CPUs: AMD's Ryzen 3 3100 and Ryzen 3 3300X, and Intel's own Core i3-10100, all debuted in April 2020 and since then no Ryzen 3 or i3 processors had been released.
Technology has come a long way since 2020. DDR5 is beginning (albeit slowly) to become mainstream, and PCIe 4.0 has arrived and been succeeded by fifth-gen technology. Thus, even though the Core i3-12100 is only two generations newer than the i3-10100, it represents a rather massive leap forward in many ways.
See Also: Are Core i3 CPUs Good Enough for Gaming?
Core i3-12100 Pricing
According to Intel's official product page the i3-12100 is supposed to retail around $125 (the range given is $122-$129), about as much as the i3-10100 two years ago ($122). The i3-12100F, which features an identical processor but no integrated graphics, has an MSRP of only $98.
Whether it's available at these recommended prices is another matter altogether; last year the price of Intel's Core i5-11400 exceeded MSRP by more than $100 for awhile due to excessive demand.
See Also: The Best Motherboards for the Core i3-12100
Specifications
Much like its Comet Lake predecessor the i3-12100 features a 4-core, 8-thread design. Unlike higher-end Alder Lake SKUs, this CPU has only P-cores (built for performance), and lacks any of Intel's high-efficiency Gracemont E-cores. Like all other 12th-gen CPUs it requires an LGA1700-compatible motherboard
The base CPU frequency is 3.3GHz, but the 12100 can achieve single-core speeds of up to 4.3GHz.
Like the rest of Intel's 12th-gen lineup it supports both DDR4 and DDR5 memory. At the moment motherboards can only support one or the other, so make sure that your RAM generation matches up with your board selection if you don't want to spend any additional money on upgrades. DDR4 is far cheaper than DDR5 and the performance gap between the two is currently insignificant. As such, we highly recommend DDR4 for the time being.
Maximum officially supported memory speeds for the i3-12100 are 4800 MHz for DDR5 and 3200 MHz for DDR4, with a maximum supported capacity of 128GB.
The Core i3-12100 is marginally more efficient than the i3-10100; its base power is rated at 60W, as compared to 65 for the older model. Its Maximum Turbo Power (the highest sustained energy dissipation when Turbo Boost is engaged) is rated at a heftier 89W. Consequently, it should be very easy to keep this CPU at reasonable temps, even with the stock cooler under heavy use.
The i3-12100 (but not the 12100F) comes equipped with Intel's UHD 770 Graphics, which you can read more about in our corresponding review. The abbreviated version is that they aren't ideal for gaming, as even framerates of 60FPS aren't attainable in most titles.
Core i3-12100 Cinebench R23 Benchmarks
In Cinebench R23, a synthetic benchmarking software that's useful for comparing processors' performance, the Core i3-12100 scored an impressive 1649 in single-thread and 8474 in multi-thread tests. For comparison, the i3-10100 scores around 1141 in single-thread and 5612 in multi. This marks a respective 44.5% and 51% gain in single and multi-thread performance for the 12100 over its predecessor.
These single-threaded numbers are roughly on par with last generation's i9-11900. Considering the gap in price, these results are incredible. Multi-thread performance is most similar to Intel's Core i5-10500 and i7-9700, falling squarely between the two. Considering these CPUs have 6 and 8 cores respectively, this is quite an accomplishment.
Core i3-12100 In-Game Benchmarks
We've sourced in-game benchmarks from the Core i3-12100. The system with which these were recorded featured 32GB of DDR4 3600MHz memory, a ROG STRIX Z690-A D4 motherboard, a be quiet! Dark Rock Pro 4 cooler, and an RTX 3080. The graphics card was never maxed out, ensuring that CPU performance is being measured correctly.
All benchmarks were recorded in 1080p at medium-to-high graphical settings. Credit goes to Testing Games. Ryzen 5 3600 benchmarks are included for comparison (at identical settings and with an Asus ROG X570 Crosshair VIII motherboard).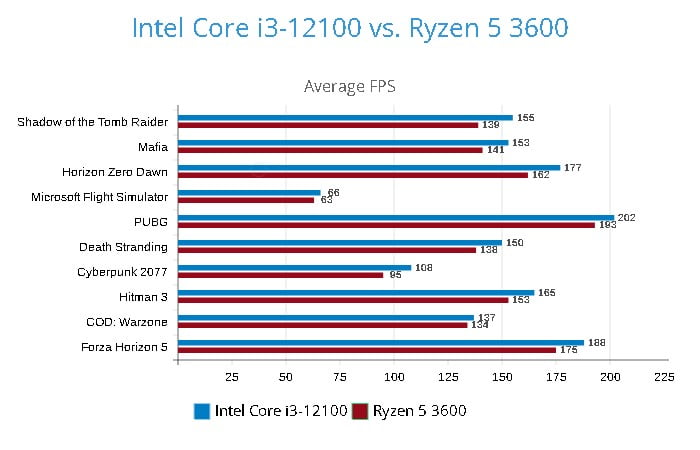 In total, the Core i3-12100 outperforms the R5 3600 by an average of 7.85%. Additionally, it cements itself as an extremely viable component in a gaming PC made for 144FPS at 1080p, as it missed the mark in only three of the tested titles (Warzone, Flight Simulator, and Cyberpunk), all of which are notoriously CPU-heavy.
Where to Buy the Intel Core i3-12100 and 12100F
In the USA
At the moment the Core i3-12100 isn't widely available in the US, although this will most likely change within the next week or so. The i3-12100F is listed on Newegg for $110; and there are also some available on eBay.
At the time of writing there are no listings on Amazon, but if added they will appear on this page.
In the UK
The Core i3-12100 can be found on Amazon in the UK, although at the time of writing the 12100F cannot.
Core i3-12100 Final Review
All in all, the i3-12100 is unequivocally the best budget gaming CPU, at least for the moment. It can hold its own against last generation's six-core Ryzen 5 3600 and Core i5-11400 at a much better price. It's ideal for gaming at refresh rates of up to 144FPS, and at lower settings it can achieve 240FPS in many titles.
The only caveat is that since H610 and B660 and motherboards are still rolling out, there are few sub-$100 LGA1700 motherboards available. You'll probably have to fork over $140 or so for a compatible low-end board unless you're willing to wait a month or so for availability to improve. Currently the Asus Prime H610M-E D4 appears to be the cheapest board ($100) but it's out of stock. You can opt to be notified when it's back on virtual shelves. Update: the similar Asus Prime H610M-A D4 is now available on Amazon, and the ASRock B660M-HDV is sub-$100 and in-stock at Newegg.
PCIe 5.0 and DDR5 support are a nice bonus since they give the 12100 increased long-term viability, but frankly we wouldn't recommend taking advantage of these technologies just yet, especially if you're on a tight budget. DDR4 and PCIe 3.0 SSDs are currently the best-suited for performance-on-a-budget rigs.
Speaking of budgets, while the i3-12100 certainly fills a much-needed role, we highly recommend a slightly more powerful mid-tier CPU such as the Core i5-12400 i5-12600K to those who can spare the extra $100-200. The additional two cores and slightly higher clocks pack a bit more punch and will propel your framerates to 240FPS in a wider array of AAA titles, not to mention improvements in general computing performance.