There was a large stretch in the past year or so where graphics cards were selling for three or four times retail price, and at times it seemed as if costs never would return to normal. And yet, two years after the GPU market first began falling to pieces, we seem to have reached some semblance of normalcy again.
In other words, it's as good of a time as ever to build a PC. What would've last year bought you a mediocre 60FPS rig will now get you a powerful 1080p 144FPS-capable system.
Today's Deals
If you're building on a budget, the parts listed below are probably your best bet. We'll walk you through the components that will get the best bang for your buck; you'll be able to pull 144 frames per second in just about any game with this build (in 1080p, of course). For some alternative options, check out our compilation of the best cheap PC parts for alternative components for this rig.
144FPS gaming is generally considered the golden standard nowadays; it's a lot smoother than 60FPS and far cheaper to achieve than 240FPS. For this reason we believe that 144 frames per second is the threshold to aim for when building a budget-friendly PC.
See Also: How to Mine Cryptocurrency
We chose 1080p because it represents the best balance between FPS upside (less pixels to render means higher framerates with cheaper hardware) and visual quality. 720p is more or less obsolete at this point, at least for gaming, and rendering games in 1440p requires costlier graphics cards like the RTX 3070 for best results.
For this PC build, in addition to our primary parts, we'll also examine alternative components for those looking to build an even cheaper rig (for example, lowering the storage capacity in order to save money).
The build outlined below is as affordable as they come if you're looking for 144FPS performance. Now without further ado, our parts list is as follows:
See Also: The Best 144FPS 1440P Gaming PC Build
1080p 144FPS Budget PC Build:
11/22/2023 12:16 am GMT
CPU: Intel Core i5-12400F
Intel's Core i5-12400F is without a doubt the best budget gaming CPU on the market at the moment. It's more than capable of pushing 144FPS when paired with a decent GPU (more on that later), and it comes with the added bonus of PCIe gen 5 and DDR5 memory support.
PCIe 5.0 leaves the door open to upgrade to a faster gen 5 SSD upon their eventual release. Likewise, DDR5 support lets you use the latest generation of RAM, although we recommend against this (the Core i5-12400F is compatible with DDR4 as well). DDR5 is costly and doesn't offer much improvement in performance at the moment.
The generation-older Core i5-11400F is also worth a mention, as it's often available for a bit cheaper than the i5-12400F. When combined with a budget-friendly B560 motherboard, you may save $50 versus buying a B660 board and a 12400F. Whether this is the better option or not depends entirely upon the market, but we would recommend opting for the nearly-as-potent Core i3-12100F unless the price at the time of buying warrants consideration.
Finally, the newest Core i5-13400F ought to be addressed, as it's a phenomenal mid-range gaming chip. Despite this, we recommend the lesser i5-12400F over its newer-gen counterpart. Since the RX 6600 XT will be the system bottleneck in nearly every setting, paying additional money for a slightly faster CPU and B760 motherboard doesn't make good financial sense.
Alternative CPU: Intel Core i3-12100F
The Core i3-12100F is the best widely-available i3 chip for gaming. Since it only features four cores, the i3-12100F doesn't pack quite as much of a punch as the more expensive i5-11400(F) but it's still a beast of a budget processor. Impressively, it outperforms the i5-11400 by 18.2% in single-threaded computing, so it definitely brings some great value to the table and may even outshine it in some games.
You can expect to hit 144FPS in just about any game with this CPU. For heavily-threaded titles that thrive on six or eight-core setups (like COD: Warzone) you may be cutting it a bit close if you want consistent 144FPS performance, however capping your framerate at 120FPS should do the trick in these scenarios at a barely-noticeable loss of visual smoothness.
Of course, if you opt for this CPU make sure you don't slip up and buy an incompatible motherboard. Any 12th-gen Intel CPU requires an LGA1700-socket motherboard, and right now this is limited to the 600-series of boards. We highly recommend a Micro-ATX H610 motherboard, since these are available for $100 or less and have everything you need.
Gigabyte's H610M S2H, Asus' Prime H610M-A D4, and their similar H610M-E D4 are among the best budget-friendly LGA1700 motherboards for the Core i3-12100F. Thus, if you opt for this CPU ignore our B560 motherboard recommendations further down this parts list; their LGA1200 socket isn't compatible.
Graphics Card: Radeon RX 6600 XT
Radeon's RX 6600 XT is a sub-$300 graphics card and offers the best performance of any video card within this price range. With 8 gigs of fast GDDR6 memory and AMD's latest RDNA 2 GPU architecture, the RX 6600 XT allows you to ratchet up your textures in-game without dropping below the target 144FPS mark.
The 6600 XT's refresh, the RX 6650 XT (which performs roughly 2% better on average), also warrants a mention. It has minimally higher clock speeds and higher VRAM speeds, but is otherwise virtually identical, and prices on 6650 XT models often fall near those of 6600 XT cards. If you can find one at the same price, there's no reason not to take that extra 2% boost in framerate.
A Quick Note on Finding the Best Deals on GPUs
A great tool for finding the best-priced graphics card within a certain budget is our own Find the Best Gaming GPU Calculator. Simply enter the maximum price you're willing to pay in the Max Price input field and the best-performing cards within that range will be listed, from best to worst.
Alternatively, you can filter by model. For instance, type in "6600 XT" to automatically find the cheapest models available on Amazon, updated hourly.
Alternative Graphics Card: GeForce GTX 1660 Ti
Nvidia's GTX 1660 Ti is ideal for 1080p 144FPS gaming if you're not willing to spend quite as much on your GPU. It's a solid balance of price and performance, so you'll still have some budget left to allocate to other components. In conjunction with the Core i5-12400(F) it should easily push framerates of over 144, even achieving 240FPS in several more graphically manageable titles.
The 1660 Ti will perform nearly identically to the GTX 1660 Super (they're more or less the same card with a different suffix) so we recommend checking the prices on this card as well before pulling the trigger.
It's best to check prices on all 1660 Ti and Super models before making a purchase. While we listed an Asus make in this parts list, any 1660 Ti/Super's performance will be virtually indistinguishable from another's. If a model manufactured by Asus, Gigabyte, MSI, EVGA, etc. is cheaper than the version we recommend, you should probably buy it instead.
Alternative Graphics Card: GeForce GTX 1650 Super
The 1650 Super is another budget-friendly GPU with respectable performance considering its price tag. If you can't afford to spend over $300 on a graphics card, this is your best bet.
If you opt for this graphics card your FPS will naturally be a bit lower than with the 1660 Ti or 6600 XT, but it will cost less. It's not a bad card: The1650 Super can render a steady 144 frames per second with ease in most titles as long as you keep the graphical settings low, but if you want crisp visuals it won't be ideal.
RAM: OLOy 2x8GB 3200MHz C16
This memory kit comes with two 8GB sticks for a total of 16 gigs of memory. It's DDR4 RAM, which means it is faster and consumes less power than its predecessors. Having 16GB of RAM will allow you to be able to switch between different windows and programs much quicker, without having to reload what you're looking at.
OLOy RAM may not be name brand but it's as good as any memory you'll find and a good bit more affordable than most. This specific kit will clock to 3200MHz with XMP so you can maximize your i5-11400's performance, and the memory's low-latency to boot.
Alternative: Patriot Viper Steel 2x4GB 3200MHz C16
You could technically save a small bit of money by downgrading to 8 gigs of memory. We wouldn't recommend this; the savings are slim, and the upside of having double the RAM is well worth the small bit of money. Still, if you're truly in a money crunch this kit is extremely affordable and of excellent quality.
Storage: ADATA XPG SX8200 Pro 1TB NVMe SSD
XPG's SX8200 Pro boasts the fastest speeds possible with PCIe gen 3 (3500 MB/s maximum read and 3000 MB/s maximum write), allowing lightning-fast boots and quick game loads. TLC NAND memory means the SX8200 Pro is highly durable and will last well into the future. Compared to its peers it's a great bargain.
If you don't mind buying off-brand, Fanxiang makes excellent SSDs with speeds on par with the SX8200, and typically undercuts Adata's offering price-wise. Their S500 Pro 1TB is currently their best value offering.
Alternative Storage: Silicon Power A60 512GB
The Silicon Power A60's 500GB model is one of the best budget NVMe drives you'll find. It's not quite as fast as the SX8200, but it still has respectable read/write speeds of 2200/1600 MB/s. The A60 represents a good compromise between speed and cost and is still a lot speedier than the majority of consumer drives. 512 gigs should be enough to store your OS and a game or two.
Alternative Storage: Western Digital Blue 1TB
Western Digital's 1TB represents some of the cheapest storage you'll find. The downside of a hard drive is its slow speeds; you'll experience much longer boot times with the WD Blue than with an SSD.
If you're trying to save the maximum amount of money the WD Blue may be the way to go. Otherwise, we'd recommend one of the previous two options unless a slower-booting computer doesn't bother you (or you keep yours on all the time).
Motherboard:
For mid-range 12th-gen Intel processors like the Core i5-12400F, Asus' Prime B660M-A D5 is perfect. It features nice silver-and-black aesthetics, a functional VRM and M.2 heatsink, 4 DDR4 DIMM slots, three PCIe x16 slots, and six USB ports to accommodate plenty of peripherals.
It's affordable and well-designed, and allows the i5-12400F to reach its maximum potential. It's hard to ask for much more from a budget motherboard.
Alternative Motherboard: MSI B560M Pro WiFi
This is an affordable motherboard that supports Intel 10th and 11th-gen CPUs, so if you went with the Core i5-11400 this will work. Make sure not to use this with any 12th-gen or later processors, however, since it has an LGA 1200 socket that'll be incompatible with newer SKUs.
The B560M PRO WiFi is a great micro-ATX board with a reasonable cost, accommodation for M.2 drives, and PCIe gen 4 support. It's nothing fancy but it gets the job done well.
If you don't have easy access to a wired Internet connection you're probably best off choosing a board with built-in WiFi. MSI's B560M Pro WiFi is currently one of the most affordable motherboards with wireless connectivity.
Power Supply: Segotep GM750W
A 500W PSU is the recommended minimum for Radeon's RX 6600 XT and 6650 XT, however there's a great shortage of reasonably-priced, good-quality power supplies in the 500-650W range. For this reason, we chose Segotep's 750-watt GM750W.
This unit checks all of the boxes that a great PSU should. It's fully modular, energy-efficient, and affordable. It also leaves a lot of headroom for future upgrades, so if you want a more power-hungry GPU down the line you won't have to upgrade your PSU.
Alternative: EVGA 500 BA Non-Modular
EVGA's non-modular counterpart to the BQ 500W is exactly what it sounds like. All of the power cords are built into the power supply, so you don't get to pick and choose which cables you have in your PC. If you don't mind messy cables or are a whiz at cable management you might want to save a little bit of money with this PSU. 500 watts is plenty of power for a 6600 XT or 1660 Ti.
Case: Montech X3 Mesh
Montech's X3 Mesh is a well-designed case with great airflow and solid aesthetics at a reasonably affordable price. It comes complete with a PSU shroud, a rear exhaust fan, three front intake fans, and two more on the top (all with RGB lighting that can be turned on and off), and plenty of slots through which you can route cables to keep their visibility to a minimum.
Its mesh front panel allows plenty of air intake, and the case as a whole looks great. It has plenty of apertures through which to route cables discretely. All of these factors combine to make it a great choice for an 144FPS budget rig, considering its price of about $80.
Monitor: AOC 24G2 24″ 1080p 144hz 1ms
If you're going to run games in 144FPS you'll need an 144hz monitor to capitalize on your fast framerate. While AOC might not be quite name-brand, their 24G2 monitor delivers excellent performance and represents one of the cheapest 144hz monitors available presently.
In addition to a fast refresh rate, the 24G2 boasts a 1ms response time, adjustable height, and a three-year warranty. These features all add up to a great gaming experience at a great price.
Peripherals
We won't go into too much detail with peripherals, as an argument could be made for just about any decent gaming mouse, keyboard, mousepad, or other peripheral. Still, we'll at least mention our top picks.
Mouse: Razer DeathAdder v2
The DeathAdder line has become more or less the generic gaming mouse, and for good reason. It's not too expensive and super comfortable with two customizable side buttons in addition to the scroll wheel and two DPI buttons. You can't go wrong with this one.
If you're into lighter gaming mice the Glorious Model D is our favorite. It's 61 grams and has an ergonomic right-handed design (if you're a lefty the similar but ambidextrous Model O will suit you better.
Keyboard: Razer Huntsman Mini
If you're looking for the best switches known to man, look no further; the Huntsman Mini has them (in fact, this entire article was typed on those glorious clicky optical switches). Customizable RGB lighting is also nice.
Of course, if you're a big fan of arrow keys or otherwise dislike 60% keyboards the Huntsman Mini simply won't do. In that case, the more-expensive but arrow-key-equipped Razer Huntsman v2. For best results make sure to get the model with clicky optical switches (as opposed to linear).
Mousepad: Glorious 3XL
The aptly-named Glorious 3XL is truly closer to a tablecloth–it's 2 feet by 4 feet. If you don't have that much space they make more traditionally-sized mousepads as well. All of these are machine-washable and very durable. Also, if you get one in black coffee stains barely show up.
Headset: Corsair HS60 Pro
It's hard to go wrong with any name-brand headset and Corsair's HS60 is no exception. We aren't audio snobs but the sound quality is seemingly up to par with any other headsets in its weight-class, and memory foam ear cups make for a comfortable gaming experience.
Mouse Bungee (if you're into that sort of thing): Razer Bungee V3
Truth be told, we've never demoed this specific mouse bungee; we use Glorious' make. That being said, it's hard to screw up a mouse bungee and this product evidently has two revisions' worth of improvement. That's enough to earn this bungee our vote of confidence, and we're choosing it over Glorious' model since it has a cleaner look and takes up a tiny bit less desk space. Still, do your own research on this one.
Important Note: How to Enable 144hz on A Monitor
Contrary to popular belief, monitors typically don't run at 144hz out of the box. There are myriads of horror stories on online forums, wherein users claim to have used 144hz monitors for years and noticed no difference versus 60hz, only to find that they were in fact playing at 60hz the entire time.
For your 144hz monitor to run at its maximum refresh rate, 2 things are required:
1. DisplayPort cable for 144hz refresh rate
First off, you have to use a DisplayPort cable (or HDMI 1.3 or higher). Without one of these your refresh rate will be bottlenecked by your display cable and capped at 60hz, effectively wasting any performance above that threshold.
2. Enable 144hz refresh rate within Windows settings
Secondly, you must enable 144hz within your OS settings. To do this on Windows, follow the following steps:
Right-click on your desktop and select Display Settings
Scroll to the bottom of the page and select Advanced Display Settings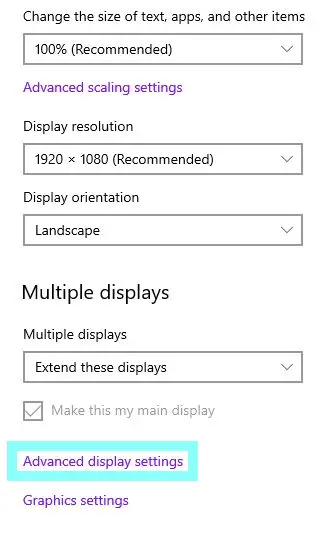 3. Select 144hz (or 143.981hz) from the dropdown menu near the bottom of the page. You'll be prompted to either Keep These Display Settings or Revert. Select the first option, and just like that your monitor will be running at 144hz.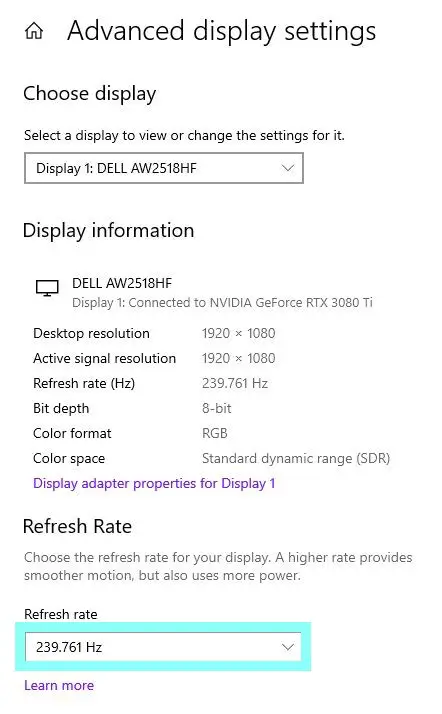 ---
Conclusion:
We hope you found this build list useful. With these parts you should easily push past 144FPS in all but the toughest titles.
If you don't need all those frames or are on a super tight budget, check out our 60FPS sub-$500 gaming rig or our high-settings 60FPS PC parts list.
If you've decided you want to build a PC but don't know where to start, we recommend reading through our PC-building beginner's guide. It's a comprehensive resource on the subject, covering everything from part selection to assembly, OS setup, booting, troubleshooting, and more.