Best Fifine USB Microphone
Best Fifine XLR Microphone
Best Fifine Gaming Headset
06/02/2023 09:38 am GMT
In this article we'll be covering yet another somewhat off-brand company, this time in the peripherals department. We'll take a look at Fifine's product lineup and whether their microphones and headsets are well-made, competitively priced, and worth buying.
Daily Deals:
About Fifine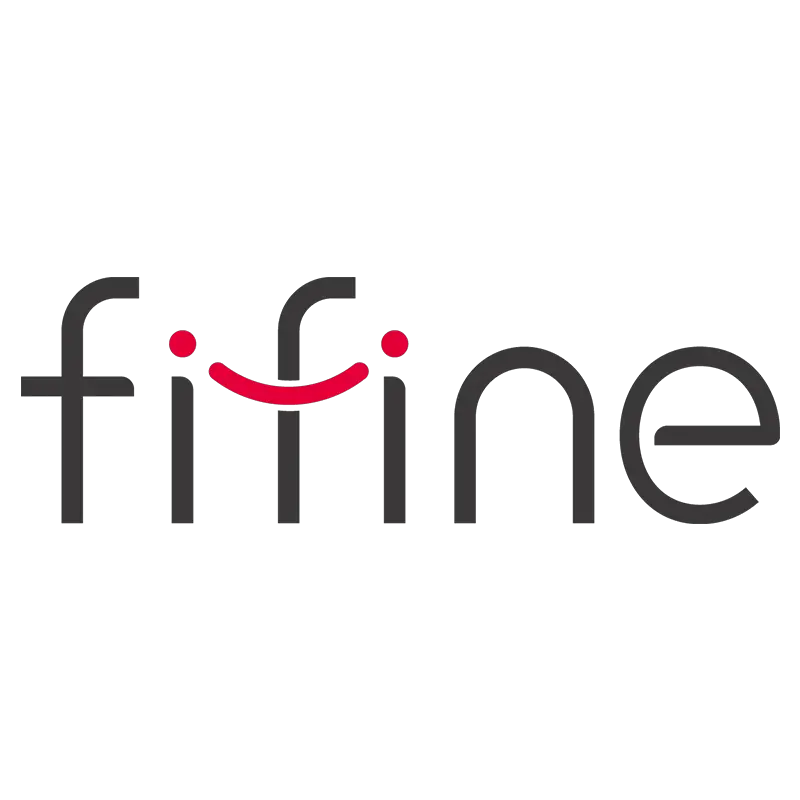 Fifine Microphone, like many lesser-known peripherals brands, is based out of China. Established in 2009, Fifine is best-known for their USB microphones designed for streaming, content creation, and recording audio recording.
Their other specialty is computer headsets. They sell several headset models, along with some other audio-related accessories including an RGB headphone stand, audio mixers, and microphone boom arms.
Fifine Product Lineup
Fifine sells a wide array of microphones including both condenser and dynamic models, as well as SKUs utilizing both XLR and USB interfaces. This includes their Model A6V USB condenser microphone, which is the top-selling microphone on Amazon as a whole.
Even more impressive, it's currently (at the time of writing) the 18th-ranked bestseller in the entirety of Amazon's PC Accessories category, which includes controllers, keyboards, mice, and and many related accessories.
Other notable Fifine microphones include their AM8 which can connect over either XLR or USB, their XLR/USB Dynamic Microphone dubbed the K688, and several microphone/boom arm combos.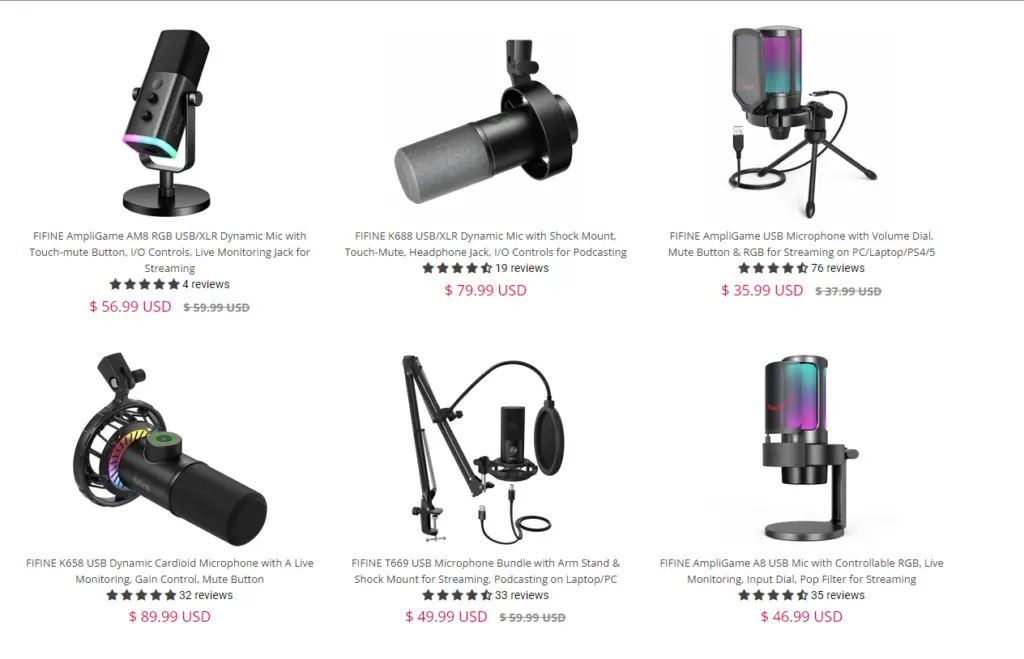 On the headset side of things, Fifine currently has four models: The AmpliGame S3, AmpliGame H6, AmpliGame H9, and H8. Of these four, only one, the AmpliGame H6, is currently available on Amazon, and only one other (the H8) is available from Fifine's website.
We received a sample H6 headset from Fifine, which we'll review in a later section.
Are Fifine Headsets Good?
Since the AmpliGame H6 is, for all intents and purposes, Fifine's only headset, the entire reputation of their headset line naturally depends on it. That seems to be a good thing for Fifine, because the H6 has been generally well-received.
The AmpliGame H6 has amassed over 500 reviews on Amazon. On average, it received 4.3 stars, with the primary complaint in low-star reviews being poor microphone audio quality.
All in all, then, we'd say that Fifine produces high-quality headsets. However, that's not to say they bring the very best value to the table. Read our review on the AmpliGame H6 further down in the page for our full take.
Are Fifine Microphones Good?
The budget microphone market is where Fifine really stands out. Their microphones boast outstanding ratings, usually 4.6 stars or more across thousands of reviews. The vast majority of their SKUs are ridiculously cheap considering their quality, floating largely in the $20-$70 price range.
Fifine AmpliGame H6 Headset Review
The AmpliGame H6 headset is Fifine's flagship model, and the only one that's widely available.
Design
The H6 features a standard design that closely resembles other popular headsets such as Corsair's HS60 PRO and HS35 or Razer's Kraken. It's built with a padded headband and ear cups, which are attached to adjustable arms to make them one-size-fits-all.
They have an RGB-lit ring on the exterior of each ear cup, which also lights up the interior from behind the speakers. They also have a miniscule RGB-lit strip on top of each ear cup, which projects colored dots onto the headband when they aren't in use. The cup's exterior also sports a cheesy-feeling smiley face design, which makes the H6 feel a bit like a children's headset.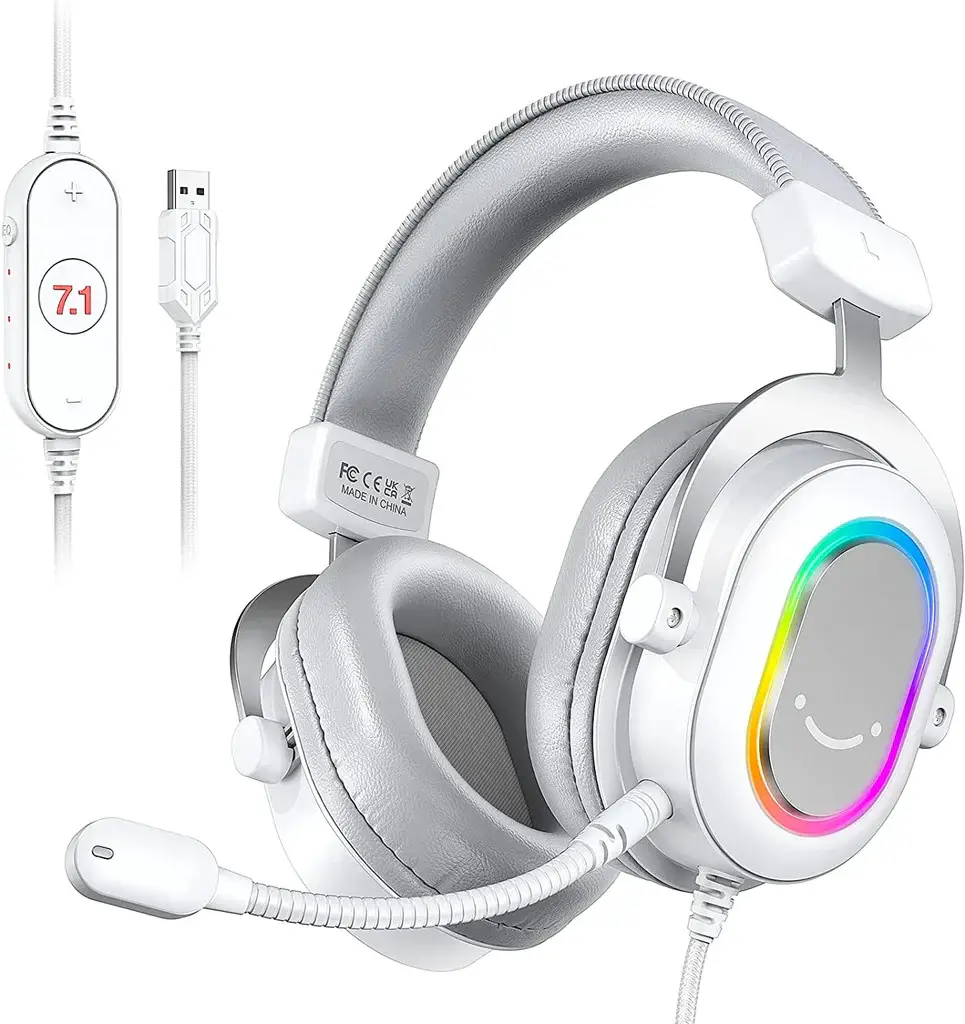 The ear cups are a bit smaller than most we've seen. They're roughly 3.25 inches wide and 3.75 inches tall. To compare, Corsair's HS35 has ear cups measuring roughly 3.5 by 4.5 inches. If you're used to larger headsets, the AmpliGame H6 might feel a bit cramped.
A flexible, removable microphone comes packaged with the H6. The H6 is a wired headset, with a cable made of braided rope which ends in a single USB plugin which connects both the microphone and headphones to your PC, Mac, or PlayStation. Unfortunately, the H6 isn't compatible with XBox.
A control panel a foot or two down the cable allows users to adjust the volume, toggle 7.1 virtual surround sound, enable or disable the microphone, and adjust the EQ to one of three modes: Movie, Game, or Music.
Comfort
The material in the headband padding and ear cups is extremely soft and cushy, and the range of adjustment should accommodate all head sizes. The only real concern, as noted earlier, is the ear cup size. This will likely boil down to personal preference, as some users may prefer a snug fit, while others like roomier designs like the Corsair HS35.
Also notable is the H6's tighter fit. The way this headset is designed, there's a lot more horizontal pressure than some of the models we mentioned earlier. In other words, the ear cups are touching when the headset is laid on a desk, whereas something like the HS35 will have several inches of space between the ear cups.
Quality
This headset certainly doesn't feel cheaply-made. It actually opts for metal where the aforementioned HS35 uses plastic, putting it closer to Corsair's higher-end HS60 PRO in design.
The audio quality is top-notch. The AmpliGame H6 utilizes industry-standard 50mm audio drivers, and stands out for its inclusion of 7.1 virtual surround sound, providing better directional audio than a headset that lacks this feature. This is primarily useful for identifying the direction from which an opponent is approaching in-game.
Pricing
For a lesser-known brand like Fifine, cost is monumentally important. Potential buyers will gladly fork over an extra $10 or $15 to get name-brand product that they trust.
At the time of writing, the AmpliGame H6 is $40 for the black model and $43 for the white. At current market prices, this is right around the cost of several competing headsets equipped with 7.1 virtual surround sound, including the Razer Kraken, HP H360, and Corsair HS65 Surround.
At the time of writing, all three of these undercut or match the H6's price. What's more, the AmpliGame H6 doesn't have any substantial features that set it apart from any of these. Thus, at current market prices it's difficult to justify purchasing the H6.
With that being said, prices are always in swing. If the H6 goes on sale or the competition's pricing increases, it could certainly be worth a buy. Frankly, it appears by all metrics and reviews to be on par with any similarly-priced name-brand headset in regards to quality, so even if it's only $5 cheaper it's a respectable option.
Best Budget H6 Alternative
Best H6 Alternative (Honorable Mention)
Best Overall H6 Alternative
06/02/2023 09:06 am GMT
Fifine Brand Review: Final Thoughts
Overall, Fifine is a great microphone brand that also happens to manufacture headsets. The AmpliGame H6 is a good headset, but not an exceptional one, at least at its current price point.
On the other hand, they're at the forefront of the budget microphone industry, and offer some of the best price-to-audio-quality models of any brand.
Essentially, if you're shopping for a headset it may be worthwhile to stick with a name-brand, but for a microphone Fifine won't disappoint.