While building your own PC is usually the best option, for a number of reasons many folks end up opting to buy a prebuilt gaming rig or commission a custom gaming PC from companies like Skytech, Apex Gaming, or iBuyPower.
Another, newer brand in the competitive custom PC niche is Build Redux. They're actually owned by Digital Storm, which is a more venerable PC builder that started in 2002. In this review we'll have a look at this company and their pricing, quality, and whether their gaming PCs are worth considering for purchase.
Today's Deals
About Build Redux
As mentioned previously, Build Redux is a subsidiary of Digital Storm. According to their website, they "build PCs for gamers," which doesn't really distinguish them from the competition all that much. They started up in 2020, making them one of the more recent PC customization businesses.

Their three core tenets appear to be "Low Pricing," "Max Frame Rates," and a 2-year warranty that covers parts and labor.
What really sets them apart from the bulk of similar companies (and Digital Storm) is their build system. The entire website is built around a web app that presents you with a parts list that is "custom-tailored" to your needs. Notably, they don't have any prebuilt options, in contrast to many comparable companies.
Customization Process Overview
This process begins by asking you to pick your top 3 games out of 15 possible options. These include Apex Legends, Fortnite, GTA V, League of Legends, VALORANT, Minecraft, and a handful of other popular titles. At the same time, you can toggle between Good, Better, and Best options, which cost increasingly much as you go down the line.
They've also recently added an Ultimate option that's insanely expensive, but you'll have to go to their "Best Sellers" page to find this one.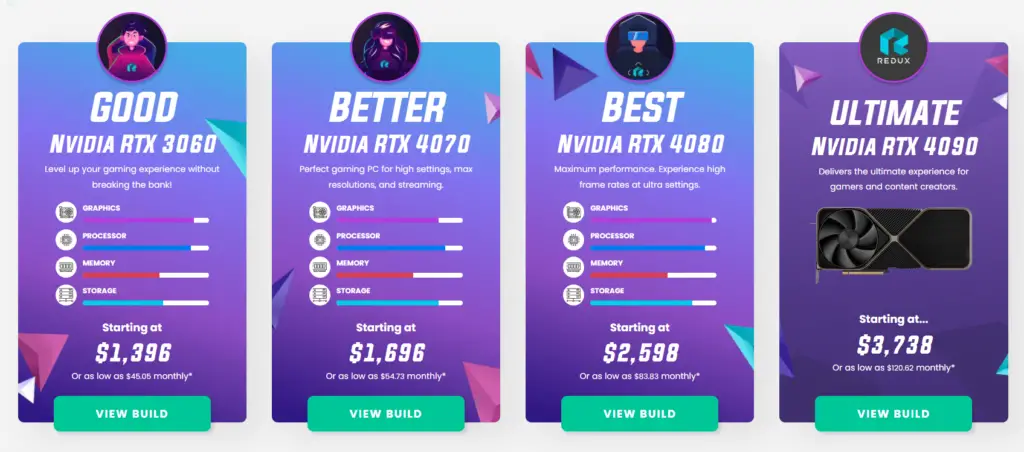 The app will show you the estimated FPS you'll get in your selected games with your selected budget, so you can switch between the different price ranges and see the kind of performance your system is estimated to have.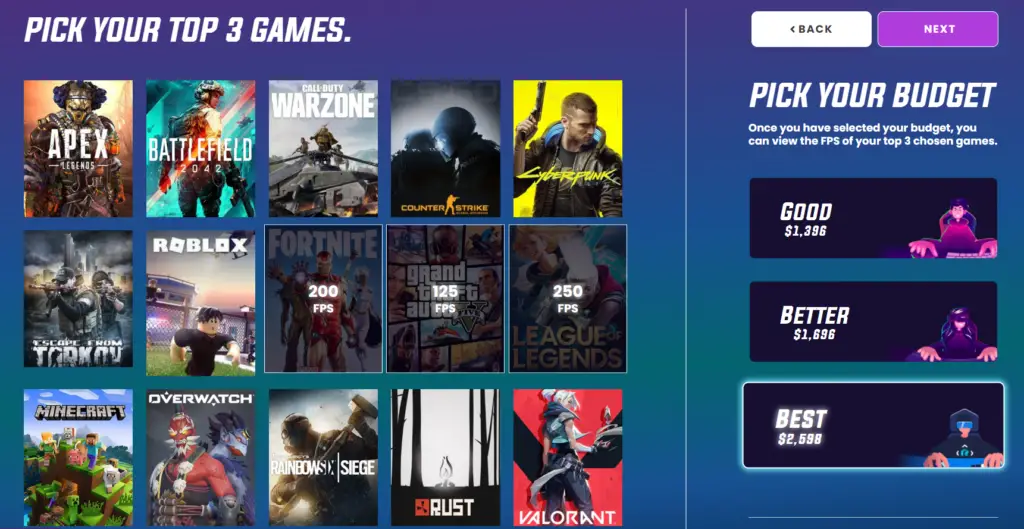 From here you're provided with the base parts list for the budget tier you chose. For instance, this is the current Good build, which costs $1396 at the time of writing (not including sales tax).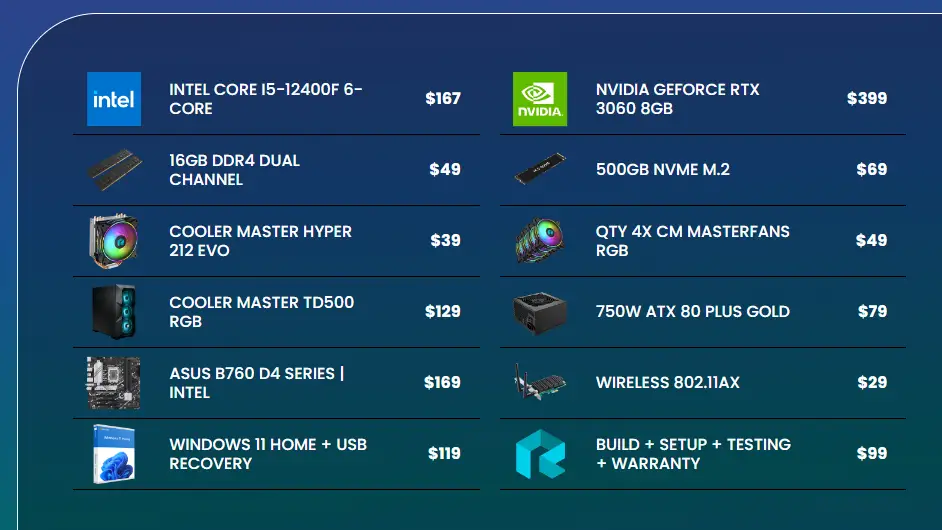 The customization UI is very intuitive. Users can switch between all different parts (GPU, CPU, RAM, Storage, Cooler, Windows, and PSU), with the least powerful/least expensive options up top and the higher-end products towards the bottom.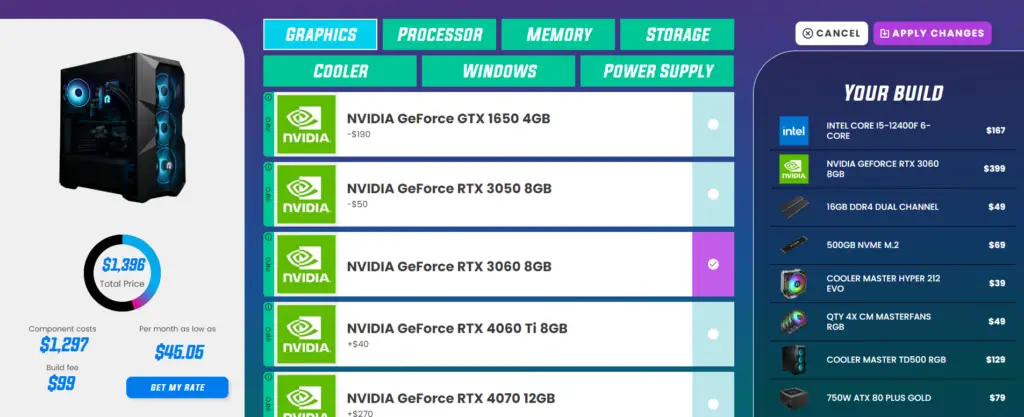 When you're finished, you need only click Checkout and you can easily purchase the PC. But the question is, should you buy a PC from Build Redux in the first place?
Pricing
One of Build Redux's big selling points seems to be their seemingly low $99 build fee which, ironically, used to only be $75. Per their website, "Our mission is to build gaming PCs at the best price without cutting corners."
In all fairness, a $99 build fee is respectable if the components aren't substantially marked up from retail price. Unfortunately, this $99 build fee is only the beginning of the upcharges you pay when buying from Build Redux.
Take, for instance, their current Good build, which is $1396 at the time of writing. It's equipped with Intel's Core i5-12400F, an RTX 3060, a 2 x 8GB kit of DDR4, and a compatible B760 board (almost certainly an Asus Prime B760M-K D4, B760M-A D4, or B760-PLUS D4).
The current retail price of virtually all of these parts is significantly lower than the price charged by Build Redux. The table below shows the breakdown for the Good model, compared to today's retail pricing (without shopping around too much, so the cheapest retail price is almost certainly lower).
| Component | Build Redux Price | Retail Price (6/2/2023) | Difference |
| --- | --- | --- | --- |
| Intel Core i5-12400F | $167 | $150 | $17 |
| 16GB DDR4 | $49 | $30 | $19 |
| CoolerMaster Hyper 212 EVO | $39 | $38 | $1 |
| CoolerMaster TD500 RGB | $129 | $104 | $25 |
| Asus B760 D4 Motherboard | $169 | $135 | $34 |
| Nvidia GeForce RTX 3060 | $399 | $260 | $139 |
| 500GB NVMe SSD | $69 | $21 | $48 |
| CoolerMaster Case Fans | $49 | $0 (Included with TD500) | $49 |
| 750W 80-Plus Gold PSU | $79 | $78 | $1 |
| 802.11AX WiFi Card | $29 | $29 | $0 |
| Windows 11 Home | $119 | $119 | $0 |
| Build Fee | $99 | $0 | $99 |
| Total | $1396 | $964 | $432 |
As you can see, when it's all said and done you come out $432 poorer when buying from Build Redux as compared to building yourself. To illustrate, that's enough to upgrade from an RTX 3060 to an RTX 4070, just for the effort of assembling a few PC parts. This makes Build Redux one of the worse-priced custom PC companies we've seen yet.
The Better, Best, and Ultimate builds don't fare any better. In fact, they actually have even more severe upcharges, since it's easier to overprice already-expensive components without drawing attention. For example, the RTX 4090 is listed at $1799 in the Ultimate package, while you can get a Zotac Trinity OC 4090 for $1589, $210 less.
Considering this, it's extremely hard to justify buying from Build Redux, even if they were the best-built custom PCs on the market. There are simply better options than Build Redux, even if you want a fully-customized gaming PC.
Components and Build Quality
In terms of components, Build Redux does a pretty good job of using reputable brands including MSI, Asus, XPG, and CoolerMaster. Of course, as with most custom PC brands, specific components used are never a guarantee; depending on what they have in supply, you might end up with, say, a Zotac GPU instead of the MSI that Build Redux seems to typically ship.
Build Redux PCs do seem to be consistently well-built. Cable management is clean and components are installed correctly, per the vast majority of customer reviews.
Refund / Return Policy
While users can return a Build Redux PC, they'll have to pay a 15% restocking fee to do so. The only exception is if the PC had faulty hardware, in which case Build Redux will eat the cost.
Another important note is that shipping costs are paid by the customer. Thus, your already-overpriced gaming rig will cost at least another $50 or so, and that's with the slowest option, FedEx Ground. Return shipping is also the customer's burden to bear.

Thus, even if you end up with a defective PC (which is the best-case scenario in the event that you want a return), you'll still have to eat upwards of $100 in shipping costs. That's less-than-ideal, to say the least.
How long does it take for Build Redux to build, test, and ship a PC?
Another important consideration is the amount of time it takes to put your PC together, install Windows, stress test it, and ship it to your house. Build Redux's site estimates a 7-12 business day handling time before your PC ships off (meaning your PC should theoretically arrive within two weeks the majority of the time).
Unfortunately, this doesn't seem to be the case according to many Reddit users and YouTube reviews. Many users report experiencing major delays for various reasons that resulted in their not receiving a PC for well over a month. Often, Build Redux's support team did not inform them of delays until well after the fact.
This appears to be a common theme amongst many Build Redux reviews. Their customer support is clearly lacking on the whole, and is another one of their glaring shortcomings.
Build Redux Brand Review: Final Thoughts
Build Redux seems like a promising brand at first glance. They use high-quality components and build truly great-quality gaming PCs.
Sadly, their exorbitant prices and lousy customer support drag them down so severely that we can't recommend buying from Build Redux. The best option is, of course, building your own PC. Buying a non-custom prebuilt PC isn't a terrible alternative, as many times costs are as good or even better than sourcing your own parts.
Even if you want a fully-customized system and don't want to build yourself, there are better options. Skytech Gaming, for example, sells much more fairly-priced (although still overpriced) custom PCs than Build Redux. Just for the effort of shopping around, you'll be able to get identical performance while saving a few hundred, or even upwards of $1000, depending on your budget.
Alternatives: Other Brand Reviews
Finally, feel free to check out our reviews of other gaming PC brands to compare alternatives.