Intel's 13th generation Core Raptor Lake CPUs continue the company's trend of offering models with terrific performance for cost. With Raptor Lake, the Core i3-13100 and 13100F, as well as the Core i5-13400 and 13400F, are the main value offerings. Recommended retail prices for all four of these SKUs are $221 or less, with the i3-13100F representing the cheapest choice at $109.
How to pick the best motherboard for the Core i3-13100(F) or Core i5-13400(F)
These Core i3 and lower-end Core i5 CPUs use less power than more expensive chips of the same generation. The Core i3-13100 and 13100F have a maximum rated turbo power consumption of 89W, while the i5-13400 and 13400F's max turbo power is 154W. Meanwhile, more powerful K-series processors like the Core i5-13600K, Core i7-13700K, and Core i9-13900K have max turbo power consumptions of 253W.
This higher power consumption necessitates a top-tier motherboard with higher quality power delivery systems (Like a Z790), but for cheaper mid-range CPUs like the 13100(F) and 13400(F), a B760 or H770 will be able to provide ample power for maximum performance.
Additionally, these non-K CPUs aren't overclockable. This is yet another reason to stick with B760 or H770 boards, as Z790's cost more and won't offer much additional functionality in conjunction with a non-K CPU, versus a lower-end mainboard.
In other words, the best way to pick a motherboard for a lower-end (non-overclockable) Core i3 or Core i5 CPU is to find the cheapest model that can take full advantage of your processor's capabilities. Such a motherboard will almost always fall into the $100-$200 price range.
One last important note is that, while it may seem like a good idea to save a bit of money and buy a 600-series motherboard, you'll be much better off buying a 700-series SKU in most instances. Most 600-series boards require a BIOS update to work with a 13th-gen processor, and unless the motherboard has a BIOS flashback feature you'll need to install a 12th-gen CPU just to achieve this.
With that being said, B660 or H670 mainboards with BIOS flashback are perfectly suitable for the i3-13100 and i5-13400, as are makes that come with an updated BIOS out of the box.
Best Motherboards for i3-13100(F) and Core i5-13400(F): Overview
11/23/2023 08:16 pm GMT
Best Budget ITX: ASRock B760M-ITX WiFi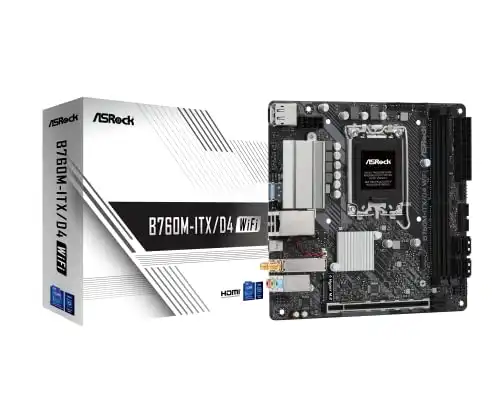 The ASRock B760M-ITX WiFi is an excellent budget option that supports the newest 13th-generation Intel chips. This mini-ITX board will fit snugly into a small form-factor chassis and still provide all of the basics, along with some additional features.
While this motherboard only provides 2 DDR4 DIMM slots, this is fairly typical for an ITX mainboard. These DIMMS can be overclocked to frequencies of up to 5333MHz with XMP.
The B760M-ITX also offers support for PCIe 4.0 SSDs, along with Display Port 8K at 60hz and built-in WiFi.
The main downside is the existence of the Gigabyte Z690I (covered next), which for a bit more cash offers a far more feature-packed experience with DDR5 DIMM slots and two M.2 drives.
If you're looking to build an undersized rig with the Core i3-12100 or Core i5-13400 and looking to save money on your ITX motherboard, this is a solid minimalist option, as it has all of the features you need without costing an arm and a leg.
Best ITX: Gigabyte Z690I Aorus Ultra Lite
The Gigabyte Z690I Aorus Ultra Lite strikes a great balance between price and performance. If you're in the market for an ITX motherboard, you'll be hard-pressed to find a solution better than this for a budget build.
While this board is not 13th-gen compatible out of the box, it has BIOS Flashback, which means you can easily flash the BIOS without installing a 12th-gen CPU. This means that you only need to insert a USB drive with the newest BIOS downloaded to it to flash the BIOS into compatibility.
While there are some downsides to this motherboard, like the PCIe 3.0 connectivity instead of PCIe 4.0, these shouldn't affect performance all that much, if any. Even the highest-end graphics cards see negligible performance benefits when utilizing the higher bandwidth of PCIe 4.0, and if you're building a system with the Core i3-13100 or Core i5-13400, you're likely pairing this with a mid-range GPU that won't be impacted at all by the generation-older PCIe revision.
Like the ASRock ITX board discussed earlier, the Aorus Ultra Lite also has two DIMM slots, however they're DDR5. With prices for the newest type of RAM decreasing rapidly, DDR5 is becoming more and more mainstream. While it doesn't currently offer any significant performance boosts over DDR4 in most tasks, this may change in the near future. With this board, you can overclock your RAM to 6000MHz.
Other notable features of the Z690I Aorus Ultra Lite include M.2 SSD slots, WiFi 6, and 8 rear USB ports (Three 3.2 Gen1, Two 3.2 Gen2, Two 2.0, and a 3.2 Gen2 Type C), cementing this a feature-packed beast.
Best Micro-ATX B760: ASRock B760M Pro RS/D4 WiFi
Best B760 Motherboard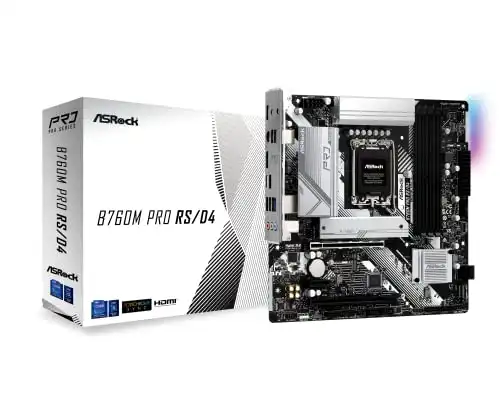 ASRock B760M Pro RS/D4
Pros:
Compatible with Any Intel 12th or 13th-Gen Desktop CPU

7+1+1 Dr.MOS Power Phases

Four DIMM Slots

Large VRM, M.2, and Chipset Heatsinks

Beautiful Design

DDR4 Overclocks Up To 5333MHz

Excellent Value
Buy on Amazon
Buy on Newegg
Art of PC is reader supported. We may earn a commission if you make purchases through our affiliate links. Thanks for your support!
11/24/2023 05:27 am GMT
Micro-ATX boards tend to bring the best value, and this board is no exception. With the B760M Pro RS/D4 WiFi, ASRock continues to live up to its name producing solid budget motherboards that perform well without breaking the bank.
With this SKU you get four DDR4 DIMM slots supporting overclocked frequencies up to 5333MHz, allowing up to 128GB of RAM (although most users will never need anywhere near that much).
In regards to connectivity, the B760M Pro RS/D4 WiFi has a USB 3.2 Type-C and 5 USB Type-A ports, as well as a single HDMI and DisplayPort. Finally, as its name would suggest, this B760 board comes with built-in WiFi 6E and Bluetooth 5.3.
All of these features combine to make this B760 a compelling choice for use with a budget gaming rig.
Best Micro-ATX B760 (Alternative): MSI Pro B760M-A WiFi DDR4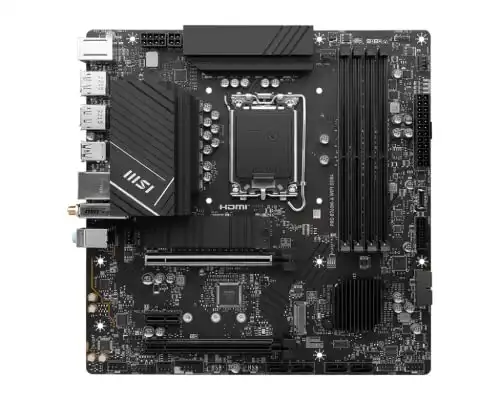 Coming in at roughly the same price as the ASRock B760M listed above, the MSI PRO B760M-A WiFi is a solid alternative. Sporting PCIe 5.0, multiple USB 3.2 Gen2 and M.2 SSD slots, and more, you may find this to be the better option, depending on what you're looking for.
As expected, we get four DDR4 DIMM slots, again capable of 5333MHz overclocked. In addition to the 6 USB-type A ports (two 3.2, two 3.1, two 2.0), we get an impressive 4 display outputs: 2 HDMI and 2 DisplayPort.
WiFi 6E and Bluetooth round out this budget-friendly motherboard's feature set. At the end of the day, if you're shopping for a cheap mainboard to pair with a lower-end 13th-gen i3 or i5, we recommend choosing whichever option is cheaper. The base features are virtually identical, so unless you really need the one additional USB-A port or want the ASRock model's USB-C plugin, the decision should boil down to cost.
Best ATX B760: Asus Prime B760-PLUS D4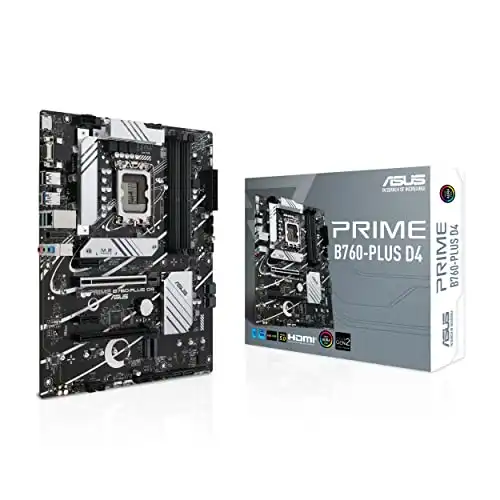 Moving up to the full ATX form factor, Asus knocks it out of the park with the Prime B760-PLUS D4. With a lot of extra ports, features, and 3 RGB Aura Sync headers, you'll be sure you have everything you need for your new 13th gen experience.
The B760-PLUS D4 comes with four DDR4 DIMM slots supporting speeds of 5666MHz with XMP. Display options include a single DisplayPort, HDMI, and VGA plugin.
Loaded with connectivity, the Prime B760-PLUS D4 has three PCIe 4.0 M.2 SSD Slots and 6 rear USB ports including two USB 3.2 Gen 2 Type-A's and a Type-C, a 3.2 Gen 1, and two 2.0's. There are few alternatives at this price point with three M.2 slots, USB-C, and this many USB ports.
Best ATX B760 (Alternative): Gigabyte B760 Gaming X AX DDR4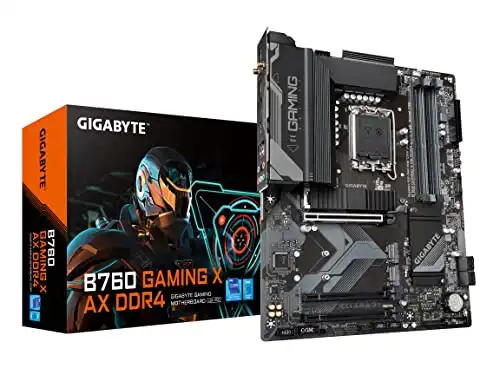 The Gigabyte B760 Gaming X AX is a direct competitor to the Asus B760 listed above and a solid alternative focusing on different aspects of connectivity in an ATX form factor.
While priced similarly, the focus shifts to having more connections available, such as the whopping 8 USB ports: four 2.0, two 3.2 Gen 1, and two 3.2 Gen 2. While the Gaming X AX has no rear USB-C, it has a header for a USB-C port if your chassis has one, as well as some RGB headers.
Its three M.2 SSD ports are on par with Asus' B760-PLUS, with a heatsink included on one and additional USB 3.2 Gen 2 headers for your case ports. As is standard with ATX boards, it supports up to four RAM modules at 5333MHz.
Best DDR5: ASRock B760M Steel Legend WiFi DDR5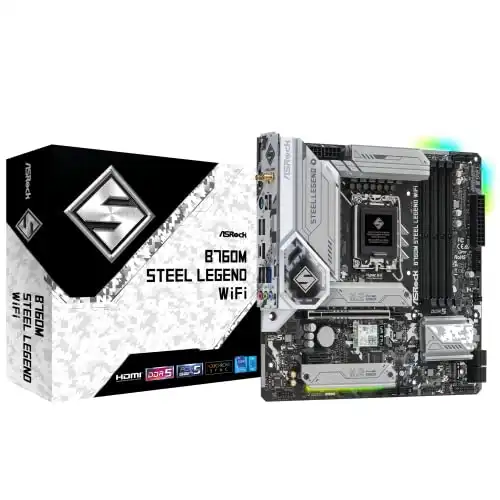 While we recommend DDR4 for most users, DDR5 is becoming increasingly viable, with prices reaching historical lows. Since the Core i3-13100 and Core i5-13400 are both DDR5-compatible, it only makes sense to have another DDR5 option in this list, in addition to the Mini-ITX Aorus Ultra Lite we touched on earlier.
The ASRock B760M Steel Legend WiFi DDR5 is one such motherboard, with 4 DIMM slots supporting clocks of up 7200MHz.
With PCIe 4.0 for the main video card slot, two M.2 SSD ports both with high-quality heatsinks, and all the USB ports you could want, this motherboard is a small step above the competition at a very similar price. Equipped with two USB 3.2 Gen 2s, three 3.2 Gen 1s, two 2.0s, and a 3.2 Gen2 Type-C (for a total USB-A count of 7), there's more than enough room for peripherals.
Overall this may be the best option available for your new i3 or i5 CPU if you're looking to future-proof with DDR5 memory at a reasonable price, without making any concessions in other areas.