If you're planning to build a new gaming PC and are debating which CPU cooler to buy and which to avoid, the decision can sometimes seem overwhelming, especially when dealing with higher-spec (and consequently higher-priced) components. As both Intel and Ryzen's current-generation processors pack quite a punch performance and heat-wise, they require comparably hefty cooling.
Since neither Intel nor AMD include coolers with any of their highest-end processors, you'll need to pick an excellent 3rd-party cooler in order to achieve maximum performance and minimum temperatures. This is doubly true if you're looking to overclock your CPU for even faster computing.
AIOs (Liquid Coolers) vs. Air Coolers
For the uninitiated, there are two main types of CPU coolers you can buy ready-to-use: Air coolers and all-in-one liquid coolers (often dubbed AIOs). Air coolers feature large metal heatsinks (and frequently accompanying fans) to dissipate heat from the CPU and keep temperatures in a safe range.
In contrast, AIOs are less intrusive, as they don't infringe on your RAM's elbow-room, instead using a smaller attachment over the CPU socket alongside tubing filled with a mixture of deionized water and ethylene glycol (commonly used in antifreeze) to constantly loop past the CPU, taking with it the processor's excess heat.
They are typically less noise-producing than air coolers, and tend to perform slightly better on the thermal scale, thanks to the high efficacy of liquid cooling. Thermal dissipation is almost instant, removing substantial amounts of heat and resulting in minimal thermal throttling.
This isn't the only advantage of All-In-One coolers, though. Many also feature a display integrated into their pump for both aesthetic and monitoring purposes, a popular current trend in the PC hardware market. These AIO screens are prevalent for good reason: Not only can you monitor your temps without a monitor plugged in, you can also display a GIF of your choice for a sweet-looking addition to your battle-station's charm factor.
In this extensive guide, we'll explain everything there is to know about AIO coolers, all while sharing the best-looking (and best-performing) ones.
To help you select the best screen-equipped CPU cooler for your specific needs, we'll classify them based on factors including radiator size, fan count, display size, pump, and pump fan.
Factors to Consider when Buying an AIO
Here are a few key factors that you should keep a lookout for whenever you're considering purchasing an AIO Cooler:
Make sure that you have sufficient room in your case to install an AIO. Mounting the radiator at the top or front of the case is best; just ensure that if you opt for a front-side mount the tubes are on the bottom side of the radiator, as this allows for improved cooling efficiency.
Typically, AIOs come in sizes of 120mm (1 Fan), 240mm (2 Fans), and 360mm (3 Fans). There also exist some less common sizes such as 140mm and 280mm.
Inspect the manual of the casing you use to guarantee that the cooler you buy will fit properly.
Finally, make sure you'll be able to mount the AIO in the socket of your choice.
Now that we've checked all of the above boxes, let's look at the seven best CPU coolers with customizable displays.
Best CPU Coolers with Screens: Overview
11/22/2023 02:49 pm GMT
NZXT Kraken X53
Best Budget AIO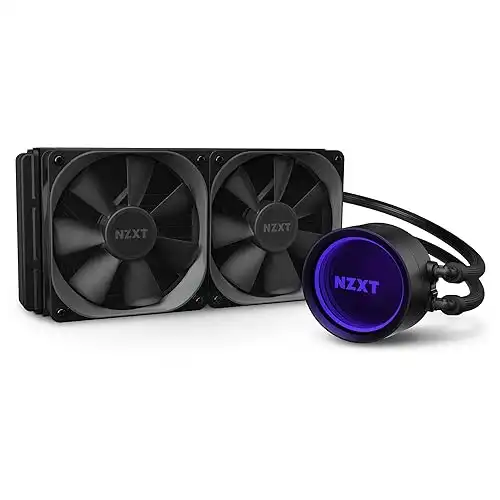 NZXT Kraken X53 240mm
Buy on Amazon
Art of PC is reader supported. We may earn a commission if you make purchases through our affiliate links. Thanks for your support!
11/22/2023 02:49 pm GMT
NZXT has redefined the AIO market by introducing a budget-friendly AIO with a display that also delivers top-tier performance. The LCD is controllable by NZXT's CAM software. The pump can be customized to display system information, custom GIFs, images, or whatever else may please you.
The Kraken X53's cooling performance is above average, but don't expect it to beat high-end AIOs in performance. After all, it's one of the cheapest AIOs available and the most affordable one to make this list.
This cooler rocks a 240mm radiator and two in-house Aer P 120mm fans tested to run at 2000 rpm at full load and 500 at idle, and creates high static pressure to remove the hot air through the vents immediately. Although NZXT purports this to be a super-silent AIO when under load, decibel tests would suggest otherwise. It is a noisy AIO, so if absolute quiet is important to your enjoyment of a PC you may want to look elsewhere.
As a $120 cooler, the Kraken X53 understandably lacks a VRM fan built into the pump, which can help keep your motherboard cool and enhance overclocking capabilities. Only cooling the CPU chip won't cut it if you plan to overclock a beefy CPU, so if you're shooting for high frequencies you're best off looking to more expensive options.
Where the Kraken X53 really shines is the budget market; it's one of the cheapest AIOs available, and offers comparable performance and better aesthetics than most air coolers in its price range. For this reason, we're giving this cooler the crown for best budget AIO with a screen.
NZXT Kraken Z63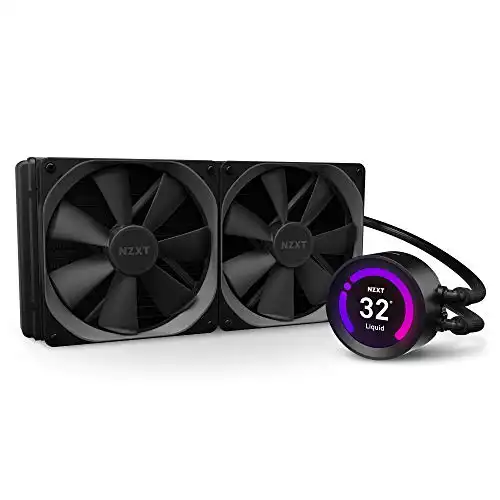 NZXT Kraken Z63 280mm
Buy on Amazon
Art of PC is reader supported. We may earn a commission if you make purchases through our affiliate links. Thanks for your support!
11/22/2023 03:06 pm GMT
NZXT's Kraken Z63 is the X53's big brother. It's a 280mm AIO cooler, and offers a lot in the realm of thermal capabilities, thanks to its large 143 x 315 x 30mm radiator. The Z63 boasts a 2.36-inch LCD capable of displaying 24-bit colors, which is a step up from the Kraken X53.
Like the X53, the display is easily customizable to your liking with the help of NZXT's CAM software, and is capable of displaying GIFs or system information such as CPU temps.
Helping the radiator with the thermal dissipation are NZXT's two in-house 140mm Aer P fans with chamfered intake and fluid dynamic bearings allowing for unparalleled airflow while reaching speeds of up to 1800 RPM at full load and slowing down to 500 at idle.
Unfortunately, the Kraken Z63 shares the same shortcoming as the X53, reaching sound levels of 50DBA at full throttle and a lack of a VRM fan. Many users may choose to overlook this in light of the Z63's otherwise well-rounded design.
Finally, the Z63 has a noteworthy manufacturer Warranty of 6 years, a good bit longer than most others in the market.
MSI MPG CoreLiquid K360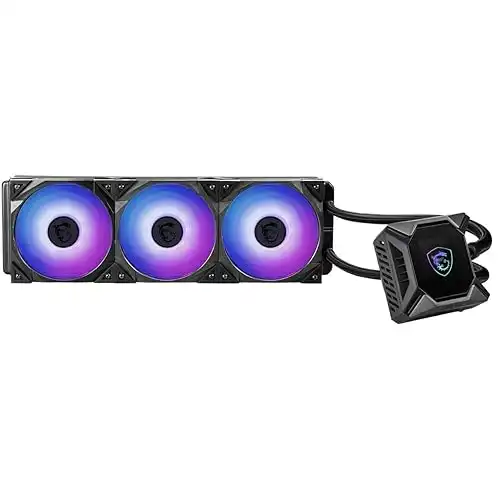 MSI MPG CoreLiquid K360
Buy on Amazon
Art of PC is reader supported. We may earn a commission if you make purchases through our affiliate links. Thanks for your support!
11/22/2023 03:11 pm GMT
MSI's catch-phrase for the MPG Coreliquid K360 is "Cool can be powerful." In this case, that's a pretty accurate statement.
The CoreLiquid K360 is a 360mm AIO which is truly powerful, blowing most of the competition out of the water. The pump is equipped with a 60mm VRM fan, which keeps temperatures frosty even in heavier overclocks.
An Asetek 7th-generation pump powers the AIO, prevents leaks, and offers superior heat conductivity. 
The pump comes complete with a 2.4-inch screen, which can display a wide range of system information and photos through MSI's proprietary software, which also allows full control of fan curves and pump speed.
The software also has a feature called "Gaming Intelligence" which allows users to dynamically set how many fans will run at a specific thermal threshold, allowing for extremely quiet performance in certain instances since only a single fan will run at idle instead of three. 
MSI's exclusive TORX fan 4.0 takes cooling to the next level by combining two working fans into one with an outer ring design to allow for concentrated airflow through the radiators. With the help of this exterior ring design, these fans can easily reach up to speeds of 2500RPM at max load while slowing down to 500 at idle.
All in all, then, the MPG CoreLiquid K360 is a whopping AIO cooler. The only real drawback is its fairly hefty price tag, but if you're shopping for an AIO it's likely you went into it expecting to shell out a decent bit of money.
Aorus RGB 280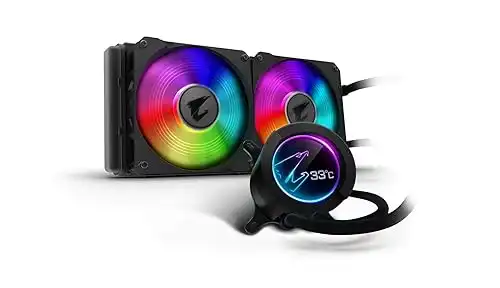 Gigabyte's Aorus RGB 280 is an AIO that can turn heads, especially in regard to looks and performance.
It features a 280mm radiator paired with 2 140mm RGB fans that can reach up to 2300 RPM at full load, designed for pure performance while having beautiful RGB lighting.
Gigabyte created the fans with longevity and performance in mind, selecting 2 ball bearings instead of sleeves to allow fans up to 2 times the longevity of a traditional sleeve bearing design.
The Aorus RGB 280 has a full copper plate allowing for excellent heat conductivity, and is officially rated with a TDP of 280W, which is more than enough for the average power user.
This cooler suffers from lack of a VRM fan, which is the only real knock to its performance.
Enthusiast Mode, which allows you to choose between three different designs and displays your CPU's model and temperature
Function Mode, which alternates between your CPU's temp, clock frequency, and core/thread count and fan status.
Custom Mode, which allows the display of custom text
With the help of Aorus Engine, you can choose what type of system information to display on the pump if desired. The RGB lights on both the radiator and pump display are controllable via Gigabyte's RGB Fusion 2.0 software, additionally enabling you to control the fan speed, fan RGB, pump display, and much more.
Aorus WaterForce X360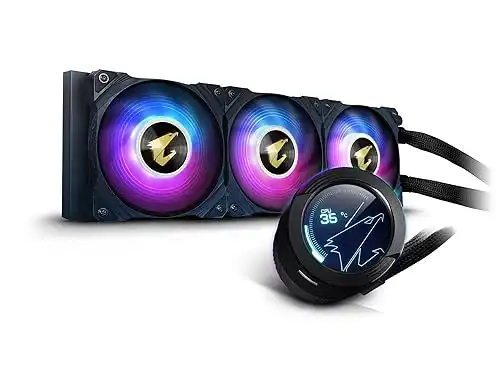 AORUS WATERFORCE X 360
Buy on Amazon
Art of PC is reader supported. We may earn a commission if you make purchases through our affiliate links. Thanks for your support!
11/22/2023 03:18 pm GMT
Another offering by Gigabyte, the Aorus WaterForce X360 is a higher-end AIO that has a lot of similarities with their Aorus 240. However, this cooler takes all of the 240's capabilities to the next level.
A full contact copper plate lends top-notch heat-transfer efficiency, allowing even the hottest CPUs to run cool, as does the WaterForce X360's large radiator, which can dissipate heat quickly and efficiently. Three 120mm fans are built into the radiator, and are capable of reaching up to 2500RPM on full load, 800 at idle. These fans are created specifically for use with radiators, and are designed to produce high static pressure, enhancing the cooler's overall performance.
Gigabyte branches out from the norm with the X360, with MP4 video support on the 2.4-inch pump display, although this requires the installation of an SD card into the cooler. This is a big step above the competition, which for the most part only supports GIFs rather than full-fledged MP4s.
If you're averse to using or purchasing an SD card, you can of course opt for the more standard display offerings available with the Aorus Engine software such as text, system information, or GIFs. As per usual, the X360's RGB is controlled by RGB Fusion 2.0.
Asus ROG Ryujin 360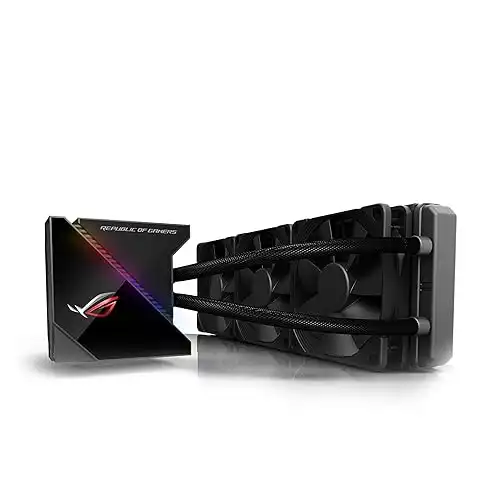 ASUS ROG Ryujin 360
Buy on Amazon
Art of PC is reader supported. We may earn a commission if you make purchases through our affiliate links. Thanks for your support!
11/22/2023 03:33 pm GMT
Asus is best known for making high-end GPUs and motherboards. Still, surprisingly they have decided to make good AIOs by partnering with Noctua, a manufacturer best known for their dirt-brown fans and extremely powerful air coolers.
The ROG Ryujin 360 features a 1.77-inch square OLED Display on top of the pump, which can show system stats like CPU Temperature, fan speed, voltages, frequency, and GIFs. However, one thing to note is that system stats are only possible in conjunction with an Asus motherboard.
If you're planning to purchase this AIO, it's highly recommended that you opt for a solid Asus board such as the ROG Strix Z690-E Gaming WiFi. Otherwise, you're probably best opting for a different motherboard if you place great importance upon this capability.
A 7th-generation Asetek pump allows for superior water flow resulting in top-tier cooling and preventing all sorts of leaks, and a patented fan pump cools the components surrounding the CPU. Certainly a nice-to-have, the ROG Ryujin 360 comes pre-applied with thermal paste, so it you don't need to order aftermarket paste unless you have strong preferences in this regard.
As Asus has partnered with Noctua, the Ryujin 360 uses three of their in-house 120mm, 2000PWM industrial-grade fans created specifically to give its radiator the best thermal efficiency possible. These fans create an impressively minimal 29DB of noise and are engineered for optimal air pressure.
Asus' FanXpert software can be used to control fan speeds and curves, and regulates all fans connected to your motherboard, allowing you to keep noise to a minimum and performance at its peak.
Some prospective buyers may find the fans' lack of RGB lighting disappointing, so keep this in mind when considering your options.
Asus ROG Ryujin II 360 ARGB
The ROG Ryujin-II 360 is Asus' flagship liquid cooler. The successor to the original Ryujin 360, it aims to remedy any shortcomings its predecessor may have had and deliver nothing short of the best performance possible. It is created for gamers and enthusiasts alike, and is geared towards those looking for peak cooling capabilities.
It improves upon the Ryujin I's design with a sizeable 3.5-inch LCD Display on the pump, which is naturally capable of showing real-time system stats and personalized animations via Asus' LiveDash software controls called AniMe Matrix Display. 
Like the original Ryujin it also uses the best-in-class 7th-generation Asetek pump, allowing top-notch cooling capabilities while avoiding leaks thanks to top-grade seals.
As an added convenience, the pump comes with pre-applied thermal paste. A patented micro fan inside the pump helps to maximize cooling performance on and around the processor, keeping your VRM temps to a minimum even under extreme conditions.
The cherry on the top is that the ROG Ryujin II includes three of Noctua's in-house 120mm 2000PWM industrial-grade fans, which are controllable via FanXpert. Users can take advantage of this functionality to tweak fan curves and keep unwanted noise to a minimum. Even without adjustment, Noctua's fans are extremely quiet at 29 decibels.
While the Ryujin II does come in a black non-RGB model, the Ryujin II 360 ARGB is easier to get a hold of and is actually cheaper at the moment. Thus, every "failure" of the original Ryujin seems to have been successfully addressed by its successor.