With the release of Intel's incredible 13th-generation Raptor Lake CPUs, we also received their newest 700-series motherboard chipsets: B760, H770, and Z790. These feature the same LGA1700 socket and are compatible with all of the same CPUS as Intel's 600-series boards, and are overall very similar to the previous generation.
In this article we'll take a look at the B760, H770, and Z790 chipsets in depth, looking at their differences and the ideal segments of CPUs they should be paired with.
We'll also list our pick for the best Intel 700-series board from each chipset. This is based off of a combination of value and expected use case. For example, the best B760 motherboard will necessarily be affordable, since the primary purpose of B760 is to provide solid performance at an excellent value. Meanwhile, our top Z790 pick will weight performance more heavily, while still factoring in cost.
Best B760, H770, and Z790 Motherboard: Overview
08/31/2023 04:25 pm GMT
Today's Deals
What is Chipset?
First, it's essential to understand what chipset means. In the most literal sense of the word, the chipset (also called the Southbridge) is a component that is built into the motherboard. It's directly connected to many components in the motherboard, and the CPU communicates with components through the chipset.
See Also: Intel 500-Series Chipset Comparison
See Also: The Best Motherboards for the Core i3-13100 and Core i5-13400
Chipset defines certain functionalities in a motherboard, but so does the manufacturers' design. For instance, look at the specs below pulled from Intel's H610 Chipset Specifications Page:

The H610 chipset supports a maximum of PCIe 3.0. However, if we look at the specs for the Asus Prime H610M-E D4, we find that it includes a PCIe 4.0 slot.

This slot communicates directly with the CPU, while the Chipset controls the x1 slot. In other words, if a manufacturer wanted to create an H610 motherboard with PCIe 5.0, they certainly could. You most likely won't ever see this though, since H610 is targeted towards consumers who want an affordable build. If someone wanted the latest technologies they'd buy a top-of-the-line Z690.
As you can see, chipset doesn't define every aspect of a motherboard, as third-party input has a role in this. Still, there are certain trends that tend to remain true across most models of a chipset, and this is what we'll be looking at.
Keep in mind that some features (such as memory overclocking) are strictly determined by chipset. For instance, in no case will you be able to overclock your RAM past the maximum XMP limit on an H610 board. We'll cover this side of things as well. After reading this article, we hope you have a more complete idea of what each chipset entails, and which one is best for your specific needs.
B760 vs H770 vs Z790 Overview:
| | B760 | H770 | Z790 |
| --- | --- | --- | --- |
| Launch Date | Q1 2023 | Q1 2023 | Q4 2022 |
| Supports CPU Overclocking | No | No | Yes |
| XMP Support | Yes | Yes | Yes |
| Maximum DMI Lanes | 4 | 8 | 8 |
| Maximum PCIe Lanes | 14 | 24 | 28 |
| USB Ports | 12 | 14 | 14 |
| Maximum SATA Ports | 4 | 8 | 8 |
| Supported PCIe Port Configurations | 1×16 + 1×4 | 1×16 + 1×4 or 2×8 + 1×4 | 1×16 + 1×4 or 2×8 + 1×4 |
B760 vs H770 vs Z790: Similarities
While Intel's 700-series chipsets differ significantly in some aspects (which we'll touch on in a minute), there are some features they have in common.
First and foremost, they all share the same LGA1700 and are consequently compatible with the same 12th and 13th-generation Intel processors, which include the Core i3-12100, Core i3-12300, Core i5-12400, Core i5-12500, Core i5-12600(K), Core i7-12700(K), Core i9-12900(K)(S), Core i3-13100, Core i5-13400, Core i5-13500, Core i5-13600(K), Core i7-13700(K), and Core i9-13900(K), along with all F-counterparts and the 6GHz Core i9-13900KS.
Secondly, each of these chipsets has some DDR4 and DDR5-compatible boards (aside from H770, which still has only one released model). Since DDR4 and DDR5 DIMMS have different form-factors, a motherboard is only ever compatible with one or the other. At the present time DDR4 is still far more cost-efficient, but DDR5 memory prices have been dropping steadily, making compatible boards more viable.

Likewise, boards from all three of these chipsets have support for PCIe 5.0, usually in the form of the top x16 slot intended for discrete graphics cards, and PCIe 4.0 M.2 slots.
Intel H710 Chipset: Does it exist?
As of the time of writing, Intel has yet to release an H710 chipset. This is somewhat surprising, since typically the H*10 chipset will release alongside the launch of same-generation non-K CPUs, at the same time as B*60 and H*70. For example, both the H610, B660, and H670 chipsets released in January of 2022, the same time 12th-gen units like the Core i3-12100 and Core i5-12400 launched.
Surprisingly, though, H710 is nowhere to be seen. It's not just that market supply is limited, either. Intel simply didn't release the chipset, as shown by visiting their Desktop Chipsets page. This would mark the first time a motherboard series lacked an H*10 chipset since Intel's 200-series chipsets from early 2017.
The reason for this is unknown. It's likely that this move was due to consumer preference for B660 over H610, as many B660 boards sold at comparable prices with more robust features. While it's a shame we'll likely never get to meet H710, B760 motherboards should fill its void well enough.
B760
Best B760 Motherboard
ASRock B760M Pro RS/D4
Pros:
Compatible with Any Intel 12th or 13th-Gen Desktop CPU

7+1+1 Dr.MOS Power Phases

Four DIMM Slots

Large VRM, M.2, and Chipset Heatsinks

Beautiful Design

DDR4 Overclocks Up To 5333MHz

Excellent Value
Buy on Amazon
Buy on Newegg
Art of PC is reader supported. We may earn a commission if you make purchases through our affiliate links. Thanks for your support!
08/31/2023 04:25 pm GMT
Now the most budget-friendly and lowest-end line, B760 offers excellent value and will be the best option for the majority of folks building PCs with Intel 13th-gen CPUs. B760
B760 boards don't allow CPU overclocking, so they're best used with the likes of the Core i3-13100, Core i5-13400, Core i5-13500, etc. Essentially, a B760 motherboard is a great choice for any 13th-gen non-K-series Intel processor. While they don't support CPU OCing, you can still overclock your memory with XMP on B760 mainboards.
The primary difference between B760 and H770 is decreased connectivity; on average, rear USB port count is lower, and B760 has a maximum of 12 USB ports, versus 14 for the two higher-end chipsets. The lowest-end B760 boards like the B760M-HDV/M.2 or B760M-ITX/D4 feature 4 or 5 rear USB ports, while nicer models may have 6, 7, or more.
While the majority of B760 SKUs are in the mid-sized Micro-ATX form-factor, there exist several Mini-ITX and full-ATX models such as the Asus Prime B760-PLUS D4 and ASRock's B760M-ITX/D4. As with B*60 boards of the past, the majority of B760 makes have a full four DIMM slots, with some ultra-budget models like Asus' Prime B760M-K D4 or ITX varieties having only two.
M.2 slots are more or less requisite for modern motherboards, so even B760 SKUs almost always have at least two, at least one of which has the higher-bandwidth PCIe gen 4, with the exception of a few mini-ITXs.
In regards to price, B760 boards are very affordable. At the time of writing, Amazon's inventory is quite poor, but on Newegg seven B760 models are selling for $150 or less, with the cheapest going for $110. This is a bit more than B660 motherboards, the cheapest of which currently tend to sell for around $90-100.
H770
Best Value H770 Motherboard
ASUS Prime H770-PLUS D4
Pros:
The Only H770 Motherboard

Reasonable Price

DDR4 OCs Up To 5066MHz

Four DIMM Slots

Plenty of Connectivity
Cons:
Bare-Bones Design

Some B760 Boards Offer Better Value
Buy on Amazon
Buy on Asus Store
Art of PC is reader supported. We may earn a commission if you make purchases through our affiliate links. Thanks for your support!
08/31/2023 04:29 pm GMT
H*70 motherboards are a bit of a rarity; last generation only eight or so models utilized this chipset, versus 63 for B660 and 89 for Z690. H770 seems to continue this trend, as at the moment there appears to be only one H770 make available, the Prime H770-PLUS D4 manufactured by Asus.
We expect a few more to come along, but for the time being there exists only this one model. This makes it easy, as we can categorically state several facts about H770 mainboards in their present state.
Like B760, H770 doesn't allow BCLK overclocking, so these boards are best paired with a 60W or 65W non-K chip. Historically, H*70s are predominantly ATX form-factor, with the occasional ITX model.
H770's main draw is its increased connectivity, which mainly comes in the form of additional PCIe and USB slots. A great real-world example of this can be seen when comparing Asus' B760-PLUS D4 with their H770-PLUS D4, since these are the same model within their respective chipsets.
While they both have a full-sized ATX form-factor, H770-PLUS D4 has one additional PCIe 4.0 x16 slot and two extra rear USB-A ports versus the B760. While both have two PCIe 4.0 x4 slots, the third slot on the H770 is higher-bandwidth with PCIe 4.0 x4 and SATA modes, while the B760 has half the PCIe lanes and no SATA support. This is a specific feature of the H770 chipset, not simply a design choice by Asus.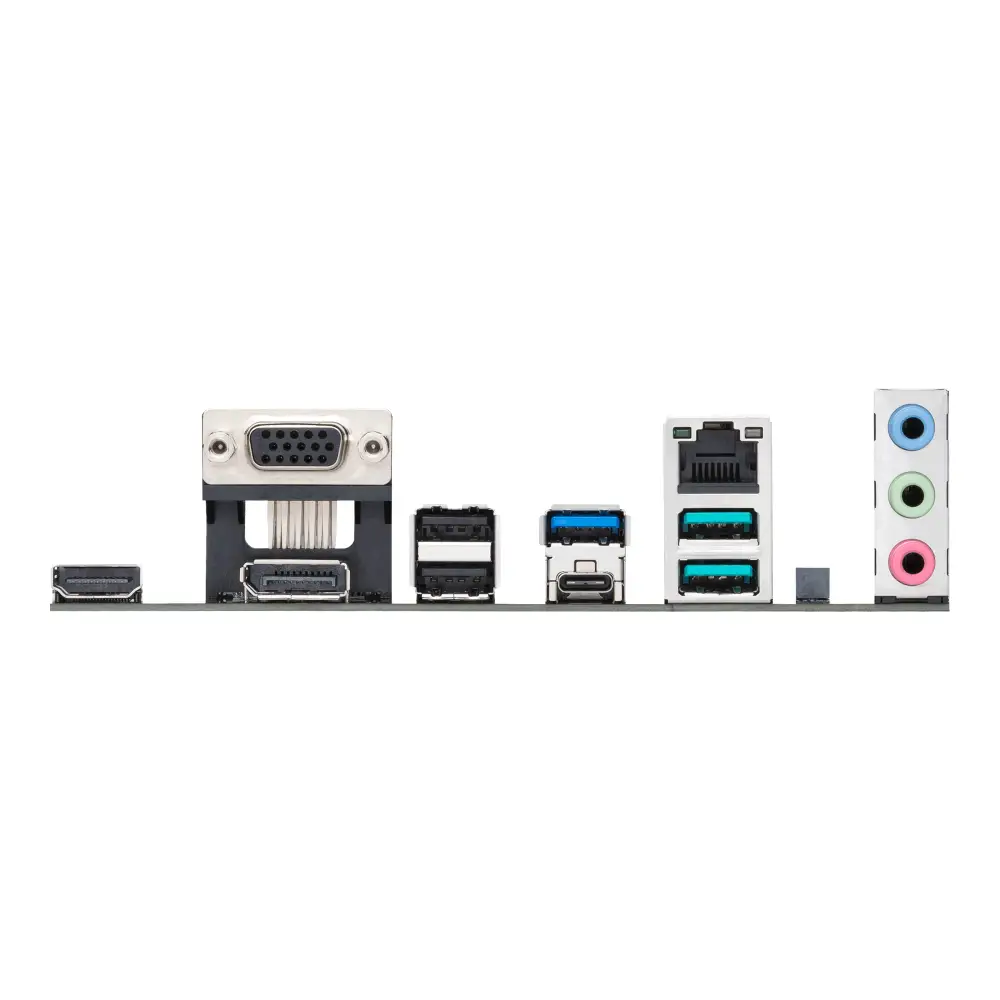 Somewhat surprisingly, MSRP for the Prime B760-PLUS D4 is the same as that of the Prime H770-PLUS D4, at $159.99. Considering the H770's relative advantages, it's difficult to make an argument in favor of the B760-PLUS D4, at least at these prices. Generally speaking, an H*70 motherboard will be $10-30 more expensive than a comparable same-generation B*60, and we expect to see this demonstrated within the current generation as more H770s release.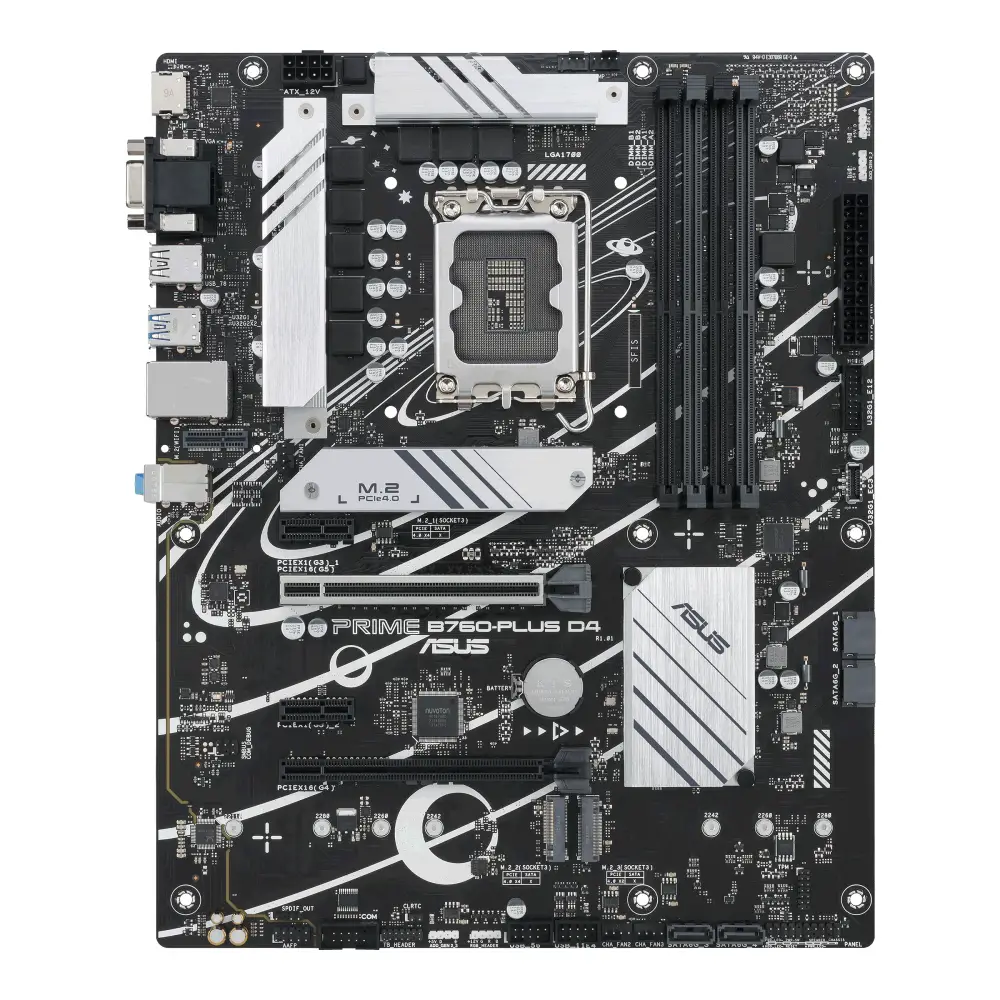 Z790
Best Value Z790 Motherboard
MSI PRO Z790-P WiFi DDR4
Pros:
Compatible with All Intel 12th and 13th-Gen Desktop CPUs

Four DIMM Slots

Excellent Value

Heavy VRM, M.2, and Chipset Heatsinks

Tons of Connectivity

PCIe 5.0

14+1+1 DrMOS Power Phases for Strong CPU OCing Ability
Cons:
More Expensive Boards Achieve Higher OCs

Limited to DDR4 Memory
Buy on Amazon
Buy on Newegg
Art of PC is reader supported. We may earn a commission if you make purchases through our affiliate links. Thanks for your support!
08/31/2023 04:33 pm GMT
Finally, we have Z790, the costliest but most fully-featured chipset. Z790 boards are ideal for use with the Core i5-13600K, Core i7-13700K, and Core i9-13900K(S), and their iGPU-lacking counterparts, since these can make full use of Z790's overclocking capabilities.
Whereas B760 boards start at $100-110 and the lone H770 model is $160, Z790 boards are currently around $190-200 on the low end, and go as high as $1400 for enthusiast SKUs like Asus' ROG Maximus Z790 Extreme. DDR5 models are more common with Z790 than B660 (with DDR5 being currently nonexistent in H770), as DDR5's target audience is more likely to be using pricy components.
Since Z790 motherboards are designed with higher-end 125W chips in mind, they usually have a higher quality and/or quantity of power phases and more extensive VRM heatsinks for optimal power delivery. Another benefit of Z790 is maximum connectivity: It allows the same number of SATA ports and USB slots as H770, with a possible four additional PCIe lands (14 more than B760).
Due to this, Z790 boards tend to have plenty of NVMe SSD-compatible M.2 slots. For example, even the Micro-ATX Asus Prime Z790M-PLUS D4 has three PCIe 4.0 x4 M.2 slots. Essentially, Z790 motherboards are superior in every category, but they come with a significantly increased price tag.
B760 vs H770 vs Z790: Which 700-Series Chipset is Best?
In the end, your choice between B760, H770, and Z790 should be determined by your PC's target performance and price range. If you're building an affordable gaming PC like our $500 1080p 60FPS gaming PC or even our $1000 1080p 144FPS budget gaming rig, there's simply no need for an expensive Z790 mainboard. A B760 will easily suffice, since a mid-range CPU like the Core i5-13400 won't benefit from the increased power delivery and overclocking support of a Z790.
An H770 would be a reasonable choice for such a build if you tend to fill up USB ports quickly. If you use a lot of accessories like webcams, USB headsets, or RGB-lit keyboards with multiple USB plugins, spending a little bit more on this mid-range chipset is a solid choice.
Finally, if you're constructing a high-octane machine like our 1440p 144FPS PC build where cost takes the backseat to performance, a Z790 is probably the right choice. If your CPU is a 13*00K or 13*00KF, you're definitely best off purchasing a Z790.
Intel 600-Series vs. 700-Series and BIOS Updates
If you're considering building a PC with a 12th or 13th-gen Intel processor and aren't sure whether to opt for a 600 or 700-series motherboard, here's what you should consider:
Most 600-series motherboards (H610, B660, H670, and Z690) will need a BIOS update to support 13th-generation CPUs. If the board you choose doesn't have a BIOS Flashback button, you'll have to actually install a 12th-gen CPU to flash the BIOS, which leads to obvious difficulties. For this reason, it's generally best to purchase a 700-series motherboard to be used with a 13th-gen processor.
The exceptions to this are motherboards with a BIOS Flashback button. Most Z690 models have this, as do a handful of B660 and H670s, and with this technology updating to the latest BIOS is as simple as plugging in a USB drive with the correct BIOS files and pressing the button.
On the flipside, 12th-gen processors can be easily used in conjunction with either 600-series or 700-series boards. Thus, if you're buying a mainboard for use with an Alder Lake chip, feel free to choose from any SKU in these two generations' lineups. The changes in features are miniscule between these two generations, so choice between the two will largely boil down to price.