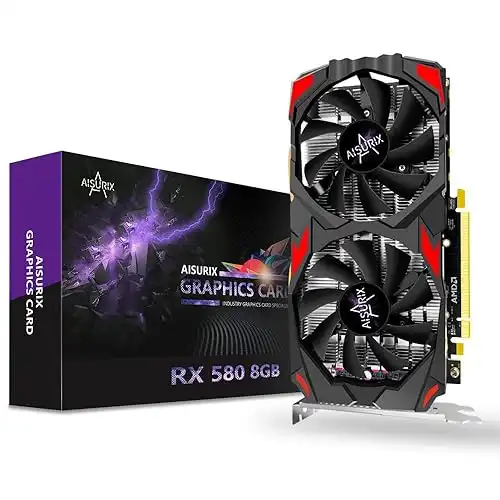 Aisurix Graphics Cards
Pros:
Extraordinarily Affordable

Great Budget Performance
Cons:
Some Models are Noisy

Not the Best Cooling
Buy on Amazon
Art of PC is reader supported. We may earn a commission if you make purchases through our affiliate links. Thanks for your support!
If you're shopping for a graphics card for your budget 1080p 60FPS gaming rig, you may have come across some cards manufactured by Aisurix. But who are they, and are their cards of good enough quality to warrant a purchase?
Today's Deals
11/22/2023 10:33 am GMT
About Aisurix
Not much is known about Aisurix. They have a fairly basic Shopify website where they sell a couple of their video card models, and appear to be based out of St. Albans, Victoria, Australia. At least, that's their listed address on the site.
They seem to almost exclusively sell AIBs with lower-end GPUs such as the RX 5500 XT, GTX 1660 Super, and RX 580.
Aisurix Product Lineup
On their website, Aisurix advertises a number of cards with chips including the RX 580, RX 6600 XT, GTX 1660 Super, and RX 5500 XT, as well as the RX 6600M and RTX 3070M, both of which are laptop graphics cards.
However, in practice Aisurix appears to only sell three models: an RX 580, RX 5500 XT, and GTX 1660 Super. These are available on both Amazon and Newegg, while the 5500 XT and 580 (but not the 1660S) are available on their website at a higher cost.
Aisurix Graphics Card Quality / Reviews
All in all, past buyers are complimentary of Aisurix graphics cards. On Amazon, where they've amassed the most reviews, they have high marks on average.
RX 580
The RX 580 is Aisurix's cheapest but least powerful video card that's widely available to consumers. This is its most popular product by far; in fact, it currently ranks #2 on Amazon's top-selling graphics cards, making it not just one of Aisurix's best-sellers but one of the top-selling video cards online.
It's also their top-rated SKU, with 4.4 stars across 365 ratings. The primary complaint is that it doesn't come with an instruction manual or any sort of documentation. Across the board, users were well-pleased with the performance considering its cost.
RX 5500 XT
Aisurix's RX 5500 XT offering has 55 reviews and averages 4.1 stars. Once again, most complaints revolve around fan noise but on the whole customers were largely laudatory of this card, citing its insanely cheap cost for exceptional 1080p performance.
1660 Super
The most recently released model, their GTX 1660 Super, averages 4 stars over 14 reviews. Most users are very happy with the performance. The couple of complaints revolve around fan noise, specifically when running at lower fan speeds. The two 1-star reviews were questionable; one complained about the 1660 Super having an 8-pin connector, while the other disliked the fact that Nvidia doesn't support Freesync on Windows 7.
Pricing
On the whole, Aisurix's graphics cards are incredibly cheap, as previously mentioned. Their RX 580 sells for as low as $99, the 1660 Super goes as low as $169, and the RX 5500 XT is currently priced around $140. These are a good margin lower than the average cost of each of these respective GPUs, making them stand out to prospective buyers who are on a tight budget.
Final Thoughts: Should you buy an Aisurix GPU?
All things considered, Aisurix manufactures some of the most affordable low-end video cards on the market. If you're looking to spend less than, say, $500-600 on a complete gaming rig, their AIBs are certain worth considering. The value they offer is worth the chance of receiving a slightly noisy card.
When building a nicer system, you may want to consider a more reputable brand such as MSI or XFX, as these will be equipped with better cooling systems and quieter fans on the whole. In the end, this choice will come down the personal preference, and how strongly you desire a quiet PC.