Overview
Right now there's really no such thing as a cheap PC, but there's cheaper builds for certain. One definite way to save money is to build a rig with less impressive specs. While it would be nice to have an RTX 3090 and Ryzen 9 5950X, the truth is you're probably never going to utilize that much power.
A lot of folks are looking for high refresh rates, and we get that. In fact, we made a similar article covering the best 144FPS budget gaming PC. On the other hand, if you're on an even tighter budget than this article allows you might want to see our sub-$500 60FPS APU build instead.
If you're one of the many people who's willing to lose a few frames per second for a few hundred dollars, a 1080p 60FPS PC is probably the sweet spot if you want to get a cheap rig that balances a smooth gaming experience with a reasonable cost.
See also: Is 60hz Good for Gaming?
In addition to our primary parts list, we'll offer an alternative for most parts. These will offer greater customization of the build.
For example, if you want to save a little bit more money and don't care about fast boot times, you may want to get a cheaper SATA SSD or even a hard drive.
Now, let's get into the build.
CPU: Intel Core i3-10100
Intel's Core i3-10100 is debatably the best budget CPU on the market. This 4-core, 8-thread chip hits closer to the 144FPS mark in most games, and can handle 60FPS in virtually anything. It comes with an air cooler that gets the job done, so you don't need to worry about buying one.
Add to that the fact that it's the cheapest Intel CPU from the past 2 generations, and you can see why we chose it.
The i3-10100 easily checks all of the boxes for an excellent budget processor that can run almost any title at 60FPS at 1080p.
Graphics Card: RX 550 4GB
The RX 550 is a lower-end AMD graphics card that released all the way back in 2017. Despite this, it can still handle most games today at 60FPS on low to medium settings and as GPUs go, it's very affordable.
Make sure you get the 4GB variation unless you only plan on running games that are graphically low-demand (like Minecraft or VALORANT). There is a version of the RX 550 with 2GB of VRAM, but you'll see a pretty substantial decrease in performance with the decrease in VRAM.
Alternative: GTX 1650
Another 4GB graphics card, Nvidia's GTX 1650 offers newer technology, and thus more graphics processing power, than the RX 550.
Consider choosing the GTX 1650 over the RX 550 if you know you'll be running higher-demand titles like Warzone or PUBG, or if you want to play at higher graphics settings for better image quality. It can push closer to 144FPS in a lot of games
Motherboard: Gigabyte B460M DS3H V2
Gigabyte's B460M DS3H is nothing fancy, but it comes with everything you need at an affordable price. It supports Intel's i3-10100 with an LGA1200 socket, has plenty of PCIe slots and M.2 slots for NVMe support.
Additionally, the DS3H V2 has four RAM slots, so there's room for expansion down the road if you so desire.
RAM: Patriot Viper 2x4GB 3200MHz C16
This DDR4 RAM kit is fast 3200MHz RAM with low latency and a great price.
The RAM modules come fitted with a slick gunmetal-gray heatsink that make for solid aesthetics, and their 8GB of total memory capacity will be plenty for your budget gaming PC.
Alternative: OLOy 2x8GB 3200MHz C16
If you want a little bit more RAM capacity, OLOy's dual-channel 3200MHz 16GB kit will get the job done at a remarkable price.
Specification-wise, they're nearly identical to the Viper modules, but they come in a wider variety of colors including red, white, gray, and black.
Storage: Inland Platinum 1TB NVMe
If you want fast boot times and file writes, look no further than Inland Platinum's 1TB NVMe drive. It utilizes QLC technology to provide extremely fast maximum read and write speeds of 3400MB/s and 1900MB/s, respectively, at a low price.
These speeds are six or seven times faster than most SATA drives, so we feel like the little bit of additional cost as compared to a cheaper storage option is worth it.
In the end, though, that's for you to decide. We've listed our favorite picks of both SATA SSDs and hard disk drives as alternatives below.
Alternative: TeamGroup GX2 1TB SATA SSD
TeamGroup's GX2 is a 2.5″ form-factor SSD with a maximum read speed of up to 530 MB/s. That's respectable, and you'll still experience faster boot times with the GX2 than with a hard drive.
While the GX2 is a bit cheaper than the Platinum 1TB NVMe, we don't believe the price difference is enough to warrant the drop in speed. If you're looking for rock-bottom cost, look to a hard drive.
Alternative: Western Digital Blue 2TB HDD
At approximately half the price of the Inland Platinum 1TB, and with twice the storage, the WD Blue 2TB model deserves a mention. It's obviously not nearly as fast as any SSD, but it's a lot cheaper per gigabyte.
If you're looking to save the most money possible, this might be the way to go. Alternatively, you could buy a 250GB NVMe as a boot drive and a hard drive for backup storage, as this would be a cost-efficient way to have fast boot times with a high storage capacity.
Power Supply: EVGA 450 BR
This 450-watt PSU made by EVGA is ridiculously cheap, but it comes at a cost: It's non-modular, meaning all of the cables are built-in. In other words, cable management won't be easy.
If you can look past this (and a lot of people can), it's a solid power supply with plenty of wattage for the RX 550 or GTX 1650. It's also 80-Plus Bronze-certified, so you can count on it being reasonably efficient.
Alternative: Corsair CX 450M
If you don't want to deal with the hassle of a non-modular power supply, the CX 450M may be your best bet. It's semi-modular, so only the most important cables like the ones running to the motherboard and CPU are built-in.
This will make it a lot easier to keep your case neat and tidy, but you'll pay a bit of a premium for the privilege.
Case: DeepCool Matrexx 50
In addition to looking great, the DeepCool Matrexx comes at a fair price. It has a PSU shroud and solid cable management features, and comes installed with a rear case fan.
It has relatively good airflow (this won't matter much anyway with such low-power components), a tempered glass side panel, and a mesh front.
Monitor: Acer SB220Q
Acer's SB220Q is actually a 75hz monitor, so you can enjoy the full benefit of your hardware at 75FPS. It features a 21.5″ screen with an HDMI and VGA port in the back.
The SB220Q also boasts a fast response time of 4ms and up to 15 degrees of adjustable tilt. It's a good monitor for 60FPS gaming and it doesn't cost too much.
Prebuilt Equivalent: HP Omen 25L GT12-0225qd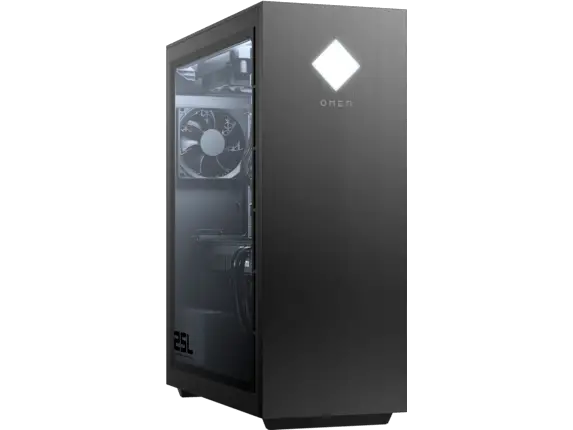 If you don't want to build your own gaming rig, you can still get an excellent 60FPS PC with similar specs to the rig detailed in this article. This prebuilt PC packs a bit more punch at roughly the same cost as the parts list we've covered, as it features the 6-core i5-10400 rather than the 4-core i3-10100.
The base model comes with the following components:
Nvidia GeForce GTX 1650
Intel Core i5-10400
RGB Air Cooler
HyperX 8GB 2666MHz DDR4 RAM
WD Black 512GB NVMe
CoolerMaster 750W Platinum Power Supply
Black Chassis with Glass Front & Side Panels
WiFi 6/Bluetooth 5-capable motherboard
HP Wired Keyboard & Optical Mouse
Windows 10 Home
This build can be customized to fit your specific needs; RAM can be added, as can extra storage capacity, and the 1650 can be swapped out for a stronger GPU. Of course, this costs extra; if you want a prebuilt PC you still have the option to order the base model and make basic upgrades yourself.
Conclusion:
This is our take on the best 1080p 60FPS budget gaming PC, but we know everyone's opinion is a little bit different. If you think you've found a better component for the job, let us know. We'd love to hear your feedback.
If you've decided you want to build a PC but don't know where to start, check out our PC-building beginner's guide. It's a step-by-step guide through the entire process, from part selection to building and troubleshooting.
Art of PC is reader-supported. We may earn a commission if you make a purchase through one of our affiliate links. Thanks for your support!