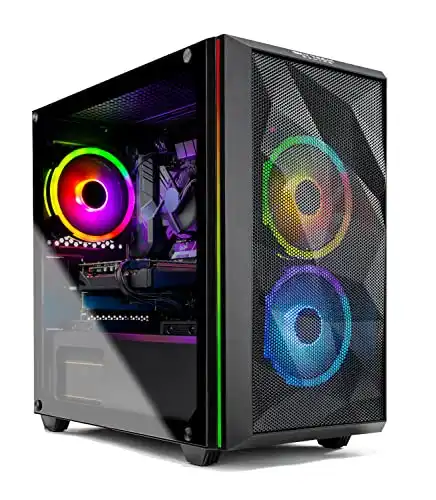 SkyTech Gaming might not be the biggest name in prebuilt PC brands, but it's been around for a while and customers seem generally pleased with their build quality and overall performance (see our SkyTech Gaming brand review for more information).
They offer a stellar lineup of configurations, ranging from the entry-level i3-powered Chronos Mini to the SkyTech Siege, which features a mighty Core i7-12700F paired with a powerful RTX 4070 Ti.
That's not to say the Chronos Mini isn't a powerful machine. It offers great value for money, that's for sure! The Chronos Mini boasts a mid-tower case that features the best of both worlds – compactness and airflow. This bad boy is a solid mid-range setup that'll take care of lightweight gaming at 1080p.
11/24/2023 06:36 pm GMT
Today's Deals
Design
We're looking at a mid-tower case here with a massive emphasis on RGB to cater to younger audiences. It's primarily marketed for teenagers looking to get into PC gaming, so the RGB-friendliness comes as no surprise.
The dimensions are 15 x 8.5 x 16.25 inches, but don't let that fool you – Chronos Mini won't give you thermal headaches. It has two intake coolers in the front as well as a third one for exhaust in the back. The case also features a top mesh equipped with a magnetic dust filter which will make maintenance a breeze.
All three fans are 120mm and feature RGB. There's even a diffuser on the side that creates an awesome RGB effect. All in all, the case offers great airflow, and the design is bound to be a hit among younger audiences.
A tempered glass side panel held in place by four easily-removable screws allows quick access to internal components for routine maintenance or upgrades.
Specs Overview
The parts for this Chronos Mini Configuration are as follows:
Intel Core i3-10105F (4.4 GHz max clock)
 8GB DDR4-3200MHz RAM
500GB SSD
Micro-ATX B560 Motherboard
Nvidia GeForce GTX 1650 4GB
600W 80-Plus Gold PSU
802.11ac WiFi
Keyboard/Mouse Combo
Moving onto the technicalities, the entry-level SkyTech Chronos Mini won't let you down in esports titles. It can run newer AAA games too, though you'll have to tune down your graphics levels to hit 60FPS. Contrary to the Amazon listing's title (which advertises a Core i3-10100F at the time of writing), this rig comes with the marginally more powerful Core i3-10105F.
While its Core i3 designation may seem underwhelming, this CPU is actually great for 144FPS gaming. See our Core i3-10100 Review for a better idea of performance, and keep in mind that the i3-10105F is roughly 2% faster.
In this PC, the GTX 1650 will be the bottleneck on framerates. The GPU is more than capable of running eSports titles like League of Legends, CS:GO, VALORANT, and Dota 2 at 144 frames per second and decent graphical settings, but it can't be expected to hit 144FPS in some of the more demanding titles. Just remember to get an 144hz monitor if you want to take full advantage of your hardware.
If you want more than 60FPS across the board, you'll have to upgrade the GPU to something like an RTX 2060 or RTX 3060. Don't worry, that i3 won't bottleneck either of these video cards.
Unfortunately, SkyTech uses different motherboard brands across their prebuilts so it's impossible to know what you'll get. We do, however, know that the Chronos Mini always uses a micro-ATX B560-chipset motherboard. While these boards don't support CPU overclocking, they still provide most of the bells and whistles you'd get with a Z590, including M.2 PCIe Gen 4 storage support and plenty of USB connectors.
Another important factor to note is that Chronos Mini comes with a mouse and keyboard too. The only additional peripherals required to get this system up and running are a monitor, and perhaps a headset. However, keep in mind that these aren't premium-quality peripherals. They're good, but they won't sweep you off your feet.
If you're looking for something better that won't break the bank, we recommend the Razer DeathAdder V2 and Huntsman Mini. Buying renewed will save you even more money, while ensuring the same superb quality that these peripherals are renowned for.
Performance
As mentioned earlier, this is a pretty solid gaming PC. It will run virtually all eSports titles at a smooth 60FPS, and can handle many at a steady 144FPS. The same goes for most older games too. When it comes to newer AAA titles, however, you'll need to dial back your settings a bit.
Here are some in-game FPS benchmarks for the SkyTech Chronos Mini Core i3-10105F/GTX 1650 Configuration:
SkyTech Chronos Mini Core i3-10105F / GTX 1650 Performance Benchmarks
| Game | Settings | Average FPS |
| --- | --- | --- |
| CS:GO | 1080p High | 175 |
| GTA V | 1080p Very High | 66 |
| Apex Legends | 1080p High | 75 |
| Read Dead Redemption 2 | 1080p Medium | 48 |
| Call of Duty: Vanguard | 1080p Medium | 53 |
| Elden Ring | 1080p Low | 52 |
| Cyberpunk 2077 | 1080p Low FSR Ultra | 69 |
As you can see, CS:GO works like a charm without any hiccups. Competitive shooters are always best played at 120+ FPS, and SkyTech Chronos Mini is more than capable of accomplishing that. Even though its GTX 1650 isn't really a beefy card, it still manages to do fine in AAA games like Elden Ring and Cyberpunk 2077.
Obviously, you'll have to tune the graphics settings to low. With everything on low and running in 1920×1080 resolution, both games are playable without any major hiccups, which goes to show you just how capable this system is, especially at a ~$600 price point.
Connectivity
Front panel connectivity options are plentiful. You have the standard Power and Reset buttons alongside a decided LED button for controlling the RGB lighting. Separate input/output 3.5mm audio jacks are always nice to see. Last but not least, Chronos Mini also has three front panel USB ports, one of which is USB 3.1.
As for the back panel, you'll get 6 USB ports in the rear, coupled with an Ethernet port and a PS2 connector. Alongside that, you'll also find three 3.5mm audio jacks and 2 WiFi antennas for superior signal strength.
There's also an HDMI port up top, but you won't be able to use it in this system as the CPU doesn't have integrated graphics (that's what the "F" indicates in i3-10105F). You can read more about this in our guide to CPU naming schemes.
Upgradability/Modularity
Even though we're looking at a relatively small form factor here, Chronos Mini is easily upgradeable. There are no major proprietary parts, meaning everything can be easily removed and upgraded. Additionally, the case is large enough to easily accommodate even a wider graphics card like an RTX 3060 or 3070.
Speaking of video cards, the GPU ought to be the first thing you upgrade for this build to remain relevant in 2-3 years. Well, that and another 8GB stick of RAM, which is something you should buy alongside the PC itself.
Sure, you could opt for the 16GB SkyTech Chronos Mini listing that's also available on Amazon. However, the price difference is $79 at the time of writing, which is far more than the cost of a single 8GB stick of DDR4 RAM (which tends to be around $15-20).
The CPU won't have any issues with much stronger RTX cards like the 2060 or 3060. But, should you need more oomph than that, you'll have to upgrade both the CPU and power supply, as well as the motherboard if you upgrade past Intel's 11th-generation processors.
Price
The current state of affairs in the PC hardware market is pretty chaotic. The prices now reflect the new generation of GPUs and CPUs, with old-gen hardware prices dropping like flies. It might not be that apparent when it comes to individual components like RAM or CPUs as their generational jump hasn't been that massive. For GPUs, however, the jump from RTX 30xx to RTX 40xxx is huge and the price drop is more apparent.
Why is this important? It's simple – SkyTech Chronos Mini comes with an entry-level 10th-generation Intel CPU and a "refreshed" Nvidia GTX 1650. At the first glance, this combination doesn't inspire too much confidence, especially if you're thinking of using it for gaming. So, does the performance justify the price tag?
Or even better – could you build something like this on your own for the same amount of money? Well, you'd need roughly $400 just for the main components (RAM, GPU, CPU, cooler). Storage, PSU, case, fans, and peripherals would set you back roughly $200 more.
The final price would roughly be the same ($600), give or take 10%. But keep in mind that you'd have to build the system yourself, which will take an hour or two even if you know what you're doing. If you don't, it's best to stop right there and buy the prebuilt system.
Building this PC yourself simply isn't worth it unless you're doing it solely for the experience.
Final Thoughts
SkyTech's Chronos Mini is relatively small, sports decent hardware, and has a clear upgrade path that'll make it viable for years to come. However, there are other similarly priced (and similarly equipped) builds out there. What makes SkyTech Chronos Mini stand out?
Primarily, airflow. That coupled with sleek aesthetics makes SkyTech Chronos Mini one of the most desirable prebuilt mid-towers out there. It can tackle pretty much any game you throw at it, though you'll have to lower your expectations with more demanding titles like RDR2 and Elden Ring.
For $600, the value is certainly there. So, if you're on the lookout for an entry-level gaming PC that can be easily upgraded in a few years' time, look no further than SkyTech Chronos Mini! Just remember to purchase an additional 8GB stick of DDR4 3200MHz RAM because you won't be able to do much with just 8GB. You can thank us later!