Overview
Intel's Core i3-10100 is the cheapest member of their current Core CPU stack; since their 11th-generation CPU lineup includes only i5, i7, and i9 processors, it's still one of Intel's most up-to-date i3 offering.
The i3-10100 features a 4-core, 8-thread design and an LGA 1200 socket type; this means it's compatible with any Intel 400 or 500-series motherboard.
It has a boost clock speed of 3.6 GHz, and can boost up to 4.3 GHz when Turbo Boost is engaged. With a thermal design power of 65W it doesn't run too hot, and the included stock cooler is more than capable of keeping it in a safe temperature range even at maximum load.
Price
The Core i3-10100's recommended retail price is $122 per Intel's product page, the cheapest of any Comet or Rocket Lake desktop processor.
Prices fluctuate constantly; you can check the going rate of the Core i3-10100 below.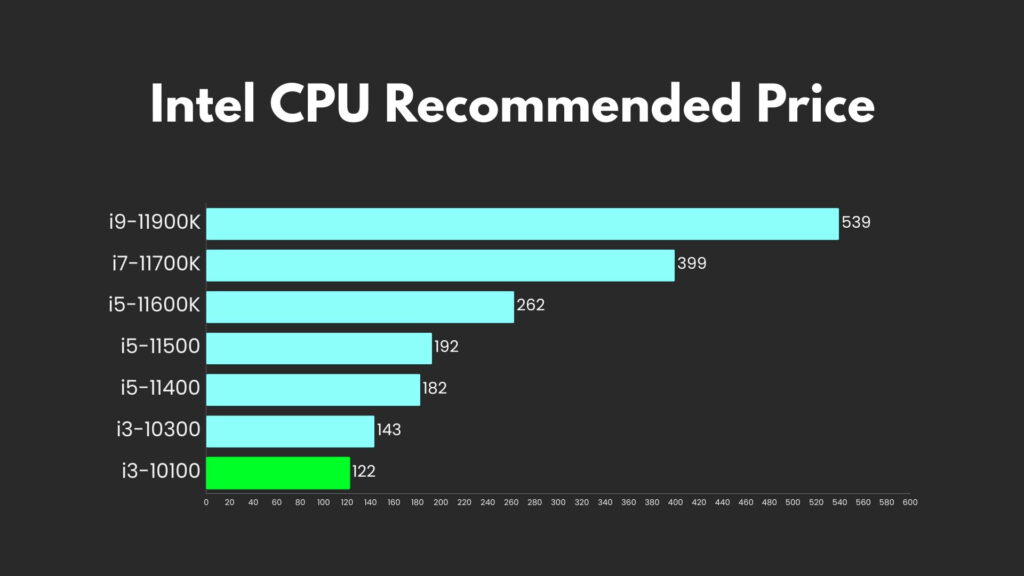 Specs
| Brand | Intel |
| --- | --- |
| Generation | 10th |
| Code Name | Comet Lake |
| Predecessor | Core i3-9100 |
| Socket | LGA 1200 |
| Cores | 4 |
| Threads | 8 |
| Base Clock Speed | 3.6 GHz |
| Boost Clock Speed | 4.3 GHz |
| Cache Size | 6MB |
| TDP | 65W |
| Maximum Memory Speed | 2666 MHz |
| Maximum Memory Capacity | 128GB |
| Integrated Graphics | Intel UHD Graphics 630 |
| Maximum CPU Temperature | 100°C |
| PCIe Revision | PCIe Gen 3 |
| Number of Displays Supported | 3 |
Variations
The Core i3-10100 has one variation, the Core i3-10100F, which has no discrete graphics. Aside from its lack of an iGPU, the i3-10100F is identical to the i3-10100.
Review
While the i3-10100 may lack the higher core count of its i5, i7, and i9 brethren, it fills an essential role as Intel's best value CPU by a long shot.
While Core i3 CPUs are generally viewed as excellent office-grade CPUs, the Core i3-10100 also represents a great option for budget gaming. It's able to push framerates upwards of 144FPS in popular titles like Fortnite, Minecraft, VALORANT, Apex Legends, and more when paired with a capable GPU.
While its lack of PCIe gen 4 support may turn some away, gen 3 NVMes are still indisputably the best value option. Higher-bandwidth gen 4 drives tend to cost around twice as much and don't offer a two-fold increase in perceived performance to the everyday user.
Additionally, PCIe gen 3 hardly limits the performance of gen 4 graphics cards; most GPUs don't utilize the extra bandwidth, and even those that do only receive a marginal increase in performance from it.
Regardless, it's unlikely that those who desire PCIe gen 4 support would consider buying an i3 CPU in the first place. The small cohort that uses gen 4 GPUs or NVMes are the same people that buy high-dollar hardware like Ryzen's 5950X or Nvidia's RTX 3090.
As such, the i3-10100 is incredibly well-suited to its target audience. It offers 60FPS performance in virtually any game (even CPU-heavy games like Warzone), and 144FPS in a great deal of them, in addition to being highly effective for standard productivity programs.
CPU Value Comparison: Core i3-10100 vs. Core i5-11400
The closest processor to the i3-10100 in terms of value is the i5-11400; the i3-9100 and i3-10300 (which are most similar in terms of performance) are both difficult to find at a reasonable price.
The most obvious difference between the i3-10100 and i5-11400 is their core count; the 11400 has 6 cores to the 10100's 4. This gives the 11400 an obvious advantages in core-intensive tasks and games that rely heavily on multicore performance.
For a better idea of the i3-10100 and i5-11400's respective value, let's look at both processors' Cinebench R23 benchmarks. These serve as a consistent indicator of performance, and translate pretty well to other programs and games. Values are taken from CPUMonkey's database and TechPowerup.
The i3-10100 scores an 1141 in single-core and a 5612 in multi-core performance.
Meanwhile, the i5-11400 nets a 1403 and 10515 in these two metrics.
In other words, the 11400 performs 22% better in single-core and 87% better in multi-core performance.
Compared to its cost of 49% more than the i3-10100, this is pretty substantial.
Essentially, you'd be better off buying the i5-11400 if you'll make use of the higher core count. If you know your graphics card will be bottlenecking the system or you know you won't be utilizing all cores, you're probably better off saving your money with the i3-10100.