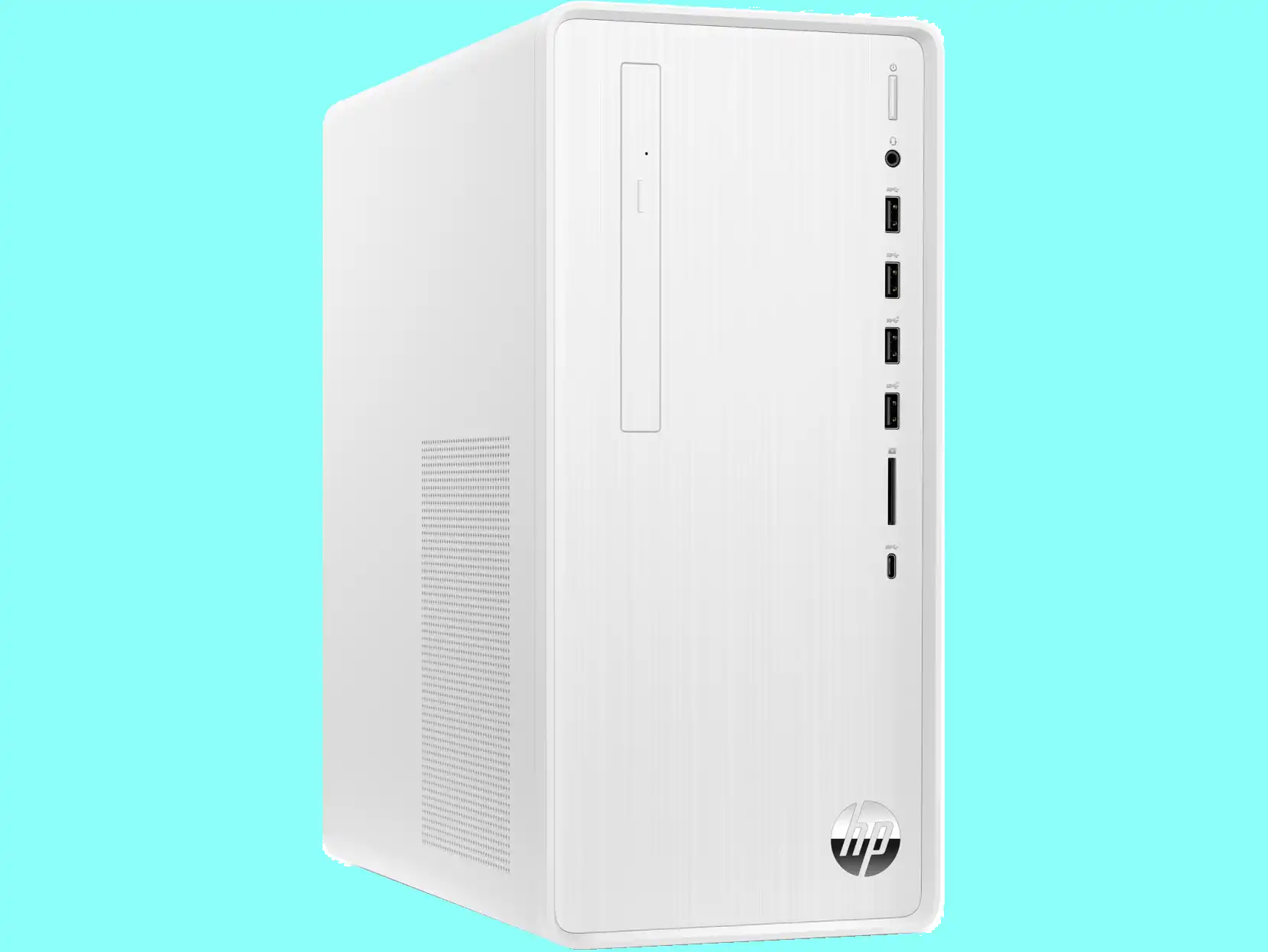 HP Pavilion TP01-3055xt
Pros:
Powerful Core i7-12700 CPU

Ample Storage Capacity

Plenty of Connectivity
Cons:
Only 1 HDMI Port

Poor Value for Cost
Buy at HP
Buy on Amazon
Art of PC is reader supported. We may earn a commission if you make purchases through our affiliate links. Thanks for your support!
HP is well-known in the prebuilt PC space for their affordable desktops that provide fantastic performance at reasonable prices. Recent desktop releases such as the Envy TE02 and Victus 15L have cemented this reputation, as both of these series include at least some entries that offer considerable value.
These higher-end desktops target creators and gamers, but for the everyday user their high-end graphics cards may be superfluous. For these less-demanding users, HP has their Pavilion line of desktop PCs.
The TP01-3055xt is one of HP's most recent entries to the series. In this review we'll take a look at this PC and whether or not it merits consideration for purchase.
Design
All of HP's latest TP01 series of Pavilion desktops feature the same mini-tower design, with a solid, compact silver chassis. These PCs measure 13.3″ tall, 6.12″ wide, and 12″ long (that's 337.4mm x 155.4mm x 304mm). The 3055xt weighs 13.1 pounds (5.96kg).
The design is about what you'd expect from a PC intended for everyday use. It lacks any extraordinary aesthetics like lighting or a transparent side panel, instead opting for a plain and professional look.
All ports are in the front or back, with HP's logo emblazoned in the bottom right corner of the front panel.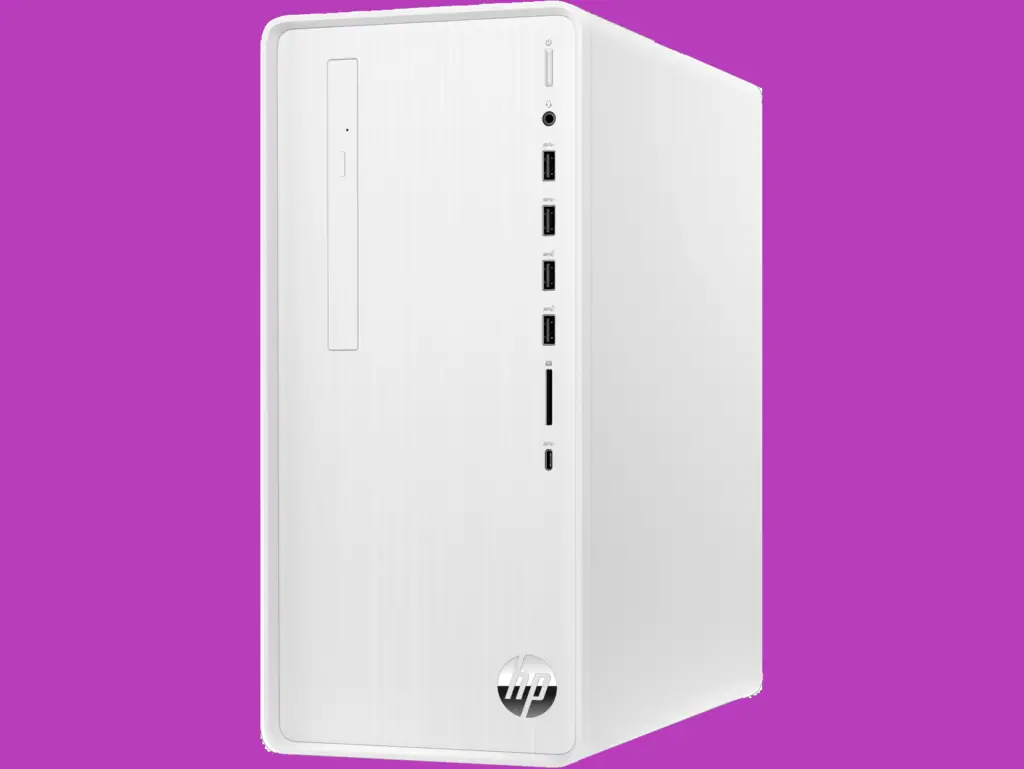 Specs Overview
The TP01-3055xt comes with very solid hardware, especially considering its target audience. The parts list is as follows:
Intel Core i7-12700 with UHD 770 Integrated Graphics
16GB DDR4 3200MHz RAM
512GB NVMe SSD
2TB 7200RPM HDD
H670 Motherboard with WiFI 6 and Bluetooth 5.3
310W 80-Plus Gold Power Supply
Optical Drive
It also comes with Windows 11 Home.
The Core i7-12700 is a member of Intel's second-latest Alder Lake generation of desktop processors. With 8 performance cores and 4 more efficiency cores (for a total of 20 threads), and a boost clock of up to 4.9GHz, this CPU is extremely powerful, and will frankly be overkill for most office-grade tasks that are likely to be demanded of it.
Intel's H670 chipset, used in this rig, is the second-best of its generation, behind only Z690. Unfortunately, this model has only two DIMM slots, making it less optimal for upgrading memory capacity (since the factory-installed RAM must be replaced to increase capacity, rather than simply adding in two more sticks).
The TP01-3055xt's 2TB + 512GB storage configuration will be more than enough for most users, and strikes a great balance between speed and capacity. The 512GB NVMe SSD serves as a zippy boot drive to ensure this PC loads its OS and programs quickly, while the 2TB of backup storage provide ample room for less speed-critical files to be stored.
HP Pavilion TP01-3055xt vs. Rest of Pavilion TP01 Lineup
The TP01-3055xt falls squarely at the top of the Pavilion TP01 product stack. With its Core i7-12700, it outclasses the three other Pavilion PCs within this series pretty handily. These include the Core i5-12400-equipped TP01-3025t, the TP01-2155m with its Ryzen 3 5300G, and the TP01-2165z with its Ryzen 5 5600G.
Two additional models have been discontinued: The TP01-1065z, which had the Ryzen 5 4600G, was replaced by the newer 2165z, and the TP01-2225xt, equipped with the Core i5-11400, was supplanted by the 3025t.
While the TP01-3055xt may have the best performance of any desktop in its line, it doesn't offer the best value, as the additional computing power offered by an i7 vs an i5 or i3 will rarely be needed by its target audience. We'll cover this in further depth in the Price section.
Connectivity
One area in which the Pavilion TP01-3055xt excels is connectivity. In the front, it has four USB-A ports (two with 10Gbps throughput and two with 5Gbps), a USB-C 5Gbps, a headphone/microphone combo jack, and even an SD reader and optical drive.
In the rear are four USB-A 2.0 ports, an RJ-45, and a standard audio in, audio out, and microphone plugin. This brings the USB-A total to an impressive eight, when four should be plenty for the average user.
While the TP01-3055xt does a great job of packing in sufficient USB ports, it falls short in regards to display connectivity; it only has one HDMI 1.4b port (which can support up to 144hz refresh rates at 1080p), and one VGA (which is becoming increasingly obsolete, and isn't supported by many newer monitors).
For those who only care to use one monitor, this won't present an issue, but if you're looking to run a multi-display setup the limited number of display ports means you'll have a difficult time doing so.
Price
Finally, and perhaps most importantly, comes cost. The TP01-3055xt does so well up to this point, as its only real shortcoming through this point of the review is having only one HDMI port.
At a listed retail price of $999.99, the TP01-3055xt is in the same price range as several of HP's gaming or creativity-oriented Victus 15L and Envy TE02 rigs, as well as PCs from competing brands which are equipped with powerful graphics cards that the Pavilion model lacks.
For instance, Lenovo's IdeaCentre Gaming 5i, with a Core i5-12400 and RTX 3050, is less than $700 at the time of writing, and has a ~$270 graphics card. Keep in mind, the difference in cost between the Core i7-12700 and Core i5-12400 is only about $120, meaning the overall value discrepancy is about $150, even at its current discount price of $829.99.
This becomes slightly worse when comparing to the actual cost of parts. We estimated the cost of building your own comparable PC to be $657 at the time of writing. Since the more powerful, overclockable Core i7-12700K was cheaper than the Core i7-12700, we used its price instead, so the PC would also be marginally better in that regard.
This is to be expected, as building your own PC usually is a bit cheaper than buying a prebuilt rig, especially when no graphics card is involved. When comparing apples to apples (that is, comparing the TP01-3055xt to other prebuilt PCs equipped with a Core i7-12700 and similar hardware), the 3055xt certainly isn't the worst deal at its current pricing.
HP Pavilion TP01-3055xt: Final Thoughts
Our primary concern with the TP01-3055xt is in regards to value. Paying an additional $300-400 to get an i7 instead of an i5 is fine if you're making use of the additional firepower, but most folks shopping for a Pavilion PC will not. For everyday email-checking, spreadsheet-making, or YouTube-watching, even a modern Core i3 CPU will excel.
For this reason, we highly recommend considering your use case and choosing a PC accordingly. If you're not doing any heavy computing, you could easily save 300 or 400 bucks by choosing a slightly less potent desktop, like one of the lower-end Pavilion models or Acer's Aspire with the Core i5-12400.