11/23/2023 10:26 am GMT
HP has been busy overhauling their prebuilt desktop PC lineup throughout 2022, releasing notable models such as the Victus 15L and Omen 45L, both of which are compelling options in their respective price ranges.
Now, they've released the newest generation of Envy desktops, sporting Intel's potent 12th-gen Alder Lake CPUs and a myriad of Nvidia 3000-series and AMD 6000-series graphics cards, depending on the specific Envy model you choose.
With GPU mining dying and component prices on their way down from all-time-highs this year, prebuilt PCs are less of a must-have than they once were, as building your own PC is once again a budget-friendly option. Still, prebuilt PCs have earned their place in the market and still represent a good choice for buyers at many price points.
In this review we'll take a look at the newest HP Envy make's pros and cons, the hardware inside it, its various customization options, and how it stacks up against both other prebuilts and building your own PC.
Today's Deals
HP Envy TE02 Lineup Overview
The Envy desktop comes in a variety of configurations, both customizable and RTS (ready-to-ship). While RTS options offer less customization, they also typically offer better value in higher-end configurations, and ship out quicker (customizable PCs typically take around 2 weeks to ship, per HP).
HP Envy TE02-0250XT: Customizable
Customizable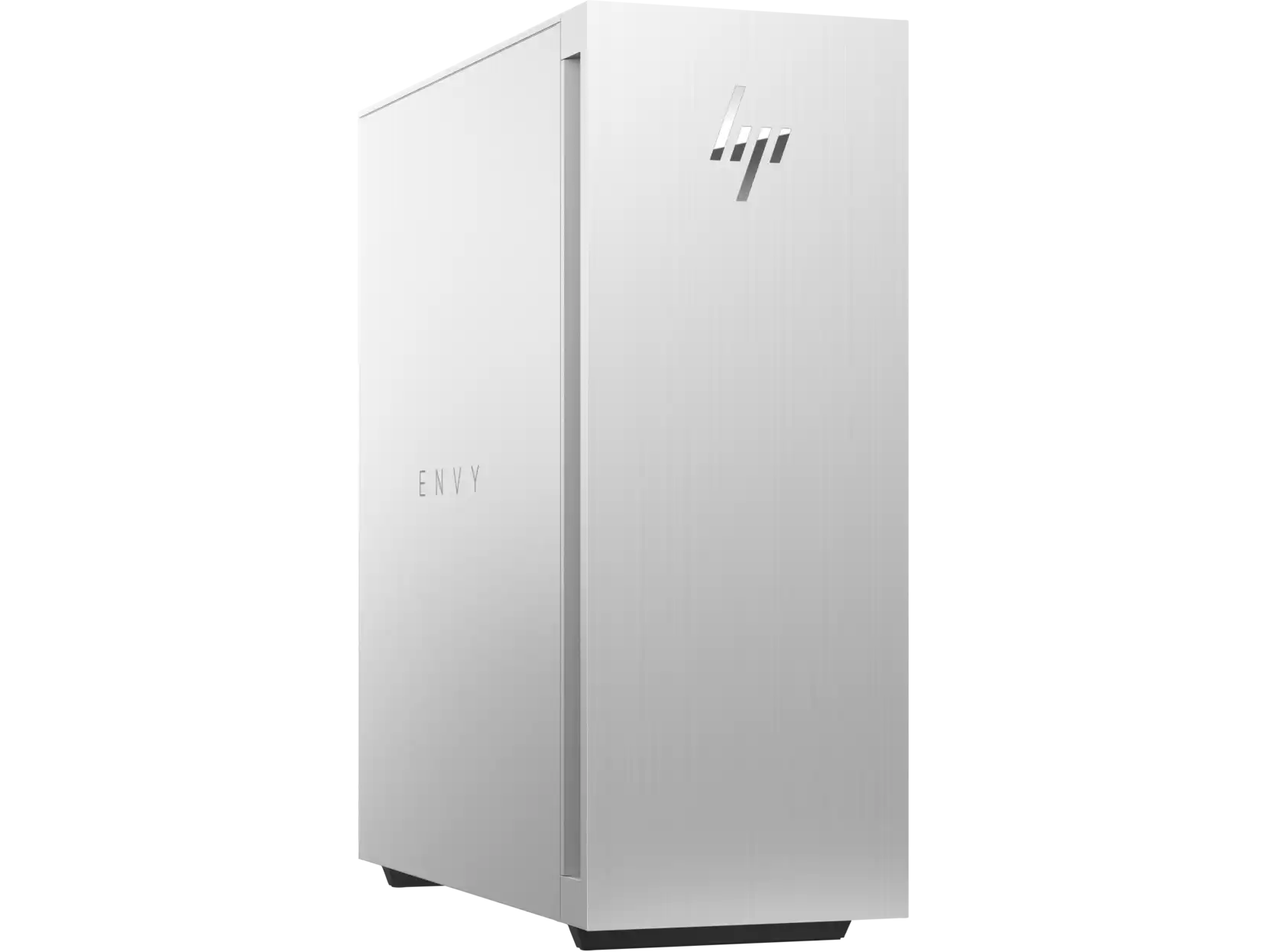 HP Envy TE02-0250XT
Buy at HP.com
Art of PC is reader supported. We may earn a commission if you make purchases through our affiliate links. Thanks for your support!
HP usually has at least one customizable variation of a product on their website. Processors, storage options, GPUs, and even your OS can be mixed and matched, with an upcharge for every component that's an upgrade over the base-level option.
In the Envy lineup, this customizable product is the TE02-0250XT. Processor options include Intel's Core i5-12400, Core i7-12700, and Core i9-12900.
Anywhere from 8 to 128 gigs of memory can be selected, as well as SSDs ranging from 256GB to 1TB. Secondary storage is optional (and costs more since the base level has none), and offers the choice between a 1 or 2TB HDD, or a 512GB or 1TB SSD.
Graphics cards range from the RTX 3050 to the RTX 3080 Ti, and the RX 6600 XT and RX 6700 XT are also available in the unlikely event that you prefer AMD's cards. Of course, if you select an especially high-powered video card there's the option to up your PSU from the base 600W supply to a more capable 800W unit.
The TE02-0250XT also comes equipped with WiFi and Bluetooth capabilities, even in the base model, as well as Windows 11 Home.
Retail pricing for this model ranges from a modest $1299.99 for the base model with the Core i5-12400 and RTX 3050 all the way to $4,289.98 for the most expensive variation with all of the bells and whistles, bonus software, etc., a veritable ripoff.
Note, however, that this product seems almost always to be on sale. For instance, the base configuration is selling at a $450 "discount" at the moment, for a much more reasonable $849.99.
While this isn't the worst deal ever, neither is it anywhere close to the best. Moreover, the upgrade options, aside from CPUs and graphics cards, are monumentally overpriced compared to market cost. For example, upgrading to 128GB of RAM costs an obscene $780 extra, when an equivalent kit can easily be purchased and installed yourself for less than $400.
Likewise, adding a 1TB NVMe SSD will result in a massive $229 upcharge, when in actuality there are drives twice as fast available for less than $100.
Consequently, if you choose to commission a customizable PC from HP, it's highly recommended that you keep all components aside from the CPU and video card as close to the base-level as possible and upgrade desired components yourself after purchasing them at market price.
HP Envy TE02-0285T: RTS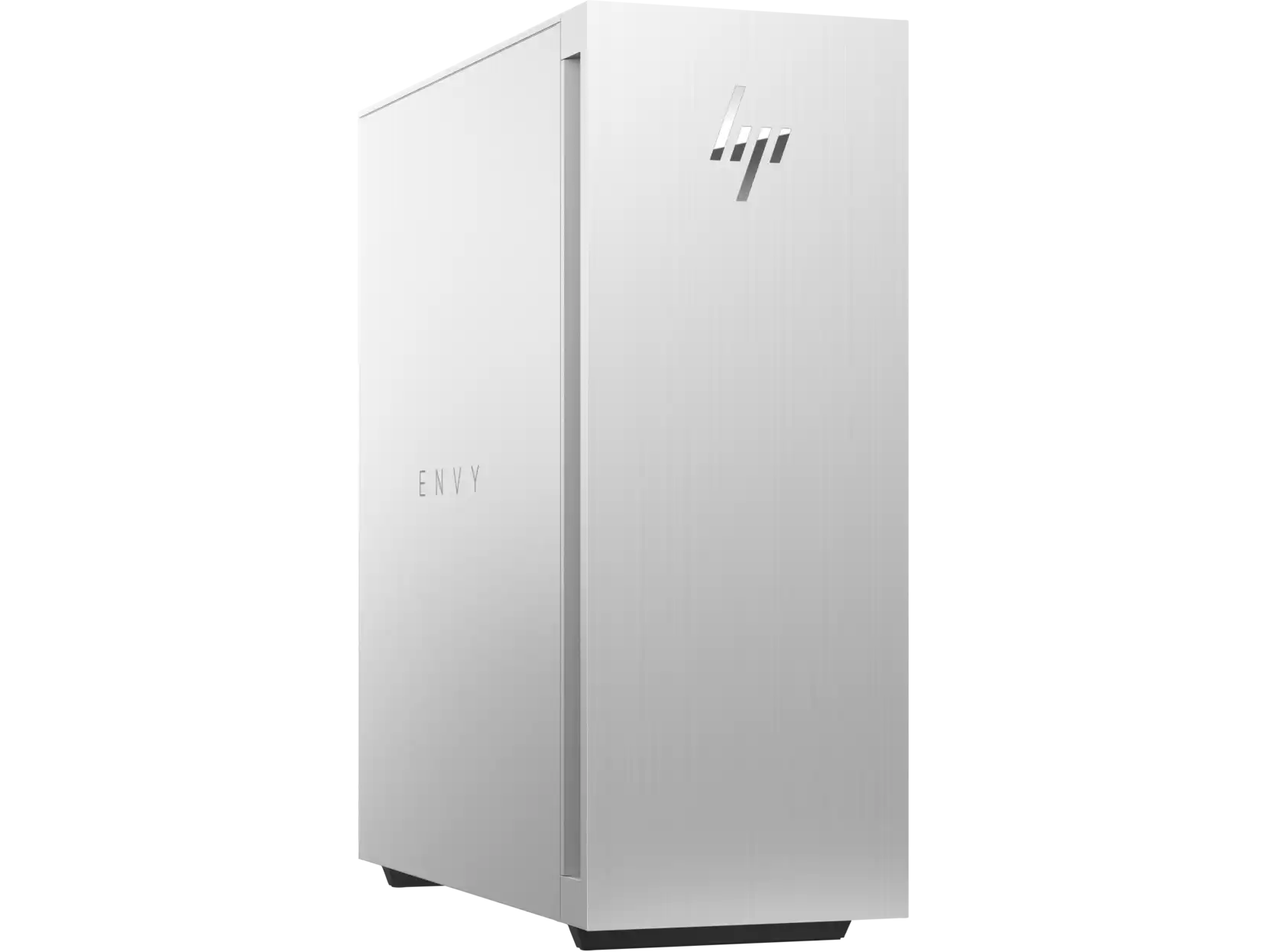 The other Envy SKU available on HP's website is a lot simpler, as it's a ready-to-ship make with only one available configuration:
Intel Core i7-12700
Nvidia GeForce RTX 3070 Ti
16GB (2x8GB) DDR4 3200MHz RAM
512GB NVMe SSD (1700MB/s Maximum Read)
1TB 7200RPM HDD
800W 80-Plus Gold PSU
WiFi/Bluetooth-equipped Micro-ATX Z690 Motherboard with 4 DIMM slots
Windows 11 Home
HP 710 White Wireless Keyboard/Mouse Combo
The TE02-0285t offers solid value at its current sale price of $1499.99 (retail $1899.99), and is a high-powered machine capable of running most AAA titles at high framerates and resolutions. It's far more affordable to buy this RTS option than to customize a similar build through HP, making the TE02-0285t a better option for most users.
HP Envy TE02-0187C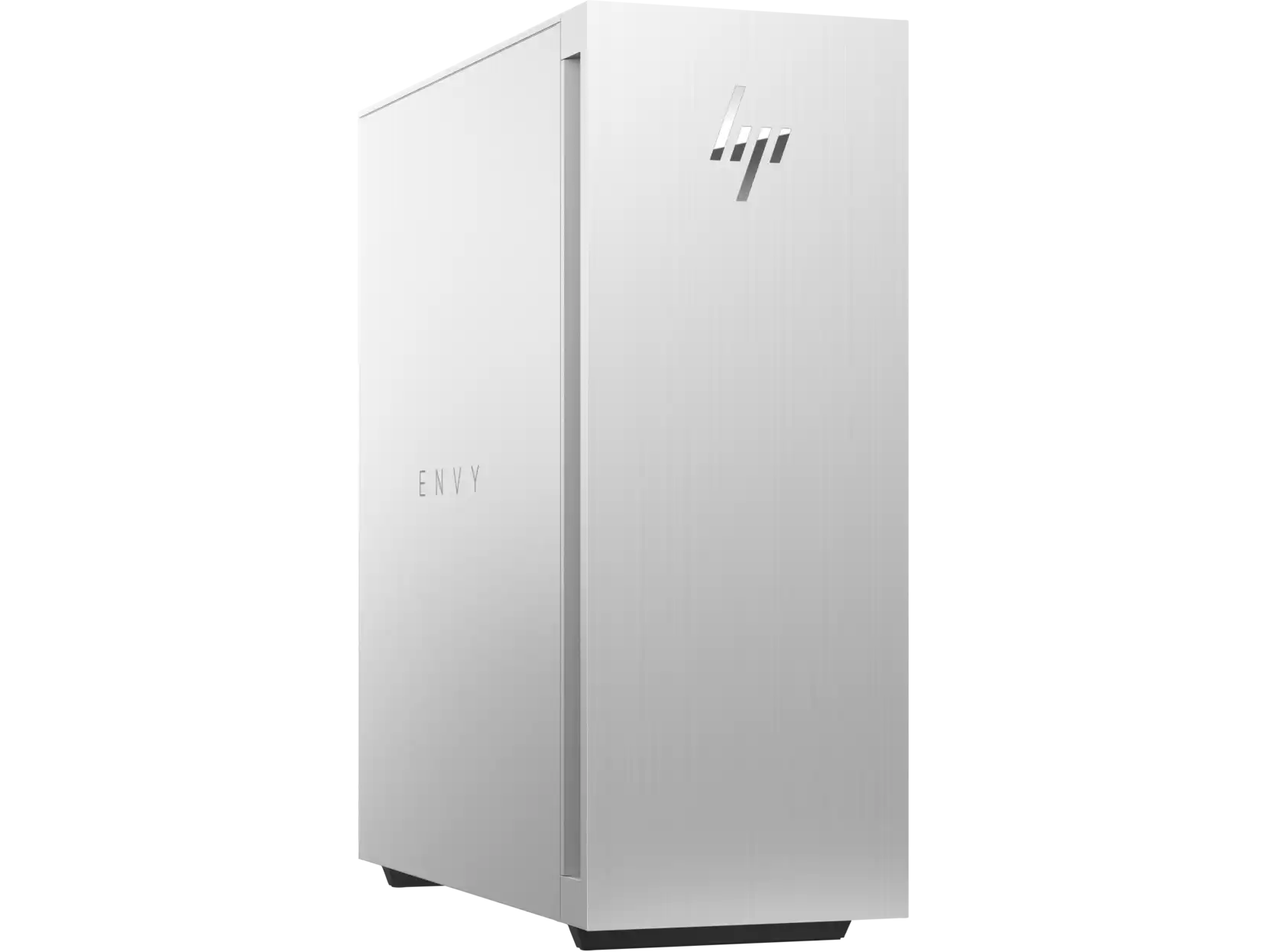 HP Envy TE02-0187c
Buy on Amazon
Art of PC is reader supported. We may earn a commission if you make purchases through our affiliate links. Thanks for your support!
Originally a Costco-specific model, the TE02-0187C has of course been picked up by scalpers and listed on Amazon for a markup. This SKU is one of the best-priced Envy models, but naturally it requires a Costco membership to purchase. While it retails for $1599.99, it's currently listed for an incredible $999.99.
The TE02-0187c includes the following hardware:
Intel Core i7-12700
Nvidia GeForce RTX 3060 Ti
32GB (2x16GB) DDR4 3200MHz RAM
512GB NVMe SSD (1700 MB/s Maximum Read)
1TB 7200RPM HDD
Unknown PSU (Likely 600W 80-Plus Gold)
WiFi/Bluetooth-equipped Micro-ATX Z690 Motherboard with 4 DIMM slots
Windows 11 Home
Unspecified Keyboard/Mouse Combo
HP Envy TE02-0042
Best Envy Desktop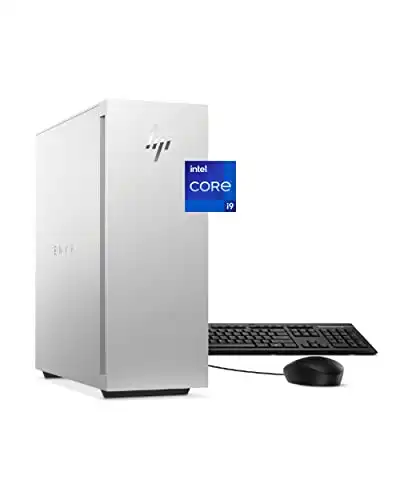 Next, we have the HP Envy TE02-0042. This appears to be an Amazon-exclusive bundle, and the full product specifications can be viewed here.
The TE02-0042 features the following hardware:
Intel Core i9-12900
Nvidia GeForce RTX 3070
16GB (2x8GB) DDR4 3200MHz RAM
1TB NVMe SSD (1700MB/s Maximum Read)
Unknown Power Supply (Likely 800W 80-Plus Gold)
WiFi/Bluetooth-equipped Micro-ATX Z690 Motherboard with 4 DIMM slots
Windows 11 Home
HP 225 Black Wired Keyboard/Mouse Combo
This SKU is one of the more powerful RTS Envy configurations, as it employs the extremely powerful Intel Core i9-12900. Its RTX 3070 is a touch weaker than the TE02-0285t's RTX 3070 Ti, but is still top-notch for high-framerate gaming up to 1440p, and 4K in most titles.
At its current price, the TE02-0042 represents the best value of any Envy model if you don't have a Costco membership (with similar hardware at $999, the TE02-0187C can't be beat).
HP Envy TE02 with RTX 3090, Core i9-12900K, 1TB SSD, 16GB RAM
Most Powerful Envy TE02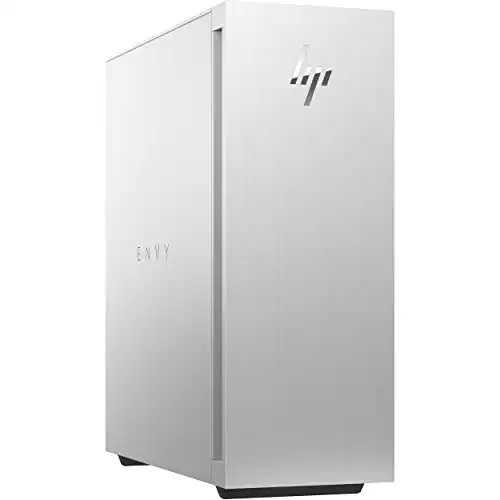 This Envy model is available on Amazon but doesn't have a model name in keeping with the traditional structure. Under "model number" it's listed as TPC-W068-MT_M75026-004_800W, which is the closest to an identifier we were able to get.
What's more important, however, is its hardware. Packing an RTX 3090 and overclockable Core i9-12900K, this is easily the most powerful HP Envy PC in existence. Its complete specifications are as follows:
Intel Core i9-12900K
Nvidia GeForce RTX 3090
16GB (2x8GB) DDR4 3200MHz RAM
1TB NVMe SSD (1700MB/s Maximum Read)
Unknown 800W Power Supply
WiFi/Bluetooth-equipped Micro-ATX Z690 Motherboard with 4 DIMM slots
Windows 11 Home
HP Black Wireless Keyboard Keyboard and Mouse
At the time of writing this rig wasn't competitively priced, but it's notable nonetheless for its top-of-the-line performance, as it represents the current ceiling of HP's Envy TE02 lineup (and a high one at that).
Other RTS Models
There are a wide array of other ready-to-ship TE02 models available, primarily on Amazon. These include renewed (refurbished) SKUs sold at sometimes steep discounts, as well as various configurations, almost all with Nvidia 30-series graphics cards and the Core i7-12700 or better.
Since these are constantly changing and availability for any given model is usually rather low, it's virtually impossible to cover every single RTS Envy model. However, we recommend checking the listings to see if any within your target price range are better deals than the PC you were otherwise considering for purchase.
HP Envy TE02 Design and Connectivity
Now that we've taken a good look at each available model, let's check out the new design.
The TE02 is a massive leap over its predecessor, the Envy TE01, in terms of aesthetics. The dull dark-gray chassis of the TE01 has been replaced by a sleek silver case with a groove down both sides of the front panel and more spacious dimensions (6.50 x 15.59 x 17.64 inches, versus the old Envy's 6.12 x 11.97 x 13.28 inches).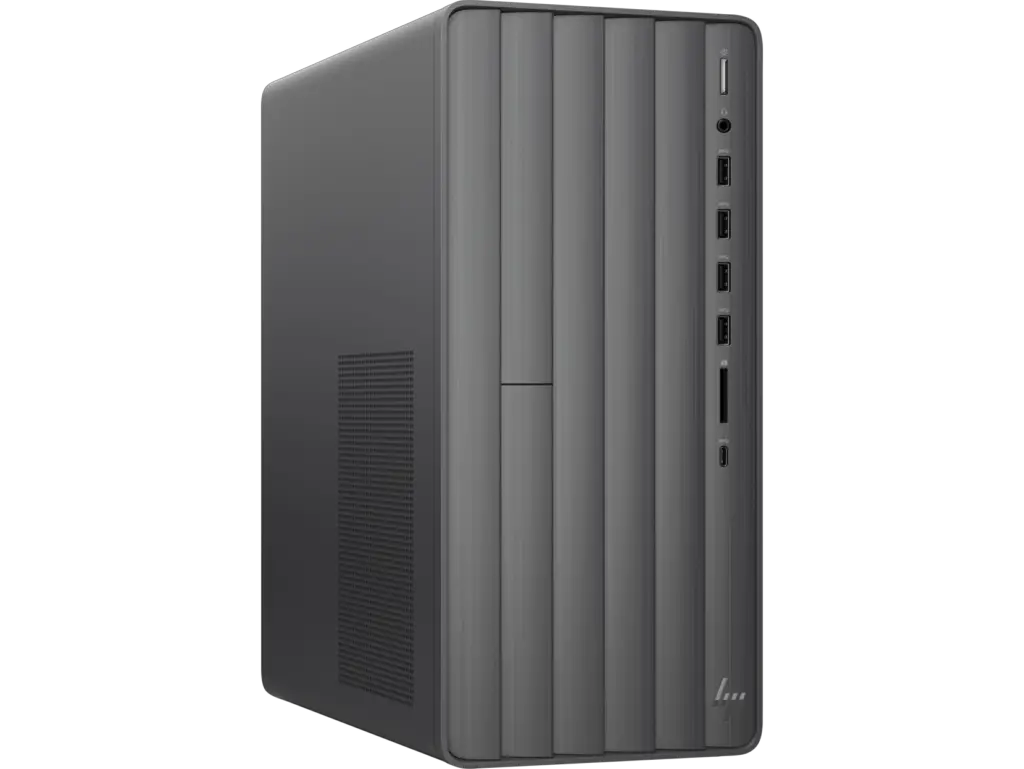 Like its predecessor, the case doesn't offer the best airflow, but added abundant perforation in the top of the newer generation's case, as well as the traditional real exhaust outlet, should be enough to avoid thermal throttling of components.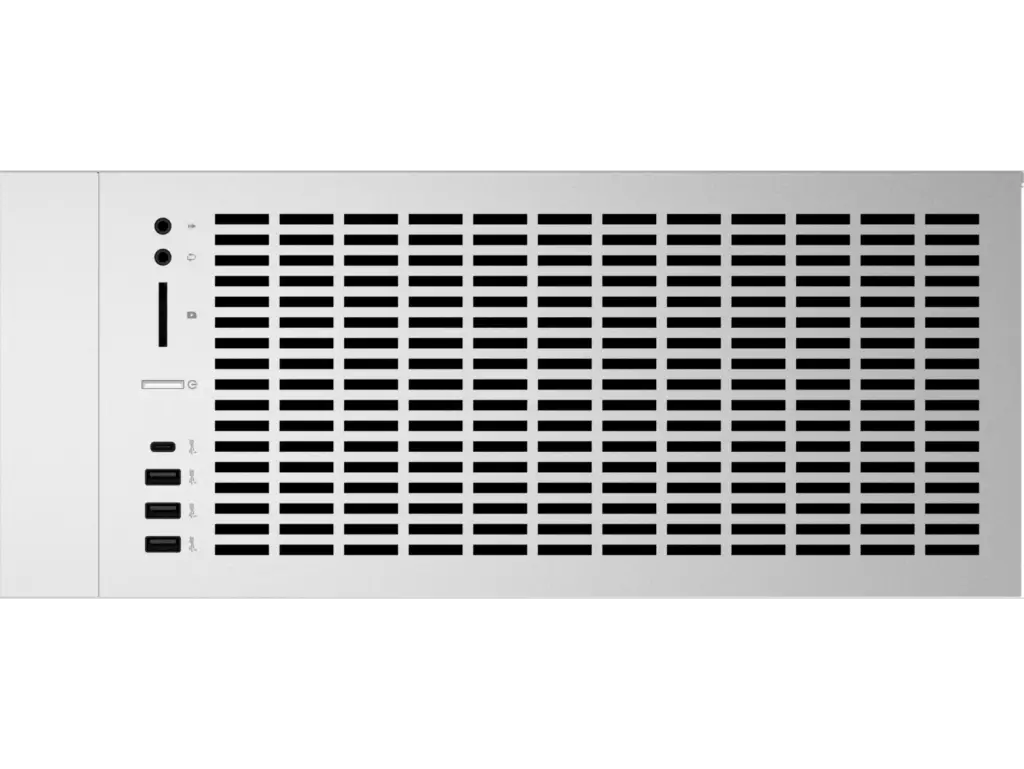 The Envy TE02 features three USB-A and one USB-C port up top, as well as an SD reader and a headphone and audio-in jack. The rear I/O panel offers four more USB-A for a total of seven, and three more USB-Cs (one of which is Thunderbolt 4-equipped).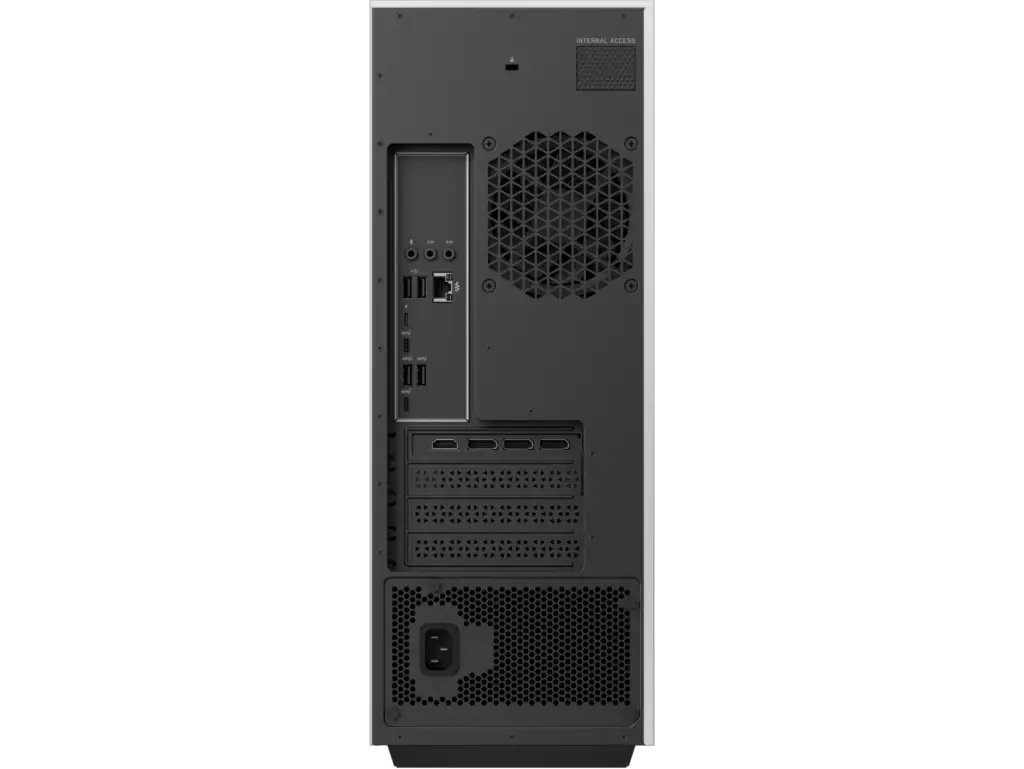 Overall, then, the HP Envy TE02 offers adequate room for plenty of peripherals, and the case is far better-looking than any Envy in the past.
Component Quality
Graphics Card
Envy PCs make use of video cards built by HP. These are on the cheaper end in terms of construction and cooling capabilities, and aren't quite as nice as, say, an EVGA card. To be clear, these cards still utilize the same exact GPU dies, VRAM, and other chips found in any given aftermarket card, they only differ externally.
Thus, despite falling on the lower end of the spectrum, HP's graphics cards still perform roughly the same as any other card of the same class. For instance, an HP Envy TE02 with an RTX 3060 will fetch the same framerates as any other prebuilt or custom-built PC with any other RTX 3060, so long as thermal throttling doesn't occur.
SSD
If you opt for an Envy build with an SSD, it's worth noting that the NVMe drives available with the Envy are a step down from those included in the higher-end Omen lineup. While the omen utilizes a WD Black drive with roughly 3200MB/s maximum read speeds, the Envy TE02 uses a different drive rated for 1700 MB/s maximum read and 1550 MB/s maximum write.
While this is half the speed of the Omen's SSD on paper, the tangible impact on boot or data retrieval speeds in practice is negligible; in a blind test most users cannot discern between solid state drives of different speeds.
For this reason, we recommend not worrying about the drive speeds unless you're ordering a custom Envy model, in which case we recommend purchasing a faster aftermarket drive such as the Western Digital Black SN770 and installing it yourself (since it's cheaper anyway).
Motherboard
According to HP's spec sheet, all Envy TE02 models are equipped with a Micro-ATX motherboard nicknamed "BlizzardU." This board supports dual-channel memory at speeds up to 3200MHz and is equipped with 4 DDR4 DIMM slots, so most builds include room to double your memory in the future, should you wish.
BlizzardU is built on the Z690 chipset, so CPU overclocking is technically supported. This is largely irrelevant, however, since all Envy models released thus far feature only non-K (non-overclockable) Intel processors. Thus, to actually make use of this board's overclocking ability, you would have to upgrade to a K-series CPU such as the Intel Core i9-12900K.
Note that the TE02's mainboard isn't designed for heavy overclocking, as it has no VRM heatsinks and rather average power phases, and consequently we don't recommend using it for this purpose.
Memory
The DIMMs used in the Envy are old-school no-heatsink green sticks. They're clocked at 3200MHz out of the box.
Upgradability/Modularity
One especialy nice thing about the Envy is all the components can be swapped out for others with relative ease. HP even released a teardown video for the Envy TE02 to make it easier for users to do so.
This is incredibly important, as it increases the PC's lifespan monumentally. For instance, if you start out with an RTX 3050 and want to upgrade to a 40-series GPU down the line, you can easily do this with the Envy. If you want more storage, it can be added with ease, and the same applies to memory, your motherboard, CPU, or any other component.
Pricing
Cost is, of course, one of the most considerations when buying any sort of PC. The TE02 is priced fairly competitively, depending on which model and where you buy.
Sales also cause nearly constant price fluctuation, so it's hard to pin down the range at which the Envy goes for. Still, it seems to typically fall between $850 for the base configuration with an RTX 3050 and Core i5-12400, up to nearly $2,000 for models with the Core i7-12700 or Core i9-12900 and a beefier GPU.
Is the Envy TE02 a Gaming PC?
While HP's Omen and Victus lines are marketed as gaming rigs, the Envy is portrayed as a "Creativity" machine best for designers and the likes. This is a bit misleading, as some Envy prebuilts are more powerful than the Omen 45L's, HP's flagship gaming PC's base-configuration.
Additionally, the new design doesn't have the toned-down "office PC" look historically typical of HP Pavilion and Envy desktops, but looks more like a traditional gaming chassis, albeit with less airflow than many modern designs (it feels similar to the NZXT H510 without a glass panel).
Final Thoughts
Considering its performance, there's no reason the HP Envy shouldn't be considered by those shopping for a gaming rig. The ready-to-ship TE02-0285t and TE02-0042 stand out especially for their value, as they currently offer some of the best prices on RTX 3070 or 3070 Ti (ideal for 1440p gaming) builds, especially of those paired with a modern i7 or i9 chip (almost all sub-$1500 3070-equipped PCs feature a far weaker processor such as the Core i5-10400 or Ryzen 5 3600, which is why this is notable).
As prices are constantly fluctuating, the best prebuilt PC for you may be different at any given time, but the HP Envy is powerful and priced well enough that it should be in the mix at any given time.
If you're looking for a PC towards the lower end of the Envy lineup's price range ($1100 or less), we recommend having a look at HP's Victus 15L desktops, as well as Lenovo's IdeaCentre Gaming 5i. Both of these tend to hover around the $1000 mark and come equipped with solid mid-range GPUs and 12th-gen CPUs that can handle everything up to entry-level 1440p and 1080p 240FPS, which is higher-octane than anything Envy has to offer in that price range.
Best Envy Desktop