Best Budget Configuration
11/22/2023 03:22 pm GMT
In the realm of prebuilt desktop PCs, it's a nightmare sifting through the scores of seemingly endless variations and trying to figure out which rig offers the best bang for your buck.
PC manufacturers' practice of creating multiple variations of the same model with different combinations of components makes this already difficult process that much harder, which is why we're extremely happy to see that Lenovo's IdeaCentre Gaming 5i desktop doesn't do this for the most part.
There is a little bit of variation within models, but far less than is typical. The Gaming 5i is exclusively RTS (it isn't customizable), meaning there are only a handful of different variations. These include ones with an RTX 3050 and RTX 3060, Core i5-12400 and Core i5-12700, and slightly different storage and memory configurations.
This cements the IdeaCentre Gaming 5i in a much more finite performance range, and makes it a lot easier to analyze compared to, say, a PC that includes graphics cards ranging from the 1660 Super to the RTX 3090. With that being said, we'll focus primarily on the configuration that seems the most common, that featuring the RTX 3060 and Core i7-12700.
Best Value Configuration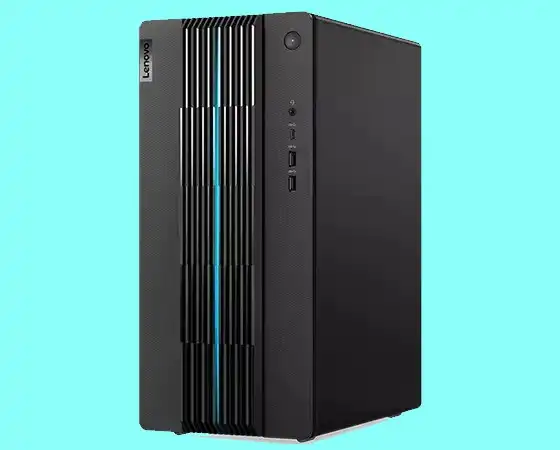 Components Overview
Let's take a quick look at what's inside of the IdeaCentre Gaming 5i. The parts list is as follows:
Intel Core i7-12700
Nvidia GeForce RTX 3060 LHR 12GB
16GB (2x8GB) DDR4 3200MHz RAM
1TB NVMe SSD (PCIe 4.0)
500W 80-Plus Platinum Power Supply
Lenovo Custom Motherboard
The Core i7-12700 is an extremely competent processor, one of the best in existence. It's more than capable of handling high-FPS, high-resolution gaming, and shouldn't bottleneck the RTX 3060 in any scenario. It's cooled by a stock air cooler in the old-school diagonal configuration.
The 3060 is a capable graphics card in its own right, but will be the limiting factor on the IdeaCentre Gaming 5i's in-game performance. If you're aiming for 1080p 240FPS at competitive settings, this GPU will do the trick, but it can certainly handle a good many titles at 1440 and playable framerates.
Today's Deals
16 gigs of memory is considered the golden standard nowadays, and unless you utilize especially much RAM this should be more than enough. To illustrate, having 60 tabs open in Chrome typically uses less than 4GB of RAM, so barring extreme multitasking you won't come close to the 16GB limit.
The 1TB NVMe SSD is gen 4, allowing for extremely fast data lookups and boot times. It's located near the bottom-left of the chassis and covered with a substantial metal heatsink which, while probably not necessary, is a nice addition.
It is admittedly a bit perplexing that Lenovo opted for just a 500W PSU in conjunction with the RTX 3060 and Core i7-12700. Intel CPUs, especially Alder Lake SKUs, are notorious for being power-inefficient, and the 3060's recommended minimum spec, as per Nvidia, is 550W.

It would make the most sense to leave a bit more headroom with a 600W power supply, but for some reason Lenovo didn't see fit to do so.
That being said, this isn't cause for concern. The power supply is of the highest-rated Platinum efficiency, and Nvidia's spec recommendations leave large margins for error (their recommendations are based on a PC with the even power-hungrier Core i9-10900K which is known to consume up to 300W on its own, while the Core i7-12700 is markedly more efficient).
Appearance and Design
The IdeaCentre Gaming 5i's case adheres pretty closely to the traditional tower design, with its main identifying characteristic being the raised ridges down the middle of the front panel, along with the vertical strip of blue lighting in the dead center. "IdeaCentre Gaming" is scrawled in blue along the edge of this vertical ridge.
This front panel is permeable and accommodates good airflow. This IdeaCentre model features two case fans: one intake near the bottom of the front panel and one exhaust in the rear.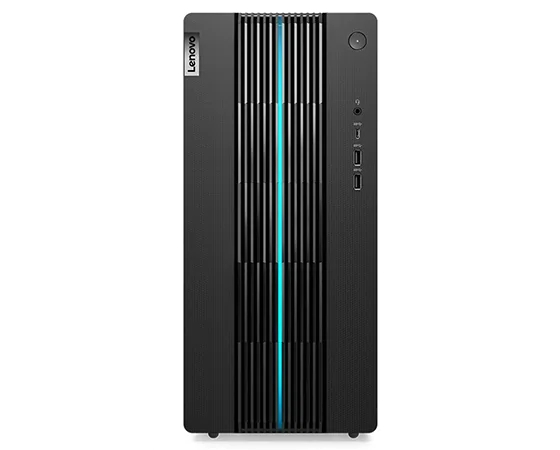 The solid side panel is a fortunate design choice; the inside of the computer is crowded and features an unappealing green motherboard and unruly cables. After all, the IdeaCentre Gaming 5i was designed for performance on a budget, not looks.
Connectivity
This rig has fairly meager space to plug in peripherals when compared to most. On the front panel are two USB-A ports (one 3.2 gen 1, one 3.2 gen 2), a USB-C 3.2 gen 1, and a headphone/mic combo jack.
In the rear are four more USB-A ports (all 2.0), an HDMI 1.4b and VGA plugin that can hook into the CPU's integrated graphics, and another headphone jack. Of course, an Ethernet plugin is also included.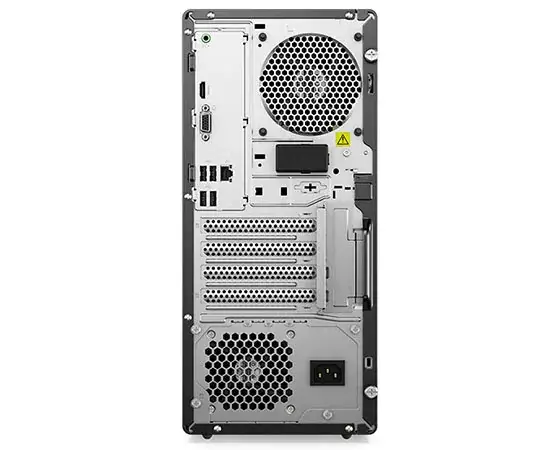 This results in a combined adequate six USB-A plugins between the rear and front panels. It would be nice to see a couple more, but considering six is enough to house a two-plugin keyboard, mouse, WiFi dongle, webcam, and USB mic with one port to spare, this probably won't present any issues for most prospective buyers.
Upgradability/Modularity
As previously mentioned, it's a bit crowded inside the Gaming 5i's chassis, with roughly ten inches between the front and back panels. This greatly limits a user's choice of graphics card upgrades, but the case can still accommodate a variety of smaller-form-factor dual-fan video cards.
This will limit graphics card upgrades to a maximum of an RTX 3070 or RX 6700 XT, so depending on how long you're planning to use the same PC and what performance you're looking for, this may be something to consider before purchasing.
It would also be prudent to upgrade the power supply to at least a 600 or 650W unit if upgrading the graphics card, so that your system can handle any power spikes that come along without flying too close to the sun. Keeping your power supply at a mid-level load also boosts efficiency substantially, making this a doubly good idea.
The CPU can, of course, be upgraded as well, although doing so isn't recommended. The Core i7-12700 should be sufficient, and the benefit of upgrading to even a Core i9-13900K, the most substantial upgrade available, wouldn't warrant the cost in most instances.
Another downside of the IdeaCentre Gaming 5i is that it only has room for two DIMMs. Thus, if you want to increase your RAM capacity you'll need to buy and use an entirely new memory kit, rather than installing two modules in addition to the originals.
Several models come with 32 or even 64GB of RAM out the gate, and memory is cheap, so this shouldn't factor in all that much. Two memory slots support up to 64 gigs of RAM, and if you need more than that this probably isn't the right PC for you for other reasons.
Pricing: Is it a good deal?
The RTX 3060, Core i7-12700-equipped IdeaCentre Gaming 5i retails for $1449.99. At the time of writing, the cheapest model seems to be a sub-$800 build with an RTX 3050 and Core i5-12400 and only 8 gigs of RAM.
It's unlikely you'll see any Gaming 5i models going for more than $1500 unless new variants are introduced with more powerful graphics cards (which seems unlikely considering the case's relatively small size). Let's take a look at how this price compares to the cost of sourcing parts and building your own PC, to see how good of a deal the Gaming 5i represents.
The combination of a Core i7-12700 and RTX 3060 alone costs around $700, depending on how good of a deal you can find. The 12700 comes with a stock cooler, so we don't need to add one to our calculation.
A decent B660 motherboard should be another $100-150, while a 1TB PCIe 4.0 SSD should be $100-120. A 2x8GB RAM kit would run you another $50, as would a cheap 500W PSU (keep in mind the one we linked is a non-modular 80-Plus White, so not quite the same caliber as the Gaming 5i's Platinum).
Finally, throw in a fairly cheap chassis for $50-70, and a Windows license for a little over $100.
This brings our total to roughly $1150, a solid $300 less than the IdeaCentre Gaming 5i's retail cost. Assuming you're unwilling to pay $300 for someone to assemble your computer, this PC isn't worth the money, at least at retail price.
The good news is, it's "on sale" (at the time of writing) for $999, a far more reasonable price that we'd consider to be a very good deal. Moreover, most of the Amazon listings for the Gaming 5i fall under this cost-to-build-yourself estimate of $1150. Thus, considering the current market price of both components and this prebuilt rig, it's safe to say the IdeaCentre Gaming 5i is priced to compete.
Best Alternative Prebuilt PCs
Due to constantly fluctuating prices, it's always tricky pinpointing which prebuilt PC is the best at any given time. For this reason, we recommend looking around at PCs within similar performance and price ranges.
Check out our HP Envy TE02 review, as well as our HP Victus 15L review, for a look at some notable competitors to the Gaming 5i.
Final Thoughts
All in all, then, Lenovo's newest entry into the IdeaCentre series is a worthy one. It packs powerful mid-range graphics into an aesthetically pleasing case at an affordable price.
While it would be nice to see Lenovo make a few design tweaks such as doubling the RAM slots, adding a bit of wiggle room for enhanced GPU upgradability, and using a slightly more robust power supply, none of these are severe enough to put the Gaming 5i out of contention as a top budget prebuilt gaming PC.
Best Value Configuration