Trying to build your own PC in 2022 can be a demoralizing task at times. Even so, if you're bent on building your own rig, we've scoured the Internet to find parts that keep the budget within reason while meeting the desired performance threshold.
In this instance, we're looking to build a PC that can handle most games in 1440p at 144FPS at high or ultra settings. This is no small task; running even 60FPS in 1440p requires a beefy GPU and we're shooting for the full 144 frames.
A computer with this kind of firepower won't be cheap, especially considering the current state of the GPU market. If you're looking for a true budget gaming rig, we recommend checking out our 144FPS 1080p gaming PC parts list or our budget 60FPS 1080p rig list for those with even shallower pockets.
If, however, you're looking for a top-of-the-line system and money is no object, we recommend reading on. We've done our best to keep the price of this build as low as possible; if a component doesn't offer significant benefits as compared to a cheaper model we won't include it in this parts list.
For the purpose of this article we're assuming you're playing with ray-tracing off. The build detailed below will support 144FPS at 1440p for some games even with RTX enabled, but not a majority of them.
On the other hand, we also won't be factoring in the use of DLSS (a technology which tends to significantly improve gaming performance at any given resolution) since not all titles support this technology. Thus, when sourcing components for this list benchmarks reviewed were in standard 2560 x 1440p resolution with no RTX or DLSS and high-to-ultra settings.
Since some games are outliers in that they're exceedingly difficult to render, we can't guarantee 144FPS in all games at maxed out settings, however this build should be able to handle the vast majority. We did this because an RTX 3090 would be overkill for this application for most users and we would like to keep the budget for this list within reason. DLSS support should be considered an added bonus, since in supported titles you can get a nice graphics boost without much loss in quality.
With all of that out of the way, let's get into our parts list and analysis of this top-notch 1440p 144FPS gaming PC.
CPU: Intel Core i5-12600K
CPU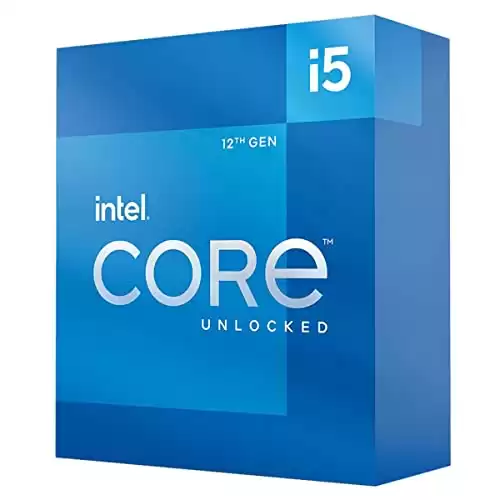 Intel's Core i5-12600K is an affordable force to be reckoned with. Its 6 Golden Cove performance coves drive high framerates, and an additional 4 E-cores tack on even greater value. With the i5-12600K144FPS will be attainable in the majority of titles even at high resolutions.
While unlikely to be utilized anytime soon, this processor's support of both PCIe 5.0 and DDR5 memory offers increased upgradeability down the road. At this point and time these technologies' performance doesn't warrant the excessive cost of latest-gen NVMe drives or DDR5 RAM, but it's an added bonus knowing you'll be able to use them when prices eventually drop.
Even in core-heavy tasks the 12600K is no slouch; it actually outscores the Core i9-10850K in Cinebench R23's multicore testing by a solid 5%, which indicates considerable competence in editing or other CPU-demanding scenarios. Considering the 10850K retailed for 50% more than the 12600K less than two years ago, this is a rather impressive metric.
CPU Cooler: be quiet! Dark Rock 4
CPU Cooler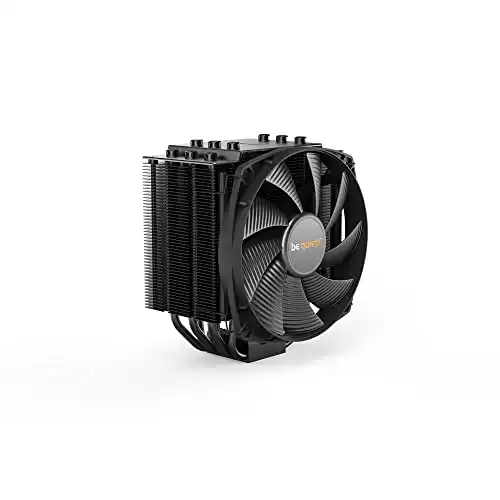 The Dark Rock 4 checks all of the boxes: It's affordable, good-looking, quiet, and does its job very well. It's rated at 200W TDP and, while the i5-12600K is known to use up to 220W at maximum load most users won't reach this point. For those that plan on pushing the i5-12600K to its limits, whether that be by overclocking or all-core applications, we recommend a slightly more powerful air cooler like the Dark Rock Pro 4 or an AIO like the Lian Li Galahad.
Keep in mind that since the i5-12600K utilizes the newest LGA 1700 socket, you'll probably need to order a separate mounting kit regardless of which cooler you opt for. Be quiet! offers a free mounting kit with proof of your cooler's purchase, so for the Dark Rock 4 or Dark Rock Pro 4 this option is recommended.
Graphics Card: MSI Gaming GeForce RTX 3080 10GB LHR
Graphics Card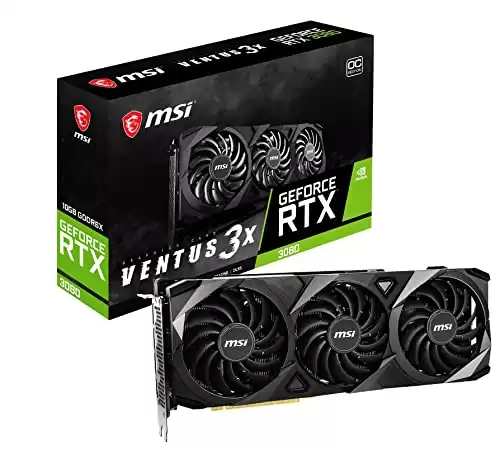 The RTX 3080 is one of the most capable graphics cards out there, as it comes in behind only the RX 6900 XT, RTX 3080 Ti, and RTX 3090. It isn't cheap but if you want 144FPS at 1440p that's a price you must be willing to pay.
While the RTX 3080 Ti and RTX 3090 simply don't add enough value to merit a recommendation from a price-to-performance perspective, AMD's RX 6900 XT is actually better from a pure performance perspective (it rivals even the RTX 3090) and costs about the same as the RTX 3080. So, why did we pick the 3080?
In short, DLSS. Nvidia's RTX series GPUs grant you access to this powerful technology, while AMD SKUs don't. While Radeon's FSR technology seeks to compete with DLSS, Nvidia's technology is still well ahead, granting users superior image quality with performance improvements comparable to FSR.
If you don't plan on making use of DLSS we highly recommend the RX 6900 XT, as it's actually cheaper than the RTX 3080 on some marketplaces and will outperform it if FSR/DLSS isn't part of the equation.
Motherboard: MSI Pro Z690-A Pro DDR4
Motherboard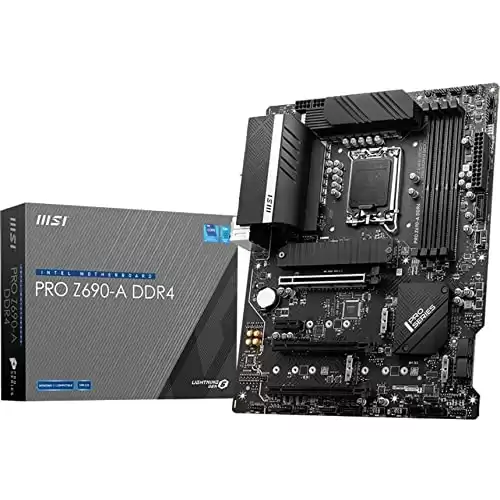 You'll need a motherboard that's compatible with the i5-12600K. This limits you to only Intel's 600-series, and only Z690 boards support CPU overclocking. With a K-SKU processor it's always a good idea to opt for a Z-series motherboard, and the MSI Pro Z690-A strikes a great balance between affordability and solid features.
This model is a DDR4 motherboard, which will keep your memory costs reasonably low (DDR5 is still inordinately expensive). The Z690-A Pro also provides plenty of room for expansion with 4 DIMM slots, 6 SATA ports, 4 M.2 slots, 3 PCIe x16's, and an additional PCIe x1.
It also takes full advantage of the 12600K's PCIe 5.0 support, as the top x16 slot is compatible with that revision of the interface. The M.2 slots are capped at PCIe 4.0, but truthfully it's difficult to justify the use of even gen 4 drives at this point, and gen 5's haven't even hit the market. The primary M.2 slot includes a heatsink which adds to the aesthetics if nothing else.
Lastly, this board is equipped with 14 CPU power phases and a large VRM heatsink, giving users the a good amount of overclocking headroom without jeopardizing system stability.
RAM: TeamGroup T-Force Delta 32GB (2 x 16GB) 3600MHz C18
RAM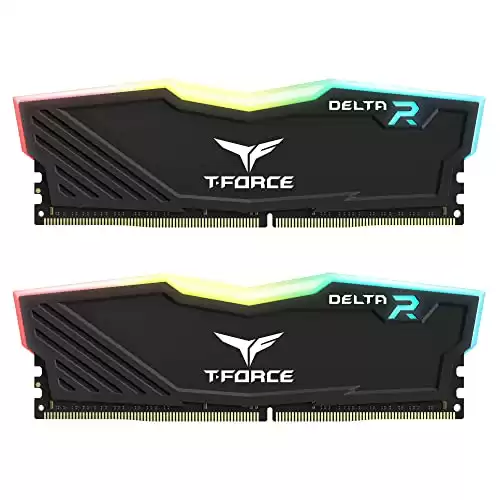 There are a lot of 32GB memory kits in the $100-150 price range. We ended up choosing this offering by TeamGroup because it's nearly one of the cheapest dual-channel kits of its capacity and has the bonus aesthetics of RGB lighting. With a clock of 3600MHz and tight timings (CL18), this is a high-performance memory kit with plenty of capacity.
We opted for 32 gigs of RAM because this is a high-powered build. While 16GB may suffice for many users, 32GB is becoming more and more commonplace in builds as programs continue to increase memory usage. Additionally, memory prices are at or near all-time lows, and 32GB kits cost less than twice as much as 16GB ones. We guarantee Chrome will appreciate your investment.
If you aren't a fan of RGB lighting you can save a small amount of dough by opting for a plainer model like PNY's XLR8 RAM or TeamGroup's Vulcan Z memory.
SSD: ADATA XPG SX8200 Pro
SSD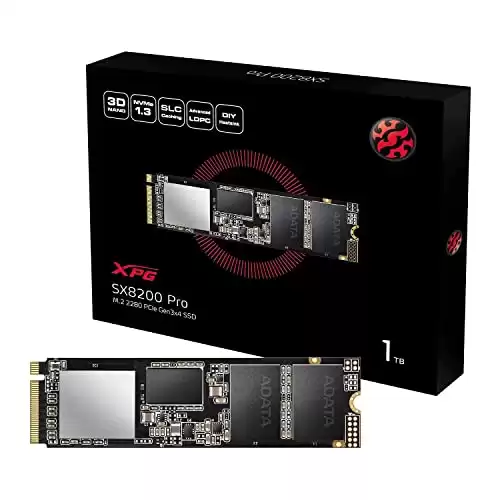 We keep coming back to Adata's SX8200 Pro; we recommended it in our 144FPS Budget Gaming Build and here we are again. That's not without good reason; the SX8200 Pro has lightning-fast performance and is less than $100 at the time of writing.
While it isn't nearly as fast as some newer gen 4 drives (the SX8200 Pro is PCIe 3.0), its respective read and write speeds of 3500 and 3000 MB/s are still respectably fast.
At the beginning of this article we said that we wouldn't recommend components that didn't offer a significant tangible benefit over another option, and that's why we aren't recommending a gen 4 SSD despite the i5-12600K and Z690-A Pro supporting this technology. In a blind test you almost certainly wouldn't be able to distinguish between this drive and one with high-end gen 4 speeds, so there's really no reason to fork over the money for that upgrade.
With that being said, if you're bent on using a PCIe 4.0 drive Inland's Performance SSD is certainly the most compelling option we found at the time of writing. It has maximum read/write speeds of 5000/4300 MB/s so while it doesn't max out gen 4's potential its price (in the $120-$130 range) warrant consideration. The Sabrent Rocket is another near-identical SSD in the same price range and both are worth checking out.
Hard Drive: Western Digital Blue 2TB 7200RPM HDD
Hard Drive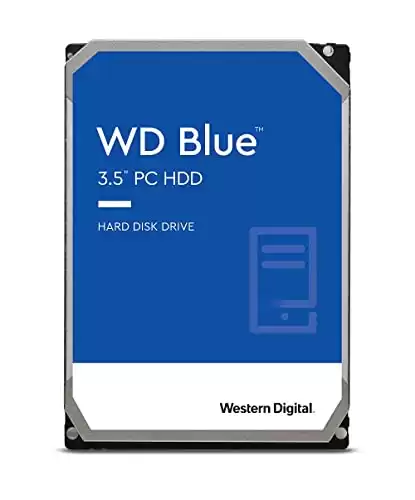 With a 1TB NVMe SSD any additional storage is optional, but it's pretty likely that you'll need some more space at some point, especially if you enjoy Call of Duty titles. WD Blue drives are very price-efficient, as are Seagate BarraCudas. The prices of these cross back and forth so we recommend checking both in your desired capacity.
As hard drives go, this specific make of the WD Blue is fairly fast (about 150 MB/s), but speed really isn't the goal. At the end of the day it's cheap storage and any semblance of speed is a bonus.
Power Supply: Segotep 750W Gold Fully Modular
Power Supply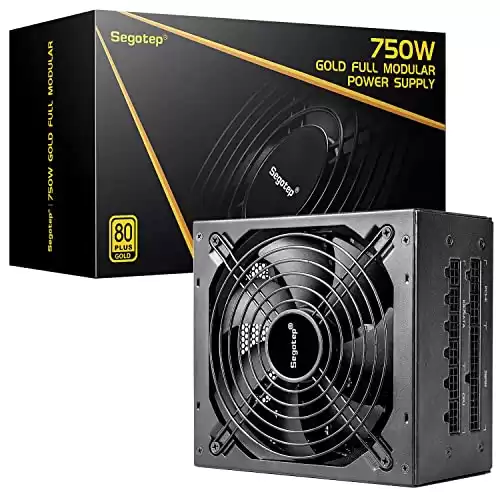 Nvidia recommends a minimum of a 750W power supply when using an RTX 3080. AMD recommends the same be used in conjunction with a 6900 XT so regardless of which GPU you picked, you should be good to go with this PSU. Both companies leave a solid margin of safety so it's perfectly safe to go with their minimum recommended specs.
This ATX power supply is 80-Plus Gold rated, so it's highly energy-efficient (it's guaranteed to be 87% at 20% or more load). As with most high-end PSUs it's completely modular, so you won't need to worry about free-floating cables getting in the way.
Lastly and perhaps most importantly, this PSU is manufactured by a reputable brand. Exploding power supplies are never a good scenario, and you can rest assured that this fate almost certainly won't befall you with a Segotep model.
If you'd prefer to leave room for upgrades or would just feel safer with an 850W model, EVGA's 850 G5 is a high-efficiency fully modular option that's fairly priced, but it will still set you back a good bit more.
Case: Montech Air 1000 Lite Black
Case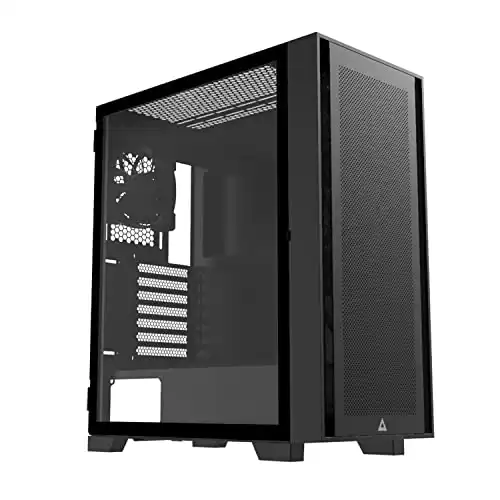 This chassis has a clean look and great airflow as well as most of the bells and whistles you'd expect from a mid-range case. A PSU shroud conceals cables and cable management ports abound. Two front case fans and another in the rear come preinstalled so there's no need to purchase any yourself.
Equally importantly, the Air 1000 Lite supports even the longest graphics cards, as its 340mm of space is greater than the largest video card in existence (the 313mm RTX 3090). 165mm of cooler clearance is enough to house even the 163mm Dark Rock Pro 4. The tempered glass front panel swivels open on a hinge for easy access to the interior.
At a price in the ballpark of $70, all of these features combine to make the Air 1000 Lite our favorite choice for this rig. Achieving 144FPS at 1440p requires a beefy GPU and this is one of the most well-rounded makes that will house such a card.
Monitor: Asus TUF Gaming 32″ 1440p 144hz 1ms Curved Monitor
Monitor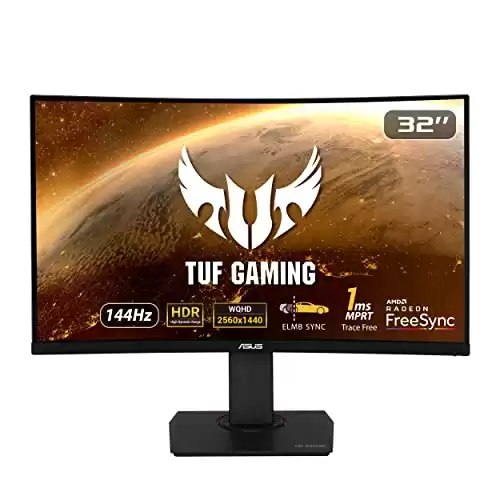 If you're going to spend this much money on a gaming PC, you'll naturally need a monitor that can keep up with it. This 1440p screen by Asus should do the trick–it supports refresh rates up to 144hz and has a quick 1ms response time.
The closest competition is MSI's similarly-priced 165hz G32CQ4 but we opted for Asus' 1440p offering due to its abundance of additional features. An extra 20 or so refreshes per second won't be noticeable but adjustable height and tilt (which this Asus monitor has) will. It also includes built-in speakers, although this will be less important to most users.
If you're planning on wall-mounting, MSI's competing display may be the better option simply for the marginally faster refresh rate. In any other scenario we'd choose the Asus TUF 32″.
Either way, make sure you have the right display cable for the job. An HDMI 2.0 or DisplayPort 1.2 cable, or any higher revision, is requisite for 1440p 144hz support.
Other Peripherals
We won't go into too much detail with peripherals, as an argument could be made for just about any decent gaming mouse, keyboard, mousepad, or other peripheral. Still, we'll at least mention our top picks.
Mouse: Razer DeathAdder v2
The DeathAdder line has become more or less the generic gaming mouse, and for good reason. It's not too expensive and super comfortable with two customizable side buttons in addition to the scroll wheel and two DPI buttons. You can't go wrong with this one.
If you're into lighter gaming mice the Glorious Model D is our favorite. It's 61 grams and has an ergonomic right-handed design (if you're a lefty the similar but ambidextrous Model O will suit you better.
Mouse: Razer Huntsman Mini
Keyboard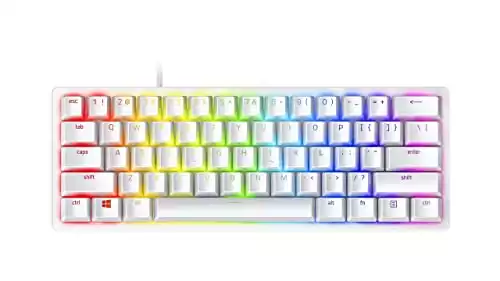 If you're looking for the best switches known to man, look no further; the Huntsman Mini has them (in fact, this entire article was typed on those glorious clicky optical switches). Customizable RGB lighting is also nice.
Of course, if you're a big fan of arrow keys or otherwise dislike 60% keyboards the Huntsman Mini simply won't do. In that case, the more-expensive but arrow-key-equipped Razer Huntsman v2. For best results make sure to get the model with clicky optical switches (as opposed to linear).
Mousepad: Glorious 3XL
Mousepad
Glorious 3XL
Buy on Amazon
Buy on Newegg
Art of PC is reader supported. We may earn a commission if you make purchases through our affiliate links. Thanks for your support!
12/07/2022 12:24 pm GMT
The aptly-named Glorious 3XL is truly closer to a tablecloth–it's 2 feet by 4 feet. If you don't have that much space they make more traditionally-sized mousepads as well. All of these are machine-washable and very durable. Also, if you get one in black coffee stains barely show up.
Headset: Corsair HS60 Pro
Headset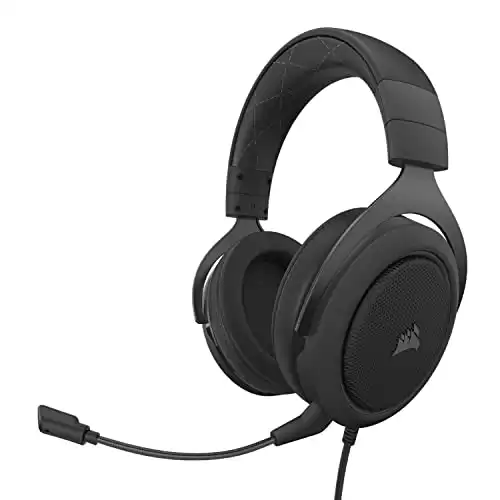 It's hard to go wrong with any name-brand headset and Corsair's HS60 is no exception. We aren't audio snobs but the sound quality is seemingly up to par with any other headsets in its weight-class, and memory foam ear cups make for a comfortable gaming experience.
Mouse Bungee (if you're into that sort of thing): Razer Bungee V3
Mouse Bungee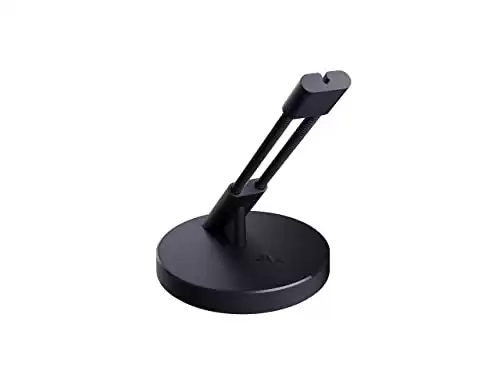 Truth be told, we've never demoed this specific mouse bungee; we use Glorious' make. That being said, it's hard to screw up a mouse bungee and this product evidently has two revisions' worth of improvement. That's enough to earn this bungee our vote of confidence, and we're choosing it over Glorious' model since it has a cleaner look and takes up a tiny bit less desk space. Still, do your own research on this one.