Building a decent PC under $1000 nowadays is a challenge, so you can imagine why a $500 PC with 60 frame-per-second performance in Fortnite and other medium-difficulty games would seem like an impossibility.
Unfortunately, we see all sorts of websites posting parts lists that claim to be a "$500 Console Killer" but feature graphics cards that cost upwards of $500 alone. You've probably seen a lot of these, and aren't sure if it's even possible to build a cheap gaming rig in 2021.
The good news is, it is. $500 won't get you very far at all, but it's enough to build a PC that runs at 60FPS in 1080p in some easier-to-run titles.
We designed this parts list specifically for Fortnite, so the 1080p 60FPS designation is based on this game. We guarantee this build can run Fortnite at those performance thresholds.
You'll be best off using performance mode, as you'll be able to average closer to 100FPS this way, but you can also run the game in DX11 or DX12 (standard modes) at lower settings and get steady 60FPS.
In addition to Fortnite, this rig will run VALORANT, Minecraft, CS:GO, and similarly-optimized titles at 60 or more frames per second with ease.
To clarify, the $500 budget applies only to the PC, not peripherals (your monitor, keyboard, mouse, headset, etc.), but we'll recommend some budget-friendly options for these as well.
Now, let's get into the parts list.
CPU/GPU: Ryzen 3 3200G
The Ryzen 3 3200G is an APU, meaning it's a processor with a built-in GPU. In other words, it serves the function of both your graphics card and CPU at the same time.
This means that it offers great value; you're paying the price of a typical mid-range CPU for an excellent processor that also has the graphics capabilities to run games at a playable FPS.
The 3200G comes with AMD's Wraith Stealth cooler too, which is powerful enough to keep your CPU temperatures low and avoid thermal throttling. As an all-in-one CPU, GPU, and cooler combo, you can see why the Ryzen 3 3200G would be our choice for a budget gaming rig.
Motherboard: Gigabyte B450M DS3H v2
This is a great baseline motherboard with M.2 support. It's also one of the cheapest 3200G-compatible boards available, making it a solid choice for this build.
RAM: Patriot Viper Steel 2x4GB 3200MHz C16
This 8GB RAM kit is fast with low latency. It also has a heatsink with a pretty nice-looking gunmetal gray design. Patriot is known for their high-quality budget RAM, and their Viper line is no exception.
NVMe/Boot Drive: PNY CS3030 250GB
PNY's CS3030 is an extremely fast NVMe SSD with maximum read and write speeds of 3500 and 3000 MB/s, respectively.
It's competitively-priced (most 250GB drives in its price range are much slower), and its fast speeds will allow for quick boot times and fast game loads.
While an NVMe is definitely not a necessity, it's a great luxury, and we were able to fit it into the budget of this rig. If you want to save even more money, you can always skip the NVMe and install your operating system on a hard drive.
Backup Storage: Western Digital Blue 2TB
Western Digital makes great reliable storage, and their 2TB WD Blue drive is some of the cheapest per gigabyte in its capacity range.
2 terabytes should be plenty to hold all of your games, and if you need more down the road you can always add another drive or two.
Case/PSU: Rosewill SRM-01B-450
The key to crafting an affordable PC seems to be buying parts that fill multiple roles. The Rosewill SRM-01B-450 is another great example of this; it's a case that comes with a built-in 450W power supply.
450 watts is more than enough for a 3200G, and if you decide to get a GPU down the road it can easily support a mid-range GPU like the GTX 1650 or 1660 Ti.
The case is nothing special in terms of aesthetics; it's pretty bland-looking. If you're looking for value, though, we haven't found a case that offers a better deal (you'll spend $50 on a lot of 450W PSUs alone). It also includes a rear case fan; this system shouldn't produce all that much heat anyway, but extra cooling never hurts.
If you're willing to spend a bit more money for a better-looking chassis, we recommend the DeepCool Matrexx 50. It's a fancier case with a tempered glass front and side panel, a PSU shroud, and a rear case fan.
If you get this case, you'll need to buy a power supply, since most cases don't come with a complimentary one. For a cheap but reliable one, we recommend EVGA's 450 BR, a 450W 80-Plus Bronze certified PSU.
If you prefer a semi-modular design for easier cable management, Corsair's CX450M is another solid choice.
Operating System: Windows 10 Home
Windows 10 is pretty expensive, but the good news is there's a free version that all of the important features. The main downside is that you'll have a watermark on the bottom right of your screen and can't change your background; it's not ideal, but when you consider you're paying nothing it's actually a pretty sweet deal.
If you don't like the sound of that, there are other options: You can buy Windows 10 or opt for a different, free OS like Linux.
Monitor: Asus VP228HE 21.5″ 1080p 1ms
As a reminder, we've now reached the point of peripherals; this means parts from here on forth aren't included in the $500 budget.
This 60hz monitor offers great gaming performance at an affordable price. The VP228HE's low 1ms response time and 60hz refresh rate means you'll be able to take full advantage of your PC's 60FPS gaming performance.
If you want a bigger screen or adjustable height, Samsung's FT400 is probably your best bet. It's also 60hz monitor, and has a quick 4ms response time.
Mouse: Logitech G203
Logitech's G203 is a great budget mouse. It's around 80 grams, has adjustable DPI up to 8,000, and has two side buttons that can be programmed with Logitech's gaming software.
Mice aren't one-size-fits-all, though, so we'll throw in some of our other favorites: Razer's DeathAdder Elite V2 and Viper Mini, and Glorious' Model D or Model O.
This is by no means a comprehensive list, but those are some of the best sub-$50 gaming mice.
Keyboard: Razer BlackWidow Elite
There are a lot of cheap gaming keyboards out there, but your keyboard's something you shouldn't cheap out on. The BlackWidow Elite is on the cheaper end of Razer's mechanical keyboard spectrum, but it's a great keyboard with switches that will make you want to type in your free time.
Best Prebuilt Gaming PC Under $500: HP Pavilion TP01-1055m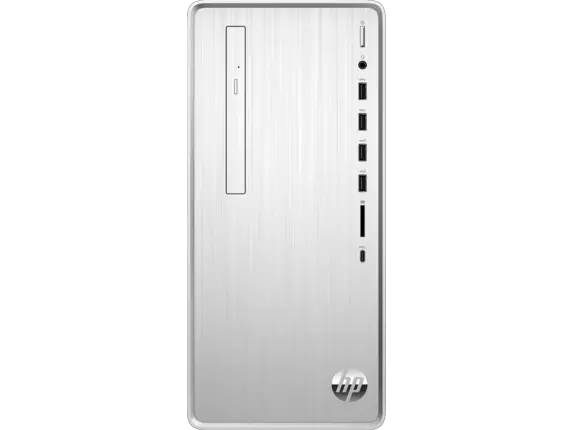 HP's Pavilion TP01-1055m includes the OEM-only Ryzen 3 4300G, which is an even better CPU than the Ryzen 3 3200G. Like the 3200G, it's also capable of 60FPS at 1080p in Fortnite, VALORANT, CS:GO, Minecraft, and similar games.
Additionally, this Pavilion model comes complete with 8GB of dual-channel 3200MHz RAM, a 256GB NVMe SSD, another 1TB of hard drive space, an optical drive, WiFi and Bluetooth-capable motherboard, an 180W Gold-certified power supply, and Windows 10 Home.
If you don't care to build your own PC, this is the best rig we've found under $500.
Prebuilt Equivalent: HP Desktop with Ryzen 3 3200G
This HP-made PC features the Ryzen 3 3200G alongside 8GB of RAM, a WiFi and Bluetooth-capable motherboard with M.2 slots for expansion, and a 1TB hard drive.
The downside is that it doesn't come with an NVMe, which means your computer will boot and write a bit slower. Considering its low price, you could add in an NVMe like the 250GB model of the PNY CS3030 and still stay within a $500 budget.
Windows 10 Home 64-bit is included with this prebuilt computer, making it an excellent value PC.
Prebuilt Alternative: Acer Aspire TC-390-UA91
Acer's Aspire TC-390-UA91 is another build centered around the 3200G. Its main advantage over our second HP recommendation is its 512GB NVMe.
It also includes a WiFi and Bluetooth-equipped motherboard, 8GB of 2666MHz RAM, and Windows 10 Home. Backup storage is not included with this prebuilt PC, meaning if 512GB isn't enough you may find yourself in need of an extra hard drive. As we mentioned before, you can't go wrong with the WD Blue 2TB.
Conclusion
Prices are constantly changing, but at the time of writing (June 2021) this build came in at around $450, leaving a good deal of wiggle room. It seems likely that prices have reached their peak, so we expect this to remain a $500 rig.
Regardless, we'll check in every month or so to ensure we're still recommending the best-priced components.
If you're thinking about building a PC but don't know where to start, we recommend checking out our PC-building beginner's guide for a step-by-step walk through the building process.
Art of PC is reader-supported. We may earn a commission if you make a purchase through our affiliate links. We promise not to abuse this; we only recommend parts if we'd use them ourselves. Thanks for your support!