When you're already on a tight PC-building budget, the last thing you probably want to do is spend another $100 or more on your operating system. The unfortunate reality, though, is that unless you want to run Linux you're going to have to shell out a good bit of dough for an OS…right?
Not necessarily. There are several ways you can get Windows 10 for free, and several more ways you can acquire a Windows license for less than $30.
Below, we'll look at a few of our favorite ways to get Windows 10 for free. It should go without saying that all of these methods are completely legitimate and legal, although we advise you to do your research before buying from any third-party key site.
Method 1: Download Windows 10 for Free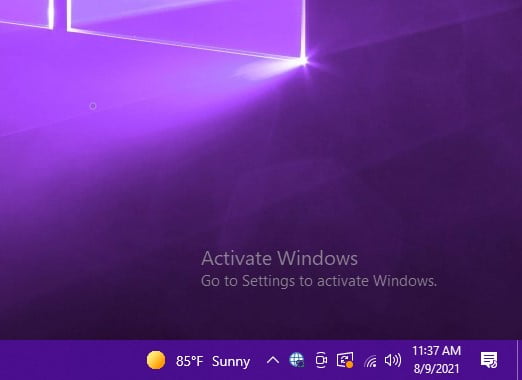 While it may sound too good to be true, Microsoft actually offers Windows 10 to anyone who wants it, for free. This isn't just limited to Windows 10 Home either; you can install the Pro version as well. All you have to do is visit the Windows 10 Installation Media page and create a boot drive with a USB drive or some other external drive.
The caveat is that you'll be stuck with an annoying watermark in the bottom right corner of the screen, reminding you that you still need to activate Windows 10. While you won't lose any real functionality, your aesthetic customizations will be limited; you can't customize your taskbar, personalize your color scheme, or change your desktop background.
If you can stomach these slight drawbacks, this might be the best option for you. If not, read on. There are several other ways to acquire Windows 10 for free or cheap, which allow for full customization of your PC's settings.
Method 2: Get Windows 10 Education for Free (If You're a Student)
If you're a high school or college student you're probably eligible to get Windows 10 Education for free. You can check at this link. If you're eligible you'll get a free installation of Windows 10 Education, which you'll get to keep even after you're done with school.
Teachers are also eligible for steep discounts on Windows 10 Education. Most school faculty members will be able to acquire a Windows 10 license for $14.99, which also lasts for life.
What's more, Windows 10 Education is a premium package, even better than Pro or Home. It has many features that only Windows 10 Enterprise share, making it one of the most robust Windows 10 editions available. For more information, you can view a breakdown of the full features list for each edition here.
Method 3: Use a Windows 7 or 8 Key to Upgrade for Free
If you have a computer that's already running Windows 7 or 8, you can use its current license to upgrade to Windows 10, free of charge. To do this, you'll have to find your activation key.
If you bought your computer prebuilt it likely has a sticker on the chassis that contains the activation key. If you custom-built your rig it may be a bit trickier to find the key, but not impossible.
Follow the steps below to find your activation key for your respective OS, download Windows 10, and activate your installation using the key.
Method 4: Buy a Third-Party Windows 10 Key for Cheap
While some folks may be skeptical about buying from third-party sites, many are legitimate, and offer incredibly good deals on Windows 10 keys. Sites such as Kinguin have been around for years, and have built a reputation of reliability and legitimacy.
Websites like these acquire operating system keys through wholesalers who are liquidating surplus licenses at rock-bottom rates, then they turn around and flip them for a profit.
Since they're able to buy keys at such low prices, they're able to sell them at a considerably lower cost than most mainstream retailers like Amazon or Newegg.
For example, at the time of writing Windows 10 Pro and Home are going for roughly $30 on Kinguin, versus over $100 on Amazon and Newegg.
Conclusion
Regardless of your situation, there's a way for you to get Windows 10 for free. Even if you require full customization of your PC's settings, you'll have an easy time finding a key for $30 or so, and likely less.
Art of PC is reader-supported. If you make a purchase using one of our affiliate links, we may earn a commission. Thanks for your support!