Medium form factor PCs enjoy a ton of popularity nowadays. That's most likely because they offer the best balance between raw performance and portability. They're not exactly miniature, mind you, but they tend to be (relatively) lightweight and easy to carry to LAN parties and on weekend trips back home.
One such specimen is the HP Omen 40L. It's been around for a while, living through several build iterations and coexisting with similar configurations like the Omen 45L and 25L.
Omen 40L remains right in the center of the medium form-factor section. It doesn't have the superb cooling tech and the extra bulk of the 45L, but it also avoids the thermal throttling issues of the much smaller Omen 25L.
Today, in our HP Omen 40L review, we'll be going through the product's key characteristics, configuration options, overall performance, connectivity, potential upgrades, and of course – the pricing.
There's a ton of stuff to go through so let's jump right into it!
Design and Appearance
Let's start off with the HP Omen 40L dimensions which clearly show that we're looking at a medium form-factor desktop PC:
Width: 8.03" (20.40cm)
Depth: 18.50" (46.99cm)
Height: 18.39" (46.71cm)
Even though there are several different configuration options for this product, the chassis and case fans are constant across all models, as is the tempered glass side panel. This transparent window showcases the internals in all of their radiant beauty.
Both the fans and the cooler come with white LED color set by default which adds to an already gorgeous aesthetic. This lighting is fully customizable, as you would expect from a high-end gaming rig.
The 40L doesn't feature too much branding. The diamond-shaped Omen logo is prominent in the front, with "Omen" scrawled beneath it. The brand name is also engraved into the right side panel, albeit without the logo this time. While it's fairly big, it doesn't take away from the overall sleek-looking aesthetic.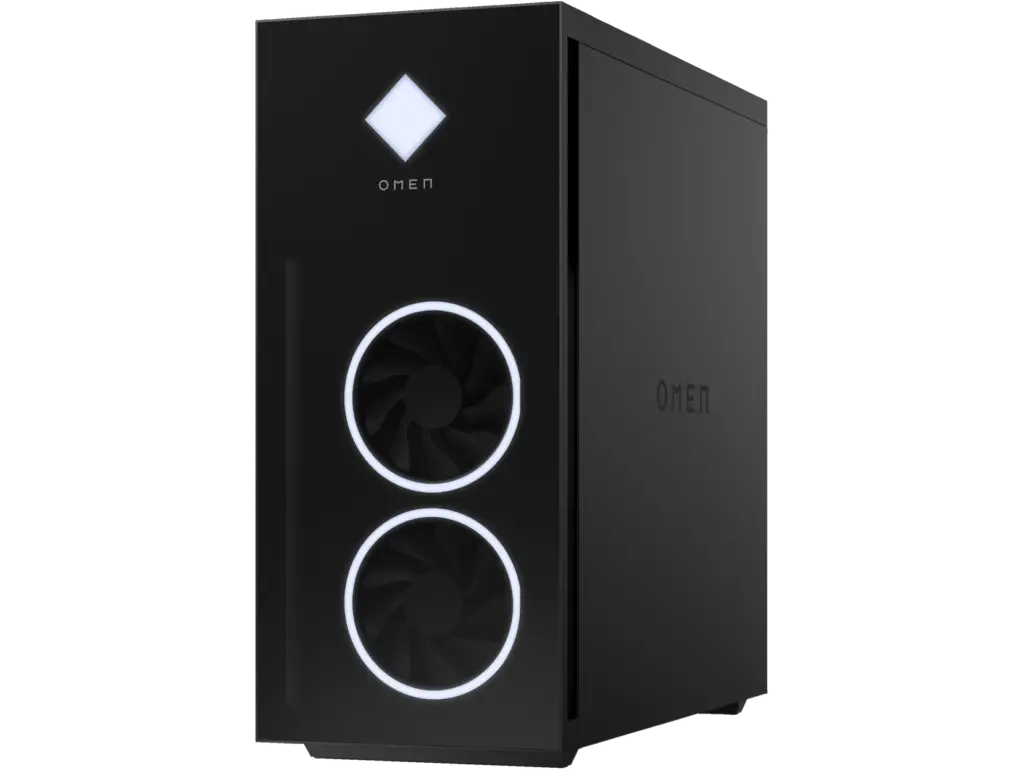 While RGB is present, it's not as tacky as we'd have expected from an HP Omen product. The designers toned their excitement down a notch and it really shows. Omen 40L looks powerful but without screaming "I'm a gaming PC" right in your face. Kudos to HP – this is not as straightforward to accomplish as you might think.
Specs Overview
As mentioned earlier, there are several different options available for purchase. HP Omen 40L is available directly from the HP Omen website, but you can purchase it via Amazon or other stores too. Keep in mind that the pricing will vary, so make sure you do extensive research and compare the price tags before making any purchases.
The Omen 40L comes with a wide variety of configuration options from all major GPU and CPU brands. What we're happiest to see is that options include the latest-generation offerings from Intel, AMD, and Nvidia. It's always great to see manufacturers upgrading to newest-gen parts in real time, rather than continuing to sell older hardware after its heyday.
In terms of AMD CPUs, you can choose SKUs from the most recent 7000-series including the R5 7600, R5 7600X, R7 7700X, and R9 7900. A large selection of 5000-series CPUs such as the R7 5800X are available in Omen 40L rigs, although we'd recommend keeping away from these unless they're listed at a decent discount over newer models.
In the blue camp, the selection includes countless 12th-gen CPUs, plus many offerings from Intel's newest 13th-generation Raptor Lake lineup. These include the Core i5-13400, Core i7-13700, and Core i9-13900, among others.
The 40L's GPU selection will be equally appealing to a wide range of buyers. It's a fairly even split between last-gen AMD 6000-series cards, Nvidia 30-series GPUs, and the latest Nvidia 40-series models.
The most prominently featured models include fan favorites like the RX 6600 XT and RTX 3060, as well as some newer hardware in the RTX 4070 Ti.
The storage is solid, with most 40L PCs coming equipped with WD Black NVMe SSDs with TLC NAND. The power supplies included in any given model are always adequate for the included hardware, and they're 80-Plus Gold rated for high efficiency (upwards of 90% at a 50% load).
DDR5 memory is included with a decent proportion of the newer 40L models, but a few (such as those with Ryzen 5000-series CPUs) naturally come with DDR4. In either case, it's high-quality HyperX Fury RAM with an RGB heatsink.
Frankly, this shouldn't make much of a difference in gaming performance, as your GPU and CPU will be the primary bottlenecks on your framerate and the resolutions you're able to play at.
A custom cooler is included with every model we could find, but in builds featuring lower-wattage CPUs this is an air cooler rather than an AIO. A liquid cooler isn't necessary for 65W CPUs, so this shouldn't present any problem.
Connectivity
No matter which model you opt for, you'll always get the same front-panel connectivity options. The Omen 40L's front panel features the following I/O ports:
2 USB 2.0 Type A
2 USB Type A 5Gbps (HP Sleep & Charge feature, Battery Charging 1.2)
1x Headphone/microphone combo
1x Standard microphone jack
The exact Rear I/O specs will depend on which configuration you opt for. There are several different motherboards featuring different chipsets including B550, B650, Z690, and Z790. While they do have similar rear I/O, there are usually a few minor differences in terms of USB-A speeds, USB-C availability, and the like.
Performance
We can't talk about tangible numbers here as the performance varies from one build to another, depending primarily on the GPU/CPU configuration. What we can say is that, in general, HP Omen 40L performs adequately thanks to proper airflow within the case and the included AIO liquid cooling system. 
Even though the Omen 40L doesn't have 45L's patented Cryo chamber tech, it has solid thermals. Note that some Omen 40L users reported issues with the GPUs thermal throttling. Specifically, a user on Reddit complained his 3060 Ti was overheating due to a poor GPU fan curve. While this is a minor convenience, it's also an extremely easy fix.
Breakdown of HP Omen 40L Models
In this section we'll take a quick look at each Omen 40L model's respective hardware. We'll touch more on which models are the best deals in the Pricing section. At the time of writing their are eight primary 40L models available on HP's website, some of which are customizable. Slight variations of these may be present on Amazon, Newegg, and elsewhere.
We're listing these SKUs in ascending order of price for the base configuration. Keep in mind that prices fluctuate, and that the most expensive configuration of a customizable model can be substantially costlier than the base configuration.
Upgradability / Modularity
There's nothing bad to be said about HP Omen 40L in this department. Even the motherboard can be easily removed, so it's very simple to upgrade your motherboard, GPU, or even the entire platform.
Importantly, the 40L chassis can accommodate virtually any video card, so even if you're upgrading to, say, an RTX 4090, you should be good to go in this regard.
Omen 40L GT21-0126m | Ryzen 7 5800X | GTX 3060 | 16GB DDR4 RAM (Customizable)
Ryzen 7 5800X or Ryzen 9 5900X
RTX 3060 to RTX 3090
mATX B550 motherboard
16 to 64GB DDR4-3733MHz RAM
512GB to 2TB SSD
0 to 2TB 7200RPM HDD
600W or 800W 80-Plus Gold PSU
AIO Liquid Cooler
Omen 40L GT21-0148z | Ryzen 7 5800X | RX 6600 XT | 16GB DDR4 RAM (RTS)
Ryzen 7 5800X
RX 6600 XT
mATX B550 motherboard
16GB DDR4-3733MHz RAM
512GB SSD
1TB 7200RPM HDD
800W 80-Plus Gold PSU
Omen 40L GT21-1000m | Ryzen 5 7600 | RTX 3060 | 16GB DDR5 RAM (Customizable)
Ryzen 5 7600, Ryzen 7 7700, or Ryzen 9 7900
RTX 3060 to RTX 4080
mATX B650 motherboard
8GB to 64GB DDR5-5200MHz RAM
512GB to 2TB SSD
0 to 2TB 7200RPM HDD
600W or 800W 80-Plus Gold PSU
RGB Air Cooler
Omen 40L GT21-1455se | Core i7-13700K | RTX 3060 | 16GB DDR5 RAM (Customizable)
Core i7-13700K or Core i9-13900K
RTX 3060 to RTX 3090, RTX 4060 to RTX 4070 Ti
mATX Z790 motherboard
16GB to 64GB DDR5-5200MHz RAM
1TB or 2TB SSD
0 to 2TB 7200RPM HDD
600W or 800W 80-Plus Gold PSU
AIO Liquid Cooler
Omen 40L GT21-1355st | Core i5-13400 | RTX 3060 | 16GB DDR5 RAM (Customizable)
Core i5-13400, Core i7-13700, or Core i9-13900
RTX 3060 to 3080, RTX 4060 to 4070 Ti, RX 6600 XT to 6700 XT
mATX Z790 motherboard
16GB to 64GB DDR5-5200MHz RAM
512GB or 1TB SSD
0 to 2TB 7200RPM HDD
600W or 800W 80-Plus Gold PSU
RGB Air Cooler
Omen 40L GT21-1005m | Ryzen 5 7600X | RX 6600 XT | 8GB DDR5 RAM (Customizable)
Ryzen 5 7600X or Ryzen 7 7700X
RX 6600 XT to 6700 XT, RTX 3070 to 3090, RTX 4060 Ti to 4080
mATX B650 motherboard
8GB to 64GB DDR5-5200MHz RAM
512GB to 2TB SSD
0 to 2TB 7200RPM HDD
600W or 800W 80-Plus Gold PSU
AIO Liquid Cooler
Omen 40L GT21-1490xt | Core i7-13700K | RTX 4070 Ti | 16GB DDR5 RAM (RTS)
Core i7-13700K
RTX 4070 Ti
mATX Z790 Motherboard
16GB DDR5-5200MHz RAM
1TB SSD
Omen 40L GT21-0385xt | Core i7-12700K | RTX 3070 | 16GB DDR4 RAM
Core i7-12700K
RTX 3070
16GB DDR4-3733MHz RAM
512GB SSD
1TB 7200RPM HDD
800W 80-Plus Gold PSU
AIO Liquid Cooler
Pricing
While the Omen 40L is certainly a well-built, high-performance, great-looking PC, this doesn't matter if it can't compete in cost. It's important to note that the 40L is designed to be a premium gaming rig, and as such will cost more than something like the HP Victus 15L even with identical hardware.
For instance, the Victus 15L TG02-0355z configuration with the Ryzen 7 5700G and RX 6600 XT costs $930 at the time of writing, versus the Omen 40L's competing GT21-0148z, which costs $1300. That's nearly $400 more, and the 40L is only marginally better in terms of hardware (it has the slightly more powerful R7 5800X).
You're paying for the tempered glass side panel, sleek design, and RGB lighting, as well as for slightly better airflow and a larger chassis. As such, the Omen 40L has a tough time competing with itself in apples-to-apples hardware comparisons with lines like Victus 15L.
Still, when compared to other premium gaming PCs its pricing is extremely competitive for a choice few RTS models. For instance, the Core i7-13700KF, RTX 4070 Ti-equipped GT21-1490xt is currently one of the cheapest 4070 Ti gaming rigs available among those with a latest-gen CPU.
It's true that you can find some models with 10th-gen Intel or 5000-series AMD CPUs that are less than $2000, but virtually all 4070 Ti rigs with latest-gen hardware (such as Corsair's Vengenace i7400) are well over $2000. The current $1950 price tag on Omen 40L's 4070 Ti offering makes it an extremely solid deal.
Unfortunately, most of the customizable Omen 40L models are veritable rip-offs. This is because the upgrades cost far more than they would if you sourced your own parts. For instance, at the moment it costs a monstrous $280 to upgrade from an R7 5800X to an R9 5900X, whereas in actuality the 5900X costs less than $100 more.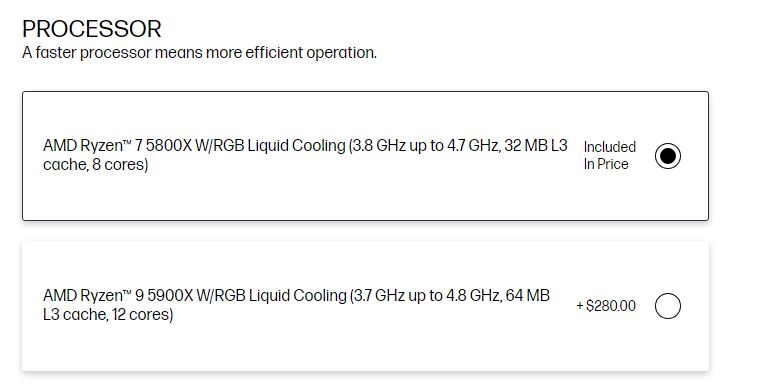 If you're going to buy a customizable model, it's best to stick with the base configuration for the most part. Generally speaking, RTS models are almost always better deals.
Prices constantly fluctuate, but Amazon and Newegg often feature 40L models priced to sell. Note that these will usually have generation-old hardware, so factor this in when considering whether or not to buy. Also, keep an eye out for discounts on Omen 45L models, as sometimes these drop into the 40L's price range, and they have a more robust feature set.
Final Thoughts
To be clear, we highly recommend building your own PC if you can. It's an incredible learning experience and saves you money, so the only downside is the time it takes and the possibility that you could make a mistake and damage your rig. If you're not sure where to start, check out our Beginner's Guide to Building a PC.
However, if you don't have the time or aren't willing to risk it, buying a prebuilt PC isn't a bad option. They're usually not too terribly overpriced, and they offer increased peace of mind.
If you do decide to buy a prebuilt gaming PC, HP's Omen 40L can be a decent option, depending on the current market at the time you're shopping. While many of their customizable rigs are poorly priced, HP frequently runs sales that push their best rigs to prices lower than virtually any competitor.
Price would be the only real concern with the Omen 40L. These machines are well-built, easily upgraded down the line, and look awesome to boot. Thus, if you can find a 40L model at a discount, it's certainly worth your consideration.