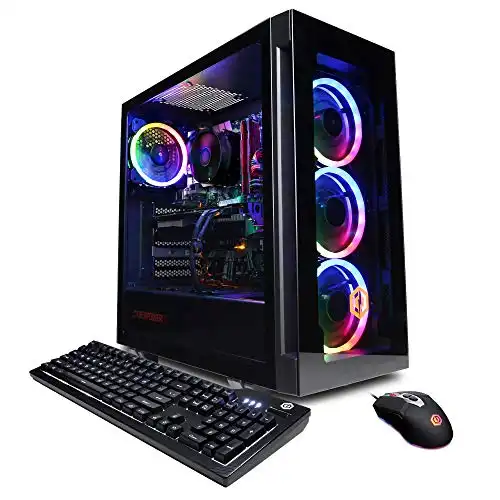 When choosing a prebuilt gaming PC, it's often difficult to pinpoint which one offers the best value. Prices are always shifting, hardware is eternally improving, and it may seem as if picking the perfect gaming rig is an impossible task.
While there usually isn't one cut-and-dry best option, there always seem to be a few models that are always in the mix at a given price point. For mid-range PCs, CyberPowerPC's RTX 3060, Core i7-12700F-equipped Gamer Xtreme VR model is one such PC, competing with the likes of HP's Victus 15L and Envy TE02, and Lenovo's IdeaCentre Gaming 5i.
In this review we'll take a deeper look at the Gamer Xtreme VR, the components it's built with, its performance, and more.
Today's Deals
Components Overview
Let's take a quick look at what's inside of the Gamer Xtreme VR. The parts list is as follows:
Nvidia GeForce RTX 3060
Intel Core i7-12700F
16GB DDR4-3200MHz RAM
1TB NVMe SSD
Variable Motherboard (Most Likely B760)
600W Power Supply
Air Cooler
Custom CyberPowerPC Chassis
Keyboard/Mouse Combo
The RTX 3060 remains one of the best mid-range GPUs available. It's capable of 144FPS gaming at 1080p, and can easily handle 60FPS at 1440p in just about any title. It pairs extremely well with the Core i7-12700F, which is a potent 12-core CPU which won't bottleneck the 3060 in the slightest, and actually leaves headroom for a video card upgrade down the line, if desired.
While component brands aren't specified and can vary from model to model (a common practice for prebuilt manufacturers), the RAM appears to typically be 3200MHz TeamGroup T-Force Vulcan Z. Most boards used with the Gamer Xtreme VR are 4-DIMM models, so this 2x8GB kit will leave two slots open for later expansion, if desired.
The air cooler isn't the best, so if your CPU temps are higher than you'd like it's never a bad idea to upgrade to a nicer ~$30 air cooler like the SE-224-XTS or be quiet! Pure Rock 2. However, the vast majority of users don't have any issues with the included stock cooler.
A 600W power supply offers enough wattage to comfortably accommodate the above hardware configuration. Nvidia's official minimum spec for the RTX 3060 is 550 watts, and that's in a testing system with a much more power-hungry K-SKU overclockable CPU. All of that to say, the power supply presents no issues.
The Gamer Xtreme VR also comes with built-in WiFi, as well as a fairly cheap keyboard and mouse.
Appearance and Design
The CyberPowerPC Gamer Xtreme VR features an RGB-heavy chassis with three RGB case fans in the front, as well an RGB exhaust fan in the rear. A PSU shroud at the bottom of the case keeps cables out of sight for an improved aesthetic.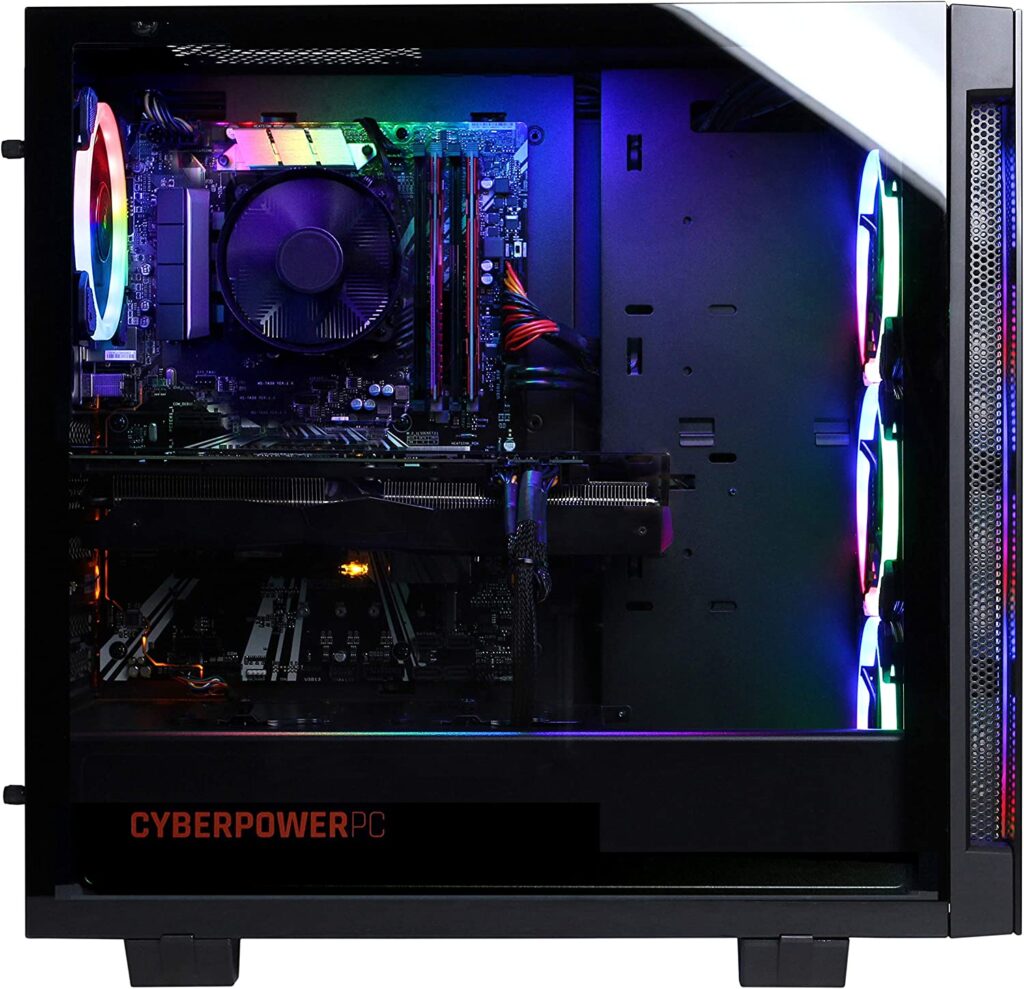 With a see-through tempered glass side panel, you can see just about every component without opening of the case. Likewise, the front is tempered glass, to give the front fans' light rings full visibility.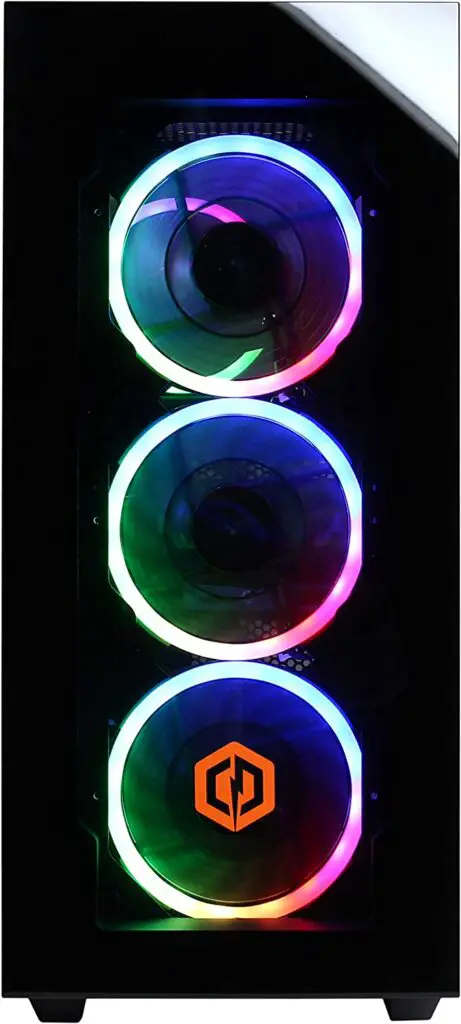 Two USB 3.0 connectors can be found on top of the case adjacent to the power button, alongside a microphone and headphone jack.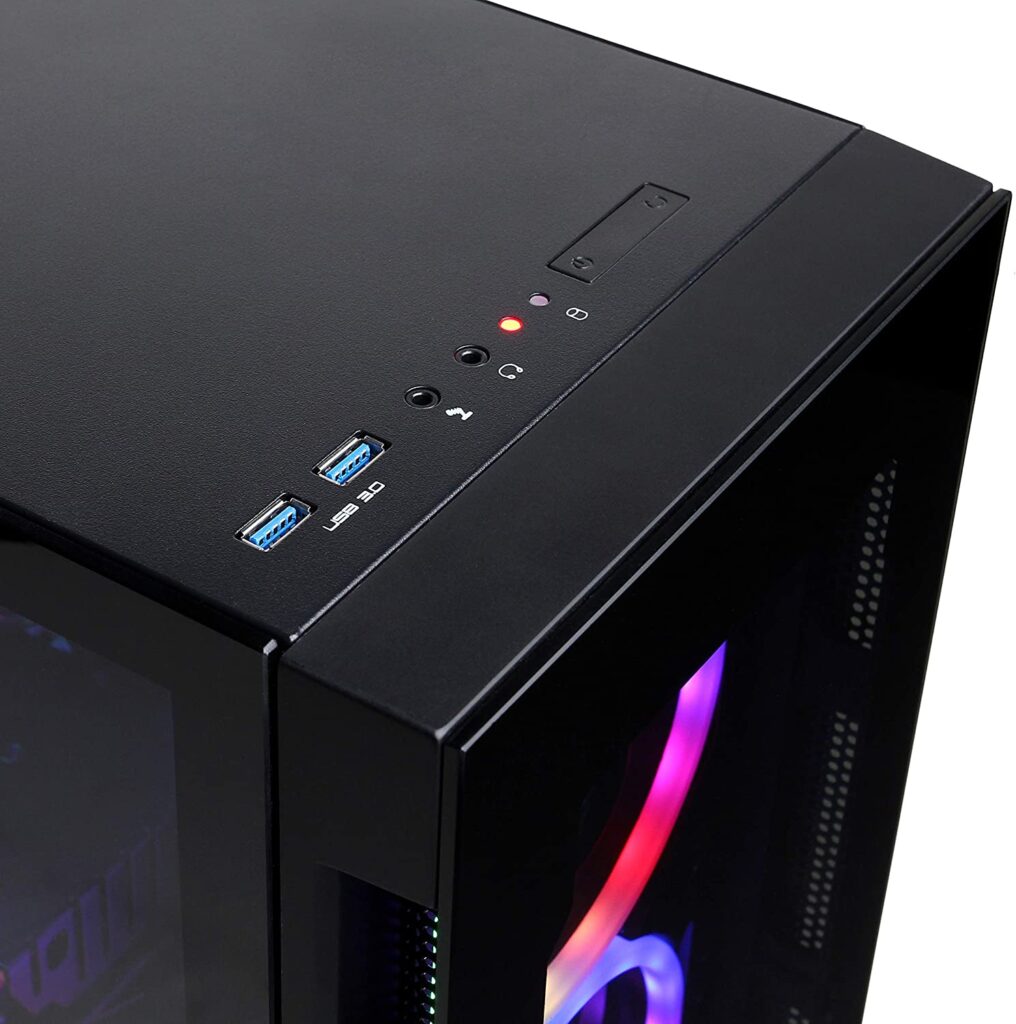 Rear I/O will vary depending on the motherboard model, which changes as CyberPowerPC has different parts in stock. However, all Gamer Xtreme VR rigs will have at least 6 USB 3.1 ports, 2 USB 2.0, and an Ethernet port.
Pricing
At the time of writing, the Core i7-12700F, RTX 3060 SKU of CyberPowerPC's Gamer Xtreme VR is selling for $1,169.99. For comparison, the HP Victus 15L with nearly-identical specs is going for $999.99, the HP Envy with a better RTX 3070 and Core i9-12900 is going for $1229.99, and the Skytech Blaze 3.0 with an RTX 3060 and Core i5-12400F is selling at $1,099.99.
There are many other RTX 3060-equipped gaming PCs selling in the $900-1200 price range, but most of these have older CPUs from Intel's 10th or 11th gens, or Ryzen's 3000-series. They also tend to be Core i5 or Ryzen 5 CPUs, rather than a more powerful i7.
Other Notable Gamer Xtreme VR Models
Core i9-13900KF | RTX 4070 Ti
Core i7-13700KF | RTX 4080
11/22/2023 12:16 pm GMT
While this review pertains specifically to the GXiVR8040A12 (that's the Core i7-12700F, RTX 3060 model), there exist a couple of other models worth mentioning.
CyberPowerPC makes a slightly cheaper rig that's outfitted with the Core i5-12400F and RTX 3050 (Model: GXiVR8060A16), with the same 16GB of memory and half the SSD capacity at 500GB. At its current price it's not a particularly enticing deal, but that may change as prices fluctuate.
Another of their offerings, which has an incredibly unorthodox case design and insane hardware, is the GXiVR8080A34. This behemoth packs a generation-newer RTX 4070 Ti, Core i9-13900KF, 16 gigs of DDR5 RAM, and a 1TB NVMe SSD.
Finally, there exists the GXiVR8640A2, with the Core i7-13700KF, RTX 4080, 16GB DDR5 memory, and a 2TB NVMe SSD.
There are a number of other models, many of which feature slightly outdated CPUs or graphics cards, as well as a couple more Nvidia 4000-series offerings.
Final Thoughts
Overall, then, this version of the Gamer Xtreme VR is a very viable option at its current pricing, which is probably why it's the #7-selling tower PC on Amazon at the moment (not to mention, the top selling tower over $300). It packs powerful components and top-tier aesthetics at a cheaper price point than all but a couple competitors.
All things considered, a strong case can be made for this specific version of the Gamer Xtreme VR. It's not the very best deal at the moment in terms of pure performance (that would be the Victus 15L until the price goes up). But CyberPowerPC's offering strikes a nice balance between looks and power, and if you want a flashy gaming rig it may be worth forking over the additional $150 or so dollars for a better design.