Best Skytech Gaming PC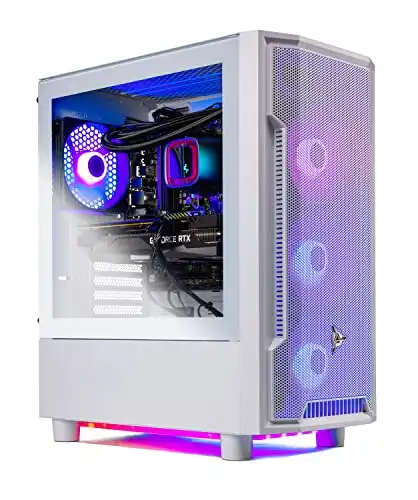 If you're in the market for a new gaming PC and don't want to build one yourself, you may find yourself amazed at the sheer number of brands competing for your attention. Wading through this myriad of options is a tall order, so we've decided to create an article series in which we take an in-depth look at all the PC manufacturers we can find, both big and small.
Today we're reviewing Skytech Gaming, a brand that you've almost certainly seen if you've browsed even a page of prebuilt gaming PCs on Amazon, and determining whether their custom-built gaming rigs warrant a look if you're looking to buy. We'll have a look at how their pricing compares to competitors, build and component quality, customer support quality, and more.

About Skytech Gaming
Skytech Gaming is a PC manufacturer based out of Ontario, California. According to their website, they "strive to make buying a pre-built PC not the second choice, but the right choice for every gamer."
Other than that, Skytech doesn't offer very much information in regards to the history of their company. Compared to many other prebuilt PC manufacturers who have been selling rigs since the 90s or earlier, Skytech is fairly new: They were founded in 2016.
Is Skytech Gaming Legit?
Skytech Gaming is certainly a legitimate company, in the sense that they will in fact send you a gaming PC when you make a purchase. It's important to note, however, that they have a rather subpar reputation in regards to their PC build quality and quality of customer support.
On their Better Business Bureau page Skytech Gaming receives the worst possible "F" rating, with an average rating of 1.58 out of 5 over 38 customer reviews. Here's one:
This place is horrible. My Desktop is still under warranty and after 6 months of owning it, I had to send it in. First, they lied and told me it was dirty and needed to be cleaned before they could fix it. Then after I thoroughly cleaned it, even though it didn't need it, I get it told to me a second time that it needs cleaning before they will fix it. By this time it is the end of my warranty. There is no way I can make it to their standards before my warranty runs out. Oh and the first time they sent it back to me the thing was broken worse and taped together. NEVER going to buy another one of their Desktops again. I am distraught that I lost out on over a grand all because they lie in order to not have to fulfill their warranty. Skytech is a joke!!

Thomas A.
TrustPilot tells a similar, if slighty less extreme, story: Over 83 customer reviews, Skytech has received a 2.9-star average. 42% of these are 4 or 5-star reviews, while the remaining 58% are 3-star or below (an incredible 56% are 2-star and below).
Skytech make nothing but faulty equipment. What's more, they will never back up with customer support. I bought a pre-built with a 3070 that would work for two days and then never work again. I replaced it twice (going through Skytech both times), each GPU would not work after initial boot-up. I sent the whole tower to them, but they had no answers. Buy from a different company.

Ross Liberti
This is in stark contrast to the majority of reviews of individual models on websites like Best Buy and Amazon, where the majority of rigs boast 4.3 stars or more on average over hundreds of reviews. It's possible that these poor reviews on TrustPilot and BBB are at least in part due to the skewed likelihood of customers with a negative experience to leave a review, as the quantity of both of these combined is barely over 100.
Based on all of these reviews, it seems most likely that Skytech's defect rate is significantly lower in actuality than reviews would lead one to believe. However, it would also appear that Skytech's customer service and quality control are of very poor quality, should you run into any trouble with your rig. This seems to be a common trend across prebuilt PC manufacturers, as CyberPowerPC has similarly poor customer service ratings.
Product Selection
Contrary to many similar companies, Skytech solely offers desktop PCs; they manufacture neither laptops nor peripherals.
RTS PCs
They offer RTS (ready-to-ship) gaming PCs featuring everything from Intel's Core i3-10100 and AMD's Ryzen 3 3100 all the way up to the latest-gen Core i9 and Ryzen 9 CPUs. These rigs are pre-assembled and therefore aren't customizable, but their wide range of builds encompasses virtually every possible gaming use case.
Skytech's prebuilt desktop lineup includes the following models: Chronos, Chronos Mini, Azure, Prism, Blaze, Archangel, Shiva, Shadow, Nebula, Siege, and Eclipse. Each of these, some of which are subdivided into multiple generations, feature a unique set of components.
On their website Skytech's lowest-end rigs start out at $700 with the Shadow 3.0, which is equipped with Intel's Core i5-10400 and a GTX 1650. Meanwhile, their most expensive offering, the Eclipse, is $4400 and is decked out with DDR5 RAM, a Core i9-13900K, and an RTX 4090. These prebuilt PCs, as well as several other and less expensive models, are available on Amazon as well.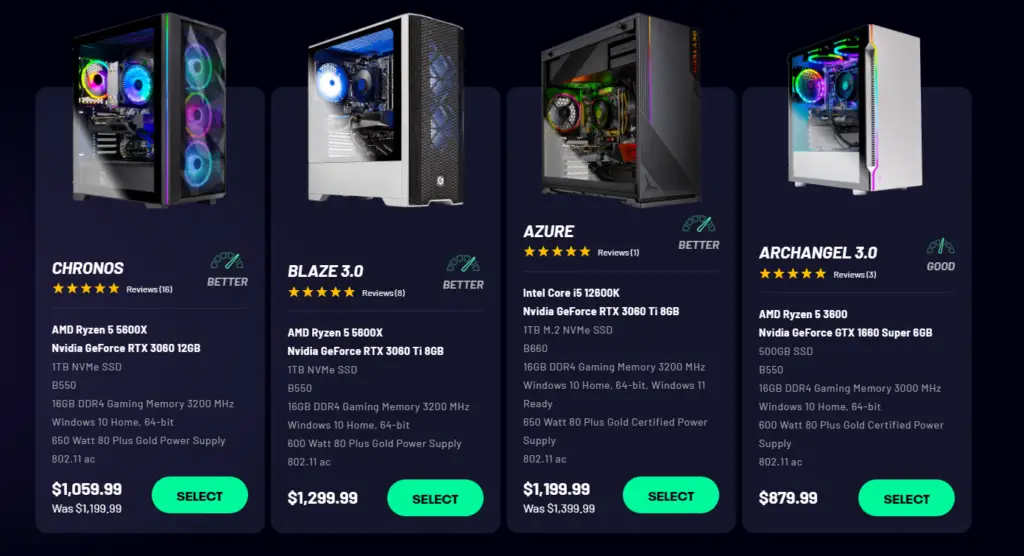 Customizable PCs
In addition to their prebuilt PCs, Sktyech offers completely customizable gaming rigs. These are divided into Mark 3, Mark 5, Mark 7, and Mark 9 categories, each of which corresponds to the caliber of CPU included (Core i3 and Ryzen 3 are options in Mark 3 rigs, Core i5 and Ryzen 5 with Mark 5, and so on).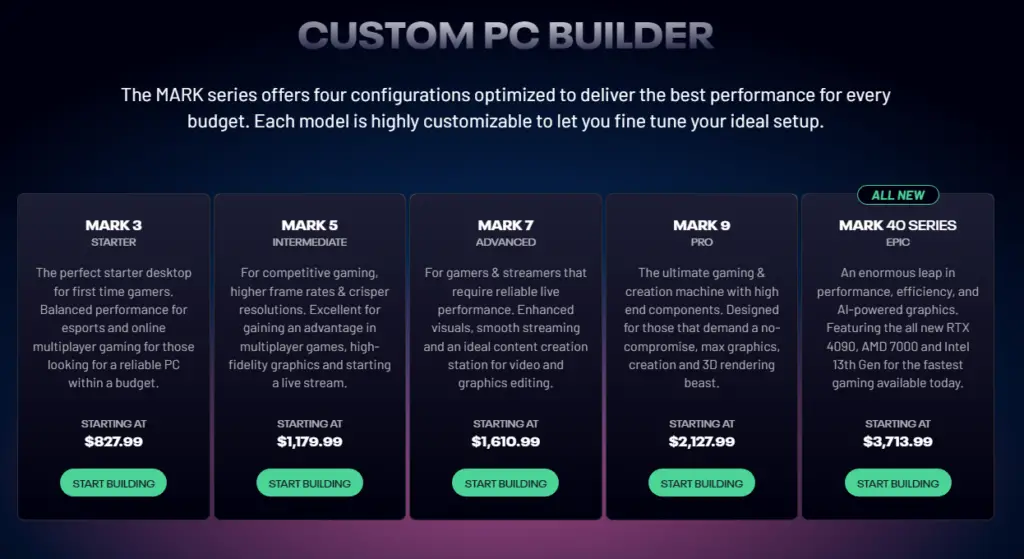 A newer "Mark 40" series exists as well, which allows users to pair one of several higher-end processors with one of Nvidia's RTX 40-series graphics cards.
Finally, Skytech offers customizable workstations with their "Promark" line of desktops. Much like the Mark-series customizable builds, these are subdivided into Promark III, Promark V, Promark VII, and Promark IX, with the Promark number denoting the tier of CPUs available in each respective model.
Truthfully, these Promark "workstations" hardly differ at all from the standard custom PCs Skytech offers. The only major difference is that they utilize the expensive Asus ProArt Z690 motherboard, have higher-capacity RAM configurations, and allow buyers the option of Nvidia Quadro GPUs like the A4000, A5000, and A6000 in addition to the standard gaming GPUs.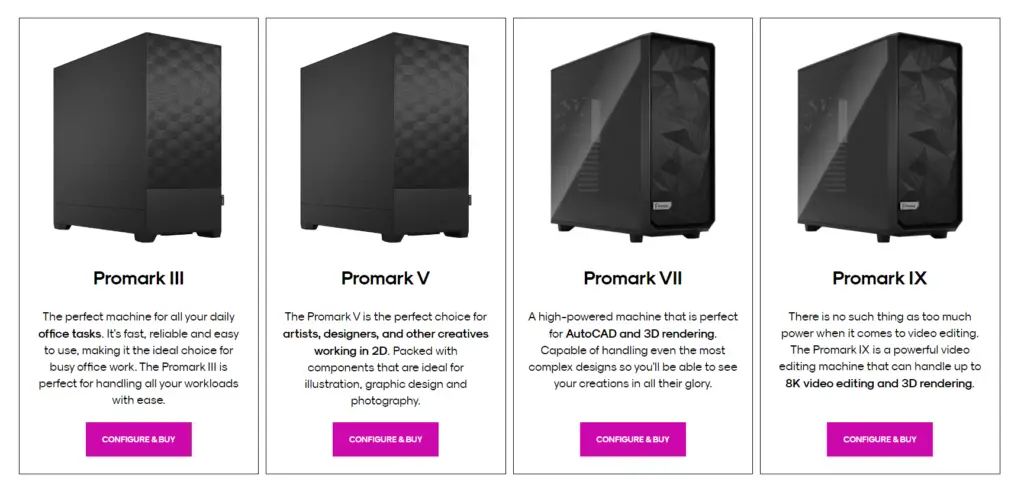 Build Quality
For the most part, Skytech uses name-brand parts made by reputable brands. They offer most AMD and Intel CPUs, Nvidia and AMD AIBs by various brands, their own custom-made chasses along with some by Deepcool, Fractal Design, MetallicGear, and Phanteks, and motherboards by Asus, MSI, and ASRock, among others.
They offer Western Digital and Kingston storage options, as well as Cooler Master power supplies. Note that some available power supply options don't specify brand, so it's unclear to determine the quality of these.

Per reviews, Skytech's cable management is not the best. Components used in these rigs are a bit nicer than many larger prebuilt PC manufacturers since these video cards are the same ones you'd use if you built your own PC, rather than cheaper custom-made HP, Lenovo, or Dell cards. The same goes for motherboards, with name-brand boards being preferable to generic ones.
Pricing
As mentioned earlier, Skytech's website includes everything from $700 entry-level rigs to $4400 top-of-the-line systems with the latest and greatest hardware.
On Amazon and elsewhere, cheaper outdated models with older components are available, although not generally recommended.
When it comes to value for your money, Skytech is a mixed bag; some of its prebuilt rigs are priced competitively, while others aren't. Many SKUs, like the Skytech Blaze II, are priced well enough that they could be a good choice depending on the current prices of other competing PCs.
In fact, a large number of Skytech's mid-range offerings bring excellent value, with several sub-$1000 gaming PCs outfitted with an RTX 3060 and reasonably recent Core i5 or Ryzen 5 processor. This is about as cheap as it gets for a gaming PC of that kind of caliber.
Essentially, Skytech's prebuilt PC pricing is competitive enough that sometimes its models will be the best option when considering only price and performance, especially in the $900-$1400 price range. Other value offerings may emerge as SKUs go on discount.
Looking at their customizable gaming PCs, their prices are far less appealing. Virtually every component is priced higher than its price at Amazon or Microcenter, and they tack on a $75 build fee on top of that. We highly recommend avoiding customizing a gaming rig through Skytech if at all possible, as you'd be far better off building one yourself.
Warranty
Skytech builds come with a 1-year warranty by default, with lifetime tech support included. Warranty extensions are available, with a 2-year warranty costing $58.30 and a 3-year warranty available for $83.29.
The actual value of this warranty has been called into question by a number of customer reviews, so take this with a grain of salt.

Final Thoughts on Skytech
If you're looking to buy a prebuilt gaming PC, Skytech isn't the worst option, but it's still far from the best in most cases. Due to their allegedly poor low quality of customer service, it's highly recommended that any Skytech PC purchases be made through Amazon or Best Buy listings that allow returns, rather than directly from their website.
There will likely be some occasions in the future where a Skytech prebuilt desktop is the best option within some price range, and there's nothing wrong with buying one as long as you can return it should there be defects. We would, of course, warn against buying their custom-built PCs, both due to their pricing and potential for defects.
Alternatives: Other Brand Reviews
Finally, feel free to check out our reviews of other gaming PC brands to compare alternatives.
All Gaming PC Brand Reviews: