Best CyberPowerPC
We've recently been making the rounds, taking a look at some of the lesser-known prebuilt PC manufacturers that show up heavily in your Amazon or Newegg search results. Most recently, we reviewed Ipason-branded gaming PCs, and today we're taking a look at CyberPowerPC.
Today's Deals
About CyberPowerPC
Per their website, CyberPowerPC is a company specializing in custom prebuilt PCs tailor-made for gamers based out of Baldwin Park, California. It was founded in 1998 by Eric Cheung and Stanley Ho, and has grown to the point where it's borderline "name-brand" within the PC hardware community.
They are official partners of Microsoft, Intel, AMD, Nvidia, and a variety of other big-name corporations, and their gaming rigs are sold both online on Amazon, Walmart, Newegg, Costco, and Best Buy, and in brick-and-mortar stores such as Best Buy. CyberPowerPC is a high-volume retailer, surpassing $500 million in revenue in 2021.
In addition to Desktop PCs, CyberPower also produces a relatively wide range of gaming laptops, as well as peripherals including keyboards, mice, mouse pads, headsets, PC cases, a VR headset, and more. They offer a minimal selection of refurbished graphics cards as well.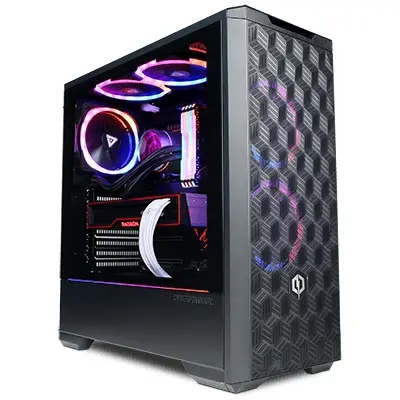 Is CyberPowerPC Legit?
Before reading any further, you may be wondering whether CyberPowerPC is, in fact, a legitimate company. Buying via a third-party marketplace like Amazon, eBay, or Newegg presents minimal risk, as buyer protection is built-in, but CyberPowerPC also sells directly from their own site. Can you feel safe making purchases directly from them?
The answer to that question is "yes," but with some caveats. CyberPowerPC is certainly a legitimate company, not a scam site set up to steal your hard-earned money. Still, the company's reputation is less-than-perfect, with reviews being a mixed bag with more than a handful of complaints about the quality of CyberPowerPC's after-purchase support.
On ConsumerAffairs CyberPowerPC boasts an impressive 4.8/5 stars off of 3,481 ratings at the time of writing, but the more reliable TrustPilot paints a different story. It would appear that CyberPowerPC is an extremely polarizing brand, as of TrustPilot's 1,000+ reviews, 66% are 5-star and 22% are 1-star (leaving a measly 12% between these two extremes).
What's more, most of the negative reviews seem to tell the same story: CyberPowerPC sent them a defective PC, and then proceeded to handle the situation slowly and poorly. For instance, one anonymous reviewer wrote this:
Ordered a custom pc from Cyberpower. I paid for the extra 3 day shipping. I received the PC late. The 3060ti was defective in it on arrival. Most likely just skipped the entire quality control process. They make you pay to return there broken product. I was also told I would get a refund for the 3 day shipping because it was late via email and screenshots I have. Everytime I call to mention this, the appropriate person doesn't happen to be there everytime or I get forgot about on hold. Highly recommend avoiding Cyberpower.

Anonymous TrustPilot Reviewer, US
Another recent reviewer said the following:
I build many gaming systems in the past, but I purchased a $2000 pc because I was lazy and didn't have the time to make it myself. I learn my lesson I had nothing but issues with that computer. Bad ram, noisy fans, cheap CPU cooler, and PC runs hot, the power supply failed after a year. It seems like they get refurbished parts and used them for the PC builds. I'm building my own going forward.

William Vasquez, US
Rampant complaints about poor-quality components and customer service abound, but most of the 5-star reviews are glowing, like the following:
I have purchased 4 pc's with them over the past 10 years. Never had an issue with them once. Will purchase from them again.

Matthew P, US
Essentially, it sounds as if purchasing a CyberPowerPC is a bit like playing Russian Roulette. There's a rough 72% chance (counting 4-star reviews) that your experience is great, but when it's bad it's awful. If your rig happens to be the one that slipped through quality control, you'll unfortunately be the one paying shipping costs to have it repaired.
Build Quality
Many of CyberPowerPC's builds use high-quality name-brand components across the board, including EVGA graphics cards (although these are no longer produced beginning with Nvidia's 4000-series of GPUs), Asus, ASRock, and Gigabyte motherboards, Corsair AIOs and RAM, and WD Black SSDs, just to name a few.
Most prebuilt CyberPower gaming systems include a spec list that lists all components by brand and model, and customizable systems allow you to modify each component individually, so it's easy to see exactly what you're getting.
Some systems' specs are non-specific, however, and these seem like the most likely to turn out defective due to cheap parts. For instance, the build pictured below features a "B550 with WiFi Motherboard," the model of which isn't specified. Likewise, the power supply is simply listed as "600 Watts 80 Plus Gold" and doesn't mention brand.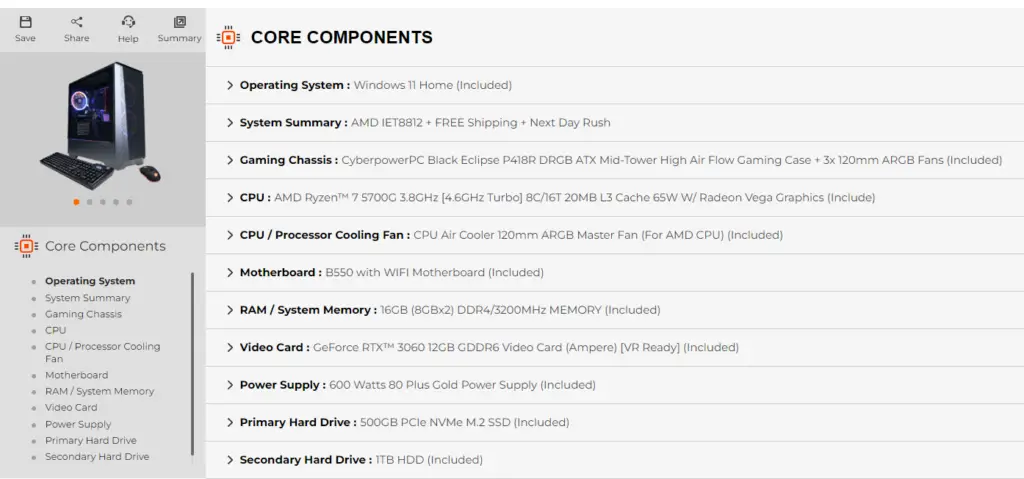 Instead, try to stick with builds that specify the make and model of your motherboard and power supply, as these are components you're better off resisting the temptation to cheap out on.
Unfortunately, CyberPowerPC's listings on Amazon aren't as detailed in regards to exact system specifications. If you're considering purchasing one of these PCs through Amazon, we recommend reading that specific listings' reviews to ensure build quality is up to standard.
Pricing
Pricing is, of course, one of the most important aspects of a prebuilt computer. There's a reason most people don't buy the fanciest Omen 45L or Alienware Aurora R15 configuration, and it isn't quality.
In general, CyberPowerPC offers less value than larger brands such as HP, Dell, Asus, or Lenovo. This is at least in part due to the fact that they primarily use name-brand components, rather than making their own. Thus, instead of a cheaper generic motherboard and graphics card, they're buying Asus Z790s and EVGA RTX 3080s.
Unfortunately, the difference between generic and name-brand motherboards and graphics cards, while notable, isn't large enough for most buyers to notice a difference. The gap in quality will typically only be noticed by overclockers looking to push their CPU's performance to the limit.

To look at a specific example of this concept in action, let's look at CyberPowerPC's Infinity 8000 gaming rig. At the time of writing it's listed at $1609, and features the following components:
Intel Core i7-12700F
Nvidia GeForce RTX 3050
Asus Prime Z790-P WiFi D5
Team 32GB (2x16GB) DDR5 RAM
1TB WD Black SN750 (3600/2800 MB/s Max Read/Write)
800W 80-Plus Gold PSU
CyberPowerPC ONXIA II Chassis
Compare this to the similarly-priced Omen 40L which, at the time of writing, is a little less than $100 cheaper at $1530.
It comes with the marginally better unlocked Core i7-12700K, a much better graphics card in the RTX 3070, and half the RAM at 16GB (which costs roughly $50). Note that this memory is also DDR4 rather than DDR5, although DDR5 RAM doesn't substantially improve performance in most tasks. Like CyberPower's build, the 40L's RAM is RGB-lit, but is HyperX brand rather than Team.
The storage configuration is remarkably similar, with a 512GB WD Black SSD (3200 MB/s max read) and a 1TB 7200RPM hard drive. This build also features an 800W 80-Plus Gold power supply, and the motherboard's a generic HP make.
Overall, then, you're getting far better performance with the cheaper Omen 40L due to the massive leap from an RTX 3050 to an RTX 3070. The generic-branded motherboard in the HP model might not be as effective when overclocking, but you can't overclock your CPU anyway with the CyberPowerPC model since it employs a Core i7-12700.
CyberPowerPCs seem to follow this trend for the most part. They have all the bells and whistles, like DDR5 motherboards and RAM and heavy RGB lighting, which don't impact performance all that much but increase the price monumentally. While they do have a few somewhat budget-friendly models, even those aren't the most competitively priced.
Final Thoughts on CyberPowerPC
All in all, then, CyberPower wouldn't be our first recommendation if you're looking to buy a prebuilt PC. Frankly, we would strongly recommend considering building your own PC, but there's nothing wrong with buying a prebuilt. However, we suggest opting for a brand with better pricing and customer support, unless you happen to find an especially good deal on one.
Best CyberPowerPC
Alternatives: Other Brand Reviews
Finally, feel free to check out our reviews of other gaming PC brands to compare alternatives.