If you're in the market for a new gaming PC and don't want to go through the process of building your own rig, plenty of brands offer ready-to-ship prebuilt PCs as well as customizable builds that they'll assemble for you. There are a seemingly endless supply of prebuilt PC retailers, so we've begun a series of in-depth reviews on these brands.
Today we'll be reviewing iBuyPower, a name you're likely already familiar with. They appear in almost every non-branded Amazon search for prebuilt gaming rigs, and they've sponsored many a tech YouTube video. In this article we'll look at how they stack up against the competition in regards to pricing, build quality, customer support, and more.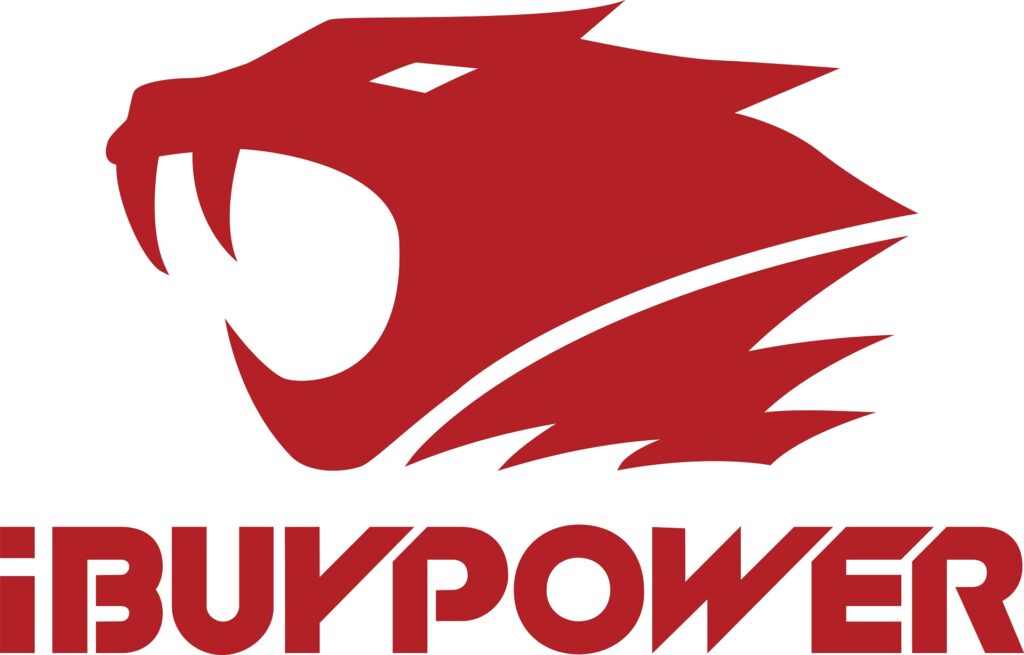 About iBuyPower
Founded in 1990, iBuyPower is a PC manufacturer based out of City of Industry, California, with customer support and sales teams based out of various places in Europe and Asia.
Over the years they have collaborated with many big-name hardware brands including Intel, Nvidia, AMD, Microsoft, Western Digital, and Asus, among many others.
Is iBuyPower Legit?
iBuyPower is one of the most reputable gaming PC companies in the world, and that's saying a lot. In an industry where 2-star reviews are the norm, iBuyPower stands out with largely glowing customer reviews.
On TrustPilot, they average 4.5 stars across 4121 total reviews. Of these, a whopping 77% were 5-star reviews, while 10% were 4-star and only 13% of customers left 3 or less.

Purchased my first iBuyPower gaming pc right before Christmas and I'm quite happy with it. I purchased the MR1003TI It's a great machine that was very well put together and cable managed.

No problems whatsoever booting for the first time or activating windows.

Though I normally build computers myself I would definitely buy another iBuyPower product.

Jesse Coleman
Another review says this:
4 months ago I purchased an ibuypower gaming PC from BestBuy.The product works excellent with games such as Fortnite, call of duty, and rainbow six siege.

I have experienced close to zero lag and have reached up to 300 fps on games such as rainbow six siege.

I would recommend this PC to all hardcore gamers entering the PC market.

flame blaze
That's not to say that every iBuyPower review was positive. Complaints about poor customer support and part quality are most common; this is not entirely surprising since they contract their customer support out to other countries, which is almost always a recipe for failure.
Bought a PC in 2021 and just little over a year, Windows gets corrupted and fails to boot. I have tried taking out and putting back in the SSD, repairing the Windows boot, and reinstalling Windows. I tried to get help from the online support but they were being ignorant and telling that I just needed to buy a new SSD since the one I had was "failing" even when both the BIOS and the Windows setup recognized the drive. Even if there was something I was wrong about, they did not even offer me a chance to send it in for a repair. I have even tried calling their support and my wait time went from 15 minutes to 45. I opted for the option for them to call me back at a later time and of course that never happened. Their support is nothing but useless and if you ever have a real problem, then you're on your own. I bought a PC from them in 2018 and everything was great but it just seems like they don't care about the customers anymore. You're better off buying from Cyberpower or Xidax.

Tyler
On Consumer Affairs, iBuyPower boasts an even better 4.8-star average over 735 customer reviews. Percentages aren't listed, but a massive majority of ratings are 4 and 5 stars.

Here's one from a verified reviewer:
I purchased a custom prebuilt from Ibuypower about a month ago and it was a fantastic experience. They keep you updated along the way letting you know where your pc is in each step of the process. It took about 2 week from order to receiving and it was very well packaged and built. I ordered Ryzen 7 5800x CPU, ASRock motherboard, rtx3080 and ibuypower 2 fan liquid cooler with 32gb ram and 1 TB nvme drive and 2 TB HDD. Some of those things they just send what they have. They don't specify brands. I received MSI Ventus + OC graphics card and Gskill Ripjaw ram. The pc runs flawlessly and I couldn't be more happy with it.

Jacob of Grand Rapids, MI
In stark contrast to what we've seen so far, iBuyPower has an F-rating from the Better Business Bureau, and an average rating of 1.43 stars through 127 reviews. Since the sample size is far smaller than either TrustPilot's or Consumer Affairs, we're inclined to view this as a fluke.
Product Selection
iBuyPower offers a wide product selection, including their Gaming RDY line of prebuilt PCs as well as as a wide selection of customizable rigs, gaming laptops, refurbished laptops and desktops, peripherals, and even branded gear.
They also offer a small selection of refurbished components, gaming chairs, iBuyPower-branded PC cases, monitors, and WiFi expansion cards.
Gaming RDY Prebuilt PCs
Gaming RDY prebuilt rigs offer a wide range of options, ranging from an $829 build with an Intel Arc 380 and Core i3-12100F to iBuyPower's formidable $4299 RDY Element Hybrid Pro II, which is outfitted with Intel's Core i9-13900K and the best graphics card, the RTX 4090.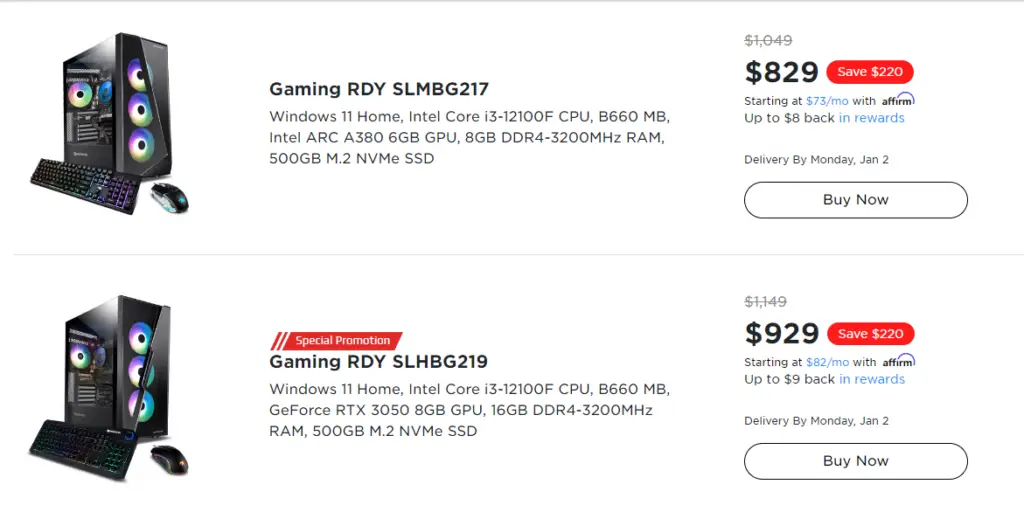 Custom PCs
Their customizable PCs offer a large selection of components, and start at $1019. iBuyPower offers many starter templates to choose from, which can then be tailored to the individual buyer's needs.
Virtually any component can be swapped out for another, however the CPU is limited to the platform you started with (so if you want to create a build with an Intel 13th-gen processor you can't choose a PC with an AMD CPU).
The customization tool is very well-streamlined, with a couple of features that add greatly to user experience. A tool below your build diagram estimates your selected system's FPS in eight popular games at 1080p and 1440p.
Moreover, the customization tool will alert you to any incompatibilities that emerge as you swap out components. For example, if you swap your graphics card out, you'll be alerted if the currently selected chassis is too small to accommodate it, or if your power supply needs to be upgrading to provide adequate wattage.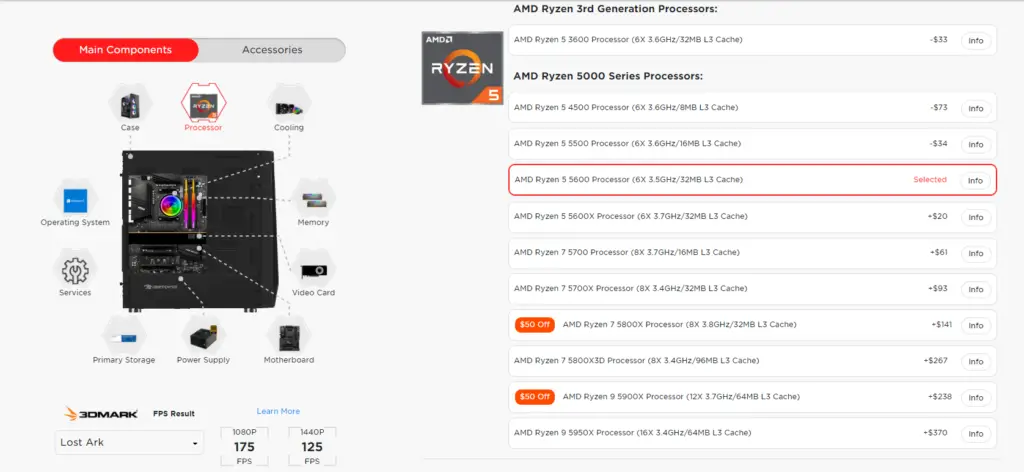 Build Quality
iBuyPower uses quality parts, primarily consumer-grade components made by big names like Asus, MSI, Gigabyte, Zotac, and EVGA. We like this because it ensures that rigs are fully upgradable by the customer.
Most of their chasses are iBuyPower brand custom cases, but they've collaborated with several big-name brands including Lian Li and Thermaltake to provide iBuyPower-branded versions of their products. In addition to these they provide many name-brand choices including DEEPCOOL, be quiet!, Antec, NZXT, and ADATA.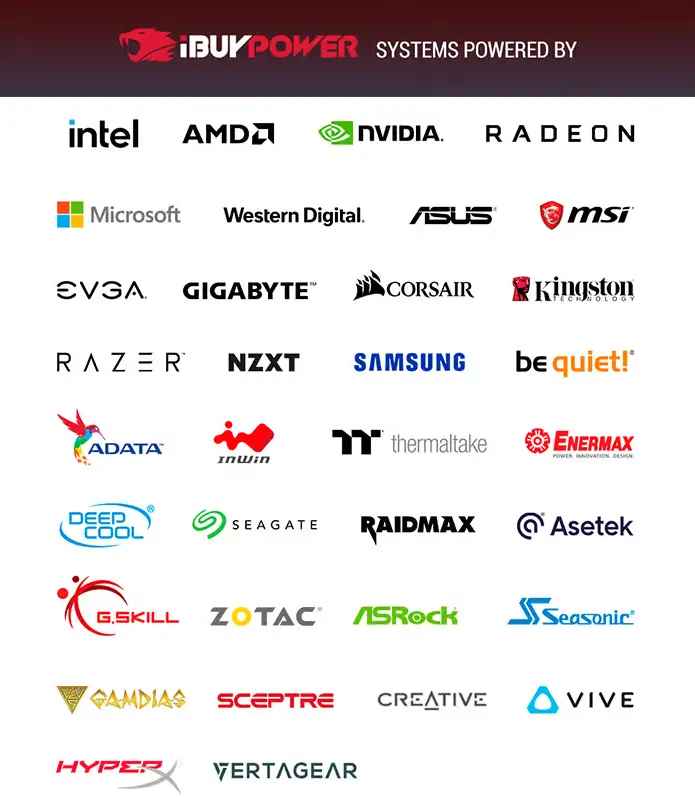 Within their customizable lineup, even their motherboards are selectable by exact model, rather than just by chipset. This is a pleasant surprise, since many manufacturers will simply list a product as having a "B660 Motherboard," and there's no way to know the quality of board you'll receive.
Unfortunately, iBuyPower's prebuilt PCs have this pitfall, as they only list the chipset. As such, it's impossible to know what type of motherboard you'll receive until it arrives in the mail. It's certainly not the end of the world, but it would be nice to know how many M.2 slots and RAM slots you'll have before ordering.
Graphics cards present a similar issue, as is common with PC manufacturers. You can only select graphics card models, not specific brands, so there's no telling whether you'll receive an EVGA or Gigabyte card until it's too late.
Power supplies are of the utmost importance, since a cheap PSU could very well leave your entire system in ruins. By default PCs are equipped with non-branded units, but users have the choice to swap these out for the most-reputable Seasonic and Corsair PSUs when customizing the rig. Especially for more expensive builds, we'd recommend dropping the extra ~$70 for the extra peace of mind, but this isn't requisite.
Where cable management is concerned, we're a bit disappointed. For "Professional Wiring" iBuyPower adds a $19 upcharge. Presumably you'll receive "unprofessional" wiring if you don't select this.
With that being said, two of the first twenty reviews on TrustPilot mentioned excellent cable management, so it seems likely that iBuyPower PC cables are cleanly managed for the most part. After all, it seems unlikely that the assemblers would go out of their way to poorly manage cables just because a buyer didn't choose Professional Wiring. Long story short, it's probably not worth the extra $19, as the difference is probably minimal.
All in all, then, iBuyPower's build and component quality are very good. They use reputable brands in almost every component by default, and even their slightly questionable power supplies can be swapped out in custom rigs for Corsair makes.
Pricing
Of course, cost is of the utmost importance when shopping around for a gaming PC.
Low End
On the low end (sub-$1000), iBuyPower isn't all that competitively priced. For instance, their $929 prebuilt PC with a Core i3-12100F and RTX 3050, 16 gigs of RAM, and a 500GB SSD is only $30 less than HP's Victus 15L with an RTX 3060 and Core i7-12700, along with the same amount of memory and more storage.
Many similar rigs fall into this price range, like the SkyTech Archangel which is $30 less, or Lenovo's IdeaCentre Gaming 5i, which has a better Core i5-12400 and more storage and is only $10 more at the time of writing.
Mid Range
iBuyPower's mid-tier PCs are priced much better, with models like the Gaming RDY SLHRG221 giving other brand a run for their money. At $1499, it represents a great deal with its Ryzen 7 5700X, RTX 3070, 16GB RAM, and 1TB SSD. While at least one build, the SkyTech Chronos, undercuts it at the time of writing, it's close enough in price that as prices fluctuate it will be the better deal on some occasions.
Aside from the Chronos, we were unable to find any rigs equipped with an RTX 3070 and comparable CPU that costed less than iBuyPower's model; almost all rigs in the $1400-$1500 price range were equipped with RTX 3060s or, in rare cases, 3060 Tis.
This trend continues for the most part across iBuyPower's mid-range computers. Many, though not all, are priced near or below the prices of competing models.
High End
iBuyPower's high-end PCs range in pricing from fair to ripoff. This is to be expected, since the most expensive PCs tend to be overpriced in comparison to the cost of building your own.
None of their rigs offer eye-popping value, but they have a few offerings that can compete. For instance, their RTX 3080 Ryzen 5 5600X rig with 32 gigs of RAM is currently well-priced.
Customizable PCs
While they don't explicitly charge an assembly fee, it's definitely incorporated into the cost of components. Nearly every component is marked up compared to retail price. An additional 16GB of RAM, for instance, is $90 extra, while on Amazon you could easily acquire this for $50. For the most part, they don't upcharge terribly on the most expensive components like graphics cards or CPUs.
The end result is that the pricing is about what you'd expect from a custom PC builder, maybe even a little bit better if you don't opt for all of the upsells like "professional" wiring and "advanced" packaging.
Warranty
iBuyPower has a straightfoward warranty and returns policy: you can return a product within 30 days of receiving it.
Additionally, a 3-year warranty comes standard with both their prebuilt and customizable PCs. This includes a 3-year labor warranty and a 1-year warranty on parts.
For a $19 upcharge buyers can upgrade to a plan that includes a year's worth of Return Ground Shipping coverage. It would appear that they don't cover shipping costs within their standard warranty.
Final Thoughts on iBuyPower
While iBuyPower certainly isn't perfect, it's one of the best prebuilt PC brands around, as per customer reviews. Many of their prebuilt rigs are priced well, and their customizable PCs aren't total ripoffs.
In an industry that's massively unreliable, these factors combined with iBuyPower's comparative reputability make it stand out from the crowd. It's one of the best gaming PC brands we've reviewed thus far.
Alternatives: Other Brand Reviews
Finally, feel free to check out our reviews of other gaming PC brands to compare alternatives.