BurningMoon is the latest hot cryptocurrency (at the time of writing it's #2 trending coin on CoinMarketCap), but what is it and what sets it apart from any other crypto?
BurningMoon Basics
BurningMoon (Ticker $BM) is a Proof of Stake BEP-20 token, meaning it's built on the Binance Smart Chain. It's marketed as a "hyper-deflationary" currency that takes pride in incentivizing burning, or destroying, the token (hence the name). It does so by rewarding double the $BM that you burn. If you burn 100 tokens, you receive 200.
Obviously there's a catch; otherwise it would be an infinite money machine and the token would have no intrinsic value. Instead of being rewarded in BurningMoon, you're rewarded in "Sacrificed Tokens." These tokens can't be sold, but they earn double staking rewards forever. In other words, burning your SafeMoon allows for greater returns in the future. The more you burn, the more you earn. This seeks to raise the value of $BM, as greater scarcity should theoretically lead to increased value.
What's more, you can claim your rewards in any currency that's available on the Binance Smart Chain. These include BNB, BTCB (Bep-20's version of Bitcoin), Ethereum, Tether, just to name a few.
[products ids="4784″, "4811"]
BurningMoon Key Statistics
1,000,000,000 Max Supply
10,000,000 Max Tokens Per Wallet
Maximum Sell of .05% of Supply with 2-Hour Cooldown
Live market information can be viewed on CoinMarketCap.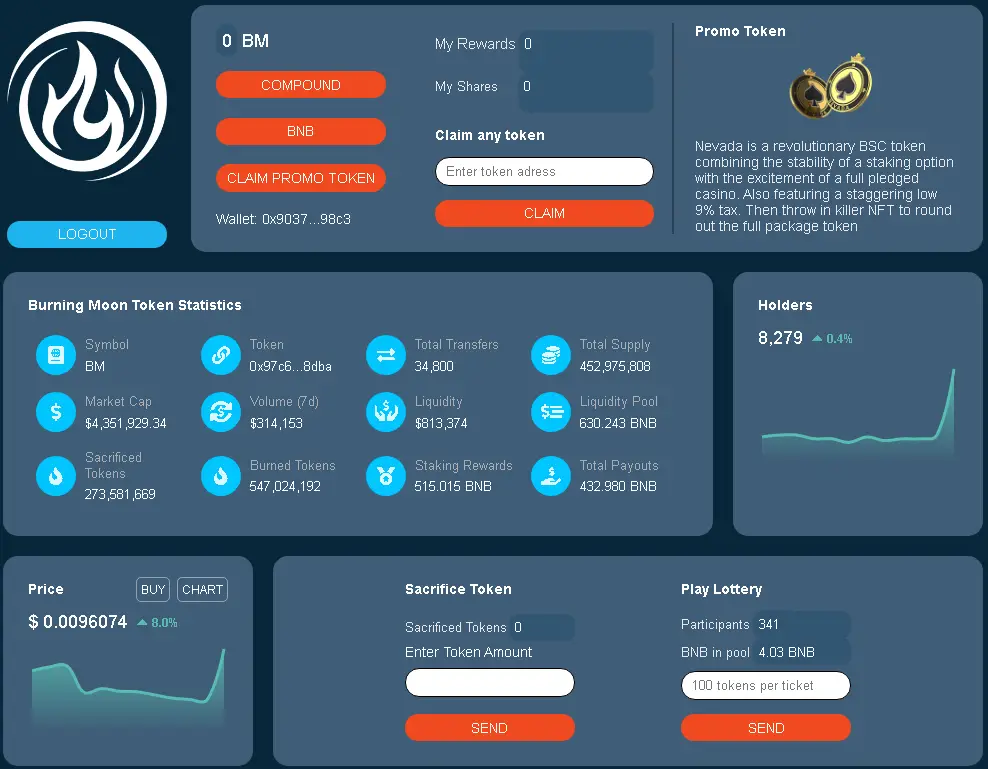 Whale and Dump Protection
BurningMoon attempts to limit the potential for "whales" to control the $BM market by implementing several ingenious policies.
First and foremost, no wallet can hold more than 1% of the total supply. Thus, even when the maximum supply of a billion tokens has been reached, only 10,000,000 can be held in any one wallet. Of course, since the entire concept of the blockchain is built on anonymity, there's no way to keep users from simply creating more wallets. This is where Dump Protection comes into play.
Users can only sell a maximum of .05% of the total supply. After that they must wait 2 hours before selling again. This limits the potential for massive selloff-fueled market slides, as it would take 40 hours to sell a full wallet worth of tokens.
BurningMoon Lottery
They also have built-in a lottery feature, which you can access through BurningMoon's Dapp. This further incentivizes burning tokens by allowing you to earn lottery tickets in exchange for burning. Each ticket costs 100 tokens, and the prize pool is usually pretty substantial (the current one is 4.03 BNB, or over $2300.
NFTs
Non-fungible tokens are currently in the works for BurningMoon, as the plan on creating unique NFTs as well as a trading system that burns most of the fees. An NFT marketplace is slated for Phase 3 development, while an "NFT Game" is set to begin development in Phase 4. The exact timeline for these phases is uncertain, as is information regarding this game.
Taxes
A portion of each buy and sell transaction is taxed, at variable rates. BurningMoon's Whitepaper lists base taxes at 10% for buys and 20% for sells. These taxes are essential for the BurningMoon ecosystem, as they fund staking rewards, a liquidity pool, and marketing/advertising to broaden the token's reach. A variable percentage of all taxes are also burnt.
Compounding
You can avoid taxes by using the "Compound" button in the Dapp. This buys more $BM with your accumulated rewards tax-free, allowing you to get more bang for your buck. It's essentially the crypto version of tax-free dividend reinvestment.
Promotion Tokens
As previously mentioned rewards can be claimed in any BSC token, but BurningMoon offers a special "Promotion Token" chosen by community vote that offer special benefits that vary based on the token. These include possible tax-free claiming or additional free tokens, and holding these tokens will offer additional bonuses that include tax reductions or free BurningMoon.
Ways BurningMoon Burns Tokens
Tokens can be burned in several ways, as detailed in BurningMoon's whitepaper. It's important to note that when burned, tokens aren't just stored in a locked wallet, they're actually destroyed and removed from the supply.
1. Burn On Transfer
As detailed, a portion of buys and sells are taxed, and a variable percentage of that is burned.
2. Sacrificial Burn
Likely to be the most impactful source of burns, sacrificial burns grant you staking reward-doubling Sacrifice Tokens.
3. Lottery
A set amount of $BM must be burnt in exchange for lottery tickets. More entries means more burnt tokens.
4. NFT Trading Fees
When BurningMoon releases NFTs and their associated trading platform, most of these trading fees will be burnt.
5. Buyback
Every now and then marketing fees from transactional taxes will be set aside and burnt, further decreasing the supply.
How to Buy and Earn BurningMoon
Buying BurningMoon is fairly straightforward. The process is as follows:
Setup MetaMask
Add the MetaMask wallet extension in Google Chrome and connect it to the Binance Smart Chain by following these directions.
Buy BNB
Buy BNB on any exchange. We recommend Coinbase; you can earn $10 worth of Bitcoin when you buy or sell $100 using our referral link. Alternatives include Binance and Kraken, among others.
Once you've purchased this BNB, send it to your MetaMask wallet address.
Buy BurningMoon on PancakeSwap
Next, head to PancakeSwap and connect your MetaMask wallet using the button in the upper right-hand corner. Using this link will take you straight to the BurningMoon swap page. Alternatively, you can manually ent4er the token's address under "Manage Tokens":
0x97c6825e6911578A515B11e25B552Ecd5fE58dbA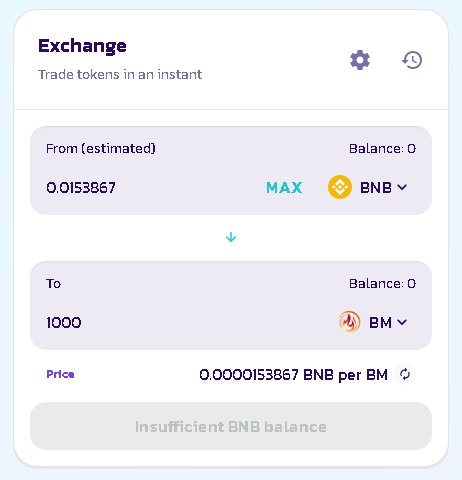 Get to Burning
Once you have $BM balance in your wallet, head to BurningMoon's Dapp. You'll be prompted to connect your wallet, and once you do so you'll be able to sacrifice tokens, enter the lottery, and view network statistics. Tokens are automatically staked, so you don't need to do anything to begin earning.
BurningMoon Roadmap
If you're wondering what you can expect out of BurningMoon in the future, they've published an outline of what future advances may look like in their whitepaper. These include NFTs and and associated marketplace, chain-to-chain bridges comparable to Binance Bridge, and an NFT game, as well as many other smaller changes.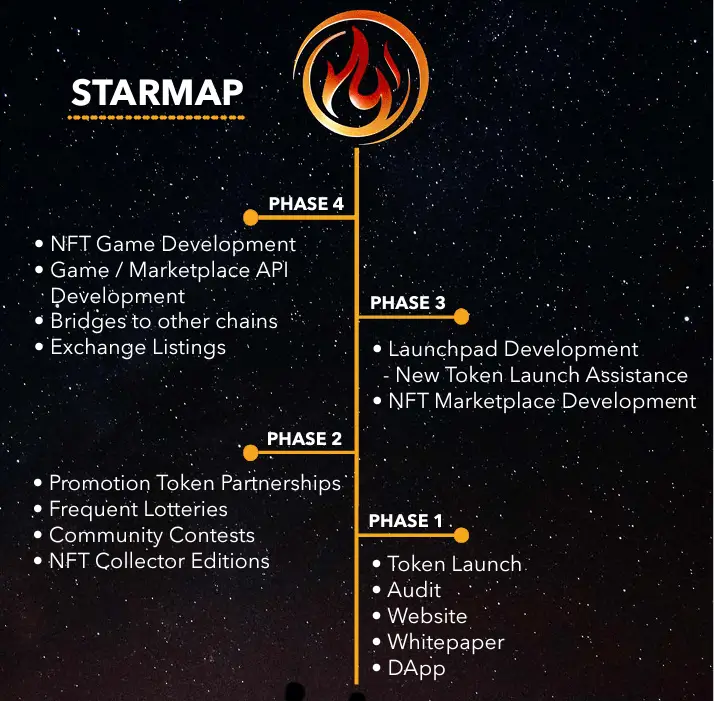 Art of PC is reader-supported. We may earn a commission if you make purchase through our affiliate links. Thanks for your support!