Overview:
Intel's 6-core, 12-thread Core i5-11600K is the unlocked variation of the Core i5-11600. It features a slightly higher base and boost clock (3.9/4.9 GHz) than its locked counterpart (2.8/4.8 GHz).
The i5-11600K has a thermal design power of 125W and improves upon its predecessor by offering PCIe Gen 4 support, allowing for higher transfer speeds which most notably affect graphics cards and SSDs.
This CPU also includes Intel's newest UHD 750 integrated graphics, which can achieve upwards of 60FPS on lower settings in a number of titles. You can view our UHD 750 review and benchmarks here.
Price:
The i5-11600K's recommended retail price is $262-$272, per Intel's official product page.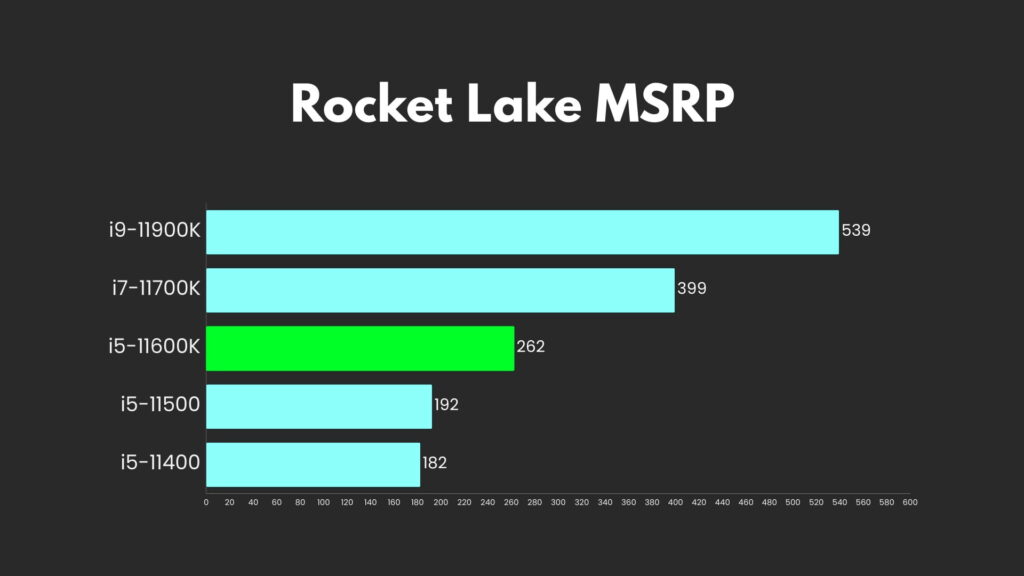 Specs:
| Brand | Intel |
| --- | --- |
| Generation | 11th |
| Code Name | Rocket Lake |
| Predecessor | i5-10600K |
| Socket | LGA 1200 |
| Cores | 6 |
| Threads | 12 |
| Base Clock Speed | 3.9 GHz |
| Boost Clock Speed | 4.9 GHz |
| Cache Size | 12MB |
| TDP | 125W |
| Maximum Memory Capacity | 128GB |
| Integrated Graphics | Intel UHD Graphics 750 |
| Maximum CPU Temperature | 100°C |
| Number of Displays Supported | 3 |
Variations:
Two variations of the i5-11600K exist:
The i5-11600 cannot be overclocked and has marginally lower base and boost clocks than the 11600K.
The i5-11600KF is identical to the i5-11600K, but doesn't include integrated graphics. It therefore requires discrete graphics.
Cinebench R23 Benchmarks:
When we benchmarked the 11600K in Cinebench R23, it scored 1531 in single-core performance at stock speeds. For reference, that's roughly 4% lower performance than the i7-11700K and 8% lower than the i9-11900K.
The discrepancy in multi-core performance was, of course, far greater. That's no surprise since the 11600K only has six cores, to an i7 or i9's 8. Even so, the 11600K put up a 10750 in multi-core performance in Cinebench, roughly 28% below that of the 11700K and 34% less than the 11900K.
Considering the far higher price tags of both the 11700K and 11900K (the first retails for $399 while the latter is $539), that's very solid performance.
It's also worth remembering that these are stock speeds. With proper cooling the i5-11600K can easily be overclocked to 5.0 or 5.1 GHz, inching its performance even closer to that of its i7 and i9 relatives.
Comparison/Alternatives:
In an effort to give you a better idea of the 11600K's performance and value relative to similar processors, we'll compare the i5-11600K with its most popular alternatives. These include the i5-11400, i5-10600K, Ryzen 5 5600X, and i7-11700K.
It's important to note that, while we include price in the comparisons, these are only the recommended retail prices provided by the manufacturers. Prices fluctuate greatly, so always check the going rate of a component before making a decision.
i5-11600K vs i5-11400:
The 11400 is essentially a more budget-friendly version of the 11600K. Aside from its lack of overclocking support and slightly lower clock speeds, these two CPUs are nearly identical.
In Cinebench single-core the 11600K scored 1531 to the 11400's 1390, and in multi-core 10750 to the 11400's 7850.
That's an approximate 10% single-core and 37% multi-core performance advantage for the 11600K.
Before you look too poorly on the 11400, remember it retails for only $182, versus $262 for the 11600K. That's a 44% jump in price for a 37% boost in multi-core performance, meaning the i5-11400 offers better value.
If you're deciding between the 11600K and 11400, it will boil down to what your budget and intended use is.
If not, what are you looking for? For a budget gaming rig or medium-demand workstation the 11400 is ideal. If you want to overclock your CPU or want the best gaming performance an i5 CPU can offer, the 11600K is your best bet.
i5-11600K vs i5-10600K
The 10600K is, as you likely know, the predecessor to the 11600K. The Rocket Lake's (11th-gen) Cypress Cove architecture allows for more instructions per cycle (IPC), which means that the CPU sends more commands in any given clock cycle.
Additionally, the 11600K has a slightly higher boost clock (4.9 GHz) than the 10600K (4.8 GHz), meaning each cycle is shorter. This is reflected in their respective Cinebench scores: The 11600K outscores the 10600K by a little over 10% in single-core and 2% in multi-core benchmarks.
This alone is not necessarily enough to warrant choosing the 11600K over its Comet Lake equivalent. The 10600K is typically $40-50 cheaper, so it technically offers better value from a pure performance standpoint.
The tiebreaker, then, may come down to the 11600K's PCIe gen 4 support. This allows for a miniscule increase in performance in higher end graphics cards, but more importantly it allows for significantly faster PCIe storage speeds.
This allows for faster boot and file transfer times.
If you're deciding between the 10600K and 11600K, know this: The performance difference is small enough that it will likely be imperceptible. If you have a gen 4 NVMe drive, the 11600K is probably the best option, but otherwise it's a close call and will come down to how much you're willing to pay for a marginal increase in frames or render times.
i5-11600K vs Ryzen 5 5600X
The 5600X and 11600K are more or less the same CPU with different branding. Their Cinebench scores in both single and multicore performance are within 1% of each other. In the end you should probably choose whichever is cheaper on the day you're buying.
Of course, if you're fiercely in favor of either Team Red or Team Blue, your loyalties will ultimately define your decision.
i5-11600K vs i7-11700K
The 11600K's big brother has 2 more cores (and consequently 4 more threads). The only good excuse to spend an extra $140 or so on the 11700K is that you need the cores. The 11700K's clock speed and single-core performance are both roughly 2% higher, which is more or less negligible.
On the other hand, if you know you'd be maxing out the 11600K with core-heavy tasks, go for it. The 11700K packs a lot of punch for its price, and it's still a lot more budget-friendly than the 11900K.
Conclusion:
All things considered, the Core i5-11600K represents an excellent option as a top-notch gaming CPU. It can run nearly any title above 240FPS, and can handle moderate computing tasks with great aplomb.
The 11600K's workstation suitability is, of course, limited by its average core count. As such, it's not as ideal for use in an editing workstation or similar utility. For tasks such as these we recommend a CPU with at least 8 cores, such as the i7-11700K or Ryzen 7 5800X.
Art of PC is reader-supported. We may earn a commission if you make a purchase through one of our affiliate links. Thanks for your support!