In periods of increased volatility like the one we're in now, mining profitability swings wildly. Ethereum mining is almost always the most lucrative of these, but every now and then this trend breaks. Such is the case with Toncoin; mining this less-known cryptocurrency is currently more profitable with many of Nvidia's LHR (light hashrate) models than the likes of Super Zero or Ethereum.
Introduction to Toncoin and The Open Network
Before we get into the nitty-gritty of how to mine Toncoin, it's especially important to understand some basic details in regards to how this crypto functions.
Toncoin is the native currency of The Open Network, a blockchain with a self-proclaimed mission that's not all that uncommon: "To unite all blockchains and the existing Internet."
While their goal may not be rare, they've done a reasonable job of achieving it. To date, they have a TON-BSC and TON-Ethereum bridge, with more cross-chain compatibility supposedly in the works. Perhaps this is why their market cap is currently an impressive 2.7 billion USD.
What's the most surprising about TON, though, is its consensus mechanism. Unlike that of nearly any other GPU-mineable coin, Toncoin's blockchain is Proof-of-Stake. GPU mining is therefore available only for a finite time; a certain portion of the total Toncoin supply has been allocated to smart contracts called "Givers," and once these are depleted there will be no more mining.
There are ten giver contracts, each with a limited supply of Toncoin left to reward. You can view the approximated days until depletion of each giver on TON's mining page. The screenshot below is from January 25, 2022, and at the time there are anywhere between 146 and 207 days until depletion, depending on the giver.
Keep in mind that these are simply variable estimates based on the current difficulty; if network hashrate doubled the "Days till depletion" metric should roughly halve.
See Also: How to Mine Cryptocurrency: The Essential Guide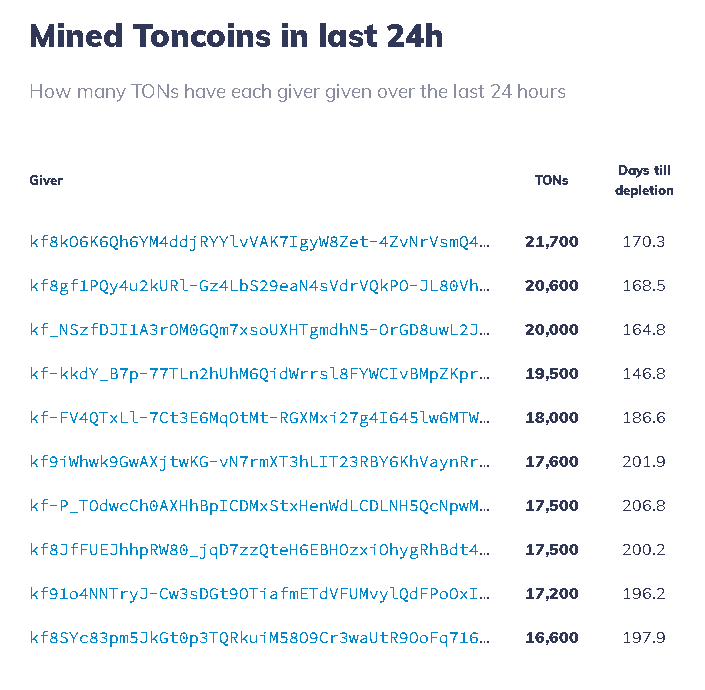 Thus, if you're going to mine Toncoin you should understand the time limitations of this endeavor. Mining will probably only be possible through July or August of 2022, with the possibility of ending even sooner.
How to Pool Mine Toncoin
Below we'll cover the complete process to get set up for Toncoin mining. We've opted to cover only pool mining, since solo mining would net no profits for the vast majority of miners.
Add and Setup TON Wallet
First off, you'll need a wallet to store any mined Toncoin. TON has native wallets for nearly every OS including a web wallet, a Chrome plugin, Windows, MacOS, Linux, Android, and iOS wallets. You can find any of these in TON's official app page under the "Wallets" section.
Select the one that's best for you. In this example we'll be using the Chrome wallet. Once the extension is installed, select Create My Wallet and the Continue. You'll be assigned a secret key composed of 24 words; write this down and store it in a safe place. If you lose this passphrase your wallet will be inaccessible and all funds will be irretrievable.
Next, you'll be prompted to add a password. After doing so you'll be in the TON wallet.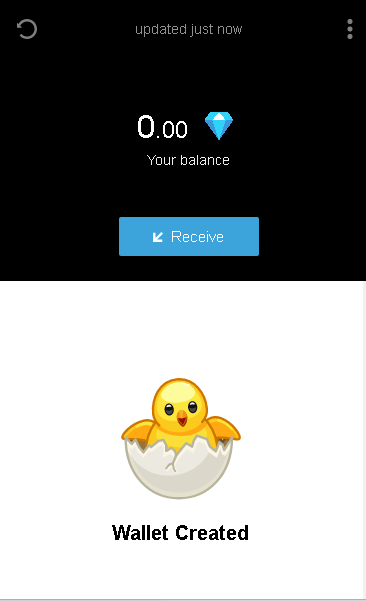 Find Your TON Address
To configure any mining software a TON address is required. To find your assigned address select Receive and click on the string of letters and numbers; this will copy it to your clipboard. It should look something like this:
EQCigUlzYprpMU20nAj9gvP04fp2DRo37DWuGiN1bb2im0aV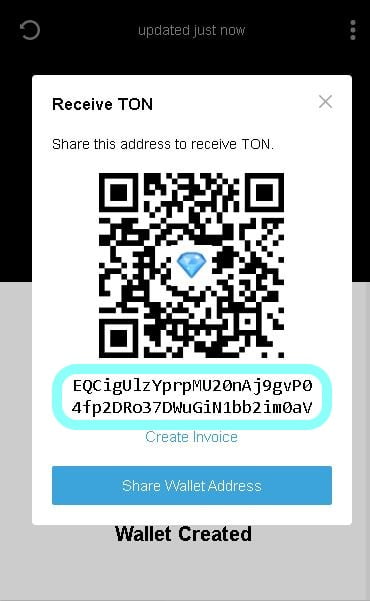 Register for TON Pool on Telegram
TON mining pools are different than most in that they use Telegram rather than a web app to view mined balance, check hashrates, or make withdrawals. TON Whales is no different, so you'll need to install Telegram on your phone or PC.
Search @WhalesPoolBot on Telegram and start the bot. Copy your TON address then paste and send it to the bot. This will activate your address and allow you to mine to the pool.
Download Toncoin Mining Software
In this article we'll use the TON Whales mining pool. It's the largest TON pool by hashrate and charges a 0% pool fee. LolMiner supports Toncoin mining, and we'll be using this software since many miners already have it installed.
If you don't already have LolMiner or your installation isn't one of the latest with TON support, download the software for your respective OS here. Extract the .zip file to your preferred folder.
Configure and Run Toncoin Batch File
Begin by opening the file labeled mine_ton.bat in Notepad or another text editor. LolMiner makes the actual .bat configuration process incredibly simple; the user-editable part is clearly designated, and this is the only portion you need to revise.
The POOL parameter should be set by default to https://server1.whalestonpool.com. If not, change it to this. The only other adjustment you need to make is your wallet address. Change this from the default to your own. You can leave the EXTRAPARAMETERS VALUE EMPTY. The final product (within the user-editable section) should look something like this:

Rem #################################
Rem ## Begin of user-editable part ##
Rem #################################

set "POOL=https://server1.whalestonpool.com"
set "WALLET=EQCigUlzYprpMU20nAj9gvP04fp2DRo37DWuGiN1bb2im0aV"										

set "EXTRAPARAMETERS="

Rem #################################
Rem ##  End of user-editable part  ##
Rem #################################
Save the file and double-click it to run. This will open a window that looks like the image shown below: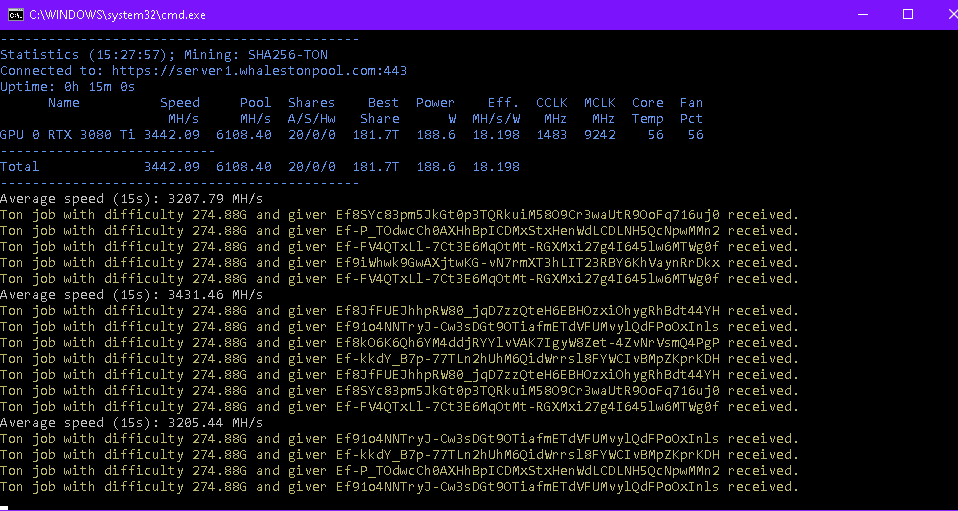 With that, you're mining. To cease mining simply close the window, and to start up run the batch file again.
How to Withdraw Toncoin, Check Statistics, Etc.
If you're ready to withdraw or just want to check on revenues, the TON Whales bot you set up earlier can be used for these purposes. Here are the most common commands:
/stats: Gives you a URL that displays your mining stats. You can also access these stats by going to tonwhales.com/mining/stats/<YourTonAddress>
/withdraw: Initiates the withdrawal process.
/balance: Displays your mined Toncoin balance.
/recent_withdrawals: Shows past 30 withdrawals.
How to Sell Toncoin
Eventually you'll want to cash out your mined assets. We recommend using the TON-to-BSC bridge since Binance Smart Chain gas fees are far lower than those of the Ethereum network.
Once you bridge your Toncoin it will be available as a BEP-20 token (Wrapped TON) in your BSC wallet. From here it's easy: Swap Toncoin to BUSD or another currency supported by CEXes using PancakeSwap; use this link to access Toncoin's exchange page or enter the contract address manually:
0x76A797A59Ba2C17726896976B7B3747BfD1d220f
We recommend using Binance.US or Crypto.com, as these both support BSC tokens. Once your balance has been moved to one of these platforms, converting to fiat and withdrawing is fairly straightforward.
How Profitable is Toncoin Mining?
Toncoin's profitability depends largely on variable factors such as electricity costs, network difficulty, price, and your own hardware's hashrate. Because of this, it's impossible to say how profitable mining is, however there are calculators for this purpose.
We recommend using MinerStat's TON calculator and inputting your displayed average speed to get a reasonable idea of current profitability.