What is GamerzArena?
GamerzArena is an online platform where you can play games for money. Instead of real-time tournaments, you pit yourself against others in various games. Tournaments are usually a week long, and the person who scores the highest in the specified category wins the tournament (and the first place prize).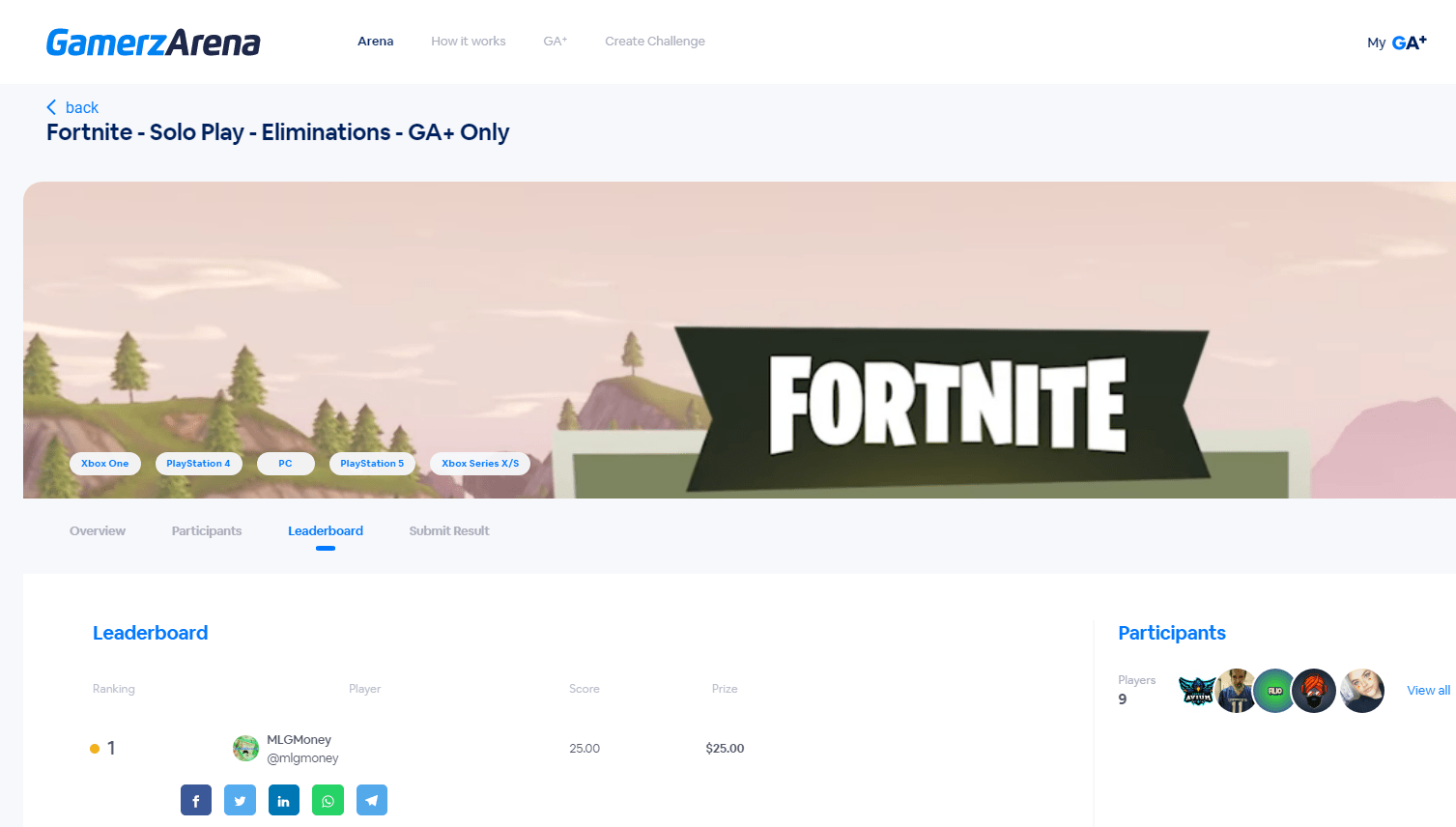 Here's an example: Last week I competed in a $50 Fortnite tournament (they have these weekly). The win condition was highest kills, and at the end of the week my top-scoring game was a 25-elimination solo squad. This was the best score in the tournament, so I won the $25 first place prize.
When you compete in GamerzArena you have unlimited entries, so only your best score matters. You can have hundreds of terrible games, but if you're able to pop off in one match it may be enough to win the competition.
Supported Games
The beauty of GamerzArena, if you can look past the goofy name, is that it encompasses a wide range of games, unlike many similar platforms. On a weekly basis they have VALORANT, Fortnite, Overwatch 2, Rogue Company, GTA V, Apex Legends, Rocket League, and Call of Duty tournaments, and many other games are thrown into the rotation on a biweekly or monthly basis like PUBG, FIFA, and Madden.
For instance, the image shown below is a single weeks' worth of tournaments, with over $400 in first-place prizes alone.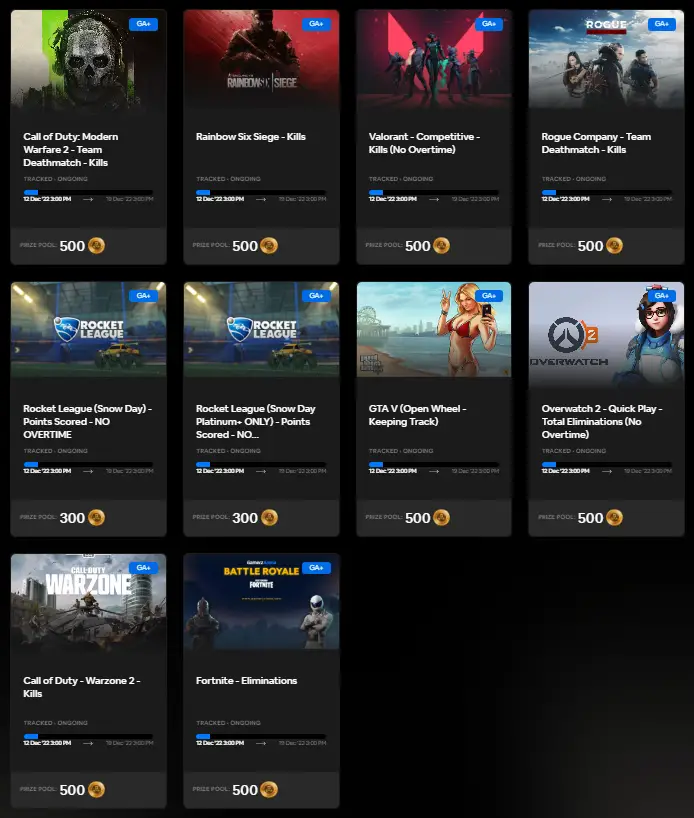 AlphaCoin and Payouts Explained
GamerzArena was bought out by Alpha Esports in 2021, and since then they have paid out rewards in what's known as AlphaCoin; you may have noticed the logo besides the prize pool values in the image above.
AlphaCoin is worth 10 cents apiece (and its value doesn't fluctuate), so the 500 AlphaCoin payouts standard of a GA+ prize pool is actually worth $50.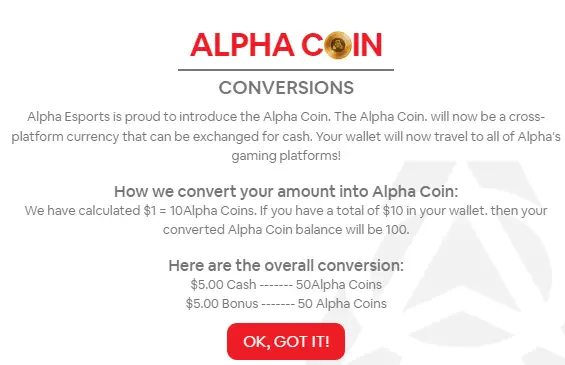 While it may appear as if AlphaCoin adds a layer of complication to receiving payouts on your GamerzArena winnings, fear not. AlphaCoin isn't an actual cryptocurrency or token, and is not on the blockchain, and can be easily converted to cash with the click of a button.
To withdraw your winnings, simply head to your GamerzArena wallet, enter the amount of AlphaCoin you wish to sell (most likely your entire balance), and click "Sell." Your coins will be converted to a cash balance, which can be easily withdrawn via PayPal.
While the option also exists to buy AlphaCoin, it has very little actual utility. Occasionally pay-to-enter tournaments will come up, and this is the currency of choice for entry.
Pricing
GamerzArena costs $12.99 a month to have full access to all of their tournaments, a membership they call GA+, while if you opt out of this you can still have access to several smaller prize-pool tournaments.
Alternatively, users can opt to save roughly $12 annually by opting for their $120.00 annual plan.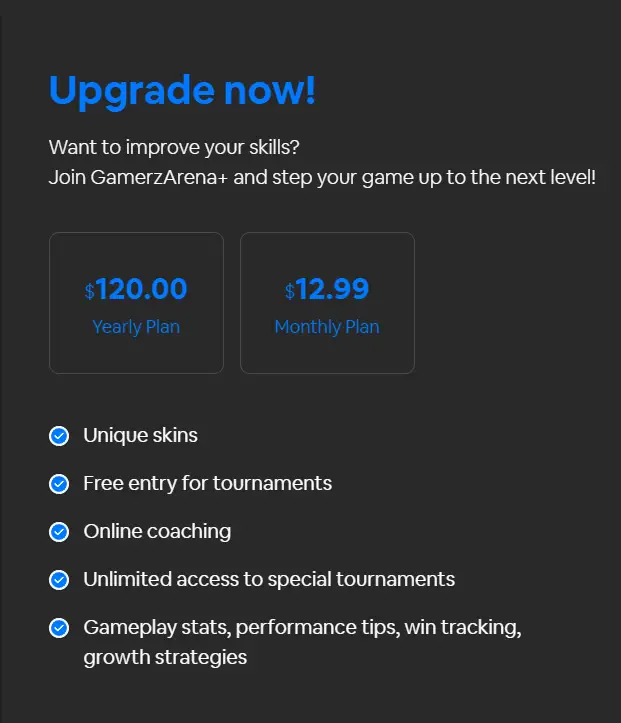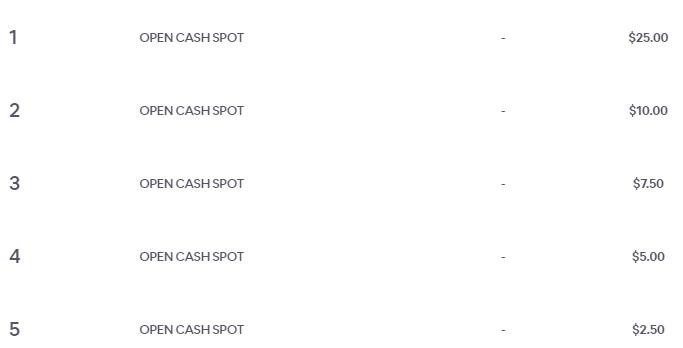 GA+ Value
In my experience, it's definitely more profitable to purchase GA+. With this, you end up having access to 20 or 30 tournaments a month with a top prize of $25, so if you're able to win even one, you can make a net profit. If you place 2nd or 3rd twice in a month, you've made a small profit, and even consistent 4th place finishes can win you a monthly positive balance.
I've won 8 of the 9 past weekly Fortnite tournaments, and have made a smattering of cash on 2nd or 3rd place Apex Legends and COD finishes as well, so I've consistently made a net profit of over $100 a month by purchasing GA+. All-in-all, I've found GamerzArena to be one of the most reliable and consistent ways to earn money playing games, since it relies on your top performance rather than a single-game effort. The cash-out process is quick and painless. You simply link your PayPal, and you'll receive a payment from Alpha North Esports (GamerzArena's parent company) within the week.
If you settle for the free tier, you're still able to participate in GamerzArena's smaller $10 prize pool tournaments. These typically give $6 to the top player, and are far less competitive, as most GA+ players don't opt to compete in these. It's not much, but it's free.
Lastly, and perhaps most importantly, the customer support is top-tier. If you join their Discord server, they are quick to respond to any issues, and I've found them to be very helpful when technical issues arise. The other day I found myself locked out of my account and unable to reset my password (I had registered an incorrect email with GamerzArena), and within 15 minutes the team had changed my email to the correct one and gotten me back in.
Conclusion:
All in all, GamerzArena is my personal favorite tournament platform. Its ease of use and play-when-you-can format make it enjoyable to use, and I have personally found it to be very profitable. It avoids the drawbacks of some larger platforms like Repeat.gg by outlawing entries by players in less competitive regions where lobbies are full of bots.
In short, GamerzArena is a far more competitive platform, and its current small size offers a far better chance of profit. Reasonable payouts for 2nd, 3rd, 4th, and even 5th places mean you don't have to be a whiz at any game to break even, yet another reason we highly recommend this website.