If you're like most people, you might assume that earning 100% of a purchase's value back in cryptocurrency sounds too good to be true. And you would be right, it is.
SocialGood, a fairly new "crypto-back" (as opposed to "cash-back") app that distributes its own token to its users, is most likely earning a killing for its creators, but it's not nearly as lucrative for its users as it purports to be.
Still, as it costs very little to use, is it worth using to earn a little extra money when you shop? In this guide we'll take a hard look at this app and determine whether or not it's worthy of your time.
What is SocialGood?

SocialGood is, as mentioned previously, a crypto-back app that promises up to 100% of your money back in crypto at large stores such as eBay, AliExpress, Booking.com, Best Buy, and hundreds more.
SocialGood: Is it legit or a scam?
First off, let's answer the question of whether or not SocialGood is a scam. To be more specific, does using SocialGood expose you to unnecessary risks such as having your crypto wallets drained? In our rather extensive experience with the app, the answer is "no."
While SocialGood is not nearly as useful for consumers as it may seem at first glance, it's also not a scam designed to pillage your funds. With that being said, SocialGood makes many claims that it doesn't follow through on, which call into question its team's competency. This is the primary reason for their 1.7-star rating on TrustPilot; customers are angry since their promised funds sometimes take months on end to deposit.
Moreover, the recent addition of SocialGood's "membership" feature in November of 2022 (which we'll cover in detail in a minute) angered many longtime users, as it essentially required spending more money (albeit a small amount) to continue using the app (and to withdraw already-earned funds).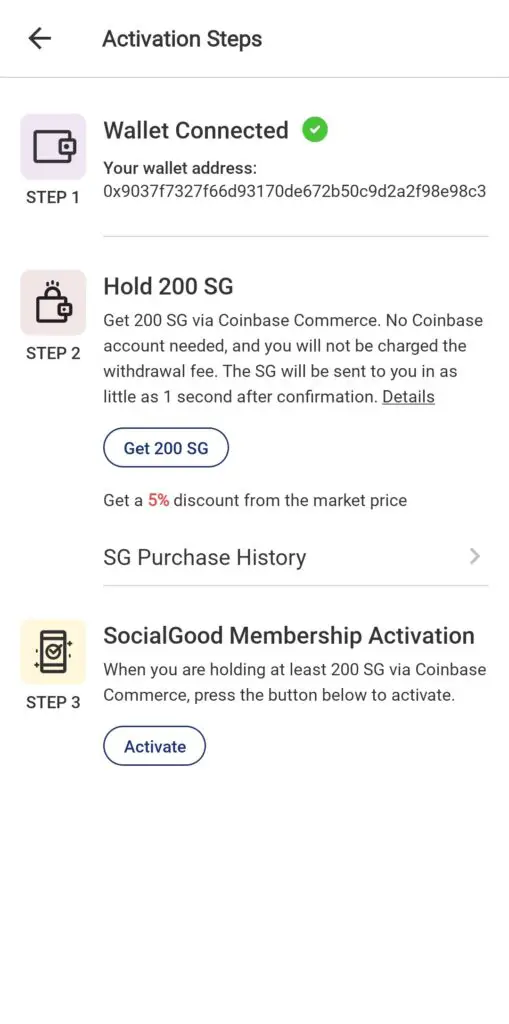 How SocialGood Works
The SocialGood app utilizes the SocialGood ($SG) token on the Ethereum and Polygon networks to pay users when the make purchases through the app. So, where's this money coming from?
It's more or less being materialized out of thin air. Essentially, the SocialGood Foundation (the team behind the project) is making a killing off of user purchases. Via affiliate programs or other more robust arrangements, they earn a percentage commission off of every users purchase.
However, the money they're earning is real, fiat, cold, hard, cash. They then turn around and mint more cryptocurrency (not real money) to pay their users. The SocialGood token has a maximum supply of 210 million, but only around 10 million are in circulation at the moment.
SG's price is tightly manipulated by the SocialGood foundation. They do this by limiting withdrawals to $60 a month for any user, and only those who buy 200 SG tokens (roughly $15 worth at the current market price). The token can then be exchanged for fiat through either decentralized or centralized exchanges, but the slippage is massive due to incredibly low liquidity.
To illustrate, if you had 1000 SG (currently worth about $75 at the current "market price"), you could sell it on Uniswap for $74.79. However, if you wanted to sell 10000 SG, you could only fetch $575 for it. In other words, if you sold "$750" worth of SG token, you'd only get $575. Or, to put it another way, selling less than $1000 worth of the crypto would crash the price by over 25%. Now when other users try to sell it, they earn far less.
See Also: How to Mine Any Cryptocurrency
Conversely, the SocialGood Foundation can easily manipulate the market price by keeping the liquidity abysmally low. Just as a sale of 10000 tokens can tank the market price, the purchase of 10000 tokens can cause the price to rocket. Currently, spending just under $1200 can increase the SG token price by 34.3% on Uniswap.
Consequently, the SocialGood Foundation can easily keep the price in check via small but frequent cash injections. They have more than enough money to do so, since they're constantly reaping affiliate commissions from the purchases of over 2.3 million shoppers (per their app store listing).
Combine this manipulation with the fact that very little SG is actually entering into circulation (remember, only $60 a month maximum withdrawals per customer are allowed), and it's easy to see that SG's "market price" is virtually meaningless; if you have more than a hundred or so bucks worth of SG you will see exponentially diminishing returns the more you sell.
Why SocialGood's business model doesn't work
SocialGood's entire model is built on the ridiculous idea that an increase in the number of SocialGood users will increase the value of the SG token. The issues with this is, we've watched as the user count has grown, according to SocialGood's own website.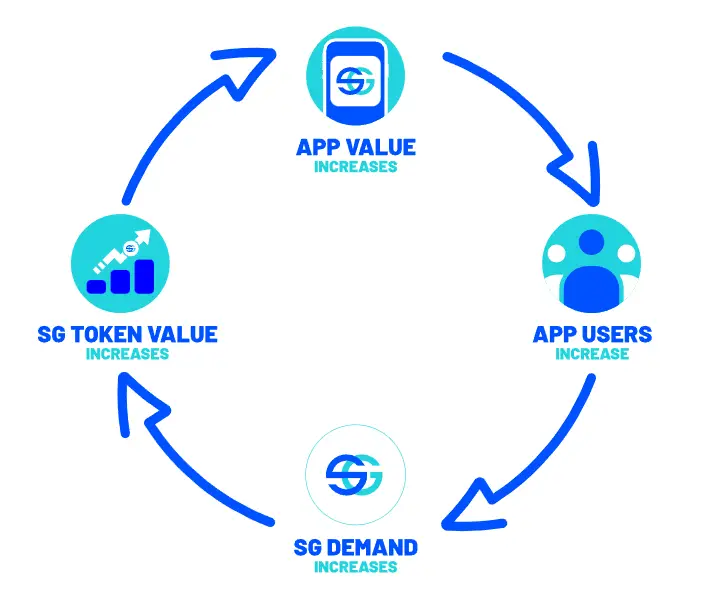 They've accumulated at least 2.3 million users, and are supposedly still growing, but the token's value continues to tank at a breakneck pace. Here's the past year's chart (December 10, 2021-December 10, 2022):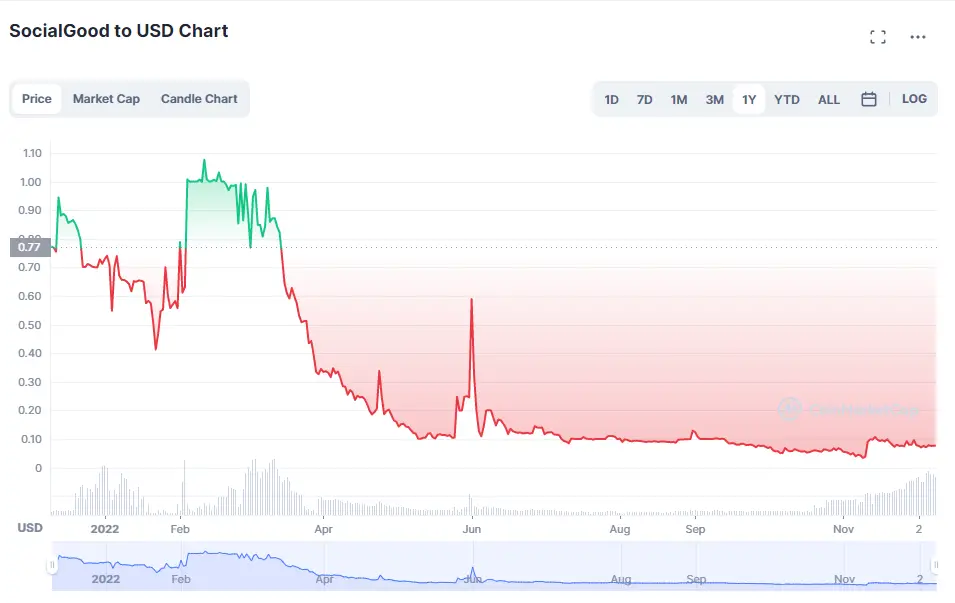 There were some ups and downs, but mainly just downs. The price started the year at 77 cents, and we're currently sitting at 7.7 cents, a nearly perfect 90% drop over 12 months.
It's even more impressive when you look at the all-time charts and realize SG has fallen 96.3% since its roughly $2.10 debut on August 6, 2020.
This is to be expected, though. How can a company be profitable when they're "giving" 100% of your purchase's value back to you? Where is this money coming from?
A typical affiliate commission is anywhere between 1% and 5%, with 5% being extremely generous. Remember, affiliate commissions come out of the seller's pockets (think WalMart, eBay, Amazon, etc.) and are paid out of their usually thin profit margins.
For instance, eBay usually earns around 3-13% of a purchase's value, and they're paying commissions out of this. Not that this isn't pure profit, as eBay has to cover expenses out of these seller fees. Thus, eBay can only pay out a portion of this 3-13% to SocialGood for their referral, and it's almost certainly less than half (eBay Partner Network, their affiliate program, traditionally pays out just 1.5%).
Basically, if you make an $100 purchase through eBay, SocialGood will give you "$100" worth of the SG token. In an inordinately generous estimate, they may earn 5%, or $5 through this purchase. It's likely that they put a portion of this $5 into a fund to regulate the market price, while they pocket the rest as profit.
The other $95 is coming out of thin air; there is no value created whatsoever. You may receive what appears to be $95 worth of SG in your account, but by the time it's actually withdrawable (it sometimes takes months) it'll probably be worth a third of that or less.
Obviously, this model is extremely unsustainable, and more users should equal less value for SG, since there are more people making purchases that further leech value out of the token. Even worse, SocialGood frequently runs promotions with figures like 300% crypto-back, and gives out "$100" worth of SG token for all sorts of piddly tasks like referring new users or signing up for their membership, even further eating into the token's meager value.
Add to this the fact that it's an extreme pain to actually cash out SG (and fees will further dash your already-quickly-diminishing returns), and it's almost certainly not worth it. Not to mention, they also charge a 30% "handling fee" just to withdraw your tokens to your wallet. If nothing else, I'd hate to be lining the pockets of folks who designed such a useless system and marketed it as "Social Good."
Long story short, if it was possible to short-sell cryptocurrencies with ridiculously low liquidities, SocialGood might actually realize its promise of earning people a fortune.
Is SocialGood going to reach $106? SG Price Predictions
SocialGood has this metric that they like to flash: the estimated "real value" of each SG token is $106. It's unclear where this figure came from, but they claim it's based on complex mathematical calculations.
Unfortunately, SocialGood will never be worth $106 unless something truly miraculous happens. It lost about 70% of its value its first year of existence, and another solid 90% in its second, so we'll average it out and give it an 80% price drop over the next 12 months.
As of December 10, 2022, SG is worth $0.07719 per token. That gives us an estimated 1.5438 cents by August 2023, which seems like a fairly generous, and certainly more mathematically sound, estimate.
SocialGood Review: A quick summary
If you don't have time to read our entire review of SocialGood's token and crypto-back app, I'll summarize by saying this:
I've used the app extensively (accumulated over "$3000" worth of SG at one point, although it wasn't withdrawable for months and is now worth far less) and can say with certainty that it is not designed in the interest of "social good."
I'm currently sitting on $554 worth of SG (6,740 tokens) that will likely never go anywhere, since I don't want to spend $15 on the membership and pay 30% of my $60 withdrawal limit per month just to spend an hour moving them from exchange to exchange until I finally withdraw the remaining $30 to my bank account.
Long story short, SocialGood is a money grab scheme that you might be able to earn a tiny bit off of if you're incredibly patient. However, the introduction of a withdrawal limit cut into its upside severely, and the vast majority of users will find that this app is not worth their time.
Unless the SocialGood Foundation massively overhauls the design (to the tune of making crypto-back payouts less than or equal to the actual profits they're earning and adding substantial liquidity), SG will continue its slow and painful death-slide for all eternity.