11/22/2023 09:32 am GMT
These days, Amazon is absolutely inundated with cheap, off-brand GPUs, especially RX 580 models. While this is great news for those looking to build a gaming PC on a budget, it can make it quite difficult to sift through all of the options and make an informed choice.
Four of these options are SHOWKINGS, Kaer, GPVHOSO, and Zer-Lon. As you'll see in this article, all four of these brands actually sell identical products purchased from the same supplier, and are therefore of identical quality.
Today's Deals
Product Lineups
First, let's take a quick look at each brand's lineup of available GPUs.
SHOWKINGS
SHOWKINGS currently sells five different video card models: A low-profile GT 730 4GB, the GT 1030 2GB, another GT 1030 2GB that's low-profile, and the RX 580 8GB.
KAER
Kaer's graphics card offerings overlap substantially with the other three brands; they sell a GT 730 4GB, a GT 1030 2GB low-profile, a standard GT 1030 2GB, two different RX 550 4GB models, and an RX 580 8GB.
GPVHOSO
At the time of writing, GPVHOSO sells four GPUs: The GT 730 4GB, GT 1030 2GB, GT 1030 4GB, and RX 580 8GB.
ZER-LON
Last but not least, we have ZER-LON. They actually have the best range of graphics cards, as they sell a GT 730 4GB, GT 1030 4GB, RX 580 8GB, and GTX 1660 Super. This means that, out of these four brands, they sell the highest-powered GPU by far in the GTX 1660 Super.
Shared RX 580 Model Review
11/22/2023 09:32 am GMT
All four of these brands appear to sell the exact same RX 580 model, with a 1284 MHz GPU clock and 8GB of VRAM. The card design and number of ports is also identical, as is the box (at least in the listing images). In fact, SHOWKINGS' listing has KAER branding shown, so it would appear that the two brands are affiliated in some manner. They're most likely sold by the same individual or company under different branding.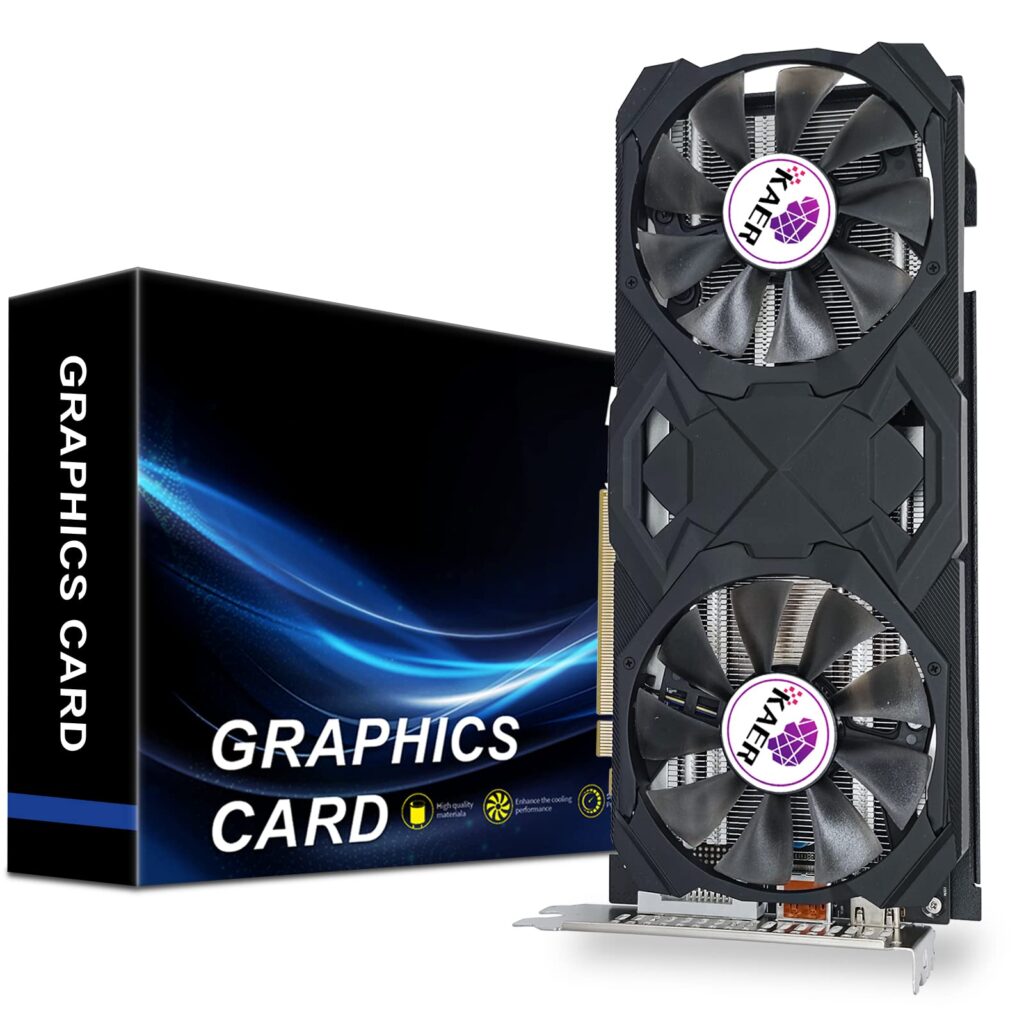 It would appear that they all purchased these from the same Alibaba listing. This is where most of the products listed on Amazon come from, especially off-brand ones. It's actually a great arrangement for buyers, since bulk buyers can get steep discount rates that are then typically passed on in part to the customer.
This RX 580 8GB card is the best-seller for most of these companies, much like other similar video card retailers such as Aisurix. Across all four brands, this card has accumulated 342 reviews on Amazon, with an average rating of roughly 4.16 stars.
The defect rate with these Alibaba cards appears to be marginally higher than, say, an Asus video card, but doesn't seem to be off-the-charts by any means. The vast majority of users appear to be satisfied with their purchase.
Should you buy a graphics card from any of these brands?
If you're building a budget 1080p 60FPS gaming PC, an RX 580 8GB is one of the best cards you can choose, as it's probably the only GPU retailing under $100 that can handle this workload. This is primarily due to the massive volume of 580 GPUs available on wholesale sites like Alibaba. Since there's so much competition in the space, the price is driven down to bargain levels.
Most name-brands don't manufacture or sell RX 580s anymore, and the ones that do often sell them at nearly double the price of these off-brand cards. Even a refurbished XFX 580 costs $135 at the moment, $35-50 more than these no-name brands.
To some extent, you get what you pay for. Brands like MSI, XFX, Asus, and PNY are large corporations that have a lot more money to spend on quality control and R&D. Their coolers will be better, likely run quieter, and the chips will often run at higher clocks out of the box (something you can adjust manually via Afterburner).
It boils down to this: If you're building a gaming PC that costs $1000 or more, it's definitely worth opting for a name-brand card. In that price range, you'll probably be buying something that off-brands don't sell, like an RTX 3060 Ti.
However, if you're building a cheap rig and want the best bang for your buck, brands like SHOWKINGS, KAER, GPVHOSO, and ZER-LON can net you the best performance per dollar. Name brand GPUs are preferable if you can find a good deal, but in the event that you can't there's no shame in choosing an off-brand make.