HP's Omen series is specifically tailored for maximum gaming performance. The HP Omen 30L GT13-0395xt (that's a mouthful) is no exception to this; it features Intel's 10-core/20-thread Core i9-10850K with Nvidia's newest-generation RTX 3070.
This hardware combination is a force to be reckoned with, providing 240FPS gaming at 1080p and playable framerates in 1440p and 4K.
In this review of the Omen 30L GT13-0395xt, we'll take a look inside to see exactly what hardware is included, benchmark it in various tests and popular games, and compare its price to its custom-built equivalent.
While this review is specifically for the RTX 3070/i9-10850K model of the Omen 30L, most information aside from performance benchmarks applies to the entire 30L series. We therefor designate this our "Omen 30L" review; it would be redundant to look at a nearly-identical model with slightly different hardware and two more sticks of RAM.
Note: With the release of HP's latest wave of Omen PCs it appears that the GT13-0395xt is in stock less and less frequently. For similar performance and customization options we recommend the Omen 30L GT13-1380z and Omen 25L GT12-1335qd.
See Also: HP Pavilion TG01-2176z Gaming PC Review and HP Omen 30L GT13-1380z Gaming PC Review
Aesthetics
Looks aren't everything, but for a lot of folks they're pretty high up on the list. If you're aiming for great aesthetics, the GT13-0395xt (or any Omen 30L PC, for that matter) doesn't disappoint.
The black chassis features a full-length glass front panel that showcases the front-facing case fan's customizable lighting and a lit-up Omen diamond logo.
If you don't have a mirror but need one, we highly recommend the Omen 30L and its front glass. It's ridiculously polished; a nightmare to photograph but beautiful to behold.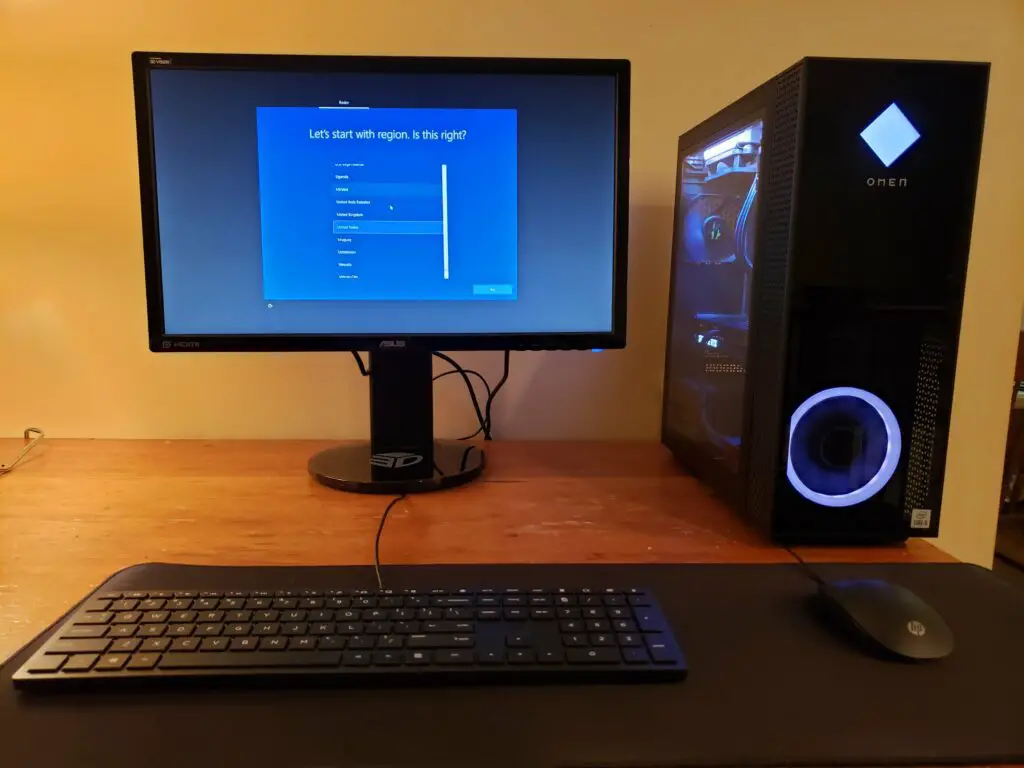 All of the innards of this desktop are easily viewed through the glass side panel, where the RTX 3070, HyperX RAM, and AIO's custom lighting especially shine. The RGB can be fully customized through HP's Omen Gaming Hub, giving you full control over your PC's appearance.
Our only complaint is the lack of a PSU shroud to conceal the power supply and all of its cables from view. On the bright side, RTX 3070 blocks almost all light from reaching the bottom of the case, so this region is dimly lit, rendering the cables barely visible.
The cable management up top could also stand to be a bit neater, but for the most part this is only apparent from the direct side view. We don't think the slightly messy cables are enough to take away from the otherwise exceptional design of the Omen 30L.
Modularity/Upgradeability
Upgrades can be easily made to the Omen 30L down the road. All internal components are easily accessed via removing the side panel (which can be done by pressing a button on the back panel).
In the GT13-0395xt, there's room for two more RAM sticks. The graphics card can easily be swapped out by removing the mounting bracket and removing the screws on the left side, as can almost all other components.
This is a major selling point for the Omen 30L; while a good many prebuilt rigs come with strangely-secured components that are nearly impossible to remove or swap out, the 30L does a good job of ensuring upgradeability.
Size
While the dimensions are constant across all Omen 30L models (the chassis used is the same in all configurations), the weight won't be identical, mainly because of varying video card sizes and weights.
The GT13-0395xt, weighs in at 28.35 pounds. Frankly, we don't see weight being a huge consideration for a desktop (maybe if your laptop was 30 pounds you'd think twice), but it's worth mentioning for those who care.
More importantly, the 30L is a mid-tower with dimensions of 17.05in x 16.61in x 6.5in. That's approximately 43.3cm x 42.2cm x 16.5cm for you metric-wielders.
A Look Inside
Now, let's take a look at the hardware inside the Omen 30L GT13-0395xt. We'll look first at an overview, and then at each specific component.
Hardware Specs Overview
| | |
| --- | --- |
| Processor | Intel Core i9-10850K |
| CPU Cooler | HP Custom AIO with RGB |
| Graphics Card | HP Custom Nvidia RTX 3070 with RGB |
| Memory | HyperX 16GB 3200MHz DDR4 RGB |
| Boot Drive | WD Black SBPNTY 512GB NVMe |
| Hard Drive | 2TB 7200RPM HDD |
| Motherboard | HP 8703, 3 x M.2 slots, 1 x PCIe x16 slot, WiFI and Bluetooth 5 |
| Power Supply | CoolerMaster 750W 80-Plus Platinum Certified |
| Case | Custom, Glass front and side panels with RGB |
| Case Fans | 1 x Rear Exhaust Fan, 1 x RGB Front Exhaust Fan |
| OS | Windows 10 Home 64-bit |
Intel Core i9-10850K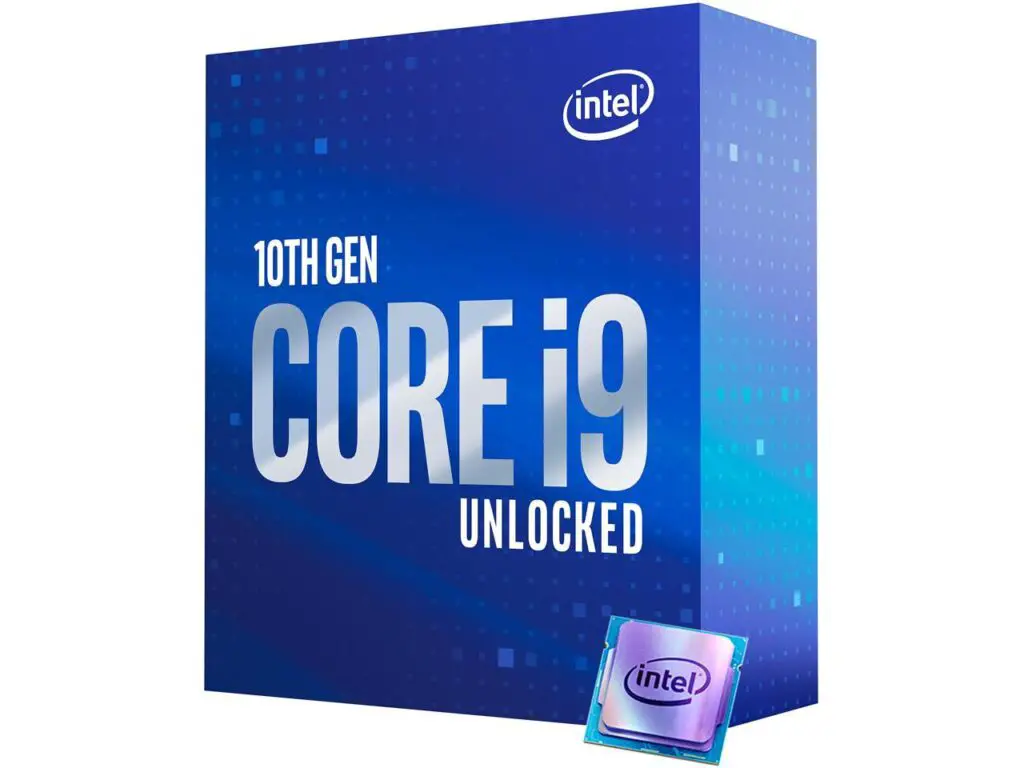 Intel's Core i9-10850K is one of the best CPUs available; its 10 cores and 20 threads and are enough to handle any AAA title with ease, so you'll rarely see this processor bottlenecking your framerate.
Its 5.2GHz max boost clock means it's second only to the Core i9-10900K in the Comet Lake lineup for single-core speeds, an impressive feat. This makes the i9-10850K a versatile CPU that's extremely well-suited for for both gaming and workstation-type tasks.
Out of the box, the Omen's i9-10850K's multiplier only allowed for a 4.9GHz max boost clock, so an overclock is necessary to unlock the CPU's full potential.
The 10850K is also unlocked for overclocking, which you can easily take advantage of with HP's Omen Gaming Hub's overclocking feature for a small improvement in CPU performance.
The one downside of this last-generation CPU is its lack of PCIe gen 4 support. This isn't a big deal, since gen 3 shouldn't bottleneck the bandwidth of any of the components in this system. Thus, this will only be a deal-breaker if you consider full support for gen 4 NVMe drives a must-have.
HP Custom AIO
This liquid cooler, custom-designed for the HP Omen series, features a square design with the perimeter lit up via RGB lighting (which can be customized).
A radiator equipped with a single exhaust fan is secured to the top of the case.
Cooling Capability
HP doesn't specify a thermal design power (TDP) for this liquid cooler so we tested it to see whether thermal throttling was an issue with this cooler.
To do this, we used Cinebench R23, a CPU rendering software, and compared the Omen 30L GT13-0395xt's scores to those of benchmark databases.
These official database scores utilize the most powerful coolers available, so the database score is an approximation of the maximum possible score. Anything lower than this, all other factors being equal, indicates thermal throttling.
Over the course of three all-core tests, our Cinebench R23 scores averaged 15,167, 9.8% below the expected score of 16,820.
This means that, at max load, HP's custom cooler won't quite be able to keep up with the i9-10850K. This isn't at all surprising, really. The 10850K has a reputation for being hard to cool, so a less-than-10% dip in performance at max load isn't all that bad.
The truth is, you're rather unlikely to run into this anyway, unless you're using this Omen PC as a full-blown workstation in all-core tasks. We also tested this Omen 30L in Intel's Extreme Tuning Utility, and it took over three minutes at full clock to see the first sign of thermal throttling.
Overall, then, HP's custom AIO cooler is more than sufficient for most needs. It'll keep the i9-10850K cool in virtually any gaming scenario, and even in most heavily-threaded tasks it will suffice.
Custom Nvidia RTX 3070 (8GB)
HP's custom AIB is fairly simple in design, with an RGB-illuminated "Nvidia RTX" logo facing the side panel, a black HP Omen diamond emblem on top, and black triangle-shaped cutouts towards the right side of the GPU cooler.
This GPU, with 8GB of VRAM, offers plenty of gaming performance, which we'll look at in more detail later on.]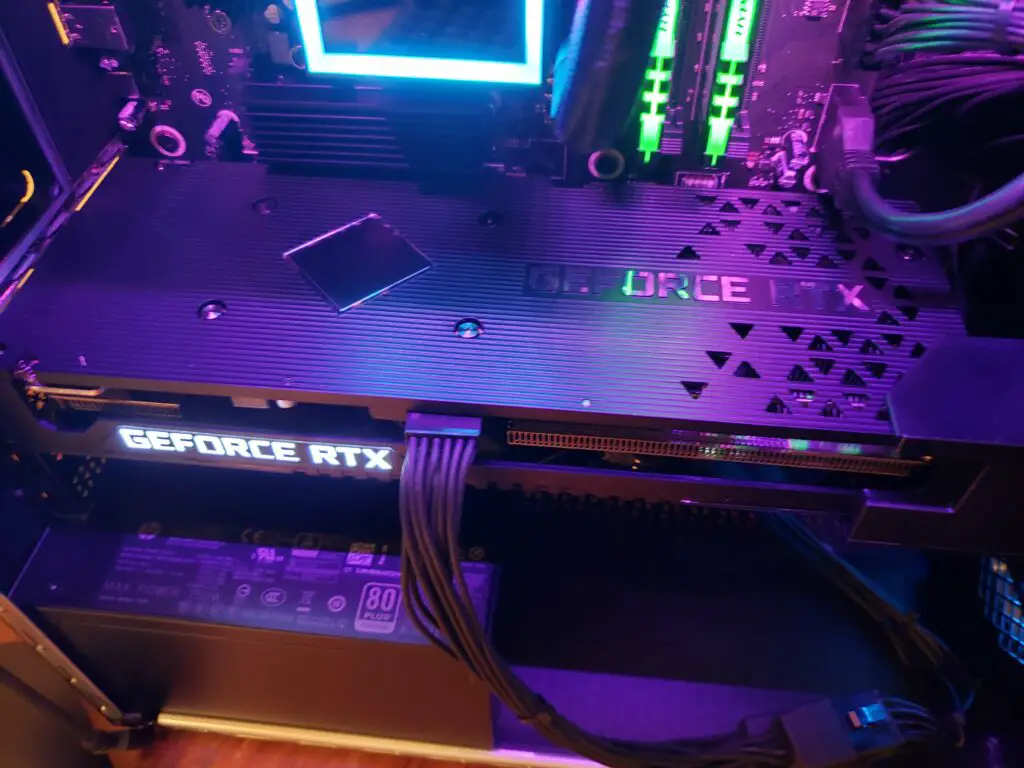 HyperX 16GB (2x8GB) 3200MHz DDR4 RAM
This RGB-lit RAM is both aesthetically pleasing and functional. It comes out of the box running at 3200MHz, so you don't need to worry about enabling XMP.
Its CAS latency, at 22 clocks cycles, is a bit higher than expected (16 is standard), but is still within the acceptable range.
WD Black SDBPNTY-512G-1106 NVMe (512GB)
This 512GB NVMe seems to be an OEM-only variation of the WD Black SN750, Western Digital's flagship PCIe Gen 3 SSD, with respective maximum sequential read and write speeds of 3430MB/s and 2600MB/s.
Benchmarks
When benchmarked in CrystalDiskMark, the WD Black SDBPNTY put up similar numbers. Its sequential read came in a bit slower than the SN750 at 3200MB/s, while its sequential write was slightly faster, at 2700MB/s.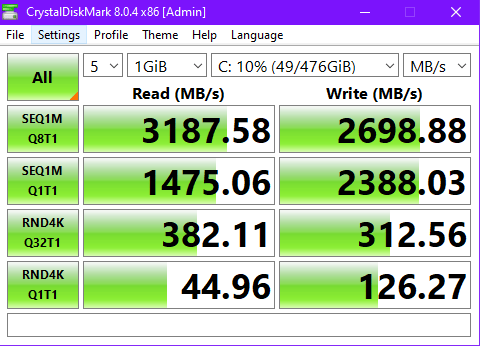 The SDBPNTY comes preinstalled with a heatsink, so overheating won't be an issue (it typically isn't even without one).
Boot times are, of course, lightning-fast with this drive. PCIe gen 4 wouldn't offer much of an upgrade in this regard.
Gen 4 would be preferable in some use cases, especially for longer file writes like game installations. The vast majority of the time, though, the difference should be intangible.
The 10850K doesn't support PCIe gen 4 anyway, so a latest-gen drive would be a waste of resources.
2TB 7200RPM Hard Drive
There's not much to say about the HP Omen's SATA hard drive. It's a standard 2TB drive which, coupled with the 512GB WD Black NVMe, is ample storage for most users. It's a nice addition in a time when it's common for desktop manufacturers to put a 500GB NVMe in a PC and call it a day.
HP 8703
HP's custom motherboard seems to be based off of Intel's Z490 chipset, with its LGA1200 CPU socket, third-generation PCIe support, and overclocking capability.
The board has room for expansion, especially in the way of storage, with two M.2 Key M slots (including the one populated by the WD Black NVMe), an M.2 Key E (filled with the WiFi card), and a PCIe x16 slot (in which the RTX 3070 resides). All of these utilize third-gen PCIe technology.
VRM heatsinks are built into the motherboard for better cooling capability, which should provide more overclocking headroom than would otherwise exist.
The HP 8703 also comes complete with WiFi and Bluetooth support, so you won't need an external adaptor to take advantage of these technologies.
CoolerMaster 750W 80-Plus Platinum Power Supply
CoolerMaster is a reputable power supply manufacturer, and this one is (almost) as good as they come. With an 80-Plus Platinum rating, this PSU is rated for over 90% efficiency, meaning it will waste very little electricity.
Frankly, the difference between 80-Plus White (the lowest rating) and Platinum is not huge (about 10% efficiency), but over time it will save you a bit of money on your power bill, which certainly won't hurt.
Case
We've already covered the aesthetics of the case, but let's take a bit of a deeper look into its functionality, performance-wise.
The HP Omen's case (it's standard across all Omen desktops) features one rear and one front exhaust fan, in addition to the AIO's radiator fan, which will help keep component temperatures low and safe.
On either side of the front panel, there are perforations from top to bottom that allow for good airflow. The top of the case is also heavily perforated, allowing the AIO's fan to move air out of the case with high efficiency. These holes are also present directly in front of the rear exhaust fan, above the I/O plate.
Overall, then, the case is relatively well-designed for airflow. It would, of course, be optimal to have a fully porous front panel, but this isn't requisite and would somewhat ruin the glassy aesthetic. The HP Omen chassis' airflow is definitely sufficient.
I/O
This desktop includes plenty of ports for peripherals to be connected.
The motherboard's I/O panel includes the following:
2 x USB-A 10Gbps
2 x USB-A 5Gbps
2 x USB-A 2.0
1 x USB-C
1 x audio-in
1 x audio-out
1 x microphone
1 x RJ-45 ethernet plugin
The top I/O panel adds on several ports:
2 x USB-A 5Gbps
1 x microphone
1 x headphone/microphone combo
This brings the grand total up to eight USB Type A (standard) ports, as well as one for USB-C. This is pretty standard, and should allow for more than enough connectivity for the typical user.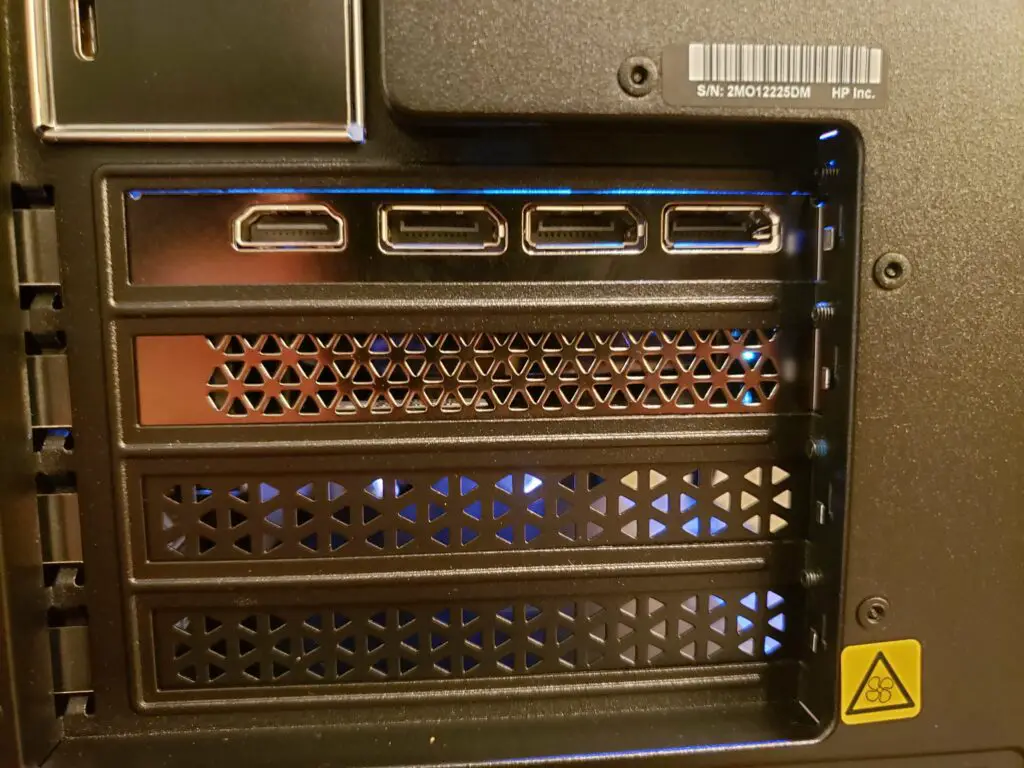 The RTX 3070 packs four ports to which monitors can be connected: 3 DisplayPort and one HDMI 2.0. This means you could theoretically connect up to four monitors, so go for it if your heart desires.
Peripherals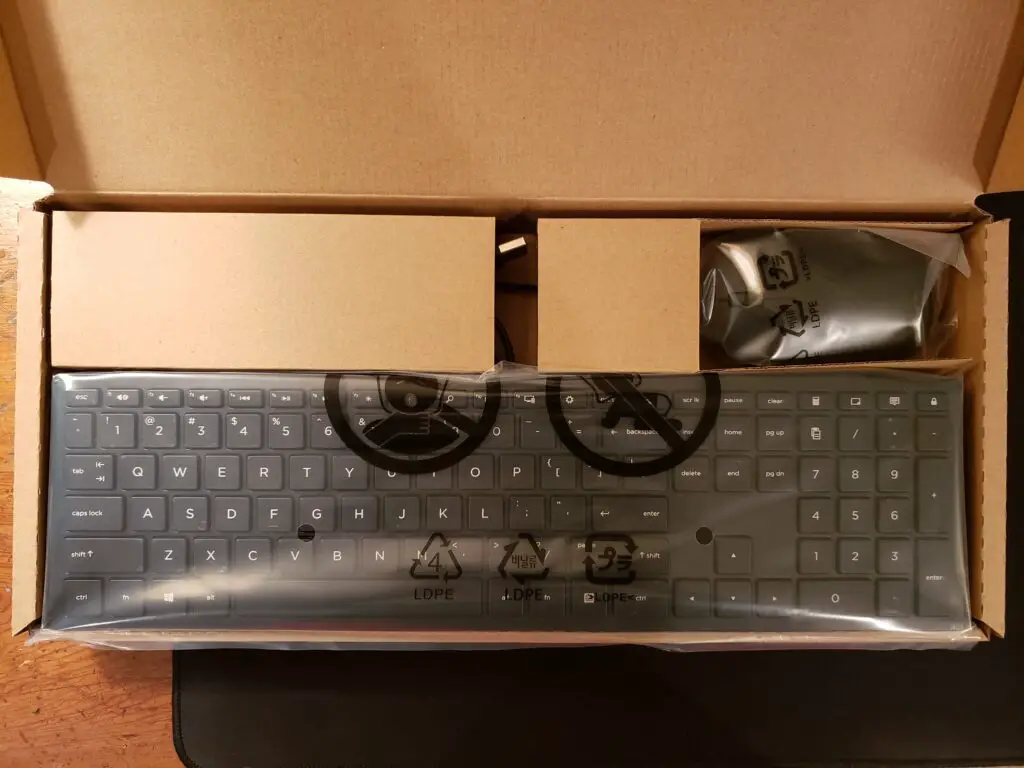 In addition to the tower, the HP Omen 30L GT13-0395xt also includes a keyboard and mouse.
Keyboard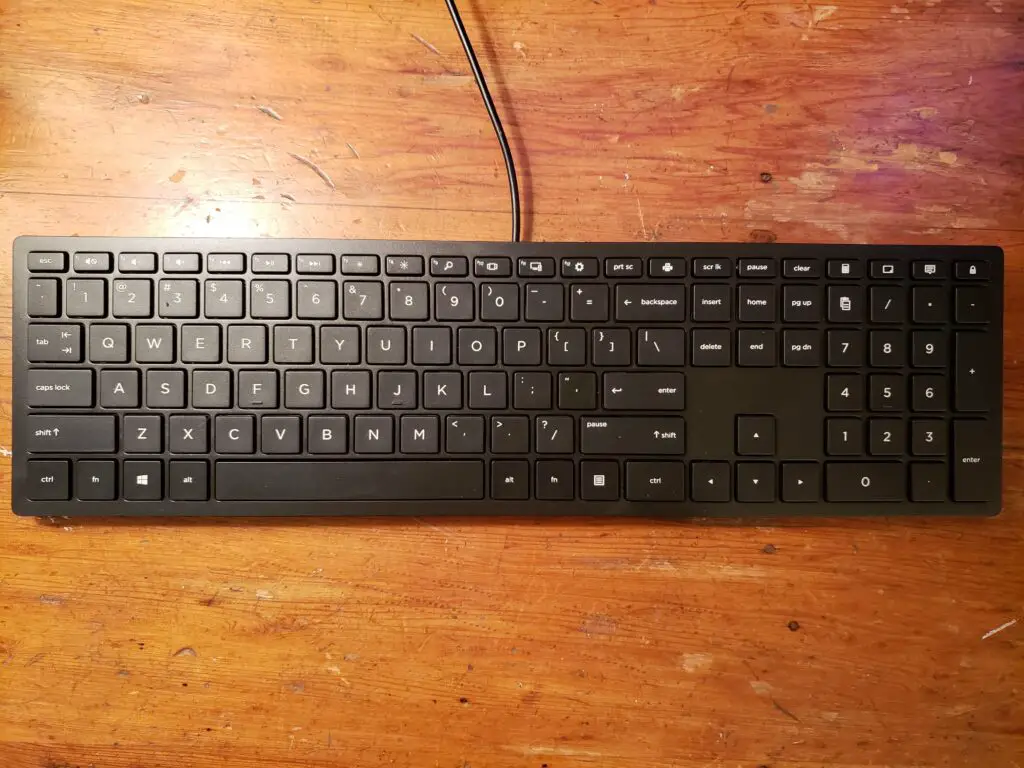 The keyboard that's included with the HP Omen is a cheap-feeling full-sized membrane keyboard.
The keys are barely raised above the board, and give very little feedback. As membrane keyboards go this one's not the absolute worst, but we recommend upgrading unless you're extremely easy-to-please peripheral-wise.
For a higher-quality mechanical keyboard with more responsive switches, we recommend the Razer Huntsman Mini or v2, Logitech K845, or Corsair K60 RGB Pro, depending on your budget.
Mouse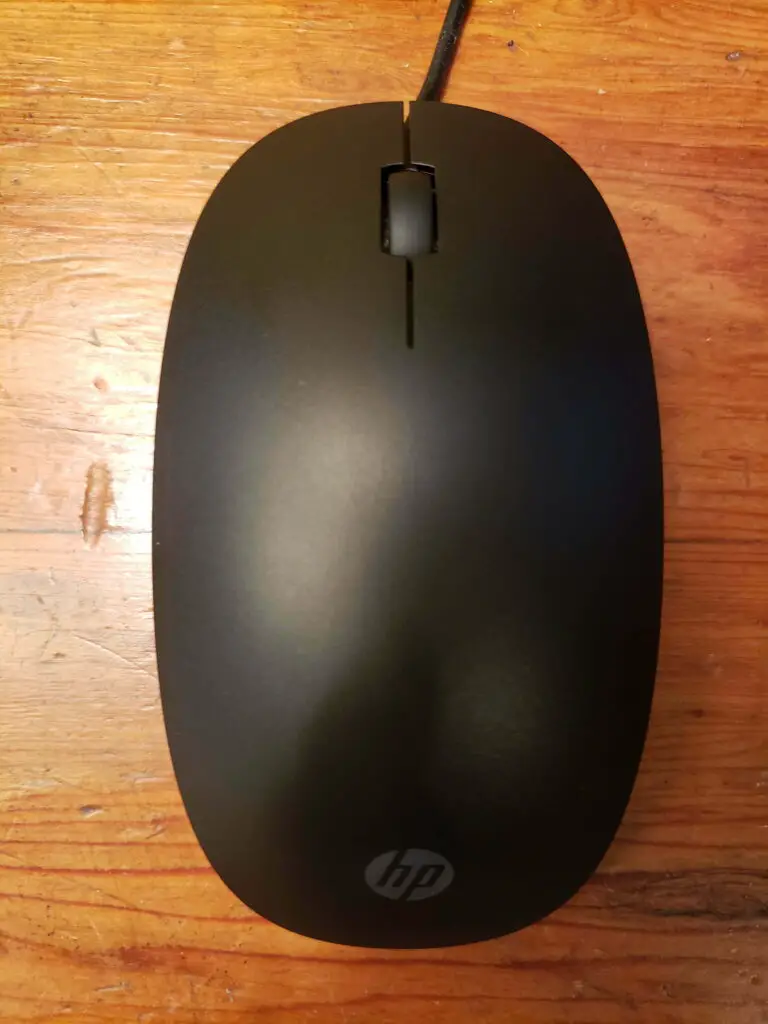 The accompanying mouse is roughly 5 inches in length, 3 in width, and a little under an inch in height. For comparison, Razer's DeathAdder Elite is 2.8 x 5 x 1.7 inches, so HP's mouse has essentially the same length and width dimensions.
This HP mouse sits incredibly low-down, so its arch is very shallow. This gives it an extremely wide feel, which is not entirely comfortable.
It also lacks side and DPI buttons; there's only the left/right click and scroll wheel. It seems clear that this mouse isn't designed for gaming, but rather for basic everyday use.
Because of these many deficiencies, we highly recommend buying an aftermarket mouse. A few of our favorites are the Razer DeathAdder V2, Glorious Model D, Corsair Harpoon Pro, and Logitech G502 HERO.
Software
Bloatware
A common concern when buying a prebuilt is that your new PC will be cluttered with bloatware. While this desktop comes with its fair share of software, some of which could be categorized as bloatware, it's not all that bad.
Compared to what's common, the amount of preinstalled software is surprisingly low. Our sample PC had somewhere in the neighborhood of 47GB used upon first boot (including the OS installation), which leaves plenty of room for everything else.
HP Omen Gaming Hub
The most notable program, by far, is HP's Omen Gaming Hub. This program allows full customization of case lighting, including that of the HyperX memory. There are both "basic" and "advanced" options; the first allows you to select one of eighteen preset colors for each of four lighting locations, while the latter allows you to choose any color in the spectrum and edit "intensity."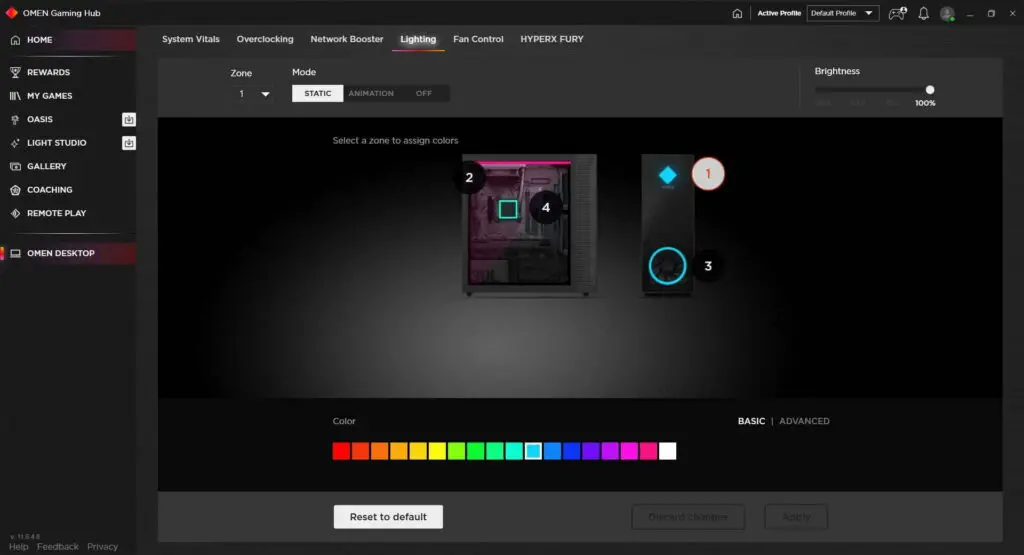 It additionally fills the role of a task manager of sorts; it monitors your GPU and CPU usage and temperatures, as well as your RAM utilization and Internet speeds.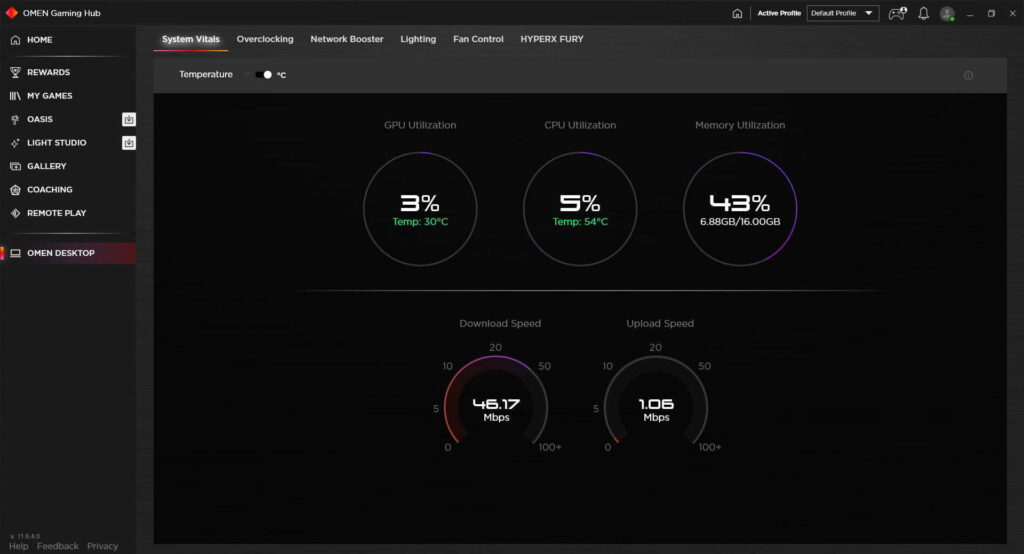 Its smart overclocking feature may be the most useful part of HP's Gaming Hub, as it takes all of the guesswork and skill out of OCing. You won't see a massive improvement from this, but it's worth running for the small benefit.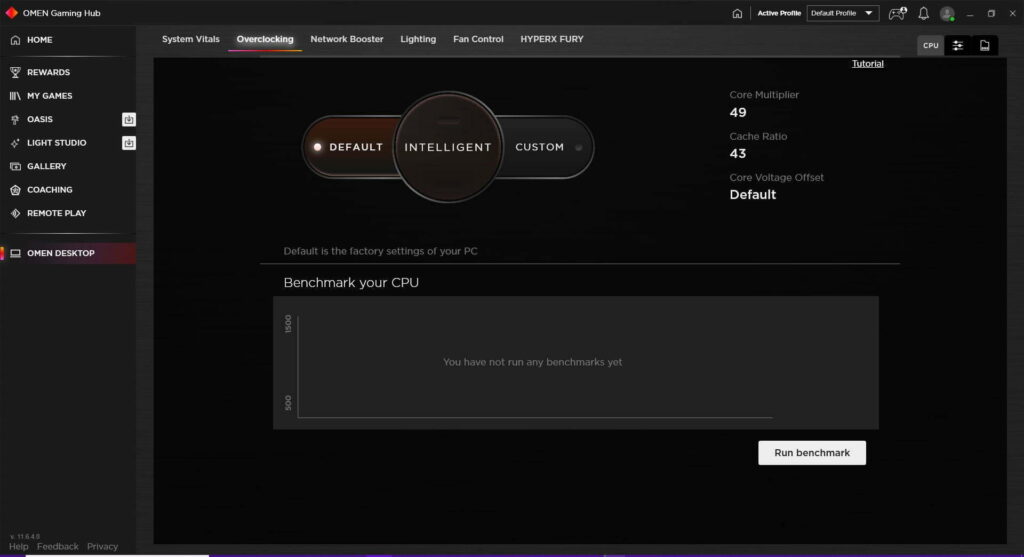 Some other highlights of HP's Omen software include remote play (you can play PC games from your mobile phone), fan control, and an Internet speed booster.
Performance Benchmarks
We've also tested the Omen 30L GT13-0395xt in a variety of games and settings to see how it performs in the real world. These titles included Fortnite, COD: Warzone, and PUBG. We tested in lowest and highest settings in 1080p, as well as max settings in 1440p and 4K.
All of the below benchmarks were taken with out-of-the-box settings. For better performance on any Windows PC, check out our guide to optimizing Windows 10 for gaming performance.
1080p Lowest Settings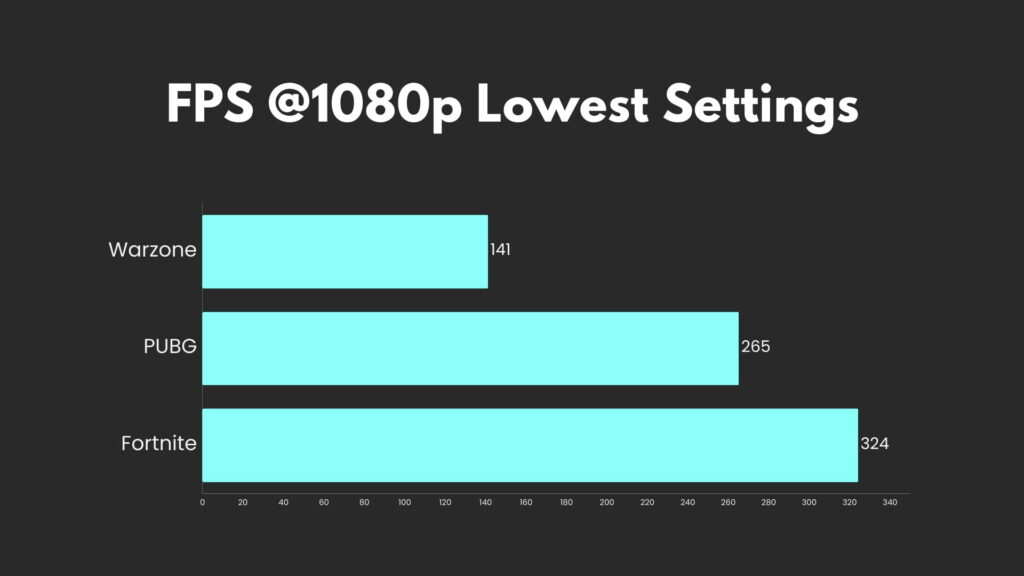 1080p Highest Settings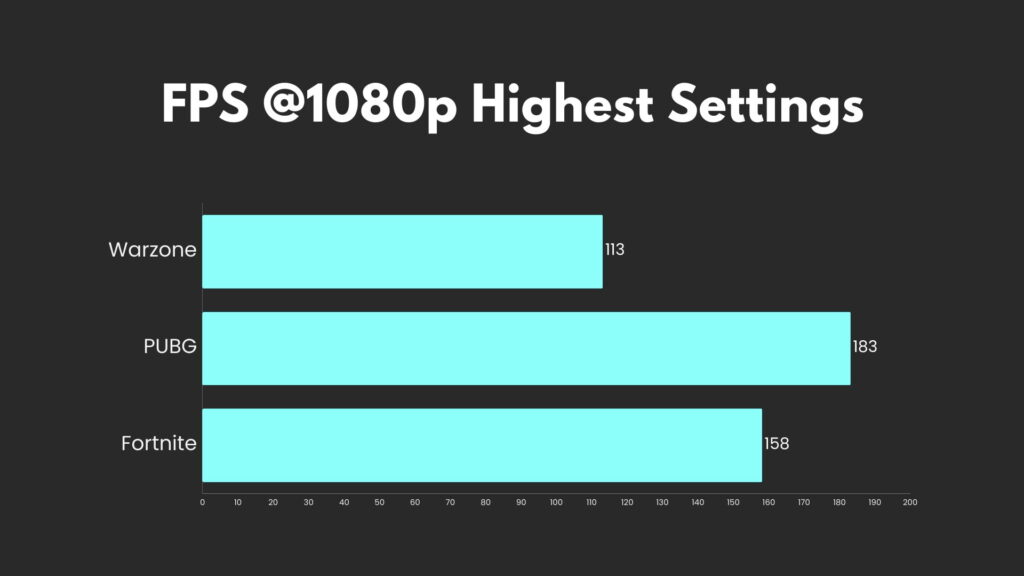 1440p Highest Settings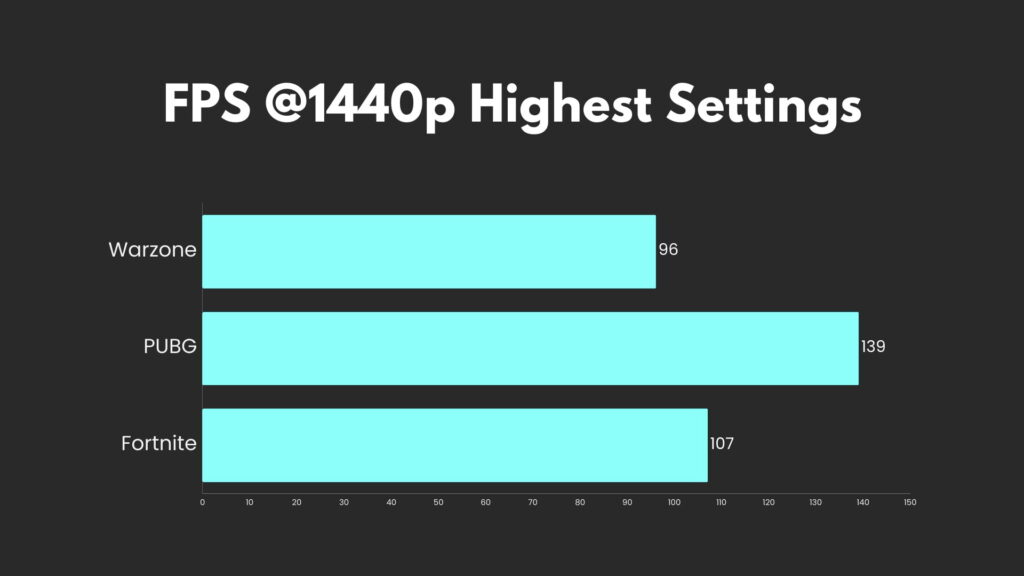 2160p (4K) Highest Settings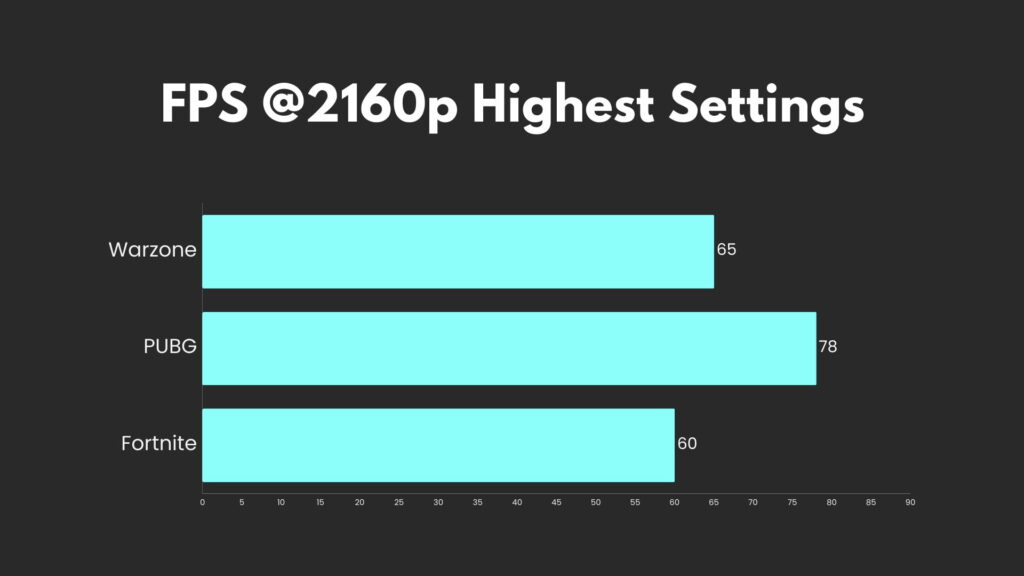 Summary
As demonstrated in these benchmarks, this specific 30L model can pull 240FPS if you're optimizing for performance in most games. Warzone wasn't able to meet this mark, though; you'll have to settle for a lower framerate or a PC with a better GPU.
If you're looking to play in 1440p, steady 60FPS is easily attainable with this prebuilt rig. Not so much with 144FPS.
Likewise, 4K at steady 60FPS is manageable. It's somewhat surprising that Fortnite was the most difficult to run; this is likely due to its recent graphics update. You can always lower the settings from "Epic" to "High" to get the same graphics you would have before the update on "Epic."
What monitor should you get with an HP Omen 30L?
Since the Omen 30L doesn't come with a monitor, you'll need to buy one yourself. Your choice will depend on your desired resolution and refresh rate, but we recommend buying one that will take full advantage of the frames output by the 30L.
Here are a few of the best monitors for the Omen 30L.
For 1080p: Asus VG248QG 165hz .5ms 24″ | Check Price
This 24-inch Asus monitor is perfect for high refresh-rate gaming in 1080p. It has a virtually nonexistent response time of half a millisecond, supports G-Sync, and allows for height and tilt adjustment.
If you don't want to spend the extra money on a 240hz monitor and want the highest possible framerate in all games, this monitor may be your best bet.
For 1080p 240hz: Samsung CRG5 240hz 4ms 27″ | Check Price
This curved monitor made by Samsung represents one of the best 1080p options available. With a low response time, curved screen, 240hz refresh rate, and G-Sync support, this monitor's performance is exceptional.
As with most high-dollar monitors, there are few adjustment features; the monitor is designed primarily for wall mounting. It does come with a stand, it just isn't very ergonomic.
If you prefer a flat screen to a curved one, we recommend Alienware's AW2521HF. It's a 24.5″ 240hz monitor that's much the same as the CRG5, albeit more affordable.
For 1440p: Acer Nitro XV272U 144hz 1ms 27″ | Check Price
Acer's XV272U is a great all-around QHD monitor with everything needed for a responsive experience. Low response time, 144hz refresh rate, adjustable height and tilt, and G-Sync make this a great buy.
For 4K: Asus VP28UQG 60hz 1ms 28″ | Check Price
This 4K monitor is one of the most affordable UHD choices, and lacks any fatal performance flaws.
As with the CRG5, it will optimally be wall-mounted since the stand has very minimal adjustment features. Aside from this, the VP28UQG is a well-rounded 4K gaming monitor, and should serve your needs well.
HP Omen 25L vs. 30L
If you're shopping for prebuilt desktops, you're likely to have run across HP's 25L as well as their 30L. They seem very similar, so what's the difference?
The largest difference, by far, is the chassis design. Both cases have the recognizable diamond design on the front glass panel, but only the 30L has the lit-up front exhaust fan.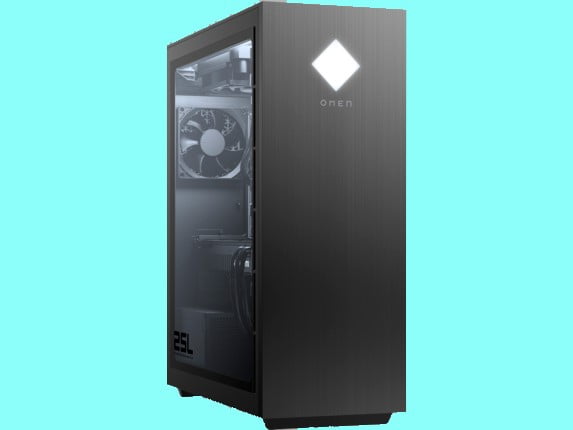 The 25L is also marginally smaller; it's 15.53 inches long, as compared to 16.61 inches for the Omen 30L.
As you can see, the differences are rather unsubstantial, limited primarily to case design. Hardware should be your main deciding factor when buying a PC, and both of these models are available with the same range of components, for the most part.
Our Verdict
HP's 30L model with an RTX 3070 and i9-10850K is a juggernaut of a PC. While it obviously doesn't pack quite the 4K punch of their RTX 3080 or 3090 Models, it can pump out more than enough frames per second for the majority of 1440p or 1080p users, and can handle 240FPS in almost any game at competitive settings.
Aside from a few loose cables its design is impeccable, and its $2000 price tag makes it a serious contender in its price range. Intel's 10850K means this desktop doubles as a highly capable workstation PC.
Unless you're looking for the absolute best (in which case you should buy a rig with an RTX 3090 and Ryzen 9 5950X), the 30L GT13-0395xt is a great buy. In the current state of the market you'd actually end up paying more by sourcing components and building yourself.
If you feel that a 3070 is overkill (or underkill) and aren't sure what to look for, check out our picks for the best prebuilt gaming PCs.
Art of PC is reader-supported. We may earn a commission if you make a purchase through our affiliate link. We'll only ever recommend a product we would use ourselves and completely endorse. Thanks for your support!