GIGABYTE Z690 AORUS Elite AX DDR4 Motherboard
Pros:
Attractive Design

Solid Thermals

Plenty of Storage and USB Connectivity

PCIe 5.0

Onboard WiFi
Cons:
Mediocre Overclocking Capabilities

DDR4 Memory Compatibility

Minimal Debugging Features
Buy on Amazon
Art of PC is reader supported. We may earn a commission if you make purchases through our affiliate links. Thanks for your support!
03/09/2023 12:12 am GMT
Gigabyte's Z690 Aorus Elite AX DDR4 is a great choice for someone on a budget as it has an excellent price considering its performance, offering terrific value for a fairly high-end motherboard.
This extensive review will provide you with all the information there is to know about this motherboard. More specifically, we will be diving deep into the details provided by Gigabyte and simplifying them so that you can decide immediately if this board is the right choice for you.
We will judge this motherboard by many aspects including power delivery, storage connectivity, RAM compatibilities, aesthetics, and debugging features. So, without further ado, let's get into it.
Aesthetics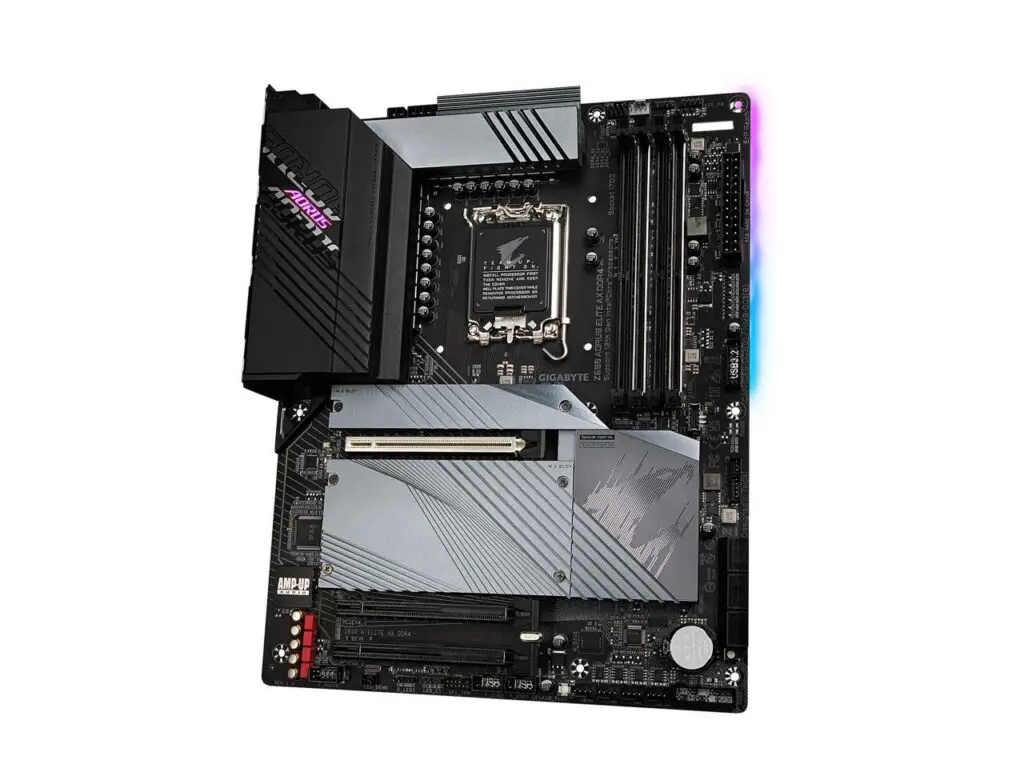 The Z690 Aorus Elite AX DDR4 features a gray slate design over the VRMs and PCI-e slots, paired with built-in RGB around the top right edge and on top of the Back I/O Shroud, giving the Motherboard an attractive look and much-needed contrast. Additional scored slate-gray heatsinks cover the M.2 slots as well as the chipset.
It has four addressable RGB headers, providing adequate connections for RGB strips, fans, and extenders. Anything that requires RGB can be hooked up to it and controlled via Gigabyte's RGB Fusion Software, which lets you customize every peripheral and component to the color(s) of your choice.
Power Delivery/CPU Overclocking
This board features a 16+1+2 VRM design with 70A phases, which is adequate but certainly not the best. As such, the Z690 Aorus Elite AX DDR4 is better suited for mediocre overclocking and average power-consuming LGA 1700 CPUs, such as the Core i5-12600K or Core i7-12700K.
If you're building a PC with a Core i9-12900K(F) and are aiming for a heavy overclock (or even if you're overclocking substantially on a lower-TDP chip), you'll be better off buying something like Asus' ROG Maximus Z690 Extreme. Keep in mind that this (and most top-tier boards, for that matter) only support DDR5 memory, but it's likely that if you're a hardcore overclocker you were already planning on using the latest generation of RAM.
In a similar vein, the Z690 Aorus Elite AX DDR4 has an 8+4 CPU Power connector. Ideally, this would have been an 8+8 to allow for uncompromised power draw and superior power delivery, but an 8+4 seems to better fit this board's target audience.
Judging by these specs, you are better off by keeping any overclocks low and straightforward. Going overboard with the voltage may result in system instability and occasional BSODs.
Storage
Where storage is concerned, the Aorus Elite AX DDR4 features a significant amount of options to choose from, including six SATA 3 ports and four PCI-E gen 4 M.2 slots, an ample amount even for power users. Intel Optane is supported as well.
Additionally, this motherboard has two M.2 heatsinks to ensure maximum NVMe performance, which help with the overall theme of the board while increasing thermal dissipation.
Of course, the quantity or presence of thermal guards should not be a deciding factor in the purchase of a motherboard, since many NVMe drives now include heatsinks from the manufacturer, or are available for purchase from a third-party supplier. Nonetheless, it's always a plus to have M.2 heatsinks in keeping with the board's color scheme and design.
Connectivity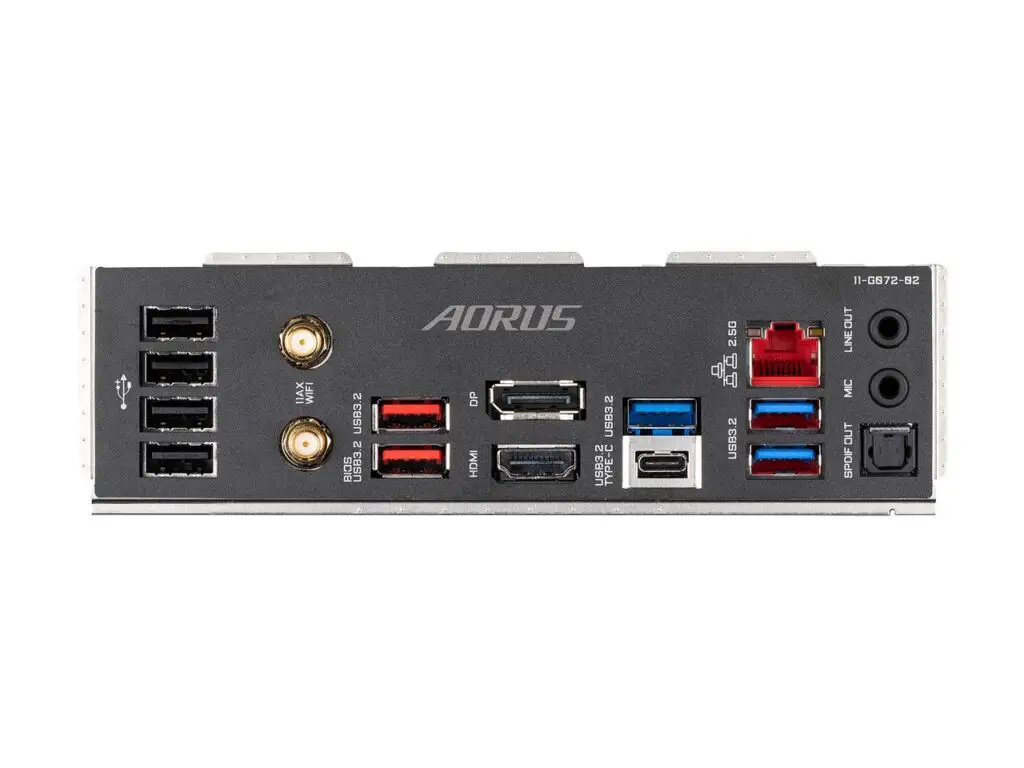 This motherboard has abundant USB ports on the back I/O panel for maximum connectivity. It has two USB 3.2 Gen 2 Type-A on the rear panel, three 3.2 Gen 1 ports, and two ports for the front I/O.
It also supports up to eight USB 2.0 ports, with four on the back I/O panel, and up to four more available via motherboard headers.
It also has 1 USB Type-C on the back panel and one for the front.
For Internet over Ethernet, this motherboard comes equipped with a Realtek LAN chip, which is capable of handling up to 2.5GBps of bandwidth for unmatched performance and speed. Essentially, your ISP will be the bottleneck on your Internet speeds, as it should be. 
This Z690 model also comes with built-in Intel Wi-Fi 6 AX201 supporting dual-band 2.5GHz/5GHz. This is a nice-to-have and, while we highly recommend Ethernet for those who want the best and most reliable Internet connection, WiFi will always do in a pinch.
This board features a Realtek® ALC1220 Chipset delivering pristine sound quality without any sound disruptions. A 6-channel Realtek Controller would have been ideal, but the 2-channel controller that comes with this board is perfectly acceptable. Audio settings can be configured in the OS with Realtek's in-house software, Realtek Audio Console.
PCIe
The Z690 Aorus Elite AX DDR4 includes three PCIe x16 slots, including one with PCIe 5.0's high bandwidth that's reinforced to minimize GPU sag and motherboard damage.
Of course, for optimal performance, Gigabyte recommends using the first slot when using a single GPU, as there is no downside to using a PCIe 5 slot even with older PCIe gen 3 or 4 video cards.
Three PCIe x16 slots should be adequate for most users, as no WiFi expansion card will be needed with this board, leaving two slots available even with a graphics card.
Memory
This motherboard can efficiently handle up to 128GB of dual-channel RAM, with 4 DIMM slots capable of handling up to 32GB apiece. It also supports memory speeds of up to 5333MHz on overclocks, which is excellent for a motherboard in its price range.
Of course, motherboards are currently only able to handle either DDR4 or DDR5, not both. Thus, you're limited to slower DDR4 memory when using this board. For many users, DDR4 may actually be preferable, since it allows for virtually the same performance in most tasks and is far cheaper than DDR5 memory.
Troubleshooting
One aspect of this motherboard that is disappointing, which seems to be haunting the majority of Z690 boards, is the lack of debugging or troubleshooting tools.
The Aorus Elite AX DDR4 lacks any debugging tools, such as Debug LED, Debug Screen, a start restart button, bios reset button, etc. These features have seemingly been standard for a long time, but in this generation they seem nearly extinct.
Consequently, determining what went wrong after a failed overclock will be nearly impossible. Users may be better off avoiding overclocking altogether with this board because of the difficulty associated with debugging with virtually no aid. Not to mention, you'll have to short the "Clear CMOS" pins whenever a Bios reset is needed.
If you spend a mid-range CPU worth of money on a motherboard, you expect to have these bases covered because they provide the foundation required for a good troubleshooting experience. Thus, we're disappointed to see Gigabyte come up short in this regard, as it severely limits the overclocking potential of this motherboard.
Our Verdict
Gigabyte's Z690 Aorus Elite AX DDR4 checks a lot of boxes that we like to see in a motherboard. It has solid aesthetics, plenty of connectivity, and a fairly competitive price. It's unfortunate that it falls short in debugging features and overclocking capabilities, but for builds with mid-to-high-range Alder Lake CPUs and no/low overclocks, this board represents a great choice.
Customers with anything below a Core i5-12600K(F) should look towards a much more affordable B660 board, or at the very least a slightly more budget-friendly Z690 motherboard like the MSI PRO Z690-A.