Best Budget Z690 Motherboard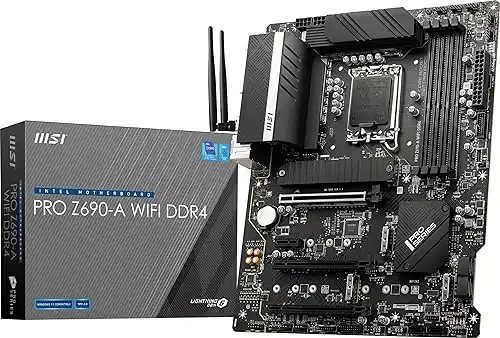 MSI PRO Z690-A WiFi
Pros:
Competitive Price

WiFi 6E and Bluetooth 5.2 Connectivity

14+1+1 Power Phase Design

DDR4 Memory Speeds Up to 5200MHz

CPU Overclocking Support

Plenty of Connectivity
Cons:
Simple Aesthetic

Not Ideal for Extreme Overclocking

No PCIe 5.0 M.2 Slots
Buy on Amazon
Buy on Newegg
Art of PC is reader supported. We may earn a commission if you make purchases through our affiliate links. Thanks for your support!
With the resounding success of Intel's Alder Lake 12th-generation processors many gamers and enthusiasts have rushed to purchase compatible LGA1700 motherboards, many of which are expensive DDR5 models.
However, if your plans don't include the purchase of the flagship Core i9-12900K (and perhaps even if they do), it isn't necessary to buy an extremely expensive motherboard to take advantage of your new CPU's performance.
The reasonably-priced MSI PRO Z690-A WiFi DDR4, designed to be used in conjunction with the previous generation of DIMMs, can accommodate even the potent Core i9-12900K without no compromise in performance.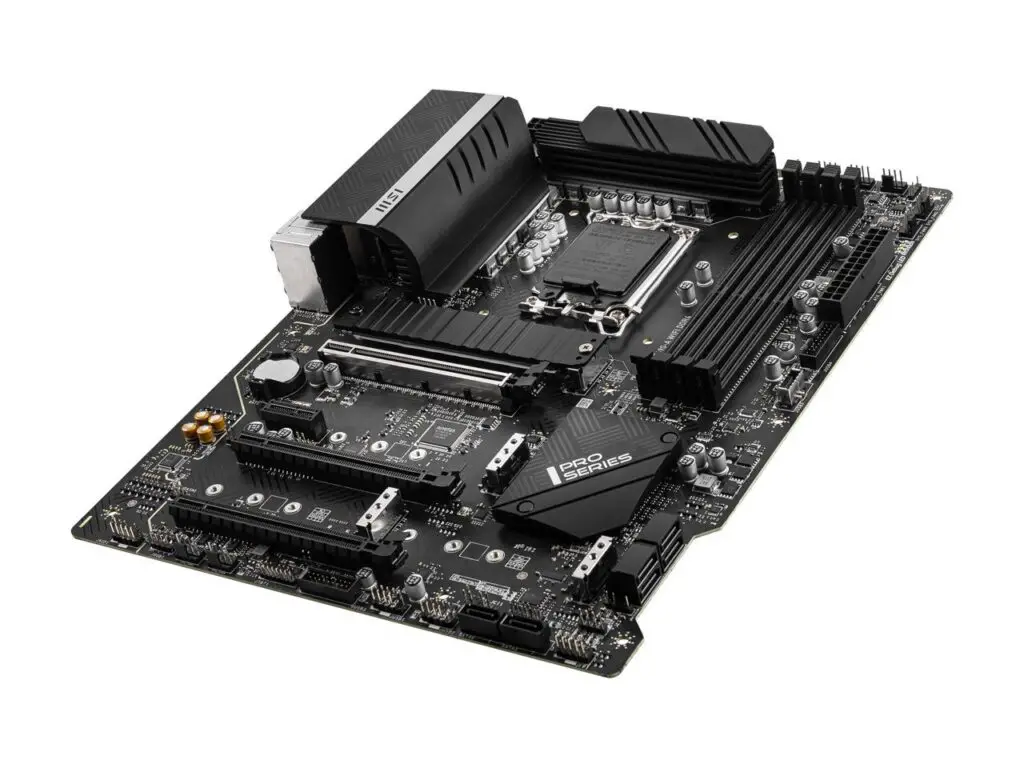 MSI PRO Z690-A WiFi DDR4 vs. Z690-A DDR4 vs. Z690-A WiFi DDR5 vs. Z690-A DDR5
MSI manufactures four separate models of the PRO Z690-A, with names that are fairly self-explanatory. The Z690-A DDR4 is identical to the Z690-A WiFi DDR4, except that it lacks WiFi capabilities out-of-the-box. If you're hard-wiring your internet opting for the WiFi-less model might save you $10 or $20.
There also exist two other models made for use with DDR5 RAM, one with WiFi and one without. We recommend staying away from these for the time being, since DDR5 RAM is still exceedingly expensive and offers very little benefit over DDR4 at the moment.
With that being said, these models are identical aside from the differences noted above. As such, this review is specifically for the MSI PRO Z690-A WiFi DDR4, but nearly all information aside from that relating to memory or WiFi is relevant to each of these four models.
Specifications Overview:
| | |
| --- | --- |
| Form Factor | ATX |
| Dimensions | 12in x 9.6in (30.5cm x 24.4cm) |
| Compatibility | Intel 12th-Gen |
| Chipset | Intel Z690 |
| Socket Type | LGA 1700 |
| USB Ports | 7 x USB-A (1 x USB 3.2 Gen 2, 2 x USB 3.2 Gen 1, 4 x USB 2.0), 1 x USB-C 3.2 Gen 2x2 |
| Max RAM Capacity | 128GB |
| RAM Slots | 4 |
| RAM Speed | Up to 5200MHz |
| SATA Ports | 6 (6Gb/s) |
| PCIe Slots | 1 x PCIe 5.0 x16, 2 x PCIe 3.0 x16, 1 x PCIe 3.0 x1 |
| M.2 Ports | 3 x Gen4 x4, 1 x Gen3 x4 |
| XMP Support | Yes |
MSI Pro Z690-A WiFi DDR4 Packaging
You can buy a PRO Z690-A WiFi DDR4 for roughly $200 (up to $220 or $230 depending on the day) which is on the low end of the spectrum for a Z690 board. It comes in a box with a modest design, with no hint of a gaming theme like you'd see with a higher-end Aorus, MPG, or ROG board.
The PRO Z690-A WiFI DDR4's package includes:
The user manual;
Plug for rear panel connectors
Two SATA 3 6 Gb/s cables
Screws for M.2 SSD installation
Disk with drivers and proprietary programs
Two antennas for the WiFi module
Design and Appearance
The Pro Z690-A DDR4 motherboard is constructed with a 6-layer black printed circuit board in full ATX size (305mm x 244mm). The design is dominated by black and dark grays with a minimal amount of patterning in the visible portion, as well as several silver elements including the primary PCIe slot (this is MSI's Steel Armor, which doubles as structural support for the slot) and yellow capacitors in the audio subsystem area.
While it lacks flashy features like RGB lighting, several large (and functional) heatsinks over the VRMs, main M.2 slot, and chipset give this Z690 make a pleasing if somewhat simple aesthetic. The PRO Z690-A WiFi DDR4 looks stylish and practical. It also features nine holes for mounting within your case of choice.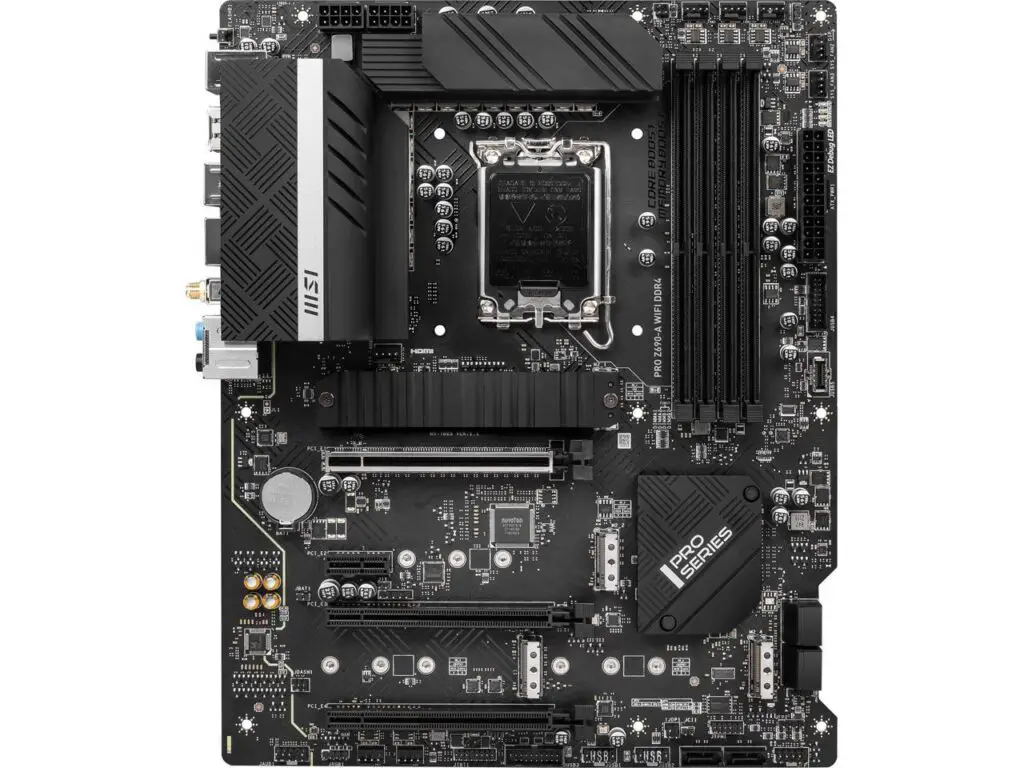 In the rear I/O panel the user will find:
BIOS Flash button for firmware update
PS/2 port for mouse or keyboard
HDMI output
DisplayPort output
Four USB 2.0 ports
Two USB 3.2 Gen 1 ports
One USB 3.2 Gen 2 port
One USB 3.2 Gen 2×2 Type-C port
2.5 Gigabit LAN
Six 3.5mm audio jacks
Connectors for the external antenna of the wireless communication module (Intel WiFi 6/ Bluetooth 5.2)
The motherboard is equipped with four DDR4 DIMM slots and supports memory overclocks of up to 5200 MHz, and up to 128 GB of total RAM.
The PRO Z690-A DDR4 includes a PCIe 5.0 x16 slot equipped with a metal frame for the graphics card, adding a long runway for forwards compatibility with future generations of video cards. Below it is a single PCIe 3.0 x1 and a pair of PCIe 3.0 x16 slots for optional further expansion.
In terms of storage compatibility, the Pro Z690-A DDR4 board is decked out. It offers four M.2 connectors, one of which is equipped with a slickly-designed FROZR heatsink with built-in thermal solution for maximum performance.
This M.2 slot is compatible with essentially all M.2 sizes (2242/2260/2280/22110), and offers PCIe 4.0 speeds. Another M.2 connector also supports PCIe 4.0 x4 devices, but with sizes of 2242/2260/2280. The third and fourth M.2 are designed to install PCI Express and SATA drives.
Truthfully, it's rather rare to use anything other than an M.2 2280 drive, so this board's compatibility in these areas will be an unneeded bonus for most. While it's somewhat disappointing that the Z690-A PRO WiFi doesn't offer PCIe 5.0 support for M.2 SSDs, in practice these are still nearly impossible to find and don't offer much tangible benefit over previous generations to the typical user.
In terms of hard drive or SATA SSD expansion, the Z690-A PRO DDR4 provides more than enough connectivity with six corresponding ports.
To connect cooling systems and case fans, the motherboard offers eight 4-pin PWM connectors, six of which are located in close proximity to the processor socket for convenient access.
Power Phases and Overclocking
Although the PRO Z690-A DDR4 is an entry-level offering for Alder Lake processors, this board's power system is designed with flagship CPUs in mind. Under the spacious heatsinks a 14 + 1 + 1 configuration of Alpha & Omega AOZ5016QI 55A power phases is housed.
Of course fourteen are dedicated to stepping down and delivering steady voltage to the CPU, but the other two are reserved for the iGPU (if applicable) and powering auxiliary components, respectively. A pair of 8-pin power connectors, housed in the upper left corner as per usual, are designed to provide high-quality power to the processor.
This board's VRMs are sufficient for even Intel's Core i9-12900K, as they allow it to run to its full potential out-of-the-box without straying into unsafe temperature ranges. These VRMs do run a bit hotter than some higher-end boards (like the Asus TUF Z690-Plus WiFi D4), and as such are less-than ideal for overclocking enthusiasts.
For small overclocks, however, especially in conjunction with the Core i5-12600K(F) or Core i7-12700K(F), this SKU really shines, as it provides this functionality at a comparatively low cost.
Best CPUs to Use with MSI Z690-A PRO WiFi
Being a Z690 board, this offering by MSI is best-suited for use with K-series overclockable CPUs like the Core i5-12600K, Core i7-12700K, and Core i9-12900K. Its potential would be largely wasted upon lesser 65W non-K chips, as these are better suited for use with a B660 board.
Best Workstation CPU w/ iGPU
11/23/2023 01:01 am GMT
Each of these chips has a counterpart that has no integrated graphics (thus requiring a discrete graphics card), which typically sells for less. The Core i5-12600KF, Core i7-12700KF, and Core i9-12900KF are also superb choices, and are usually the better option if you have dedicated graphics.
11/23/2023 01:06 am GMT
Regardless of which of these processors you choose, you'll be able to run games at at least 144FPS, and in most titles you'll easily get a steady 240FPS if your graphics card is capable of keeping pace with your CPU.
MSI Z690-A PRO WiFi DDR4 Final Review
MSI's PRO Z690-A WiFi DDR4 is a well-designed motherboard that can do everything except extreme overclocking at a great price. Whether you're an economical gamer or someone looking to build a rig with features that the B660 chipset can't quite achieve, the Z690-A PRO WiFi DDR4 (or its WiFi-lacking counterpart) are top-notch options.
Of course, the Pro Z690-A DDR4 also has some slight disadvantages. The lack of RGB backlighting (which for some may not be a downside at all) and absence of PCIe 5.0 SSD support are suboptimal, but given the cost of this board they're quite tolerable.