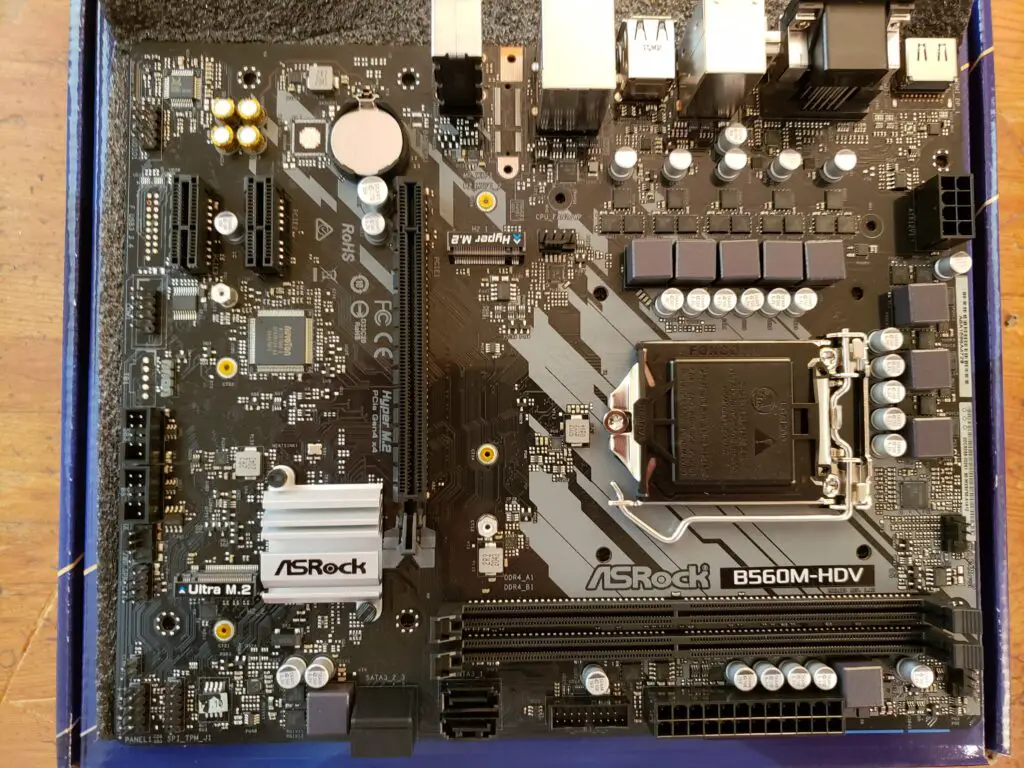 Apparently, a solid Rocket Lake-compatible motherboard doesn't have to cost you an arm and a leg. ASRock's micro-ATX B560M-HDV proves this by offering an impressive array of features for a surprisingly reasonable price.
Specs Overview:
Form Factor
Micro-ATX
Compatibility
Intel 10th and 11th Gen
Chipset
Intel B560
Socket Type
LGA 1200
USB Ports
6
Max RAM Capacity
64GB
RAM Slots
2
RAM Speed
Up to 5000MHz
USB Support
6 x USB 3.2
6 x USB 2.0
SATA Ports
4 (6 Gb/s)
PCIe Slots
1 x PCIe 4.0 x 16, 2 x PCIe 3.0 x 1
M.2 Ports
1 Hyper M.2 (PCIe Gen 4 x 4)
1 Ultra M.2 (PCIe Gen 3 x 4/SATA 6Gb/s)
XMP Support
Yes (XMP 2.0)
Power Limits, and How to Remove Them
One potential pitfall of the B560M-HDV is its out-of-the-box power CPU power limits. It enforces Intel's low-end power limit, meaning your CPU's multicore performance will be noticeably lower than that of a higher-end motherboard with the same processor (test it out in Cinebench R23 or any other benchmarking software to see for yourself).
This is a bit of a pain but not a problem long-term; a quick trip into the motherboard's UEFI can resolve this.
Just restart your PC and press Delete to access the computer's UEFI. Switch to Advanced Settings if needed, go to the OC Tweaker tab, and change Base Frequency Boost to the highest possible amount (for us this was 100W). This will allow your CPU its maximum performance, as long as your CPU cooler is capable.
In the end, this is more of an inconvenience than an actual loss of value; the B5650M-HDV's VRMs are perfectly capable of supplying the additional power, but for some reason ASRock decided to place low power limits. Do this one time and you'll never have to think about power limits again.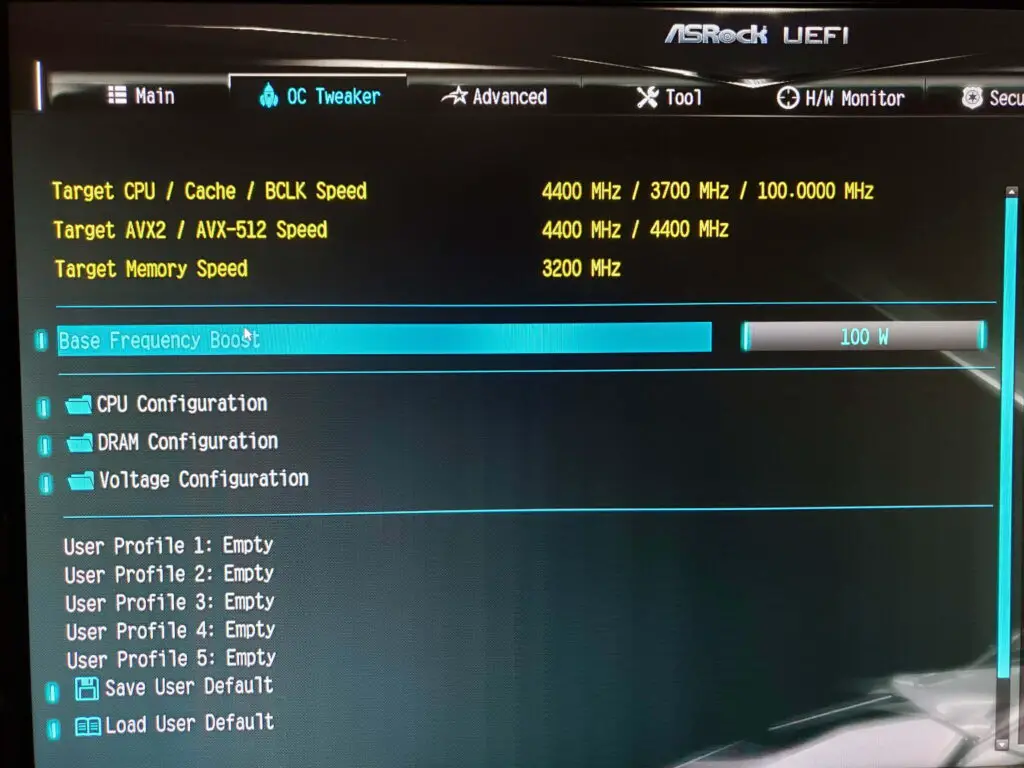 ASRock B560M-HDV Review
The B560M-HDV checks all of the boxes for a great budget motherboard. It has two M.2 slots, one of which supports PCIe Gen 4, allowing you to take advantage of the fastest drives on the market.
Its one PCIe x16 slot is plenty for the average user, as SLI/Crossfire isn't really relevant anymore. It's PCIe gen 4, meaning you'll be able to achieve optimal performance with newest-generation graphics cards.
Two RAM slots is enough for 64GB of dual-channel RAM, which is more than enough for most users. If four DIMM slots is a must-have for you, the ASRock's B560M PRO4 is the most comparable motherboard with this feature.
XMP support is a nice bonus, as you'll be able to overclock your memory to increase your system's performance. In the past this hasn't come standard with B-series boards, so this is a great addition.
It should come as no surprise that the B560M-HDV doesn't support CPU overclocking; this is still reserved for Z-series motherboards, which generally cost a bit more.
All things considered, this is one of the best motherboards for low or mid-range build given its affordable price. If you're looking to overclock your CPU, though, you'll need to look elsewhere. A Z-series board like the Z590M Phantom Gaming 4 will better suit your purpose.
The Best Alternatives to the B560M-HDV
Motherboard prices tend to fluctuate over time. As most low-end B560 boards have nearly-identical features and performance, you're usually best-off getting whichever is cheapest at the moment. These are our favorite alternatives to ASRock's B560M-HDV:
Gigabyte B560M DS3H
This base-level micro-ATX board is well-equipped with four DIMM slots, two M.2 slots, and a couple of PCIe x1 slots to spare. It supports the same 10th and 11th-gen CPUS that the B560M-HDV does, making it a well-rounded motherboard.
We also recommend checking the price of the slightly-nicer B560M DS3H AC, which has built-in WiFi and VRM heatsinks. Its price is occasionally the same or lower than the standard DS3H.
Asus Prime B560M-A
Asus' Prime B560M-A is slightly nicer than ASRock's micro-ATX take on the B560 chipset, with silver VRM and M.2 heatsinks that also provide improved aesthetics.
Add in a spare PCIe x16 slot and the standard two M.2 slots, and you can see why this is an excellent option when the price dips low enough.
MSI B560M PRO
This model's two memory slots may be a turn-off to a few would-be users, but for most this shouldn't be an issue. All in all, the MSI B560M Pro covers all of the bases, and even throws in an M.2 heatsink for an added bonus.
While it only has space for one M.2 drive, most users won't use more than this number anyway.
Best CPUs for ASRock B560M-HDV
Building a PC? Check out our beginner's guide for a step-by-step walk through the entire process, from selecting parts to assembly and troubleshooting.