Samsung SSD T-Series: Overview
Solid state drives have revolutionized the world of computers. With five or six times the speed of the typical hard drive, SSDs allow for quicker boots, faster writes, and an overall better user experience.
As SSD technology has progressed, hardware has gotten faster and more convenient, and Samsung's T-series of SSDs are a prime example of this.
Samsung's T5 and T7, as well as the T7's "Touch" variation, are USB SSDs. While SATA (a common SSD interface) limits information transfer to 600 MB/s, USB technology allows for much higher bandwidth. This translates to a higher ceiling read and write speeds, which the T7 and T7 touch take advantage of.
In addition to faster speeds, USB technology allows for incredible ease of access. External USB drives like the T5 and T7 variations can easily be moved from computer to computer without the need to break out a screwdriver or mess with power supply cables. This makes external SSDs optimal for quickly transferring files from one device to another.
Price
The going price of SSDs, like most hardware, is fluctuating constantly. You can check the current price of each model below. As a general rule of thumb the T5 is cheapest, the T7 is next, and the T7 Touch is the most expensive.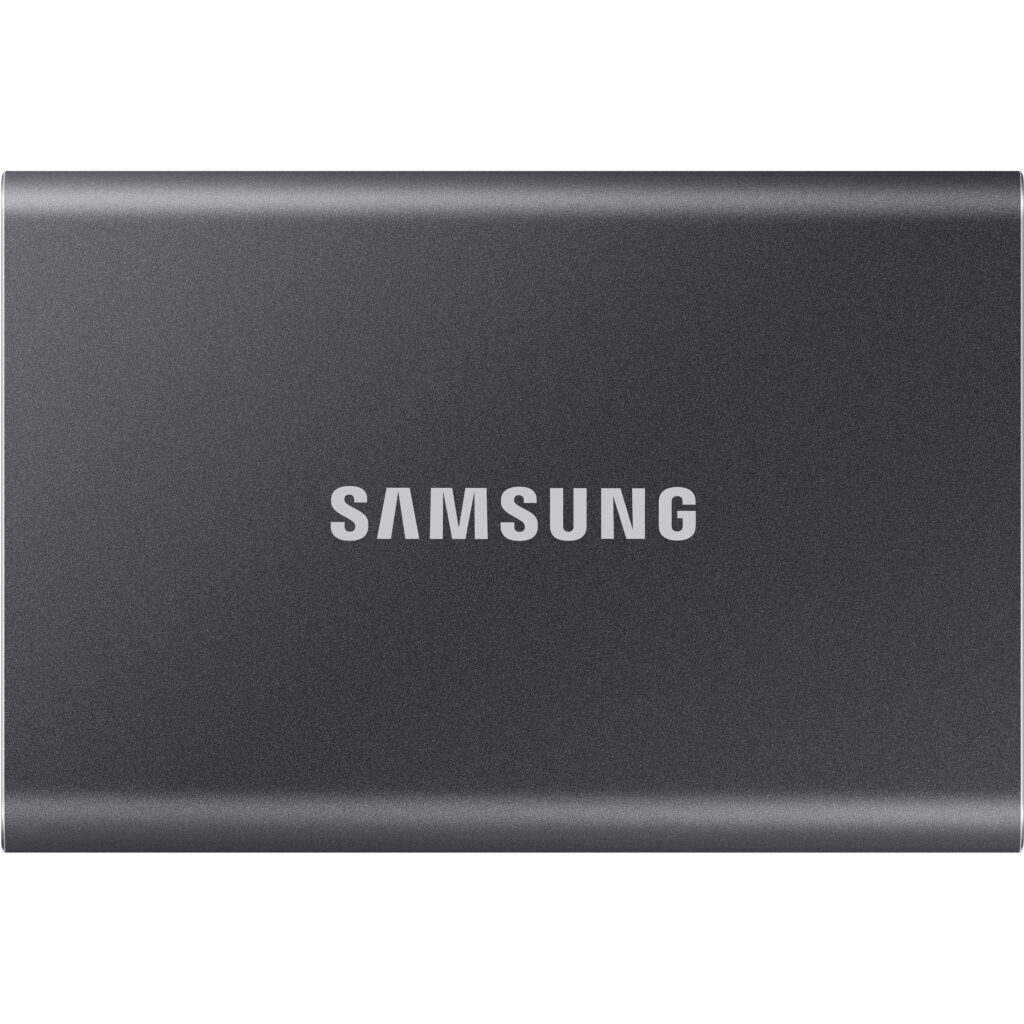 Specifications Comparison
Below are the listed specs for the T5 and T7. Since the T7 Touch is merely a more secure version of the T7 (it's equipped with a fingerprint scanner), the specs are identical and it would be redundant to include these.
T5 vs. T7 Specs Overview
| | Samsung T5 | Samsung T7 |
| --- | --- | --- |
| Maximum Transfer Speed | 540 MB/s | 1050 MB/s |
| Capacity | 250GB, 500GB, 1TB, 2TB | 500GB, 1TB, 2TB |
| Weight | 51g | 58g |
| Interface | USB 3.1 Gen 2 (10Gbps) | USB 3.2 Gen 2 (10Gbps) |
| Release Date | Q3 2017 | Q2 2020 |
| Colors | Alluring Blue, Deep Black | Indigo Blue, Titan Gray, Metallic Red |
| Encryption | AES 256-bit | AES 256-bit |
Transfer Speeds
The most glaring difference between Samsung's T5 and T7 is, of course, their respective data transfer speeds. At 1050 MB/s, the T7 is roughly twice as quick as the T5 (94% faster, to be exact). The T5's 540MB/s transfer speed is much more comparable to a SATA SSD, whereas the T7 is
This will, of course, translate to faster file transfers; if you're moving high-capacity files like photos or videos from your computer to SSD or vice versa, you'll see your time cut roughly in half if you opt for the T7.
If you're only planning on using this for smaller files like Word documents, you likely won't notice much difference in performance. Low-space files like these will take a insignificant amount of time regardless of which model you have.
USB Technology
While the USB technologies used in Samsung's T5 and T7 are slightly different, the difference is imperceptible. USB 3.2 Gen 2 is is a slightly newer technology than than the T5's USB 3.1 Gen 2, but both are capped at 10GBps (10000MB/s) of bandwidth regardless.
In any case, neither of these SSDs even comes close to maxing out the available bandwidth. In short, USB technology is largely irrelevant in this case, and doesn't affect performance.
It's worth mentioning that USB technology is both backwards and forwards-compatible, so the T5 and T7 will both work with any USB type-A port.
For optimal performance, though, you'll need to make sure you're using USB 3.0 or higher. USB 2.0 limits bandwidth to 480 MB/s. This would decrease the T5's performance by roughly 11% and the T7's by over 50%.
If your computer includes only USB 2.0 or worse, your decision is all but made for you; since the bandwidth is limited to 480 MB/s regardless of which SSD you buy you're best off saving your money with a T5.
Colors
Color most likely won't end up being a huge factor; the T5, T7, and T7 touch are all available in at least one neutral color, so if you're worried about professionalism each can accomodate this.
The colors available differ by model and capacity. Incidentally, this is the only way in which the T7 Touch differs from the base T7 aside from the aforementioned touch-security capabilities.
Capacity
Capacity is, of course, the most important aspect of storage. All three of these SSDs have 500GB, 1TB, and 2TB models, so if you're shopping on the higher-capacity end of the spectrum speed will be your determining factor.
If you're on a tight budget and don't need a massive amount of storage, the T5 lineup includes a 250GB model which is the most affordable among these options.
Size
All three of these portal SSDs are remarkably small. The T5 is the smallest and lightest, with dimensions of 74 x 57.3 x 10.5mm and a weight of 51 grams.
The T7 and T7 Touch are slightly longer and thinner, at 85 x 57 x 8mm.
For reference, the typical credit card is 85.6 x 2.1 x .76mm.
While you won't be fitting Samsung's portable storage devices in your wallet, they're certainly more portable than the majority of external drives.
Security
The T7 Touch represents the obvious choice if maximum security is your primary concern. Its fingerprint scanner allows you to lock and unlock your files with a simple touch, hence the name.
This security comes at a premium, so you'll have to choose between price and privacy.
Compatibility
All three of these SSDs are compatible with essentially any USB-capable device. This includes PC, Mac, Android, PlayStation, XBox, Nintendo Switch, and more.
They also come with two cables, USB Type C to Type C and USB Type C to Type A, allowing you to connect these SSDs to any device with Type A or Type C USB ports.
Best Alternative External SSDs
Before we look at which of these drives is the best, let's look at some comparable alternatives. These are SSDs with comparable performance and similar or better prices. Keep in mind that prices swing a good bit, so an SSD may be cheaper one day but not the next.
Additionally, different-capacity drives of the same model may not be priced comparably to different models. For instance, a 250GB WD drive may be cheaper than a 250GB Samsung SSD, but Samsung's 500GB model might be more affordable than WD's model of the same capacity.
In short, do a bit of research before pulling the trigger. It'll likely save you 20 or 30 bucks.
Western Digital External SSD | Check Price
This drive is most comparable to the T7, in that its maximum speed is also 1050 MB/s, and it has no touch security feature. It support both USB-A and USB-C and is available in capacities ranging from 500GB to 4TB.
SanDisk Extreme Portable SSD | Check Price
SanDisk's take on the external SSD is quite impressive. In read/write speeds of 1050/1000 MB/s respectively, on par with the T7 and T7 touch, this drive boasts incredible toughness.
It can be dropped from up to 2 meters (roughly 6.5 feet for the non-metric-wielding folk) without breaking, and it's IP55 water and dust resistant, meaning you can take it out in the rain with no issues.
And if stringing SSDs on a carabiner is your cup of tea, you're in luck: This SSD has a carabiner loop so you can hike or rock climb with all of your data secure.
Models range from 250GB to 4TB, so you can find the capacity that best suits your needs.
Crucial X8 External SSD | Check Price
Finally, we have Crucial's X8, another external SSD with near-identical performance to the T7. It too is "drop-proof" per the product's description, up to 7.5 feet. It features a sleek design and, at the time of writing, is the cheapest of all, at least in the 1TB capacity.
Speaking of capacities, it has the standard variety of storage options, from 500GB to 4TB.
Buffalo External SSD | Check Price
Last and least (at least in terms of speed), we have the off-brand Buffalo SSD. It has maximum speeds of 350 MB/s, still much faster than your typical hard drive but only as third as fast as most of the competition.
What it lacks in speed, it makes up for in value. Its price is typically $30-50 less than its speedier competition. If transfer speed isn't all that important to you (and truth be told, you probably won't notice any difference unless you sit watching file transfers), Buffalo's drive offering is a viable and competitive option.
Conclusion: Is T5, T7, or T7 Touch the Best?
There's no clear-cut answer to this question; each model fills an important role.
The T5 is best if you're on a budget or don't care too much about file transfer speeds. It should also be your go-to if your computer doesn't support USB 3.0, since it has the same speeds as the T7 or T7 touch over this iteration of the protocol.
The T7 is ideal for the highest possible speeds if security is of no concern to you. Unless you're in the CIA or some other government agency, or you just really value your privacy, the T7 is probably your best bet.
The T7 Touch should be reserved for the aforementioned government agents. In all seriousness, though, if you want a more secure SSD there's nothing wrong with that. If this is you, the T7 touch is your ideal portable SSD.
If you're wanting to build a computer yourself and don't know where to start, check out our PC-building beginner's guide. It's an all-in-one resource to guide you through the building process.
Art of PC is reader-supported. We may earn a commission if you make a purchase through one of our affiliate links. Thanks for your support!